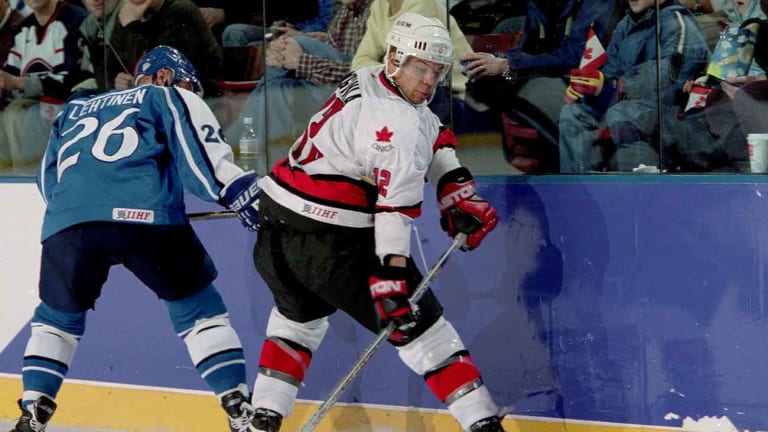 A Man in Full
A golden performance in the Olympics put a crowning touch on Jarome Iginla's breakthrough season.
The cooks in the open kitchen at Earl's Tin Palace in Calgary gave Jarome Iginla a standing ovation when he wandered in for lunch last Friday, which was appropriate considering that 1) Iginla scored two goals in the Olympic gold medal game, 2) he led the NHL in scoring with 35 goals and 66 points at the time, and 3) cooks don't have chairs. Suddenly, life is one big smorgasbord for Iginla, a 24-year-old right wing who, as Team Canada defenseman Rob Blake noted after the Games, no longer belongs just to the Calgary Flames or even to Canada but to hockey.
As Iginla picked at his blackened chicken, he was interrupted with "Congratulations" and "We're proud, man" and "Thanks for bringing it home" and requests for autographs. Twelve days earlier he was having dinner with his extended family in a restaurant near Salt Lake City when a waitress told him that the four people at the table across the way were from Calgary. Iginla excused himself and walked over to greet strangers named Ross Purves, Andrew Supersad, Rick Tatla and Jeff Williams, 21-year-olds who had driven to Utah together, painted I AM CANADIAN on their stomachs and bought tickets from a scalper to see Canada tie the Czech Republic in a round-robin game. The conversation was "a 10-minute jam session," as Purves called it, about how cool it was to be on a team with Mario Lemieux and how the Calgary guys had been sleeping in their Ford Taurus in the Comfort Inn parking lot because they couldn't get a hotel room. Iginla took his leave. Later he returned to the table, presumably to say goodbye. "I booked you guys in the Marriott Courtyard, where my family's staying," said Iginla. "Hope you don't mind." Iginla jotted directions to the hotel on a napkin. The room cost $250, which the four guys later discovered had already been paid for.
There are two ways to view this story of generosity. In Calgary it was portrayed as another example of the sterling character of a player who donates $1,000 for each goal to a children's charity and works for the local juvenile diabetes chapter. To Iginla this was a quid pro quo, a favor returned for the maniacal support that four guys not much younger than he had given Team Canada.
It was 11 o'clock on the eve of the gold medal game against the U.S. Iginla, in bed at the Olympic Village, telephoned his mother, Susan Schuchard, to make sure that all the arrangements had been made for the next day. Then he made a request: "Say a prayer for me."
As she went to sleep, Schuchard repeated in her head Nam-myoho-renge-kyo, a Buddhist chant that she says encompasses the laws of the universe and creates a layer of protection, summoning all that is positive.
Canada's crazy quilt of cultures is embodied in the chiseled 6'1", 208 pounds of Iginla. Jarome is a Christian like his father, Elvis, a lawyer who emigrated from Nigeria to Canada at 18. His mother, who divorced Elvis before Jarome's second birthday, is a Buddhist and a native of Medford, Ore., who in the 1960s moved with her parents to the Edmonton suburb of St. Albert. Black. White. Canadian. Nigerian. American. Christian. Buddhist. When scouts say Iginla has it all, they mean size, an industrial-strength shot and the ability to find or create open ice, but that only describes what Iginla does, not who he is. His skin is the lush tone of mocha java with a generous pouring of milk, and Iginla warmly accepts being called a black hockey player.
Iginla also acknowledges that he bears that most common of human burdens: self-doubt. When executive director Wayne Gretzky extended a belated invitation to Iginla to attend Team Canada's orientation camp, by leaving a message with Iginla's fiancee, Kara Kirkland, Iginla assumed Flames teammate Marc Savard was pulling a practical joke. When Iginla arrived in Salt Lake buoyed by a breakthrough year, he still felt he didn't belong. In Canada's 5-2 opening loss to Sweden, Iginla deferred to linemates Steve Yzerman and Brendan Shanahan.
The Olympics changed for him the next day at practice. On the dressing room grease board Iginla saw that coach Pat Quinn had rearranged the lines. Joe Sakic was being dropped off a unit with Lemieux and Paul Kariya to play with Iginla and 21-year-old Simon Gagne. "Joe's like, 'Oh, it's going to be fun playing with you young guys,'" Iginla says. "A part of me was saying, He must be thinking, Why me? Going from Mario to us. But even if he felt it was a demotion, he never acted as if it was. That meant a lot."
Iginla remained tentative throughout the round-robin but in a furious quarterfinal against Finland, Iginla found his game. He was so steady that Quinn used him in the final minute of a one-goal match, as profound an expression of trust as a coach can offer. Then in the gold medal game his line exploded for eight points. Iginla scored Canada's second goal in the first period and got its fourth with four minutes left in a 5-2 win.
He returned to the NHL last week as the same man but a different player. Iginla seemed more assertive to Flames coach Greg Gilbert; a sprinkling of pride had been added to his humility. Its effect was dazzling. "People say confidence is overstated, but I don't think so," says Iginla. "Going from the first Olympic game, in which I barely could shoot, to the gold medal game, it was obvious."
In his first three games back with the Flames, Iginla had four points, including two assists in a 3-2 win over the St. Louis Blues last Thursday. Says Blues coach Joel Quenneville, "Right now he might be the best forward in the league."
There are no guarantees that the smorgasbord won't run out of food. The Flames are in danger of missing the playoffs for the sixth straight year, the scoring title could slip away, and there might be some bruised feelings after Iginla, who will be a restricted free agent next summer, arm-wrestles Calgary for a new contract.
But this is a man with bills to pay. Besides housing the Calgary guys, he's putting his mother through school. Schuchard juggled jobs to make a comfortable life for her only child, and now it's his turn to reciprocate. At 44, with Iginla's moral and financial support, she's studying secondary education at the University of Alberta, preparing to become a drama teacher. This, truly, is class.