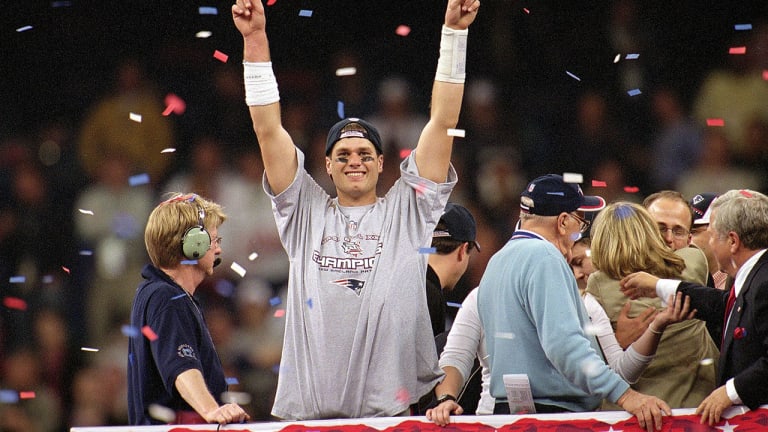 Cool Customer
Fresh off a storybook season in which he quarterbacked the Patriots to a Super Bowl victory at age 24, Tom Brady is learning to cope with the blitz of newfound fame
Come fly with me, the brassy billionaire said to America's newest football star, and soon the two were traversing the friendly skies in a customized Boeing 727, swapping stories, chowing down on sandwiches and preparing to mingle with 51 of the hottest women in the land. This was the usual plane of existence for the aircraft's owner, a real estate magnate and notorious babe magnet, but the wide-eyed quarterback was having the ride of his life. He sank into the Italian leather couch, stared dumbstruck at paintings that looked as if they might be on loan from the Louvre and thought, My God, how did I get here?
So it was that Tom Brady, the 24-year-old quarterback of the New England Patriots, found himself sitting in Donald Trump's private jet last month as it flew from New York City to Gary, Ind., site of Miss USA 2002. There Brady donned a tux by Calvin Klein; traded giggles with The Price Is Right bombshell Nikki Ziering, a fellow judge; and was besieged with requests from contestants' mothers imploring him to consider dating their lovely daughters. Amid all the obvious talent--and the requisite assemblage of former players (including host Deion Sanders) and playas (judge Jermaine Jackson)--it was the tall guy with the cleft chin and the amiable grin who shone brightest at the postpageant reception.
As insane as it would have seemed a year earlier, when he couldn't even convince the skeptics at a health club near San Francisco that he played in the NFL, Brady created Gary's biggest buzz since Professor Harold Hill and his 76 trombones. "The kid has great self-confidence and an unbelievable personality, and he's got the maturity of a much older man," Trump said later. "Let me tell you, if one thing stands out about Tom Brady, it's that he loves those women. And, guess what? They love him too."
Right now it seems that everybody--men, women, children, corporations, living legends--wants a piece of Touchdown Tommy. Two months after propelling himself to stardom by leading his team to a stunning 20-17 victory over the St. Louis Rams in Super Bowl XXXVI, Brady, that game's Most Valuable Player, is still livin' it up like Ja Rule.
In the aftermath of his triumphant performance in New Orleans, Brady jetted off to Disney World, returned to Boston for the team's victory parade (during which some women felt compelled to flash him, 25[degree] weather be damned) and high-tailed it to Hawaii to play in the Pro Bowl. Before he knew what had hit him, Brady was playing an impromptu round of golf in Kauai with John Elway; hangin' with Barry Bonds and Willie Mays at the San Francisco Giants' spring training complex in Scottsdale, Ariz.; trading mock punches with Muhammad Ali at a charity event in Phoenix; and blowing off Vanity Fair's exclusive Academy Awards party because he felt he would be so hopelessly out of his element.
"One thing I've realized is that for every thing you turn down, there's something else right around the corner that's really cool," Brady said recently over breakfast in his hometown of San Mateo, Calif., about 15 miles south of San Francisco. "These last few weeks have been a whirlwind, and I'm trying to learn as I go along. I think I'm a pretty good quarterback, but there's all this other stuff that goes along with being a very recognizable person, and I suck at it. This is my new reality, I guess, and it's knocking me down."
It appears that fame is doing what neither the Rams nor the AFC's best teams nor the looming presence of longtime New England quarterback Drew Bledsoe could do last season: rattle Brady, a former fourth-stringer who in just his second year in the NFL stirred a tired team with his brash enthusiasm and preternatural poise. It's the latter quality that scored him his backstage pass into Trumpville. Americans have a thing for quarterbacks, especially the ones (Unitas, Staubach, Montana, Elway) who stare down long odds with time ticking down and rally their teams to victory.
Brady is a long, long way from being mentioned with those alltime greats, but already we have seen glimpses of his ability to respond in the clutch. In the Patriots' epic overtime playoff victory over the Oakland Raiders in January, a game played during a field-blanketing nor'easter, Brady proved to be the coolest guy in the snow since Franz Klammer at the '76 Olympics. In New Orleans two weeks later, after a St. Louis rally had hundreds of millions of viewers preparing for the first overtime in Super Bowl history, Brady needed little more than a minute to move his team 53 yards for Adam Vinatieri's 48-yard field goal on the last play of the game.
​
"The great thing about Tom is that no matter what he went through, it didn't seem like he allowed the pressure to bother him," says Rams quarterback Kurt Warner, Brady's immediate predecessor as the NFL's out-of-nowhere sensation. "A lot of guys might have reacted to the big stage of the Super Bowl by trying to force plays, but he just relaxed. Right now he seems like a kid in a candy store."
Warner, a former supermarket stock boy and Arena League mainstay, has sustained his excellence after achieving sudden stardom in 1999, and Brady is obsessed with doing the same. "Why do some guys have one great year and then play so badly the next?" Brady asks. "Well, now I think I know why--because there are so many things that can take you away from what you need to do to focus on your job. My biggest fear is to end up being a one-hit wonder."
As Warner once did, Brady bristles at the notion that his ascent was a fluke. But while both rose to the top overnight, Brady faces different challenges in his quest to stay there. Whereas Warner, a husband and a father of four, has resolutely distilled his off-field interests to faith and family, Brady has no such constraints. If he continues his rise on the field, Brady will have a chance to become the 21st century's answer to Joe Namath.
He's already a sensation in New England, where, says Patriots special teams ace Larry Izzo, "the guy is like Elvis" (Presley, not Grbac). "Tommy is America's sweetheart right now," says Julie Brady, 27, the second oldest of his three sisters. Tom, the baby of the family, is the beneficiary of staunch parental support (from Tom and Galynn) and years of training in the ways of women. Says Julie, "He didn't get much time in the bathroom, he learned to deal with our PMS, and my sister Nancy would grill the girls who called him."
The fact that Brady happens to be a 6'4", 220-pound, handsome, blue-eyed, self-assured bachelor does nothing to squelch his game. Says Cleveland Browns tight end Aaron Shea, Brady's close friend and former University of Michigan teammate, "He's always done well with girls, but now it's reaching the next level."
"I rode with him during the Super Bowl victory parade," says Izzo, "and with all the women lifting their shirts, it was like we were back on Bourbon Street. Girls were throwing pieces of paper with their phone numbers. The guy has all the ammunition to be a Don Juan. Every mother and father in New England want their daughter to be dating Tom Brady." (Well, maybe not every father. "My daughter, Amanda, who's 17, has a thing for him," says Patriots coach Bill Belichick, sounding slightly less than thrilled.)
It gets more ridiculous. Several New England players say their significant others get moist-eyed over the young passer. "My wife thinks Brady is the best," says running back Antowain Smith. "He's got her wrapped around his finger." Says Smith's wife, Kreseda, "It's true; I get excited every time I see him. He has such a great disposition, and you just want to walk up and pinch his cheeks." And the dimpled chin? "Yes, yes, yes, yes!" Kreseda exclaims.
Brady hears it all and laughs--then rolls his eyes. "I'm no Don Juan," he says. "That would never be me. All of this attention is flattering, but that's not what gives me peace of mind. What truly makes me happy is hanging with my parents, my family and my friends. I was the same guy six months ago, and I'm still trying to be the same person that got me to this point. The whole bachelor issue can be distracting."
For now, the issues he's most concerned with involve locker room politics. The Patriots succeeded last season because they were the consummate team, and Brady understands that the more attention he gets, the greater the threat to that dynamic. Belichick has addressed the issue with Brady on several occasions, beginning with a talk in the coach's hotel room a few hours after the Super Bowl. Says Brady, "You never want to lose the respect of the guys you play with, because that's everything."
With that in mind, Brady has turned down numerous opportunities from companies seeking his endorsement and also passed when San Mateo civic leaders suggested staging a Tom Brady Day in his honor. Not that he has been above reproach: Teammates still wince at the mention of the canary-yellow Jeep Wrangler that Brady drove during training camp last summer as part of an arrangement with a dealership. As a reward for being one of the most ardent participants in the team's off-season workout program, Brady received a prime parking space in front of the players' dorm, meaning that, in Izzo's words, "every day you'd walk in and see his little chick car. The rookies made fun of it in skits, and some guys accused him of getting it on purpose so that everyone would know when he was at the facility working out."
In truth, Brady was there all the time. "There isn't anyone on our team who works harder than Tom, in the weight room, on the field or in the classroom," Belichick says. Brady has been a stickler for preparation since his days at Junipero Serra High in San Mateo, a trait he sometimes takes to extremes. After winning the starting job heading into his junior year at Michigan, Brady looked at the schedule and realized that his first start would be at Notre Dame Stadium. He had never seen the famed structure, so a month before the season started, while driving back to Ann Arbor at the end of a weekend trip to Chicago, he stopped in South Bend and did some firsthand research. Ignoring several NO TRESPASSING signs, he entered an open stadium gate and spent about an hour walking around before realizing he'd been locked in. "It was getting dark, and I was starting to freak out," he recalls. "There was a 15-foot drop if you climbed over the wall, so finally I broke into a maintenance closet, found an extension ladder, threw the thing over the fence and climbed down."
His stay at Michigan taught him an essential lesson. While being beaten out by Scott Driesbach and Brian Griese during his first two years, Brady says he "turned into a whiner. Nothing was my fault, and finally I told Coach [Lloyd] Carr that I wanted to transfer to Cal. He said, 'Just put everything else out of your mind and worry about making yourself better.' He was right." Brady won the starting job as a junior, but as a senior he split time with prized recruit Drew Henson. That platoon, as well as Brady's 190-pound build and awkward throwing mechanics, made him such a questionable prospect that he slipped to the sixth round of the 2000 draft. "I was heartbroken," says Brady, who had expected to be taken by early in the fourth round. "I said, 'Sixth round? Are you kidding me?'" He has never lacked for confidence. "He believes he can do anything," says Damon Huard, the Pats' third-string quarterback. "In the huddle that faith he has in himself rubs off on everybody."
"He has a knack for getting on guys in a way that they don't take personally," Belichick says. "It's hard to sum up his natural leadership, but he's got it. It's like pornography--even if you can't define it, you know it when you see it."
When Bledsoe, who had been the starter since he was taken with the first pick in the 1993 draft, went down with a sheared blood vessel in his chest during the second game last season, several players say they assumed the Patriots, who were 0-2 and coming off a 5-11 season, could forget about 2001. Brady changed all that. "I'm a big fan of Drew's, but it was obvious the team needed something different, and Tom brought that youthful energy," New England safety Lawyer Milloy says. "What we have in him is a personable quarterback. Guys on the team don't feel he's untouchable."
Brady concedes that his friendship with Bledsoe grew awkward once Bledsoe was cleared to play in November. Now Bledsoe is the subject of trade rumors and is expected to be moved before the April 20-21 draft. Meanwhile, the Pats plan to initiate discussions on a contract extension for Brady, who has one more year left on his rookie deal (at a bargain salary of $387,000) and is eligible to become a restricted free agent after next season.
Those close to Brady insist the money won't go to his head, nor will the fame. "For one thing, if it ever was perceived that it had, his sisters would knock the crap out of him," says his dad.
​
Yet there's no doubt that the younger Brady will change, if only in response to his environment. When every trip to the post office, dry cleaner or grocery store becomes, in his words, a "Sharpie party," his ability to concentrate on his job is diminished. It's a delicate issue, because Brady understands the fans' perspective. He still recoils at the memory of having his autograph request ignored by Chili Davis, then a Giants outfielder, during a spring training visit when he was eight. "I remember thinking that if I ever got famous, I'd never be like that," Brady says. "But now that I'm in that position, I can sort of understand how something like that could happen. I'm very aware that how I behave can make someone's day or crush him, and I don't want people to look at me and think I've changed."
On a recent golf outing in Livermore, about 40 miles east of San Mateo, with his father and Pat Kratus, a former teammate at Michigan, Brady was smiling broadly as he contemplated his newfound fame. It's not that bad, of course, and he knows it. As the trio traded barbs--"Sorry, Tommy, but there's no replay official to bail you out on that stroke"--the dude who makes women's hearts flutter and fans' pulses race suddenly flashed his game face.
"Look, I'm a football player," he said, "and when I think back to the Miss USA pageant and all the other cool stuff I've done these last few weeks, the most fun I've had by far was winning the Super Bowl. There are so many distractions that can make you lose sight of what's important. Well, screw that. I know how I got here, and I'm going to devote myself to helping my team win it all again."