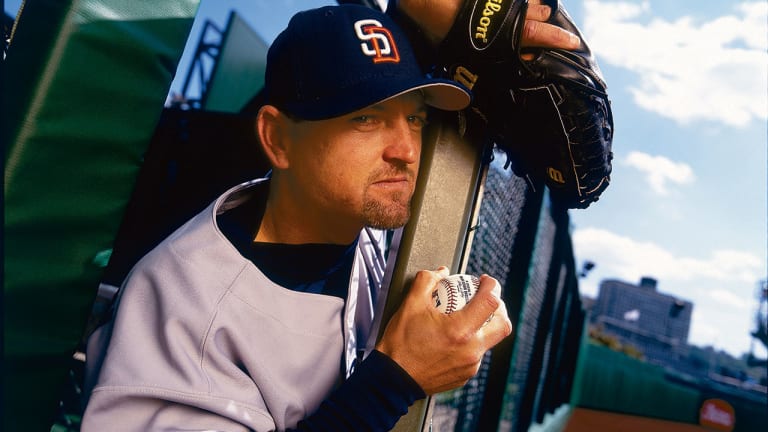 Publish date:
Case Closed
With his intimidating entrance and a changeup from hell, Trevor Hoffman of the Padres nails down wins better than anyone
The marine layer (known as fog everywhere that's not as hip as Southern California) has stuck around this April morning like a houseguest overstaying his welcome. It obscures the usual view of the Pacific Ocean from the outdoor deck of Pipes, a plastic-fork breakfast joint in Cardiff-by-the-Sea, Calif., that dishes up avocado-and-egg burritos and seems to have outlawed the collared shirt. A feeble, almost apologetic rain is falling from a gunmetal sky. It is just another beautiful day in the beautiful life of San Diego Padres righthander and SoCal homey Trevor Hoffman, the most reliable closer ever.
Think an a.m., West Coast version of Cheers and you have Pipes, where everybody knows Hoffman's name. From the middle-aged surfer ("When are we gonna see you out there again?" he inquires of Hoffman) to the Gen Xer who wants the back of his T-shirt autographed, everybody seems to be one of Hoffman's lifelong buds. His money is no good at Pipes.
"Trevor's such an outgoing, friendly guy," says his wife, Tracy, "that even total strangers feel like they know him. They just come up to him, and it's always, 'Hey, Trev!'"
Hoffman has a home three miles away, in Rancho Santa Fe, the 16th-most-expensive town in America if you judge by average house price ($1.65 million) as estimated by Worth magazine; a beach house 2 1/2 miles down the road in idyllic Del Mar; a former NFL cheerleader for a wife; three sons who wrestle Dad on the clubhouse carpet when he's done with work; two years remaining on a four-year, $32 million contract; the coolest entrance in baseball; and a reputation for having as much fun—everywhere but on the mound—as the law allows. In short, at 34, the dude has pretty much scored the whole damn burrito.
But not so fast. (After all, Hoffman isn't.) This whole Xanadu of a life, this golden-boy entitlement he seems born to? Neither the scouts nor Tracy—heck, not even psychic friend Dionne Warwick—could have seen anything close to this coming.
You don't expect a 5'6", 130-pound high school shortstop with one kidney to turn up on a track for Cooperstown. You don't expect a failed minor league infielder who had signed for $3,000 and who hadn't pitched since Little League to wind up with a record as a closer to make Mariano Rivera envious. You don't expect someone who was left unprotected in an expansion draft and traded before he was 26 to become as synonymous with his home city and franchise as anybody else in this post-Ripken-and-Gwynn baseball world. You don't expect someone whose mediocre fastball hits speeds that might not roust a highway patrolman from mid-doughnut boredom to be so maddeningly difficult to hit.
Hoffman's lush life belies the industry and humility on which it was built and is maintained. To sculpt the 215 pounds on his 6-foot frame, Hoffman adheres to a daily conditioning program that has helped keep him off the disabled list throughout his 10-year career. Last August he invited rookie righthander Jeremy Fikac to join him on his usual afternoon run around the outer parking lots of Qualcomm Stadium. "I remember sitting in the bullpen that night, and my legs were still trembling from the run," Fikac says. "I'd run before, but not at that pace. I had just gotten to the big leagues, and I was thinking, I hope they don't call on me because I can't feel my legs under me. Now I work out with him every day. Trevor's an example to everyone. His work ethic is unbelievable."
Says Padres general manager Kevin Towers, "I'll tell you one thing about Trevor: He doesn't just close games; he closes the clubhouse. He's the first one in and the last one out every day. I love it when he comes into games, because it's like the game is over—you just get to watch it and enjoy it."
While you were sleeping, Hoffman—who pitches mostly at 1 a.m. in the Eastern time zone, home to nearly half of the country's population—has rung up 325 career saves, eighth best alltime and within realistic range of Lee Smith's record of 478. Even more impressive is the fact that he has converted 88.8% of his save opportunities, the best success rate since Rolaids began tracking the statistic in 1988. On May 1 he broke Dennis Eckersley's record for saves with one club, and after Hoffman saved two games against the Pittsburgh Pirates last weekend, his total with San Diego stood at 323. He also owns the single-season record for reliability (98.1% in 1998, blowing one of 54 save chances, and the Padres recovered to win that game) and is the only pitcher ever with five 40-save seasons. Only the national atomic clock in Colorado has been more reliable, and this year Hoffman has had the edge; at week's end he was 11 for 11.
Hoffman always has been more long shot than hotshot, even when he won over Tracy Burke, a real estate agent and one of the Buffalo Jills. Hoffman met her in 1992 at a bar in Buffalo (where he was on a road trip with Triple A Nashville), but he failed to get her phone number or last name. The next day he instructed his agent to track down a number for a Realtor named Tracy in Buffalo. When Hoffman did reach her, Tracy was impressed with his effort, if not his job. "He asked me out to lunch, which I thought was real sweet," Tracy says, "except I didn't know he had to work at night. I didn't know much about baseball. I was a little worried when he said he was going to be unemployed after September. I told my girlfriends he didn't know how to play that well because he had to go somewhere called Instructional League to learn."
Six months later, during Super Bowl XXVII, which the Bills lost to the Dallas Cowboys 52–17, Tracy saw Trevor walking down an aisle of the Rose Bowl toward the field, carrying a sign that read WILL YOU MARRY ME? She chuckled to herself, knowing they had postponed serious talk about that subject because Trevor didn't have enough money for a ring. Hoffman made it to the front row when a security guard stopped him. "But I'm going to ask that cheerleader to marry me," Hoffman said.
"Yeah, right," the guard said. "Where's the ring?" Hoffman produced a ring. He had emptied a long-forgotten bank account that he had built up with money he earned as a kid mowing lawns. The guard laughed and said, "Go right ahead, man."
Tracy still didn't think Trevor was serious—until he dropped to one knee, showed her the ring and asked her to marry him. The rest of the Jills, naturally, cheered.
Hoffman's father, Ed, had also gone to great lengths to find his wife. A former Marine, he became a professional singer who traveled the world. While on tour in England, he met Marguerite French, a ballerina, and they settled in Anaheim. One day, after coming home from yet another tour, Ed was greeted at the door by his firstborn son, Greg. The boy blurted out, "Mommy, who's that?" Ed never toured again. He took a job at an Anaheim post office and moonlighted as an usher at California Angels games, often bringing young Trevor to the ballpark with him. Ed soon became known as the Singing Usher.
"My father was the original closer," Hoffman says. "Once in a while the person who was supposed to sing the national anthem would get stuck in traffic or just couldn't make it. Dad was the guy who saved the day."
Hoffman's older brother Glenn, now a coach with the Los Angeles Dodgers, signed as a shortstop with the Boston Red Sox in 1976. At 10, Trevor joined his brother at Triple A Pawtucket during summer vacation. "We had a name for him: Trouble," says Glenn, a .242 hitter over nine major league seasons. "He was into everything, running around, stealing candy from the clubhouse. He hasn't changed one bit."
Says Trevor, "Glenn was all-everything in high school [Savanna, in Anaheim]. It was very hard for me to follow him. I gave the same effort that he did, but I wasn't as talented. I felt pressure from that."
Nobody offered Trevor a scholarship out of Savanna. He grew three inches the summer after his graduation and continued growing at Cypress (Calif.) College and then at Arizona, which made him sign a medical waiver before allowing him to play baseball. Trevor's left kidney had stopped functioning when he was six weeks old, prompting doctors to remove it and his parents to raise him with only two admonitions: no football, and drink as much water as possible. "Arizona made me promise if I got hit by a ball and died, they would not be responsible," says Hoffman, who as an infielder batted .321 in two seasons for the Wildcats. "I told them the one kidney I have is on my right side. That's not the side that faces the pitcher when I hit, so it was O.K. They bought it."
In 1989, following his senior season, the Cincinnati Reds drafted Hoffman in the 11th round. One year later, after Hoffman had hit .249 for Rookie League Billings and was on his way to a .212 mark at Class A Charleston, the Reds decided he could not make it to the big leagues as a shortstop. Charleston manager Jim Lett told him to try pitching, a move that is not unheard of in baseball. But Hoffman's success upon switching is the greatest the game has known since 1946, when the Cleveland Indians made a Hall of Fame pitcher out of outfielder Bob Lemon.
"You could see Trevor had arm strength," Lett says. "Once he got on the mound, he wasn't crude at all. The movements came fairly naturally."
Says Hoffman, "I was tired of slumping at the plate and air-mailing throws to first base. The idea was easy to accept. For some reason I couldn't handle the daily grind. I could not take that 0 for 4 and just put it away and move on. Pitching, especially relief pitching, gives you more positive feedback. I needed that."
Hoffman succeeded instantly on the mound. He threw 95 mph and achieved a 2.90 ERA with 169 strikeouts in 142 2/3 minor league innings over two seasons. The Reds, however, left the 25-year-old righthander unprotected in the 1993 expansion draft. The Florida Marlins snapped him up with their fourth pick.
"We had him as the highest-rated player in their system," says former Marlins general manager Dave Dombrowski, now president of the Detroit Tigers. "We really liked him, but nobody could have anticipated this kind of success. When you look back over all the expansion drafts in history, Trevor is probably the best player ever taken who wasn't already an established big leaguer."
Hoffman pitched three months for Florida, earning two saves, and then was included in a five-player trade that brought the Marlins an elite slugger, Gary Sheffield, from San Diego. Not until May '94 did the Padres try Hoffman as its regular closer. "We were struggling with Gene Harris and Jeremy Hernandez and some injuries, so we thought, This guy throws strikes—why not give him a chance?" says then Padres manager Jim Riggleman, now a Dodgers coach. "He took to it right away. He had the right mind-set. Trevor's so consistent in everything he does, very routine-oriented, and that's why he's been so reliable."
Hoffman adheres to such stringent habits that for 10 years he wore the same pale-green hospital scrub shirt for his afternoon workout—"until it basically disintegrated last year," he says. He obtained a replacement this year, from the same Kentucky hospital from which he got the original.
"He's a little obsessive about cleanliness too," Tracy says. "He's all about order. That's the foundation to what he does. You see it when he's on the field. He's always the same, win or lose. He doesn't smile, doesn't show any emotion. [Former Padres catcher] Brad Ausmus is a good friend of his, but even Brad used to say, 'Trevor, you're the only guy I can't even talk to during a game.'"
Hoffman developed a ritual years ago to prepare for ninth innings. He watches the first five innings of every game from the bullpen, and then retreats to the clubhouse, polishes his spikes, takes a hot shower, stretches and, if his timing is perfect, arrives back in the bullpen five minutes before he needs to warm up for the ninth inning. "It removes me from the intensity of the situation," he explains.
On July 25, 1998, inspired by the use of the song Wild Thing to introduce the reliever played by Charlie Sheen in the movie Major League, and following the recommendation of one of the Padres' stadium entertainment people, Hoffman added musical accompaniment to his trot to the mound at Qualcomm. As Hoffman jogged in from the leftfield corner bullpen, the ominous, slow cadence of heavy bells played on the stadium loudspeakers, followed by more of Hell's Bells by the Australian heavy-metal band AC/DC. Hoffman snuffed out the Houston Astros that night for what was then a record-tying 41st consecutive save. The streak, but not the music, ended the next night. Since then, Hoffman has converted 88 of 91 opportunities when he enters a game to Hell's Bells.
His signature moment is one of the most electrically charged in sports: Padres fans rising and roaring, in Pavlovian fashion, upon hearing the first bell toll, the foreboding bonging like something out of Hitchcock as Hoffman enters slowly, stage right. The appearances are all the more stirring because Hoffman is so beloved in San Diego. For every save, he donates $200 to the National Kidney Foundation of Southern California. Each Saturday of every home stand he hosts a group of children with kidney-related illnesses. In homage to his father, he annually picks up the tab for game tickets and meals for 1,000 members of the military and their families.
Says San Francisco Giants closer Robb Nen, "Trevor doesn't get the national attention he deserves, because he plays in San Diego. But that's not important to him. What I'm amazed at is how he lost his great velocity and has just gotten better. I don't think I could do it, to just lose the ability to throw 95 and still be one of the best. I have tremendous respect for him."
Hoffman says his velocity began to drop after he developed a sore arm in 1994. He quietly rehabilitated the arm during the players' strike that year, but he never regained his youthful heat. At about the same time, though, Hoffman began perfecting the changeup as his out pitch after tweaking his grip. The pitch is now so well disguised by the speed of his arm as it comes forward that hitters think it's another one of his 88-mph fastballs.
Hoffman has supreme faith in the changeup. He ended a game against the Dodgers on April 13 with such a nasty one to Paul Lo Duca that the Los Angeles catcher, who whiffed on the pitch, said, "It's like it has a parachute on it." Many times the mere threat of his changeup is enough to make him effective. The night after he fanned Lo Duca, Hoffman earned another save against the Dodgers, one in which he threw 13 pitches—the first 12 of which were fastballs or cut fastballs—before he finally slipped in a changeup.
Even when Hoffman isn't saving games, he contributes to the Padres with his clubhouse leadership, which sometimes takes burlesque form. To ease tension, a nearly naked Hoffman will bust out his Pony Dance, a Chippendales-quality show in which he's been known to hang upside down from the top of a locker. He's also the team social director, organizing off-day golf outings and dinners. "It's very unusual for a pitcher, especially a relief pitcher, to be the team leader," Padres first baseman Phil Nevin says, "but everybody here looks to Trevor. This is his team."
Says Hoffman, "I've never learned how to relax and find quiet time, and I hope someday I can. My father had a gift for that."
Ed Hoffman died in 1995, at 82, on another Super Bowl Sunday. Trevor thinks about him during every game, though not so much at the end, where he has made his career, as at the beginning. The son of the Singing Usher chokes up upon hearing the national anthem. His father went off to war for that song. He sang it with pride at Angels games, little Trevor watching nervously, fearful that his dad might forget the words. He never did.
"My father used to say something all the time," Hoffman says. "He'd say, 'Never felt so good as when I had so little.'"
The undersized kid with one kidney, the failed infielder, the young man who cashed in lawn-mowing money to marry a cheerleader and, yes, the millionaire reliever smiled at this recollection of his father's familiar voice. "It's something I never forget," he says.