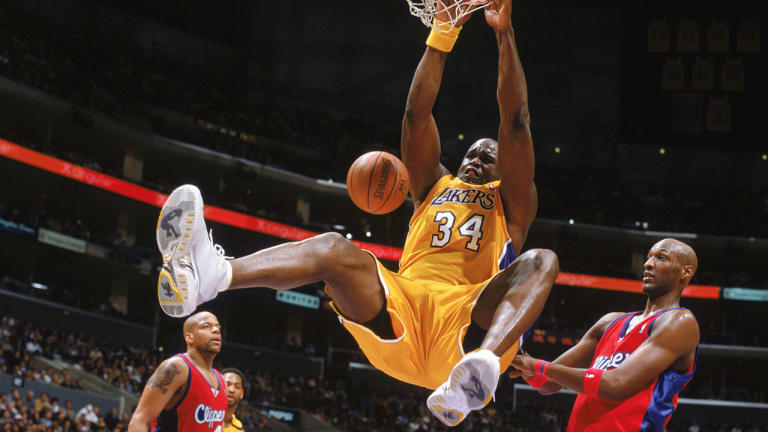 The Shaq Factor
How have Shaquille O'Neal and his size 22s led the Lakers' march to a third straight title? Let us count the ways
The gleaming white sneakers in Shaquille O'Neal's locker look lacquered, which they are not, and massive, which they are. First-time visitors to the Los Angeles Lakers' locker room at the Staples Center gaze at them in wonder, and a brave few, casting nervous glances to make sure the big man is not in view, lift up their puny dogs to compare them with O'Neal's size 22s. Last week one Japanese reporter reached up and discreetly turned around a can of roll-on deodorant so that the label faced outward. "Ban," she announced.
It's not often that we have the chance to measure ourselves against giants, not to mention inspect their personal toilette. O'Neal affords us that opportunity because, unlike most giants, he walks among us--though, through Sunday, the NBA Finals had been more coronation than competition for O'Neal and his Lakers. He has conjured up comparisons to the recent master of the postseason while distinguishing himself from Michael Jordan in the following ways: His Airness never mooned fans from the team bus; nor did he offer his intestinal insights before an overflow press gathering. With noble carriage and sublime charisma, Jordan was Henry V; O'Neal, big, bold and bawdy, is pure Falstaff.
On Sunday, after a 106-103 victory over the Nets in New Jersey, the Lakers were one win away from a three-peat, and O'Neal was on the verge of winning a third straight Finals MVP award. Trying to avoid the label of Worst Team Ever to Play for the Title, the Nets were even more hapless than expected in trying to stop the 7'1", 345-pound force of nature who in those three Lakers wins had averaged 37.0 points, 13.0 rebounds, 3.0 blocked shots and even 3.7 assists. Should L.A. win Game 4 on Wednesday at Continental Airlines Arena, it would be the first Finals sweep since the '95 Houston Rockets obliterated the Orlando Magic, whose 23-year-old version of O'Neal was much less complete than the current Lakers pivotman.
"It's a big stage," says Lakers forward Rick Fox, "and this is his time." Indeed, Shaq has so dominated the series, both on and off the court, that other purple-and-gold mainstays have been reduced to bit parts. Cataloging Kobe Bryant's various off-court jerseys has been a pleasant diversion (Hank Aaron, Wayne Gretzky, Derek Jeter, Joe Montana, Joe Namath, Mariano Rivera and Jackie Robinson over the past few weeks), but the best all-around player in the world hasn't had to extend himself in this series because of O'Neal's preeminence. Watching Lakers coach Phil Jackson try to tie Red Auerbach's record of nine NBA titles has been interesting, but during games the Zenmeister has remained seated to a greater degree than usual because his message to the offense is so clear and simple: Get the ball to Shaq.
Then, too, on those occasions when the Lakers were stressed, it was Shaq who talked them off the ledge. Trailing for most of Game 3, the Nets rallied behind a zone defense that collapsed two, three and sometimes four men on O'Neal, disrupting the Lakers' triangle offense and helping New Jersey take a 94-87 lead with 6:44 left. But back came Los Angeles, wrapped in the Big Security Blanket. "It's at those times that Shaquille becomes the most influential player in the game," said Jackson. "He has the ability to calm the effect of the crowd and get things to happen positively." Shaq talked softly during timeouts, told his teammates they've been together far too long to fold, encouraged them to keep sniping at the Nets. They did, regaining control of the game and getting closer to title number 3.
Because Shaq's influence on his team is so profound, because he has worked so hard at becoming a complete player and because he has played through so much pain, he bristles whenever it is suggested that his oversized body is the primary reason for his success--a suggestion that is made every night of the season. "The truth is, I was created by you guys," O'Neal told the media last week. "When I was a young player having fun, doing movies and doing albums, you criticized me all the time. I'd hear, 'Shaq O'Neal is a great player, but he doesn't have a championship. But he's not hitting free throws.' So, after taking criticism all my life, I know how to turn it into positive energy." Then he broke out into a huge smile. "So this is what you created, and I'm glad you did. Thank you, and I love you all."
He got up and left with everybody feeling happy. It was vintage Shaq, which can also be said about these Finals. While Bryant, Jackson and the rest did their bit, the series was really all about Shaq. And what's Shaq all about? Why, bull's-eyes, bare butts, nipple studs and other 100% true...
—Shaq Facts—
TOP COP
Shaq still plans to enter law enforcement when he's done playing. "I want my book to be different from most retired players'," says O'Neal, 30, who is under contract, at $21.4 million per year, through 2005-06. "I want people to say, 'Great high school player, great college player, great NBA player. And that sumbitch is a sheriff now!' I don't want them saying, 'Great player. That sumbitch is doing TNT now.'"
AMONG THE LILLIPUTIANS
When he was taken out of Game 2 with 1:07 left, O'Neal stopped and said to Nets reserve forward Brian Scalabrine, "Mark's gonna bust your ass." He was referring to Lakers backup Mark Madsen, who rarely plays. Shaq said it straight-faced, but Scalabrine knew he was joshing, and it made him feel good. One of the best things about O'Neal is that he takes the time to talk to everyone and generally sits or stoops to make his partner in conversation comfortable.
EARLY-BIRD SPECIAL?
Shaq snagged about 80 Game 3 tickets for relatives who live in and around Newark, his birthplace. With a mansion in Beverly Hills and a 40,000-square-foot palace in Isleworth, Fla., near Orlando, Shaq still claims, "I'm a Jersey guy all the way." Having said that, he's already decided that he will retire in Florida.
LOVE SHAQ
Shaq is pondering marriage to Shaunie Nelson, his girlfriend of several years, but don't start shopping for wedding gifts. "I want to do it when I can focus on nothing but my marriage," he says. "Right now I'm trying to focus on my NBA career and my police career." Shaq and Shaunie live with a brood. Taahirah, 5, is Shaq's daughter from a previous relationship; Myles, 4, is Shaunie's son from a previous relationship; and Shareef, 2, and Amirah Sanaa, seven months, are the progeny of Shaq and Shaunie. "Amirah won't go to sleep until she hears my voice," says Shaq, who on many nights dozes off with her lying on his chest.
ROYAL FLUSH
Shaq has drawn inspiration from Sacramento Kings coach Rick Adelman, who has continued to complain that Shaq was allowed to step over the line prematurely on his free throws during the hotly contested Western Conference final. Before Game 3, O'Neal sent a rhymed message to Adelman: "Don't cry/Dry your eyes/Here comes Shaq/With those four little guys." Then O'Neal went out and made 12 of 14 foul shots in a 106-83 victory, after which he described the exact moment when he heard Adelman's latest gripes, on a late-night sports broadcast. "I'm in the bathroom...sitting there, flipping through the channels, and he's complaining," O'Neal said. In Game 2, O'Neal even vogued after successful free throws, leaving an extended right arm in the air for several seconds to accentuate the purity of his stroke. "Another message to Adelman," he said.
ROYAL FLASH
After a heated Game 7 victory in Sacramento, O'Neal delivered a different message to Kings fans who were hooting at the Lakers' bus as it pulled away from Arco Arena: He lowered his pants and showed them his rear end.
ACTION SHAQ-SON
Shaq's questionable thespian talents (Kazaam, Blue Chips, Steel) notwithstanding, he says he would consider a return to the big screen, "if I can get me an action role where I can be jumping out windows with some Matrix-type effects." His career as a rap artist, however, appears to be over. "I did six albums: one platinum, two gold, three wood."
HOG HEAVEN
Shaq began riding motorcycles six years ago. Although he is reluctant to ride in L.A.--"It's too hilly and curvy, and the people are crazy," he says--he will tool along level Ventura Boulevard. "You let the wind hit your face," he says. "You feel free, you get away from everything and you get to think."
BREAST BEATING
Before the Finals, Shaq says, he removed the diamond studs that are in both of his nipples "for no particular reason."
GETTING RELIGION
Shaq heard Louis Farrakhan speak at a Nation of Islam meeting several months ago. During the Sacramento series he greeted Kings forward Hedo Turkoglu with an embrace "because you greet a Muslim man with honor." And he plans to take a pilgrimage to Mecca one day with his stepfather, Phil Harrison, a Muslim. Still, Shaq says he has no plans to convert to Islam. "My mother [Lucille Harrison] is a Baptist, so I understand both religions," says O'Neal. "Right now I'd just call myself a man who believes in God."
PISTOL PAQIN'
Shaq, usually accompanied by Jerome Crawford, his bodyguard and close friend, likes to take pistol practice at a range in Van Nuys. Out of 300 shots from between 25 and 50 yards he says he routinely scores 265 to 270 bull's-eyes.
KING OF PAIN
For all his playfulness, Shaq isn't always the easiest guy to be around--the Los Angeles Times disclosed last month that the Big Moody is one of his teammates' out-of-earshot nicknames. But all the Lakers praise his fortitude in playing with an arthritic big right toe and a left little toe that was operated on last year. Shaq puts the pain in his right toe at eight on a scale of 10. "Your toe is supposed to bend when you walk," says Shaq, "but mine doesn't at all. I walk flat-footed, I run flat-footed. The worst time is the morning after games, when I wake up and can't even move it. I lie there and think, I gotta play basketball on this? But I suck it up. Some people who think I'm not hurting should walk a mile in my shoes."