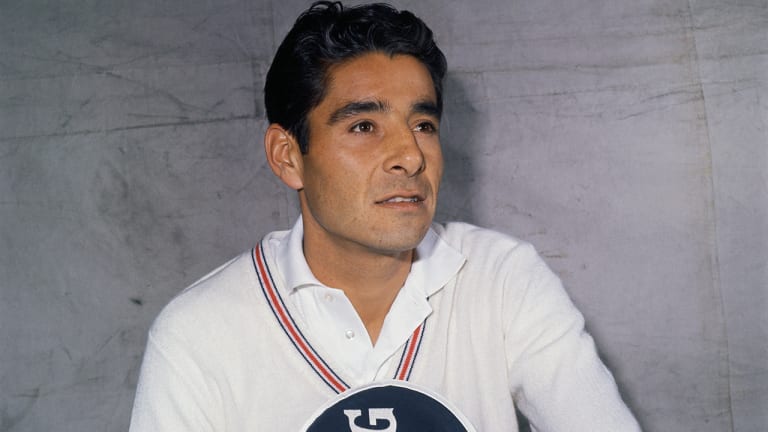 The Lone Wolf
Pancho Gonzalez may have been the best tennis player of all time, but his fits of rage offended almost everyone in the game, cost him six marriages and alienated him from all but the last of his eight children
Between handshakes and hellos, with the cool clang of money and
the pop and hum of the MGM's endless night echoing in his ears,
Mike Agassi stood in his good suit with a smile on his face and
wondered how he was going to kill Pancho Gonzalez. Should he do
it himself? Scrape up $20,000 and hire a hit man? It was 1981,
in a Las Vegas still proud of its gangster soul, and Agassi had
been on its front lines for years as a casino greeter. He knew
people who knew people. It was only a matter of calculating the
real cost, because Agassi had no illusions about getting away
with murder. He'd spend the rest of his life in jail, he was
sure. Then again, he'd have the satisfaction of seeing the man
dead.
Agassi had come to America 25 years earlier, a tennis fanatic
who'd boxed on the 1952 Iranian Olympic team, and in recent
years his obsessive stewardship of the tennis career of his
oldest daughter, Rita, had hit the shoals of teenage burnout and
rebellion. There was great promise in Mike's 11-year-old son,
Andre--who years earlier, using a sawed-off racket, had wowed
crowds at the Alan King Desert Classic by rallying with Gonzalez
before the final--but there was reason to think that Andre, too,
would wither under Mike's punishing critiques and
5,000-balls-a-day regimen. Gonzalez said Andre was too soft, too
scared, and who knew better than Pancho? In Vegas he was the
tennis king.
There was no more perfect match than Pancho and Vegas: both dark
and disreputable, both hard and mean and impossible to ignore.
At 53 he was still a big man in every way, 6'3", with a
thunderclap voice and a career that had anticipated nearly every
major stage in the evolution of modern tennis. Locked out of
prestigious amateur tournaments such as Wimbledon and the U.S.
Championships during his prime, Gonzalez nonetheless dominated
the game as a pro in the 1950s and early '60s and left its
landscape scorched by the fire of his all-consuming bitterness.
Before the groundbreaking wins by Althea Gibson and Arthur Ashe
in the '50s and '60s, before the brattiness of Jimmy Connors and
John McEnroe in the '70s and '80s, before the complaints about
Pete Sampras's untouchable serve in the '90s, Gonzalez smashed
through the game's class and ethnic barriers, abused officials
verbally and paralyzed opponents with a serve so powerful that
it inspired cries to remake the sport. Ion Tiriac, the Romanian
player of the early open era and eventual manager of Guillermo
Vilas, Boris Becker and other pros, has called Gonzalez "the
beginning of professional tennis as we know it...the father of
everything we have today."
Now, in the raging autumn of his life, the man who'd beaten Don
Budge and Connors and everyone in between had insinuated himself
into the Agassi clan. And Mike Agassi had no one to blame but
himself. It was Mike, after all, who in 1973 had taken
13-year-old Rita to be coached at Caesars Palace, where Gonzalez
worked as tennis director. This wasn't easy for Mike. Like
everyone else in the Vegas tennis community, he'd endured
Gonzalez's moods, but few people knew how far back their enmity
went: 17 years earlier in Chicago, Mike had worked as a line
judge during a match between Gonzalez and Ken Rosewall. Gonzalez
harangued Agassi so viciously that night that Agassi rose from
his chair, refused to work another point and stalked off into
the bleachers.
Still, Mike was desperate; Rita wouldn't listen anymore, and her
game was slipping away. He turned her over to Gonzalez. When
Rita was 15, Mike, suspecting she had a crush on Gonzalez,
demanded that she stop training with him. She refused. At 17 she
was teaching at Caesars and in love with her coach, a man 32
years her senior. At 18 she left her parents' house and moved
into her own apartment. At 19 she and Gonzalez became an
official item. At 20 she moved in with him.
Mike was livid. He railed in public, telling relatives that he
wanted to hire a hit man. He thought about what might happen to
his wife and the three other kids if he went to jail. "There
were two things to do," he says. "Kill him, or stay away and
forget him."
Mike cut off relations with Rita. "I had no daughter," he says.
He and Gonzalez would pass each other at tennis events without
speaking, but Agassi was sure he could read what Gonzalez was
thinking. "I'm f------ your daughter," Agassi says. "The guy
enjoyed that I didn't like him. I knew what kind of person he
was."
Pancho, 55, and Rita, 23, were married in March 1984--he for the
sixth time, she for the first--in their backyard, in a
windstorm. Mike didn't attend the ceremony. Nearly two decades
later and seven years after Gonzalez's death, Mike still spews
obscenities about Pancho and the storm he stirred. Though tennis
helped Agassi realize the immigrant's ultimate dream, though the
sport gave his son immortality and untold riches, Agassi wishes
he'd never heard of the game. Tennis made him deliver his child
into the hands of a man he despised.
He could be a real son of a bitch. Everyone knew that about
Richard (Pancho) Gonzalez--friend, foe, wife and family. But
when his contemporaries use the phrase real son of a bitch to
describe him, their anger is often lightened by a weird lilt of
admiration. No: joy. You have to hear his old friend Pancho
Segura describe how Gonzalez hated to lose. You have to hear
another opponent speak of how Gonzalez once stormed into the
locker room and shattered his second-place trophy against the
wall, or how he growled to a man who'd defeated him, "Give your
money back, you a------. You're never going to beat me again."
In 1952 Segura, seven years older than Gonzalez and not nearly
as talented, had the day of his life and crushed Gonzalez at a
pro event 6-2, 6-2, 6-2. "He wouldn't talk to me for days,"
Segura says, laughing, and then he shouts gleefully, "He was a
p----!"
Days? "I was one of his friends, and when I beat him, he
wouldn't talk to me for three months," says 1959 Wimbledon
champion Alex Olmedo. It didn't matter if the match was played
before thousands or no one. In 1964 Gonzalez and his protege
Charlie Pasarell, a top U.S. amateur, were playing practice sets
at the Los Angeles Tennis Club: Loser paid for the balls.
Gonzalez won the first set easily and went up 5-2 in the second
when he noticed a hitch in Pasarell's backhand volley. Gonzalez
stopped to give a 15-minute tutorial. When play resumed,
Pasarell won the set.
"He went ballistic," Pasarell says. "Threw the racket against
the fence: athwoonnng! Grabbed the racket again and hit all the
balls over the fence, beyond Wilcox Avenue. Picked up his
equipment, slammed open the gate, slammed it shut and drove off,
tearing down the street. I figured, Jeez, I guess I've got to
pay for the balls."
Pasarell got off easy. Segura once joked that the nicest thing
Gonzalez said to any of his wives was "Shut up." For all but the
last of his eight children he was a glowering critic who came
and went bearing suitcases and rackets. Pancho and Richard Jr.
won a couple of father-son tournaments together, but what
Richard Jr. remembers about those matches is being loudly
upbraided by his father. Sometimes Pancho would call his son a
"dumb f---."
When, in late 1956, Gonzalez briefly went home to Los Angeles
during a pro tour against Rosewall, he learned that the mother
of his wife, Henrietta, had been murdered. A bereft Henrietta
talked with Pancho about whether he should go back on tour
immediately. To others he expressed no doubt. He told one
intimate, "If it had been Richard Jr., I'd still go."
"He was such a complex person," says Madelyn Gonzalez, who
married Pancho in 1960, two years after he divorced Henrietta.
"He really wanted to be a good guy, but he just couldn't. It
wasn't in him." In 1965 Pancho was playing Chile's Luis Ayala in
Newport, R.I., when he noticed Madelyn walking to her seat. He
stopped play and snarled, "You'd be late to your own father's
funeral."
Yet two years after their divorce in '68, Madelyn remarried
Pancho. They divorced again in '75 and almost remarried in '78.
She keeps a picture of him on her dresser. "I've had many chances
to marry very wealthy men," she says, "but he's a tough act to
follow. It's that fire, that larger-than-life thing."
She isn't the only one who feels that way. Forty years after his
prime as a player, Gonzalez still invades the dreams of the men
he beat, still evokes tears in those who idolized him. Men's
tennis is obsessed with numbers: As Sampras neared his
record-breaking 13th major singles title, the debate over who
was the greatest player in history boiled down to him and Rod
Laver, the only man to win the Grand Slam twice. Gonzalez won
only two majors, the U.S. Championships in 1948 and '49, but the
figure he cut, the game he played, the rage and need that rose
off him like vapor were unlike anything tennis had ever seen.
"He was just so beautiful to watch," says Jennie Hoad, the widow
of Lew Hoad, one of Gonzalez's fiercest--and most
elegant--rivals. "Being tall, he was a little more graceful,
more natural. I don't think he ever moved in an unattractive way."
To see Gonzalez play, said Gussy Moran, the flamboyant women's
tennis star of the '40s, was to watch "a god patrolling his
personal heaven." Writers compared Gonzalez's movement to that
of a jungle cat, his strokes to music or poetry. His
serve--falling as straight and deadly as an executioner's
blade--was so clean that other players beheld it with wonder,
and generations of coaches held it up as the paragon. In 1969
Danish pro Torben Ulrich lost to Gonzalez in the third round of
the U.S. Open but seemed grateful to have been on the receiving
end of genius. "Pancho gives great happiness," he said. "It is
good to watch the master."
Ulrich, a jazz aficionado whose son had saxophone legend Dexter
Gordon for a godfather, calls Gonzalez an artist. "You ask if I
understood Pancho. I did not," Ulrich says. "But if there's real
greatness, you're not supposed to understand it." Still, his
genius never tripped into McEnrovian self-destructiveness. It
was the rest of the world Gonzalez wanted to hurt, and he flew
at his target like a guided missile.
Ulrich tells of a night he had with Gonzalez in 1974, on the
Grand Masters Tour. The two stayed up for five hours in a hotel,
drinking beer and eating, and Gonzalez regaled Ulrich with
stories about Las Vegas and his early days as a drag racer.
"Come the next day, the draw had been made, but I didn't know,"
Ulrich says. "The matches had started, and Pancho's watching. I
sit next to him and say, softly, 'Good morning, Pancho. Did you
get some rest?' He doesn't answer. So I raise my voice a little
and say, 'Good morning.' He didn't make the smallest
acknowledgement that I was there--because we were playing each
other that day."
As a professional, Gonzalez did as he pleased. His selfishness
was unalloyed. On the pro tour of the 1950s and '60s the players
were expected to travel together and pitch in with promotions.
Gonzalez would have none of it. He did few interviews. The sport
then was a social whirl, with sponsors' cocktail parties and the
like, but Gonzalez did not schmooze. He drove from town to town
in his Thunderbird, showed up late, slept through appointments.
"He was like a lonely wolf," Olmedo says. "But he had his
reasons."
He didn't start out mean. After Gonzalez won the 1948 U.S.
Championships at Forest Hills at age 20, Life magazine called
him "happy-go-lucky" and "good-natured." He was constantly
portrayed as a carefree champion, casual in his approach to
training, open to everyone. "He was really happy," Segura says,
"but he wasn't ready."
Gonzalez was no innocent, but nothing had prepared him for the
WASP-dominated, moneyed world in which he was suddenly moving.
When his father, Manuel, was a child, he walked 900 miles from
Chihuahua, Mexico, to Arizona with his own father. Manuel
eventually settled in South Central L.A., where he met his wife,
Carmen, with whom he would have seven children.
Manuel worked as a housepainter, and despite his heavy hand
Pancho grew up loose and wild. He hustled pool, but he spent
just as much energy teaching himself to play tennis on L.A.'s
public courts with a 51-cent racket he had gotten for Christmas.
Rising fast in Southern California boys' tennis, Pancho quit
high school after two years to play full time, but he was banned
from junior tournaments because he was a dropout. He got busted
for burglarizing houses at 15. "You don't know the thrill of
going out the back window when someone's coming in the front
door," Pancho told his brother Ralph.
Put him away, Manuel told the judge. Pancho spent a year in
detention, then joined the Navy and swabbed decks in the
Pacific. One AWOL and a couple of late returns from leave earned
him a bad-conduct discharge in 1947, and he came home. He
married Henrietta Pedrin and quickly dominated the powerful
men's tennis scene in Southern California. Along the way he took
note of every slight, such as Anglos' habit of calling every
Mexican Pancho. He entered the '48 U.S. Championships ranked
17th in the country and, to everyone's shock, won. The next
year, cocky and still knowing nothing about conditioning, he
defended his title in a five-set classic against Ted Schroeder.
By then he and Henrietta had one son, Richard Jr., and another
on the way. They needed money. Bobby Riggs dangled a $75,000 pro
contract, and Pancho bit.
In that pre-Open era, the pro tour was a Darwinian death march.
While winners of Wimbledon and the U.S. Championships were feted
in the mainstream press, no one had any illusion that those
amateurs were the best players in the game. Top pros like Riggs
and Jack Kramer waited for amateurs to make names for themselves
and then hired them for barnstorming tours in which a seasoned
pro played a series of matches against a newly signed
"challenger." The tours were sold on the prestige of the
challengers, who were paid more as a result and whom the pros
proceeded to beat without mercy. Riggs pitted Gonzalez against
Kramer, who at 28 was considered the world's best player. For
Gonzalez, that would spell disaster.
For 123 nights the two men played on canvas stretched over wood
in high school gyms, armories, even an opera house. Kramer won
by a punishing margin of 96-27. Gonzalez nevertheless enjoyed
himself, gulping Cokes during matches and smoking afterward,
oblivious to the fact that his reputation was slipping away. The
21-year-old didn't understand that once an amateur was
established as a loser, his value as a gate attraction
plummeted. Kramer, tough and principled, wasn't willing to carry
him. Almost as quickly as it had begun, Gonzalez's pro career
was done.
For the next four years Gonzalez diddled away his early prime as
a player, spending most of his time racing hot rods, bowling,
breeding dogs, stringing rackets at his soon-to-fail tennis shop
in L.A.'s Exposition Park. In 1952 he and Henrietta separated.
Finally, in late 1954, Kramer, who was playing less and
promoting more, invited Gonzalez to join a round-robin tour he
had organized for top pros Budge, Frank Sedgman and Segura.
Gonzalez beat the other men consistently, positioning himself to
take apart the next amateur challenger.
Tony Trabert won Wimbledon and the French and U.S. Championships
in 1955, then went for the money. But Kramer kept Gonzalez
waiting as he mulled whether to play Trabert himself. "Jack
completely demoralized him," says Henrietta, who had reunited
with Pancho after a year and a half apart. Kramer finally took
himself out of the running and signed Gonzalez to a seven-year
contract. Pancho was back--and different from the man who'd left
the tour a few years earlier. "A loner," says Schroeder, "and
always the unhappiest man in town."
"His nature had changed completely," Kramer says. "He became
difficult and arrogant. Losing had changed him. When he got his
next chance, he understood that you either win or you're out of a
job."
Gonzalez resented Trabert, who, Henrietta says, corrected
Pancho's English and dismissed his interest in cars. The
challenger was making a minimum of $80,000, while Gonzalez, the
best pro in the world, was guaranteed only $15,000. Gonzalez
wanted to make him pay. Over six months of singles matches he
crushed Trabert 74-27.
Trabert, for his part, grew to loathe Gonzalez. To him the
selfish, irascible, bullying Gonzalez broke all the rules of
tennis. He made it personal. He turned a genteel sport into a
street fight. In 1956, after a doubles match in which a dispute
over a point led to an exchange of smashes aimed at the body,
Gonzalez marched off the court without shaking hands with
Trabert or his partner. Then, as Gonzalez stood by, Trabert told
a reporter, "You just saw one of the most chickens--- things in
sports." Another time Trabert told Gonzalez, "Somebody's going
to flush you down the toilet before your life's over--and I just
might be the one to pull the handle."
When the Gonzalez-Trabert tour ended in '56, Gonzalez dismantled
Frank Parker and Dinny Pails in a round-robin 45-7. Then came
Rosewall. Then Hoad. Gonzalez beat them all. He also beheaded
the microphone of a chair ump who refused to overrule a call
during one match, and shattered a wall clock when he smacked a
ball away in frustration during another match. He blew off
promoters. He shredded opponents' concentration by stopping play
to pose for pictures. Hoad's Aussie contemporaries say he braced
Gonzalez against a locker one night and threatened to beat him
senseless. But Gonzalez drew crowds like no one else in the game.
That's why he resented Kramer more than any opponent. Kramer
stuck to his policy of offering far more money to the amateur
challenger, insisting that the tour's appeal lay in seeing if
the amateur could dethrone the king. Gonzalez, the established
No. 1, wanted to be paid like it. He sued Kramer to get out of
the contract and lost. Pancho told Ralph, who often accompanied
him on tour, "I'm just a piece of meat. They cut off a piece,
and they sell it. I'm hanging on the goddam hook."
"He took it too personally," Ralph says. Told that Trabert once
said Pancho had "a persecution complex," Ralph nods in
agreement. "Born a------," he says of Trabert, "but he's right."
If Gonzalez had no time for his fellow players, he had little
for Henrietta or their three young sons: Richard Jr., Michael
and Daniel. Pancho and Henrietta separated again and headed for
divorce. One evening in 1958 Lew and Jennie Hoad and their
little daughter went to visit Henrietta at her house and found
her passed out from an accidental overdose of sleeping pills.
They called Pancho, who came over and brought Henrietta out of
her stupor by tossing her into the shower. He was furious. He
roared and threw furniture around. Jennie locked herself and her
daughter in the study. "She no doubt was looking for sympathy
from Pancho," Jennie says of Henrietta. "She didn't get it. He
left the house in a mess and charged out."
The end of that marriage also marked a beginning for Pancho. In
Madelyn Darrow, a recently minted Miss Rheingold, he collided
head-on with the one person who could make him as miserable as
he made everyone else. For an outsider like Pancho she was
inside incarnate: haughty and accustomed to getting her way.
They fell instantly for each other, but Madelyn didn't want
anything to do with hot rods. She wanted cocktail parties,
famous faces and a house in the hills. She and Pancho married
and moved to Malibu, then Brentwood and finally Holmby Hills.
"She destroyed him," says Segura. "I told him, 'You made a
mistake divorcing Henrietta. You could eat standing up and
nobody cared. You didn't have to worry about using a knife or
fork.' Madelyn tried to improve him. This is a man who hated
ties. She told him he had to put on a jacket and tie. It always
happens to athletes. Your tennis brings you up around these
people--a lot of horses---! It kills your soul."
Pancho adored drag racing, but most of all he loved tinkering
with engines, stripping them down and making them sing. "I hated
those cars," Madelyn says. "He poured the little bit of money we
had into those stupid cars, or the crap tables." He moved his
tools and auto parts to Ralph's house and spent hours there.
Often he met his sons at the races. On the way home he would
stop to scrub his fingernails clean. "It was sad," says Richard
Jr.
Pancho and Madelyn had three daughters together: twins Mariessa
and Christina, born in 1961, and Andrea, born in '63. Ralph
never felt comfortable in Madelyn and Pancho's home. Pancho's
sons later worked with their dad at the tennis ranch he opened
in Malibu in '66, but only Richard Jr. went to his house much.
"Once I was in the kitchen, and I heard [Madelyn] say my
father's friends were a bunch of rubes," says Richard Jr. "I
didn't know what a rube was. I thought it might be good."
Madelyn had little in common with her in-laws, but she says it
was Pancho who kept them at a distance. He told Henrietta that
the only family he had then was Madelyn and their daughters.
In truth, winning was his pride and joy. After beating Hoad
51-36 in 1958, Gonzalez spent the next few years dispatching all
comers: Ashley Cooper, Mal Anderson, Rosewall, Olmedo, Andres
Gimeno, Barry MacKay. He retired in 1961, at the end of his
contract with Kramer, then returned for a humiliating
first-round loss to Olmedo at the U.S. Professional Grass Court
Championships at Forest Hills. There, after cautioning reporters
not to write him off, Pancho took Madelyn's hand and sat while
his eyes filled with tears.
In '63 Gonzalez coached the U.S. team to the Davis Cup final,
against Australia, in Adelaide. The team arrived Down Under in
mid-December, and, says Dennis Ralston, one of the U.S. players,
"Madelyn would refuse Pancho's collect phone calls." According to
Ralston, she was angry at Pancho because he wouldn't be home for
the holidays. (Madelyn says she doesn't recall this.) "She
wouldn't let him talk to his kids at Christmas," Ralston says.
"He'd slam the phone down and take four or five drinks."
Gonzalez headed home before the matches began. "Trying to keep
peace in the family," he said in a TV interview.
When he felt like it, Gonzalez could turn on a radiant charm. He
made room in his life to tutor young U.S. players such as Ashe,
Cliff Richey, Pasarell and Ralston, who all held him in awe, but
his generosity often lost out to his rage. On that same Davis
Cup trip to Australia, Gonzalez and Ralston were playing a
practice match in front of some 1,500 people, five dollars a
set. Ralston lost the first 6-4 and said playfully, "Double or
nothing, but you got to give me a game and the serve."
Gonzalez glared at him. "Get out the way you got in, punk," he
said. Ralston went up 4-0, and Gonzalez gathered his rackets.
"Listen, you son of a bitch, you crybaby, all you do is cry," he
snapped at Ralston. Then he walked off the court. The crowd
heard it all.
"I was heartbroken," Ralston says. "This was my idol. There was
a party that night at the U.S. ambassador's, and I didn't want
to go. Pancho came over and apologized: 'I'm sorry, kid; I just
lost it.'"
In 1965, 17-year-old Richard Jr. gave his father some bad news:
Richard's girlfriend was pregnant. Richard expected anger,
disdain--anything but what happened next. Pancho began to cry.
He wrapped Richard in his arms and held him close, tears
streaming down his cheeks. Richard had never seen his father
weep, and he thought Pancho was looking back at his own life, at
his marriage to Henrietta and the son he'd had at 20, the son
whose life had now changed for good. Richard had never known a
moment like this.
It would be another 30 years before he got that close to his
father again.
The boy was hungry. He knew few people in London on that June
day in 1969, and he was alone and far from home. His mother
would've told him to eat, to spend his 50 pence of dinner money,
but Vijay Amritraj had no intention of eating. Pancho Gonzalez
was playing at Wimbledon that evening, and the 15-year-old
Amritraj knew he had to be there. As a rising junior player in
India, poring over newspaper stories and photos, Amritraj had
worshiped Gonzalez without ever having seen him play. Stomach
growling, he spent the 50p on a standing-room ticket for Centre
Court.
Just before 6 p.m. Gonzalez stepped out of a black-and-white
past into Technicolor, swaggering onto the grass for his
first-round match with Pasarell. "He lived up to my dreams,"
Amritraj says of Gonzalez that evening. "I still don't see
anybody who devoured the sport as he did."
In truth, Gonzalez didn't look so good. He was 41 and had not
played consistently in recent years. Sensing the onset of the
Open era and convinced that to compete with the young guns he
had to weigh less than he did at 20, he had indulged in wild
diets to keep at 180 pounds. He drank little water. "He said you
had to be like the [American] Indians, who he said never drank
water," says Richey. In 1968, in a tournament at Bournemouth,
England, Gonzalez inaugurated the Open era of tennis by losing
to British amateur Mark Cox in five sets. "After waiting for it
all these years," Gonzalez had said, "I had to be here when it
finally happened." He played Wimbledon for the first time since
1949 but lost early: Tennis history, it seemed, was going to
leave him behind.
Gonzalez decided not to let it. He spent the last few months
before Wimbledon '69 punishing his body for the last push of his
playing career. "He would eat nothing but soup," Ulrich says.
"He was fearsome on himself."
A dashing gray streak cut through his still-thick hair, but deep
wrinkles creased his elbows, and his sun-baked skin seemed
stretched over his thin frame, his gaunt face. Age had made him
even more of a craftsman. His aluminum rackets were strung at
widely different tensions--tighter for receiving, looser for
serving. For Wimbledon he had prepared an arsenal, drilling
holes from the handles to the heads of the rackets (12 to 15
holes per racket) to lighten them for touch and as a hedge
against fatigue. In long matches he'd work all the way through
his quiver, from the weapon with the fewest holes to the one
with the most.
He would need every one against the 25-year-old Pasarell. The
son of Puerto Rican tennis champions, Pasarell was a younger,
prettier, nicer version of Gonzalez, with perfect strokes and a
classic serve-and-volley game. The match began as a service war,
with neither man close to breaking the other as the daylight
dimmed. Pasarell looked to wear the old man down, moving him
around relentlessly and lobbing over his head, and in the first
set the strategy worked--eventually. This was before the
introduction of the tiebreaker; in numbing and increasingly
riveting fashion, the games of the first set mounted to the
equivalent of nearly five sets played on today's tour. Finally,
in the 46th game, on Pasarell's 12th set point, the younger man
broke serve by throwing up one more lob that Gonzalez couldn't
run down. It was 8 p.m., and as the unreal score of 24-22 lit up
the scoreboard, Gonzalez hunched over gasping. "He looked half
dead," Amritraj says.
It got only worse. After Pasarell won the first point of the
second set, Gonzalez asked the chair umpire, "How much longer do
we have to play in this absolute darkness?" He asked again after
the first game and threatened to default if the remainder of the
match wasn't postponed. Referee Mike Gibson said no. Furious,
Gonzalez spent most of the set screaming about the poor
visibility. The crowd jeered at him to play on. "I've never seen
this happen at Wimbledon before," intoned BBC broadcaster Dan
Maskell. But Maskell's partner in the booth was hardly
surprised. Jack Kramer had been watching Gonzalez behave this
way for two decades.
Pasarell understood what was happening: Pancho knows he's in
trouble. He abandoned his chip-and-lob tactics and began driving
his returns, sure that Gonzalez couldn't pick them up in the
dark. As Gonzalez served at 1-4, 15-30, the umpire mistakenly
awarded him a point to make it 30-30. "Umpire, it's 15-40,"
Gonzalez shouted in disgust across the court. His subsequent
cursing was drowned out by cheers for his sportsmanship. But
Pasarell won the last two games to take the second set 6-1.
Gibson then suspended play. Gonzalez hurled his racket at the
umpire's chair, gathered his other rackets and stomped off. He
didn't wait for Pasarell. He didn't stop to bow to the royal
box. For perhaps the first time in the history of Wimbledon a
player was booed off the court. Everyone began writing
Gonzalez's professional obituary.
The next day, on the drive to Wimbledon for the resumption of
the match, Pancho said to Madelyn, "I'm going to win." Amritraj,
who would one day be coached into the top 10 by Gonzalez,
arrived early and stood in line for hours, lunch money in hand.
The third set began like the first, with both men easily holding
serve, but as the games piled up, it became clear that
Pasarell's level of play had dropped. People kept filing into
Centre Court, packing it to capacity. Finally, with Pasarell
serving at 15-40 in the 30th game, Gonzalez drove a hard, flat
forehand up the line. His racket made a sound it hadn't made all
match, like an ax biting into dead oak. Pasarell hit a backhand
volley wide. Gonzalez had the break and the third set, 16-14,
and as the cheers rose, he flicked his head back as if to say,
Here I am, you bastards.
"What a monumental fighter this fellow is, Dan," Kramer said
over the BBC. In the fourth set Gonzalez took complete charge.
He pounced on balls, the years falling off him with every step,
and won the set 6-3 to even the match.
The fifth set was another marathon, but Gonzalez only seemed
stronger, even moving backward with astonishing speed. Serving
at 4-5, however, he buckled and went down 0-40: three match
points for Pasarell. Gonzalez calmly won the next two points and
then watched as a lob by Pasarell fell an inch wide to bring the
game back to deuce. Two points later Gonzalez dived for a ball,
fell and lay flat on his stomach. For a moment he didn't move.
Pasarell approached and asked if he was O.K. Gonzalez struggled
to his feet, propping himself up with the racket like a man with
a cane. Pasarell thought, Why doesn't he just give up?
Gonzalez held serve. Two games later Pasarell again had him
pinned, triple match point, only to watch Gonzalez wriggle free:
an overhead smash, a drop volley, a service winner. Five of six
times he had faced match point, Gonzalez had pounded his first
serve in. "I've seen Sampras lose many matches because his serve
wasn't working," says Pasarell, who now runs the ATP tournament
at Indian Wells. "I never saw Gonzalez lose because his serve let
him down."
Gonzalez held again, but as the roars shook Centre Court, he
looked indifferent. He may have raged between points the evening
before, but this afternoon he was strangely calm. He gave nothing
away.
Pasarell had one more shot, his seventh and last. At 7-8, ad
out, match point for the younger player, Gonzalez plunked his
first serve into the net. He didn't hesitate: He drove his
second serve so deep in the box that it took Pasarell by
surprise. He managed a return, but Gonzalez struck a biting
volley, and Pasarell lofted one last backhand lob--and a prayer.
This time he died with it; the lob went way long. Gonzalez
served out easily, flipping his head back like a prancing
thoroughbred. Pasarell rebounded to go up 9-8, and by then no
one doubted the match was destined for legend. "I don't think
I've ever seen one like this," Kramer said.
Gonzalez held again, and at 9-9 Pasarell finally cracked. He went
down 0-30 on his serve, and Gonzalez gave him some of his own
medicine, lofting a backhand lob that kissed the inside of the
baseline. Facing three break points, Pasarell showed none of
Gonzalez's grit; he struck a forehand volley long. Break in hand,
Gonzalez stepped on Pasarell's air hose, serving a love game to
win the match by the lunatic score of 22-24, 1-6, 16-14, 6-3,
11-9.
"Seven match points," Pasarell says all these years later. "The
son of a bitch." The crowd that had booed Gonzalez less than 24
hours earlier stood and flooded him with adulation. Later he
found the humiliated Pasarell in the corner of the locker room,
sobbing. Gonzalez, who never apologized for winning, sat down
next to the young man, put his arm on his shoulders and said,
"Kid, I'm sorry. I was really lucky to win."
Luck had nothing to do with it. Kramer rates Gonzalez a better
player than Sampras or Laver. Ashe called Gonzalez the only idol
he ever had. Segura, Olmedo and Ralston say Gonzalez was the best
player in history. Connors said once that if he needed someone to
play for his life, he'd pick Gonzalez. Pasarell agrees: "He was
the toughest competitor who ever played. He just fought and
fought and fought until he died."
The five-hour, 12-minute epic between Gonzalez and Pasarell made
Wimbledon history: longest match, most games played. For tennis
aficionados it's surpassed in drama only by the 1980 final
between McEnroe and Bjorn Borg, but in one sense it had more
impact. In 1970, using Gonzalez-Pasarell as Exhibit A, the U.S.
Open instituted the tiebreaker--the biggest structural change in
tennis in a century.
Still, by the end of that first week of Wimbledon '69, Gonzalez
was gone, having lost to Ashe in the round of 16. At the U.S.
Open, Gonzalez battled severe cramps to beat Ulrich in five
sets. In the locker room afterward his bony frame seized up
grotesquely. "I can't do this anymore," he croaked to Ralph. He
wondered if he was losing his mind. "I feel like Van Gogh out
there."
Ralph tried to lighten the mood. "Don't cut off your ear!" he
said.
"Goddammit, you don't understand!" Pancho yelled. "Nobody
understands what I'm trying to do on the court, nobody--and I
can't do it anymore."
But he could. Four weeks later he rolled through the cream of
the tennis crop at the Howard Hughes Open in Vegas, swatting
aside John Newcombe, Rosewall, Stan Smith and Ashe. Then, in
January 1970, at Madison Square Garden, Gonzalez beat Laver--the
No. 1 player in the world, four months removed from winning his
second Grand Slam--in five sets. A few months later, in
102[degree] heat in Vegas, he beat Laver again.
The following year the 43-year-old Gonzalez beat a 19-year-old
Connors from the baseline in the Pacific Southwest Open. "Nobody
remembers," Olmedo says of that match. Once, in the early '90s,
Sampras was at dinner with commentator Mary Carillo when the
subject of Gonzalez came up. "Pete had never heard of him,"
Carillo says, "because he'd never won Wimbledon." Andre Agassi
isn't surprised to hear this. "The history of tennis is pretty
complex," says Agassi, who was never close to his onetime
brother-in-law, "and unless you're aware, you might not have a
sense of how important a figure Pancho Gonzalez was."
Pancho was always aware. One night after a match at the L.A.
Coliseum he drank a few beers with the 26-year-old Newcombe and
then staggered out to the parking lot. As Gonzalez started his
hotted-up Mustang, Newcombe jumped on the hood and playfully gave
him the finger. Gonzalez floored it, lurched ahead and stomped on
the brakes. Newcombe catapulted off, and as he lay in a heap on
the asphalt, pants torn, Gonzalez rolled down the window and
rasped, "Don't f--- with me, kid," before driving off.
Beg? take a handout? No. Ralph Gonzalez once accused Pancho of
drawing a three-foot circle around himself and leaving room for
no one else inside. "That's right," Pancho replied. He hadn't let
the world in when he was on top, and he wouldn't now that he was
broke. It was the early '90s. Segura wanted to put on a benefit
for him. No, Gonzalez said. "So he chose to be down-and-out,"
Madelyn says, "and live in this nasty little house."
It wasn't nasty. It was his own idea of peace. Five minutes from
the Vegas airport, it was a runty yellow-stucco affair--but he
had it all to himself. At last Gonzalez was alone. He had carved
his life down to the barest bones. He and Madelyn had split up
for good in 1980. Since then he had had three other wives and
two children, ending with Rita Agassi and their son, Skylar, but
women and kids just complicated things. Pancho and Rita divorced
in 1989 after nearly 10 years together. For a while Pancho lived
in a motor home in an R.V. park. The little yellow house was
better.
There he had things the way he'd always wanted: a hook on a wall
to hang his rackets, a workbench in the kitchen, a row of shelves
for the groceries. He slept on a mattress on the bedroom floor.
He used the same plastic cup and plate for every meal.
"I want a simple life," he said when Ralph tried to give him some
drinking glasses. "If it breaks, I've got to clean it up." For a
time he rode around in an old U-Haul van. "He was happy," Ralph
says. Pancho told his kids not to expect any money when he died.
All his bridges had been burned. He had made $75,000 a year from
an endorsement deal with Spalding, but he treated company
employees as if he were a lord, and in 1981, after a nearly
30-year association, Spalding didn't renew his annual contract.
For 16 years he'd had the best professional relationship of his
life working for Cliff Perlman as the tournament director at
Caesars Palace, but Perlman left and the new man had no history
with Gonzalez. It didn't help that Gonzalez only grudgingly
agreed to his boss's request that he hit with Colin Powell and
refused to give private lessons to the boss's wife. In 1985
Caesars cut Gonzalez loose. "He didn't know how to treat
people," Olmedo says. "He was very proud, and that's what made
him a great champion. He was like a goddam lion. But off the
court he didn't know how to behave."
"He became impossible to be around," Rita says. His one
redeeming relationship was with Skylar. When the boy was 10
months old, Rita had found him sinking in their swimming pool
and had him rushed to the hospital. (Pancho was asleep inside
the house.) Pancho's daughter Mariessa had died at age 11 after
being thrown by a horse. Pancho hadn't been close to her. He
made sure, once Skylar was out of danger, not to be a stranger
to the youngest of his children.
He opened himself to the boy as he had to no one else in his
life. Most nights Skylar would stay with Rita or her parents,
but he spent his days, while Rita was working, with Pancho. With
Skylar, Pancho was warm and patient. They would ride dirt bikes
and go-karts and hit golf balls into the desert. All the love
Pancho had held back from his brothers and his women and his
other children he poured into Skylar. The boy would curl up in a
ball and nap by his side. Pancho's friends were stunned. "I just
want to be around long enough to get him through high school,"
Pancho would say.