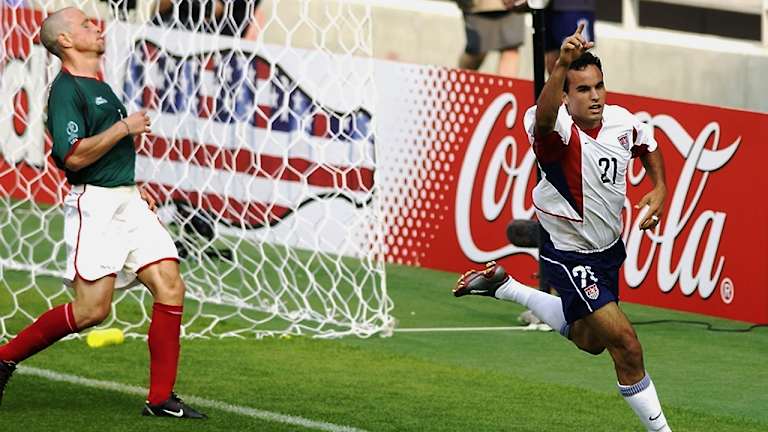 World Class
By thumping archrival Mexico, the U.S. punched through to soccer's elite eight, its best showing in 72 years
On Monday, in the gleaming bandbox of Jeonju World Cup Stadium, Claudio Reyna finally came of age. For nearly a decade U.S. soccer fans have thirsted for a highlight-reel moment from Reyna, 28, the most talented American midfielder of his generation, and in the South Korean heat he gave them one: a breathtaking 40-yard run down the right flank in which he slipped past two Mexican defenders, then lasered a cross to the near post. The resulting goal, scored by forward Brian McBride in the eighth minute, sparked the U.S. to a stunning 2-0 win over Mexico, its most bitter rival, and catapulted these overachieving Yanks into soccer's history books.
Not since 1930 had the U.S. advanced as far as the quarterfinals of the World Cup; it will meet Germany in that round on Friday. Imagine: At this most improbable Cup, in which the two favorites (France and Argentina) didn't survive the opening round, Cinderella is wearing stars and stripes. "It's incredible," Reyna said after Monday's victory. "We used to play games in front of 10,000 people, and now we're in the quarterfinals of the World Cup. We're taking a huge step, but we've got to keep it going."
The U.S. finished last in World Cup '98, losing all three games, and the bellwether moment came near the start of the first match, when Germany's toughest midfielder, Jens Jeremies, floored Reyna with a crunching blow to the kidneys. On Monday it was Reyna who played the hard man. Coach Bruce Arena moved him from his central midfield spot to the right wing--"they call it the graveyard shift," Reyna said--where he had to attack smartly and put the defensive clamps on winger Ramon Morales. "When you go one-on-one with somebody, especially the good attacking players, you have to let them know from the first minute that you're going to be all over them," Reyna said. Arena's surprise switch so flustered Mexican coach Javier Aguirre that he subbed for Morales in the 28th minute.
That wasn't the only evidence that Arena has become a master tactician. Against Mexico he inserted four new starters--defender Gregg Berhalter, forward Josh Wolff and midfielders Pablo Mastroeni and Eddie Lewis--and began with a three-man back line for the first time since a 4-0 win at Barbados in November 2000, a span of 32 games. "Change can be good," Arena says. "I could have done more platooning here, because there's not much of a difference from our top player to our bottom player."
All four newbies excelled. Berhalter and Mastroeni helped neutralize Mexico's two most dangerous midfield threats, Cuauhtemoc Blanco and Gerardo Torrado, while Wolff cunningly flicked Reyna's cross back to McBride for the first goal. Midway through the second half Lewis connected on a perfect cross of his own from the left side to forward Landon Donovan, who nodded home the Americans' second strike. During the final half hour, as unflappable goalkeeper Brad Friedel smothered nearly every foray into the U.S. box, the giant sucking sound in Jeonju had nothing to do with NAFTA and everything to do with the stymied Mexican team.
So decisive was Monday's victory that it was easy to forget how lucky the U.S. had been to reach the second round after its dreadful 3-1 loss to Poland last Friday. As the minutes ticked away in Daejeon, South Korea, midfielder Earnie Stewart would later admit he was certain of elimination. After all, South Korea and Portugal, which were playing at the same time in Incheon, had yet to score; each needed only a tie to advance from Group D if the U.S. were to lose. But not so fast. As U.S. assistant coach Glenn (Mooch) Myernick likes to say, "Soccer can be the most gracious lady, and it can also be the biggest bitch." On Friday it was both. The cohosts, thanks to a two-man advantage for most of the second half and Park Ji Sung's breathtaking goal in the 70th minute, beat Portugal 1-0--and the U.S. fell ass-backward into the Sweet 16, the only team to do so with a loss.
An hour into the Americans' quiet bus ride back to Seoul there was a scene reminiscent of the one in Almost Famous, in which the band members spontaneously break into Elton John's Tiny Dancer on their woebegone tour bus. After Arena offered the team muted congratulations, Frankie Hejduk and Cobi Jones cut the tension by launching into the chant they'd heard ad nauseam from the home fans all month. Heyyy...Ko-re-a! Heyyy...Ko-re-a! Soon most of the players were singing along and clapping--an entirely appropriate gesture of thanks. Said Arena the next day, "I spent the morning shopping for the Korean team and coaching staff."
It was a typical Arena comment, delivered in the wise-guy tone of a man who avidly listens to Howard Stern. "We're about the same age, and he grew up in the next town [on Long Island]," says Arena, 50, who was raised in Franklin Square. "I think he's got a great sense of humor." Not for nothing does Arena's former assistant Bob Bradley, the Chicago Fire coach, compare him to Bill Parcells. "He's got the same sarcastic humor, but what's more important is that he sets a tone for the team," Bradley says. "He never gets too caught up in X's and O's, but his teams are always organized well. Bruce lets his players play."
Though European talent scouts are buzzing about 20-year-olds Donovan and DaMarcus Beasley, they aren't the only Americans drawing attention. Before the Poland game Massimo Franchi, a veteran writer for the Turin-based daily Tuttosport, said a startling thing on an Italian talk show: "The most interesting member of the U.S. team is Bruce Arena. We all thought the U.S.A. would play like some hastily thrown-together team, like Ecuador or what have you. Instead they are beautifully organized, like a European power, like Real Madrid." Italian soccer scribes have a penchant for hyperbole--Franchi also proposed that Arena, "as an Italian-American," be named the next coach of Italy--but it's safe to say that Arena has turned some heads across the pond.
And why not? Through Monday's match nearly every hard decision Arena made during the World Cup had been eerily clairvoyant. He left top sniper Clint Mathis on the bench in the opener against Portugal, and the U.S. pulled off a 3-2 upset. When Arena brought Mathis back against South Korea, the newly Mohawked Georgian struck for a goal in the 1-1 draw. Concerned about David Regis's mental lapses at left back, Arena replaced him with Frankie Hejduk, who performed solidly despite his never having played the position on the national team. And in his toughest call, Arena picked Friedel over Kasey Keller as goalkeeper; Friedel merely saved two penalty kicks--including one against South Korea that made the difference in reaching the second round--then had the first World Cup shutout for a U.S. keeper since 1950.
Yet Arena's one obvious mistake was a doozy. By starting Jeff Agoos, his former player at D.C. United and the University of Virginia, in central defense throughout the first round, Arena relied on a 34-year-old whose legs are too creaky for the game's highest level. Before Agoos pulled a calf muscle in the first half against Poland (sidelining him for the tournament), his dossier included an own-goal, a penalty and breakdowns on the five goals the U.S. had allowed. "One of our failures was never finding a younger center back to join in with our group," Arena said last Saturday in his 30th-floor aerie overlooking Seoul. "International soccer is difficult for players in their 30s. There's no downtime anymore. The fields are manicured, the balls are like lightning, the equipment is perfect. It's a fast game, a young man's game."
When Arena was hired in 1998, he brought with him five NCAA titles, two MLS crowns and a history of speaking his mind, often with ruthless honesty. "We had two concerns," says former U.S. Soccer Federation president Alan Rothenberg. "One, do we need somebody with international experience? And two, are we going to have a loose cannon here? Was he going to insult us as much as he insults everybody else?"
While Arena proved Rothenberg's "loose cannon" fear true during qualifying, drawing a two-game suspension for verbally abusing a ref, his candor has been a hit with the players. They appreciate the way he maintains steady communication, a rare trait among his European counterparts, and he has instilled an uncommon comfort level within the team. When the U.S. plays in Washington, Arena often hosts barbecues with his wife, Phyllis, at their house in northern Virginia. In Seoul, whenever he sees Beasley roaming the hotel in his usual attire--a gold number 7 medallion with 117 diamonds, a pair of two-carat diamond earrings and a black neoprene skullcap--he can't help himself. "Hey, DaMarcus," Arena will say, "that hat is phat."
In some ways, though, Arena's personality seems too large for this group. "The '98 team had a bunch of strong personalities, and this is almost the opposite," Arena says. "These guys don't rock the boat, which is good--that's why they're a team--but it would be nice to have one who takes on a real leadership role."
He may yet get to watch one of his young stars mature into that role if, unlike most national-team coaches, he sticks around for a second World Cup run. Arena certainly has earned the chance, having amassed the most victories (33) and the highest winning percentage (.625) of any U.S. coach. Though his contract with U.S. Soccer runs out at the end of this year, negotiations for a new one have begun. "Who the hell knows?" Arena says. Coaching a club in England "would be interesting," he adds. "I think I have a good background to do something like that."
Arena cites ACC basketball as the greatest influence on his coaching--at Virginia, he used to sit in his office before games and eavesdrop through the air vents on the adjoining visitors' locker room--and he drew on that experience for the Mexico game, the latest skirmish in a protracted border war that matches Duke-Carolina at its best. "One thing I learned was never to get too high or too low," Arena says. "You see it all the time in the ACC, where you get knocked down, and then you have to get back up again."
It wasn't lost on the Americans that against Mexico they would be playing before a friendlier crowd in Jeonju than any they have endured in, say, Los Angeles. "I'm not a big fan of the urine bags," goalkeeper Tony Meola said of the projectiles that have been hurled at him over the years by Mexico supporters. "It's happened to me in Mexico City, and it's happened to me at the L.A. Coliseum." Highlights of the rivalry include the time one Mexican player kicked Alexi Lalas in the nuts, as well as the fracas in Columbus, Ohio, last year, in which Mexico's Luis Hernandez clocked Tony Sanneh with an elbow. "I don't like them, and they hate us," Donovan said before the game. "They can be dirty and cheap."
In the end the two teams had collected five yellow cards each, while Mexico bagged the only red card (for Rafael Marquez's brutal head-butt of Jones) and the U.S. scored the only direct kick to the privates (when Reyna unintentionally caught Braulio Luna there in the second half). It was one more reminder that although Reyna may wear number 10, he is not the Number 10, soccerese for the playmaker, the engine of the attack. "The last time I was a Number 10 was in college," says Reyna. "In Europe I've always played central midfield, with a lot of defensive duties. I'm just worried about defending well, doing the hard work and keeping possession. That's what I do best."
Once in a blue moon Reyna also ventures forward, as he did so brilliantly during his game-breaking run on Monday. At the final whistle, as a section of joyous Americans serenaded their vanquished opponents with !Adios, amigos! one could only wonder what stunning surprises, from lineups to results, the U.S. would spring next. "Bruce got it right again," Reyna marveled afterward.
So did his plucky Americans.