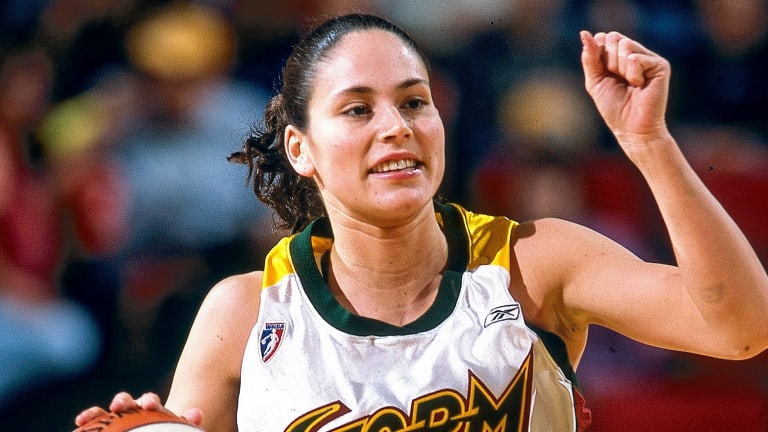 The Sky's The Limit
WNBA rookie Sue Bird has the game and the charm to become the most popular female team-sport athlete ever.
Sue Bird stands in the wings of the gym at Fern Hill Elementary School in Tacoma, Wash., calmly assessing the audience she is about to address. She looks straight ahead but sees everything around her. Everything. Before she is introduced, she turns to her left and plucks a stray hair from a reporter's sweater. "Sorry," she says with a smile. "That was bugging me."
Now she takes the microphone and starts working the crowd of third-, fourth- and fifth-graders sitting on the floor. She is there to promote the Seattle Storm, the team that picked her No. 1 in April's WNBA draft, and the kids have some questions for her. "Are you better than Kobe Bryant?" "Do you have your own limo?" "Can you do the splits?" No to all of the above. Bird has questions for them, too. "What do you guys listen to? 'N Sync?"
No!
"Backstreet Boys?"
Nooooo!
"Britney Spears?"
Adamant noes all around. Wary of another defensive stop, Bird    adjusts. "Usher?"
Yes!
"Lil' Romeo?"
Yessss!
"Bow Wow?"
The kids practically cheer. Now she can tell them, and they'll believe her: "See, I'm like you guys."
If there is one thing that Sue Bird can depend on, both on and off the court, it is her ability to read a situation and make a connection. In truth, last year's consensus college player of the year is a lot like Fern Hill's students: She orders Shirley Temples in restaurants, is hooked on Friends and sometimes makes goofy faces when the TV camera is on her. Pretty, quick-witted and not too imposing at 5'9", she fits in anywhere. 
"There were probably 20 cliques in high school," says her mother, Nancy, a high school nurse in Syosset, N.Y., "and Sue was included in every one."
On the court, however, Bird is not like anybody else. Nearly three months removed from the end of a storied 39-0 senior season at Connecticut in which she won her second national title, Bird is quickly establishing herself as the new standard in women's point guards. She wasted no time in taking over the Storm, a team that went a combined 16-48 in its first two years. In Seattle's first four games this season, all played without the team's leading scorer from 2001, 6'5" Lauren Jackson, who was out with a sprained right ankle, Bird led the Storm to a surprising 3-1 start by averaging 19.0 points and 6.3 assists and displaying the full array of pull-up jumpers, three-point shots, no-look passes and crossover dribbles that made her famous at UConn. In the eight games since Jackson's return, Seattle has gone 3-5, but Bird has continued to impress.
"Point guards like her don't come along very often," says Seattle G.M. and coach Lin Dunn, who resisted a number of tempting offers for Bird before draft day, including one from the New York Liberty—reportedly for sharpshooting forward Crystal Robinson and guard Becky Hammon—and another from the Washington Mystics, who would have swapped the third and fourth picks to take Bird. "She has great court vision and surprisingly good speed and quickness. She can score, pass and handle the ball, and she can lead. Her presence on the floor makes everybody better. There are point guards in the world who can do some of those things, but not all of those things."
"Sue plays the game one or two passes ahead of everyone else," adds Storm assistant coach Carrie Graf. "She is one of those great players for whom the game, as quick as it is, seems in slow motion."
While other coaches use the terms throwback and old school to describe Bird, a player with her package of skills, vision and instinct—rare enough in the NBA (think John Stockton and Jason Kidd)—is something new in the women's game. Most WNBA point guards are either playmakers who can run the offense but aren't scoring threats, or converted shooting guards with limited playmaking skills. Bird can score (her 45.9% career three-point shooting is the best in UConn history), yet she also elevates all the players around her. League president Val Ackerman calls Bird "a new breed of point guard" who represents "an important evolutionary step in the women's game." Barring injury, Bird is the favorite to be the U.S.'s starting point guard at the 2004 Olympics.
If her representatives have their way, Bird will also establish a watermark for women's team-sport athletes in the endorsement world. Charismatic, personable and well grounded—thanks to her down-to-earth parents, Nancy and Herschel (he's a retired cardiac rehab doctor living in Las Vegas), and four years spent in the check-your-ego-at-the-door program of UConn coach Geno Auriemma—Bird is a marketer's dream. "Unlike any other athlete I've seen, Sue Bird is a natural in all different contexts, with fans, with kids, with media, on the court," says Karen Bryant, the Storm's vice president of operations. "People relate to that, the athlete who seems like the girl next door."
That is one reason Bird's co-manager James Gould predicts that the public "will fall in love with Sue." Gould has already negotiated a three-year deal with Nike and says he has fielded inquiries from sports-drink, automobile, cellular phone and cosmetic companies. He expects Bird to eventually pull down seven figures off the court, dwarfing her $57,500 WNBA salary and placing her above the rarified air occupied by fellow basketball stars Lisa Leslie and Sheryl Swoopes. "This girl is unique," says Gould. "She plays to every market."
Case in point: The Seattle team store had to reorder Bird jerseys and T-shirts after just one preseason game. "A lot of the people ordering them are guys," says director of merchandise Jeremy Owen. "That's unusual." There has also been an increase in ticket interest—"much of it from guys referencing Sue," says Bryant—leading the Storm to place ads on sports radio, where it normally wouldn't.
If the stars align, Bird could become the most popular female team-sport athlete ever, blowing by soccer star Mia Hamm, who for all her visibility and marketing success is shy and has faltered in some of her superstar duties by being uncooperative with the press and failing to consistently deliver when the game's on the line. The outgoing Bird, on the other hand, is as reliable in the last minute of a game as she is in the 30 minutes afterward. Against Notre Dame in her junior year she hit a buzzer-beater from 10 feet out to win the game. Last season, when Bird's team was beating opponents by an average of 35.4 points, the opportunities for heroics were slim. This year they will be abundant. "She never plays her best when her team is dominating," says her father. "But those days are over. I think we'll see a much more aggressive player now."
Will we? The one major hurdle to all this predicted glory for Bird is the limited television exposure she's going to get with the Storm, a franchise that has struggled on the court and at the gate. Dead last a year ago in attendance (5,954 a game) and performance (10-22 record, tied for the worst in the WNBA), Seattle was rewarded with one game on NBC this season, and that has already aired. The Oxygen network picked up three more Storm games, and the six-year-old league, still looking for its first profitable season and a way to boost its slipping TV ratings and stagnant attendance (around 9,000 a game), is scrambling to create other opportunities to capitalize on Bird's buzz. She's likely to appear on ESPN at least once, at the July 15 All-Star Game.
The pressure for Bird to produce on and off the court is intense. She prefers it that way. "I like pressure, I thrive on it," she says. "I like when I'm in a tough spot and have to make a play. While I don't like to think about the kind of pressure that's on me right now, it does motivate me. Now I have something to prove."
She feels that the best way for her to deal with the expectations is to just focus on helping the Storm win. "Right now we need an outside threat," she said. "So I want to hit a couple of shots, get the ball to whoever is open—especially Lauren in the post— make sure everybody is in the right place at the right time, control the game and hopefully get this team to the playoffs. If I do that, good things will follow."
Bird's basketball goals have never been much more complicated than that. She didn't model her game after that of anyone in particular, didn't watch a lot of basketball on TV and, before she got to Connecticut, didn't spend much time outside of practice working on her shot. She was always honing her will to win, however. Growing up in Syosset, Bird was precociously good at every sport she tried: soccer, tennis, track, basketball. After playing with her CYO hoops team at halftime of a St. John's women's game, she was approached by a security guard, who asked if he could have her autograph, saying, "You're going to be important someday." Bird was 11.
Before leading Connecticut to those two national titles, she led Christ the King High, a private school in Queens, to two state titles. At both schools she had talented teammates, which had a profound influence on how her game developed. "I can shoot, but all my life I've been surrounded by people I'd rather pass to," she says. "I like to get them going. That's the mentality I've developed."
During practice after the eighth game of her freshman year at UConn, Bird blew out her left ACL and was forced to sit on the bench the rest of the season. "It stunk because I lost a whole year, but I wouldn't change it," she says. "It was probably the best thing that happened to me. It opened my eyes to the fact that I had taken sports for granted. I started playing with a different kind of intensity, like every game was my last. That's still with me a little bit."
Sitting on the bench also gave her new insight into the point guard's role. She watched where her teammates liked to get the ball and observed the way Auriemma read people and pushed their buttons. From the bench Bird gained a layer of knowledge about her teammates that she could add to what she gleaned from her natural curiosity—or "nosiness," as more than one Connecticut teammate has called it. "She understands better than anyone else, here's what I have to do so all five of us can play well together," says Auriemma. "She is in tune with what everybody on the team is feeling and thinking at all times. She has an uncanny sensitivity to others."
That is just one unusual aspect of Bird's high-performance mind. "I call her an idiot savant, because she remembers everything," says her father. "She remembers every player she played against even seven years ago." Bird also has a remarkable memory for song lyrics and movie lines—any of which she is given to blurting out unbidden in the locker room—and just about every turnover she has ever made. In her regular-season debut on May 30, she shook off heavy pressure from Liberty veterans Robinson, Vickie Johnson and Teresa Weatherspoon to lead all scorers with 18 points in a 78-61 loss. But the stat she noticed first was her five turnovers, against six assists. Even though some could be pinned on teammates who weren't ready for her traffic-defying, no-look passes, she took the blame. "Careless turnovers, all my fault," she said later, adding, "I don't mind it being my fault."
This is a rare bird indeed: Takes responsibility, makes her teammates look better, doesn't care about scoring points. As her mother says, "What's not to like?"
Bird does appreciate a compliment now and then, however. The one she would most like to hear, she says after the Tacoma assembly, is that she is fun to watch. A few days later, in a corridor inside Portland's Rose Garden after her team had won its first game, against the Fire, she revises that, saying that the greatest thing someone could say about her is that she helped establish a winning tradition, something she's never had the chance to do before. She looks straight ahead as she says this, then smiles, seeing that day unfold a step or two ahead of everybody else.