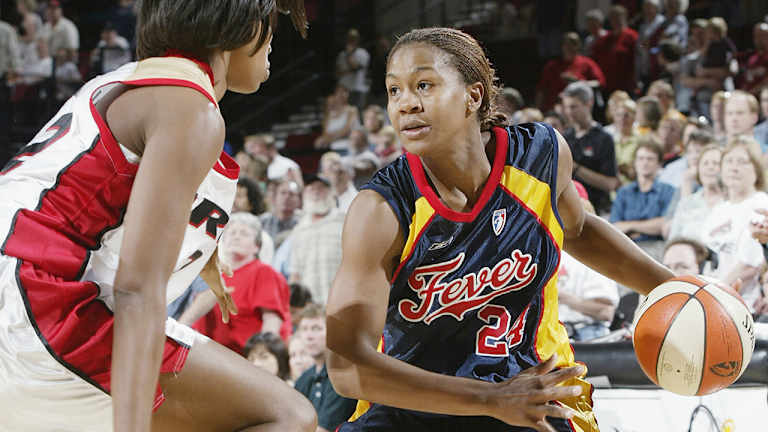 The great ones--Jordan, Ripken and the like--are renowned for their
hypercompetitiveness, whether the game is poker, Ping-Pong or
Parcheesi. But Indiana Fever rookie forward Tamika Catchings may
be the first athlete to have made a do-or-die contest out of a
baby shower.
Catchings was at a celebration two years ago for her
sister-in-law in Chicago. The family thought it would be fun to
hold a game of toddler trivia, giving away miniature blue and
pink clothespins for correct answers. Whoever collected the most
pins got a gift basket. Catchings jumped out to an early lead,
only to be surpassed at the last moment by her sister, Tauja. "I
got sooo mad," says Tamika with a grin. "I went and sat in the
corner. I just couldn't handle losing." Her mother, Wanda, was
flabbergasted: "I couldn't believe my adult daughter getting so
furious--and at a baby shower! But that's how she's always been."
That competitive drive has made Catchings one of the most
dominant first-year players in the short history of the WNBA. At
week's end she was second in the league in scoring at 17.9
points per game and in the top 10 in seven other categories
(rebounds, assists, blocks, steals, free throws made, free throw
percentage and three-pointers made). A smooth slasher, the 6'1"
Catchings is the rare post player who can handle the ball like a
guard--her snap-through crossover is Iversonesque--and step out
beyond the arc. "When you talk about do-it-all players, you
should just put 'equals Tamika Catchings,'" says New York
Liberty guard Teresa Weatherspoon, who rates Catchings as one of
the top five players in the league. "She can shoot it, rebound
it and push it. Man, she is everywhere."
Within the first three minutes of a game against New York last
week, Catchings blocked a shot, pulled down a rebound, stole a
pass, set up the offense on the perimeter and guarded the
Liberty's best inside player. "She's relentless," says Fever
coach Nell Fortner. "Olympia [Scott-Richardson, the Indiana
center] will say things like, 'I would have had a double double
if Catch hadn't stolen that rebound.' But that's how Tamika is.
She'll sacrifice her body for every loose ball."
The drawback to Catchings's omnipresence is that at times her
teammates forget that they too must be present. When opponents
double-team Catchings or deny her the ball through other
defensive ploys, the Fever offense often stalls. The result was a
7-7 record at week's end. Catchings spins the situation as a
positive, at least in the long run. "This way we'll have seen all
types of defenses early in the season," she says. "So hopefully
we'll be able to adjust in time for a championship run."
Catchings has been waiting awhile for this chance. Seventeen
games into her senior season at Tennessee, where she was a
four-time All-America and the player of the year as a junior,
Catchings tore her right ACL. Drafted third by Indiana a few
months later, she was unable to play in 2001, dying inside as she
watched the Fever sputter to a 10-22 record. All the while she
rehabbed impatiently, pestering doctors with the question, "How
long? How long?" Last February, with Indiana's blessing, she
returned to the court with the Chicago Blaze of the startup
National Women's Basketball League. Any questions about a gimpy
wheel were erased in the first game, in which she led the Blaze
with 27 points, 12 rebounds, five assists, six steals and three
blocked shots.
Approachable and easygoing, Catchings has become the face of the
Fever on and off the court. Born with a substantial hearing loss
in both ears, she often speaks to groups of hearing-impaired
children, as she did before a game against Portland on June 20.
"As a kid I always pictured pro athletes as perfect," says
Catchings, who learned to read lips and interpret facial
expressions as a youngster. "Talking to these kids lets them know
they're not alone."
With so much going for her, the only thing Catchings--whose teams
won 80 straight games from her senior year of high school to her
sophomore season at Tennessee--has to do is get her club to win
consistently. Asked to name the last time she lost two in a row
before this season, she tilts her head and thinks. "A long, long
time," she says. "And I'm sure I was upset about it."
More upset than at the baby shower? "I don't know. But come to
think of it"--her smile melts--"I'm still mad about that."
TWO COLOR PHOTOS: MANNY MILLAN (2) FAR FROM MEEK A rookie in name only, the multitalented Catchings keeps her teammates loose and leaves opponents grasping for ways to stop her.