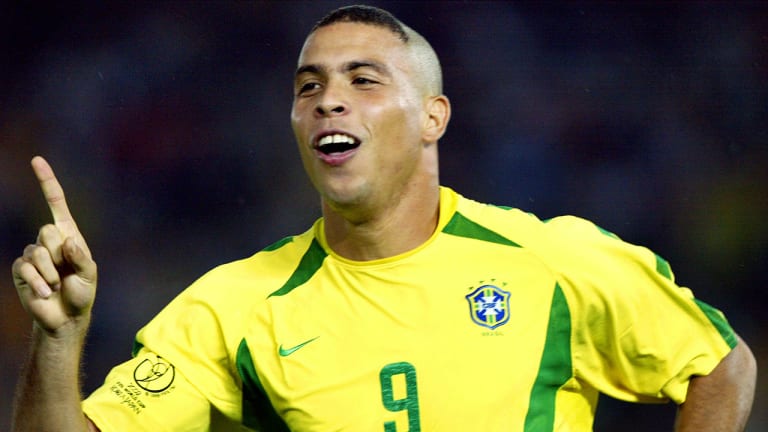 Seize the Day
A reborn Ronaldo awoke from his four-year nightmare and led Brazil to its fifth World Cup title with a performance for the ages
On Sunday, in the soaking rain of Yokohama, Japan, the oldest 25-year-old in the world was able to smile again. For four years Ronaldo Luiz Nazario de Lima had been the embodiment, physically and mentally, of a train wreck--a bullet train wreck. His nerves jangled, his knees mangled, the Brazilian striker was a cautionary tale, a transcendent talent lost to the Fates. Yet as his two goals led Brazil to a 2-0 win over Germany and an unprecedented fifth World Cup title, Ronaldo rediscovered his enchanting mix of youthful wonder and regal majesty. Suddenly his nutty coiffure, a tiara of hair on an otherwise shaved dome, looked less like a relic of the Star Wars bar and more like a crown for the once and future king.
The Brazil mystique is back. Or, as Ronaldo happily put it a few days before his 11th and 12th career World Cup goals, tying him with Pele for the most by a Brazilian: "The nightmare is over."
It had originated in Paris, in the hours before Brazil's World Cup '98 final against France. After an ordinary pregame lunch, Ronaldo returned to his room and went into convulsions. "It was a really strong and shocking scene," his teammate Edmundo later testified in an investigation by the Brazilian national congress. Ronaldo, he said, "was lying down and hitting himself with his hands, with his teeth locked together and his mouth foaming." Though an exact cause was never established, Ronaldo, then 21, appeared to have suffered some sort of attack--a "brainstorm," as the European media called it. He played like a zombie that night, and Brazil lost 3-0, its worst defeat in 87 World Cup games dating to 1930.
Thus began a three-year cycle of pain for Brazil and Ronaldo, the world player of the year in 1996 and '97. While playing for his club team, Internazionale of Milan, in '99, he tore a tendon in his right knee. Five months later, after rushing through rehab, he ruptured the ACL in the same knee during his first game back. All told, between Nov. 21, 1999, and Sept. 20, 2001, Ronaldo played just seven minutes of competitive soccer. In his absence Brazil struggled as it never had before, losing six World Cup qualifiers and coming perilously close to missing the tournament for the first time. Under Luiz Felipe (Big Phil) Scolari, their third coach in three years, the Brazilians arrived in Asia as the oddsmakers' fifth choice to raise the Cup, despite the presence of their fit (albeit rusty) star.
Still, the mystique had never disappeared completely. Not long after their 2-1 quarterfinal win over England, the Brazilian players were celebrating in the locker room when, according to one team insider, somebody knocked on the door. It was David Beckham, holding an England jersey. "Hi, sorry," Beckham said. "I just wanted to know if Ronaldo wanted to swap shirts with me." Over in the corner, defender Roberto Carlos furrowed his brow. "Beckham?" he asked. "Are you sure? I already traded shirts with him."
"You must be mistaken," Ronaldo told his teammate after returning with Beckham's jersey. "Beckham just gave me his." Shaking his head, Roberto Carlos opened his equipment bag and fished out an England top. As it turned out, Beckham--easily the most popular player in Europe--had traded his game-worn shirt with Roberto Carlos, then retrieved another shirt to exchange with Ronaldo. David Beckham, just another Brazil memorabilia hound.
Yet while the Brazilians had avoided the upsets that claimed favorites Argentina and France, and while Ronaldo had scored a tournament-high six goals through the semifinals, even Pele confessed to lingering doubts about the Phenomenon's mental fitness. Last Friday, when confronted by a horde of 200 jostling, cursing, sweat-marinated reporters at Yokohama's Mitsuzawa Park, Ronaldo was asked time and again if his "brainstorm" would recur. "Everyone keeps reminding me, and I don't know why," he said, the smile wiped from his face. "I am trying to be calm, to find tranquillity. I am not even thinking of '98." Instead, he said, he was spending hour after hour at the team hotel playing video games--the same video games that warn that excessive use can cause...seizures.
That wasn't the only suggestion that Brazil was perhaps laying a trap for itself. "We have to win," said right back Cafu, the captain, who was playing in his record third straight World Cup final. "If we don't, it's going to be a disaster even bigger than 1998." As if to heap more pressure on his players' shoulders, Scolari kept reminding them that for Brazil, finishing second "is like finishing last." Before every game the coach showed the team a videotape of Brazilian fans celebrating after triumphs and despairing after defeats. "There is nothing better to encourage you," the goalkeeper Marcos explained, "than to see Brazilians suffering with you."
Though scientists breathlessly announced last week that soccer-playing robots will be able to beat the world's best team by 2050, let the record show that the Germans nearly made it happen in 2002. After all, the Mannschaft had plowed through its half of the draw with mistake-free efficiency, if not the slightest bit of attacking flair. Only the dominance of Oliver Kahn, the impossibly Teutonic goalkeeper, had saved the Germans from elimination in their 1-0 quarterfinal win over a more deserving U.S. team. Afterward, Franz Beckenbauer, the grumpy German legend, muttered, "Kahn apart, you could take all of them, put them in a bag and hit them with a stick. Whoever got hit would deserve it."
Kahn nearly pulled off another shocker on Sunday. Three times in the first half Ronaldo slipped free to face him one-on-one. Three times Ronaldo failed to score. Brazil's Kleberson beat Kahn with a magnificent drive, only to watch it slam off the crossbar. Shortly after halftime German striker Oliver Neuville hit the Brazilian woodwork himself, and by midway through the second half the two teams seemed headed for a draw that would have to be resolved by the much-hated penalty kick shootout.
Then Ronaldo struck. Viewed closely, the sequence was a compendium of the attributes that make him so dangerous: speed, tenacity and a sense for the game. After a harmless throw-in in the Brazilian half, Ronaldo received a long diagonal ball on the left side. Normally defender Thomas Linke would have stepped in to clear, but he backed off, fearing Ronaldo's speed. Though Ronaldo fell and lost the ball, he bounded up immediately (another rare trait) and picked the pocket of Germany's Dietmar Hamann. In one killer move Ronaldo spun away from Christoph Metzelder, flicked the ball to his teammate Rivaldo and sprinted goalward for the return pass. None came--this was Rivaldo, a man not known for sharing--but Rivaldo's shot knuckled downward off Kahn's palms, then caromed off his chest, and in a flash Ronaldo pounded the loose ball into the net.
He would strike again 12 minutes later (after a brilliant step-over by Rivaldo froze the German defense), but the game had been won in those frantic moments when Ronaldo's explosiveness reigned and Kahn's steel finally failed him. "This is the only mistake I made in the seven matches of the World Cup," the disconsolate keeper said afterward, "and that one mistake was brutally punished."
When title No. 5 was finally sealed on Sunday night, Ronaldo and his Brazilian teammates pranced around Yokohama's International Stadium in overcoat-sized national flags, as canons belched confetti. Thousands of tiny origami birds, a rainbow-hued paper aviary, fluttered down from the stadium roof. To accept the champion's trophy, Cafu climbed atop its teetering glass pedestal--a delightfully unscripted move--and held the 11 pounds of gold aloft. The celebration was capped by a 10-player Brazilian conga line, led by midfielder Ronaldinho pounding out a batucada on his drum. The players sambaed and sang their way through the interview room, surely the most festive no comment of this or any World Cup.
Meanwhile, Ronaldo held court for the international media, another sign of his hard-won maturity. During his long ordeal away from the game, he married Milene Dominguez, a fellow futebol player who holds the Brazilian soccer-ball-juggling record of 55,187 consecutive touches. One shudders to imagine the genetic potential of their two-year-old son, Ronald, or their second child, due in October. At their current strike rate, they'll someday be able to field their own 11-member team.
For his part, Ronaldo can't seem to wait. In response to the typically Brazilian postgame question--Which is more rewarding, winning the World Cup or ending the 40 days of chastity imposed by Scolari?--Ronaldo didn't take long to engage in the debate. "Both are very hard to stay without," he said. "Sex I am going to do in a few moments, but nothing can be so rewarding as the World Cup." Pause. "Not that sex is not good."
With that he leaned back, closed his eyes and giggled like the teenager of old.
COLOR PHOTO: PHOTOGRAPH BY SERGIO MORAES/REUTERS Grain Surgery Leopoldo Rios carved out a sandy rendering of the Brazilian national soccer team--which defeated Germany in the World Cup final on Sunday (page 38)--on Copacabana Beach in Rio de Janeiro. [Leading Off]
COLOR PHOTO: JERRY LAMPEN/REUTERS 9 LIVES Flashing the brilliance that had twice made him world player of the year, Ronaldo left German defenders agape.
COLOR PHOTO: GABRIEL BOUYS/AFP PAIN AND JOY While Kahn pondered his one World Cup error, Pele embraced the man who matched his Brazil scoring mark.
COLOR PHOTO: DAMIEN MEYER/AFP [See caption above]
Up Next: 2006
While Brazil met Germany for the first time in World Cup history on Sunday, the U.S. can only hope it doesn't run into the Germans for the third straight World Cup in 2006. Germany will be hosting the event, an honor that inspires great things from the home team. (Witness South Korea and, to a lesser extent, Japan this year.) The tournament is tentatively scheduled for June 9 to July 9 in 12 cities, with Berlin set for the final. While Germany will get an automatic bid as the host, for the first time the reigning champion won't receive a free pass to the next World Cup. For Brazil, which struggled mightily during South America's tortuous 18-game qualifying campaign for 2002, that's not welcome news.
The North American audience will certainly find the next Cup easier to follow, with live TV broadcasts during daylight hours. (Again ABC and ESPN will air the games.) Just two years until qualifying starts. The countdown begins now. --G.W.