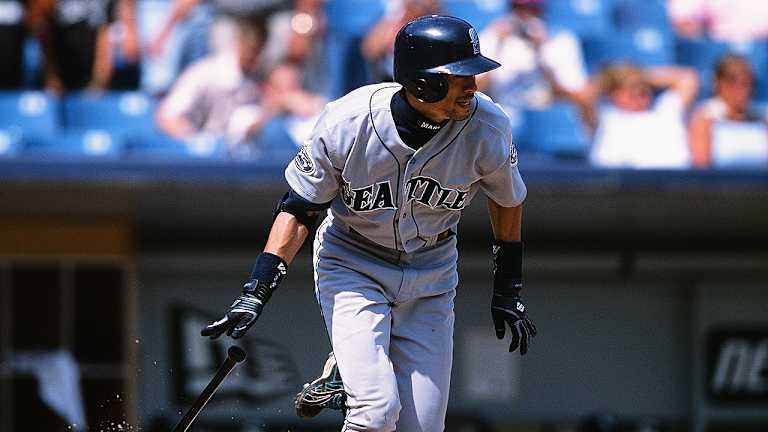 The Ichiro Paradox
No power, no personality, yet with no peer, the Mariners' Ichiro Suzuki may be the greatest player to come out of Japan and the worst thing to happen to Japanese baseball
Who sits like this? No American male over six years old and, Lord knows, no baseball player. Players slouch. Players hunch over with headphones on. Players sit like emperors with arms folded. Yet here is Ichiro, on a chair in front of his locker: feet drawn up, heels pressed against his butt, knees together—a position physically impossible, not to mention unacceptably precious, for the musclebound types populating clubhouses these days. Twenty minutes pass. Ichiro doesn't move. His head is tilted up to watch a TV set hanging from the wall. He stares, grinning. He would look like an amused child, except he's too alert. He looks about as harmless as a panther on a tree limb.
Ichiro is watching a tape of tonight's opposing pitcher. He does this before every game. After batting practice he sits oh-so-cozily amid the clubhouse bustle, looking for weakness. No teammate speaks to him. His eyes shine. He looks hungry.
Pitchers went straight at Ichiro Suzuki last year, figuring to dent his gaudy Japan League credentials, and the Seattle Mariners' 27-year-old rookie rightfielder made them all pay. He sliced up the American League with a .350 average, got more hits (242) than anyone else in 71 years, became only the second man ever voted American League Rookie of the Year and Most Valuable Player in the same season. No one found a way to neutralize him then, and now, just a season and a half after he hit the beach, American baseball is waving the flag of surrender. At week's end Ichiro—no one bothers with his last name anymore—was hitting .359.
"There's no secret way to get him out," says Boston Red Sox manager Grady Little. "All you can do is concentrate on the other eight guys."
"Impossible to defend," says Ray Knight, the bench coach of the Cincinnati Reds, "but he's a joy to watch."
Strange words from an opponent, but such is the nature of baseball's Ichiro paradox. He makes contradiction logical. Through Sunday he had but two home runs yet led the league in intentional walks. He speaks little English in a sound-bite era, yields no emotion in a culture that prizes personality; he's a contact hitter in a sport overdosed on power—yet he is baseball's most popular player. This year, for the second season in a row, Ichiro led every major league player in the fans' All-Star Game balloting. Yes, his 2.5 million votes were padded by Internet voters in Japan, but consider: Even on hard ballots filled out mostly in American ballparks, Ichiro topped everyone with 1.7 million votes.
None of this leaves him the least bit mystified. "I'm unique," Ichiro says. "I'm a very rare kind of player."
More than even he knows. There's a Pepsi ad in Japan that pictures Ichiro swinging a bat above the words CHANGE THE WORLD. It's not just marketing. His was supposed to be the tough adjustment, but in truth Ichiro has made few concessions. American fans, pitchers and general managers are the ones scrambling to adjust. Already his success has killed, once and for all, the long-held conceit that a small Japanese player (Ichiro is 5'9" and 160 pounds) would be overwhelmed in the major leagues. In Japan, meanwhile, it has completely altered the landscape. A mere baseball star when he played there, Ichiro is now an omnipresent cultural icon.
Japanese mornings begin with unprecedented TV broadcasts of each of his games. His face stares from T-shirts, newspapers, subway ads. He is, appropriately enough, both everywhere and nowhere to be found, dominating a nation while squatting in a chair half a planet away. But the Ichiro paradox cuts most deeply across the game he left behind. Ichiro has given Japanese baseball new life, yet by the time he's done, it may be crippled beyond repair.
Kazuo Matsui is like a lot of young men in Tokyo these days. At the mention of Ichiro his face lights up with wonder. "When I think about him being in the major leagues, it amazes me," he says though an interpreter. "Then I see Ichiro getting two, three hits a game? I get so much out of it."
It is late June. Like most of his generation, the 27-year-old Matsui has spent the last month obsessing about the World Cup and looking to soccer, not baseball, players for style tips. He wears a soccer bracelet and spends several minutes fluffing his thick mop of tinted hair skyward so he can look more like English star David Beckham. "I've always liked Beckham," he says. "He's why I dyed my hair."
The difference between Matsui and his peers, though, is that an hour after adjusting his coif at the Seibu Dome the day before, the durable, switch-hitting shortstop for the Seibu Lions cracked the second pitch he saw for a leadoff home run, played flawlessly in the field and again showed why he may be the best all-around ballplayer in Japan. Los Angeles Dodgers pitching coach Jim Colborn, a former Mariners director of Pacific Rim scouting who coached in Japan, says some three dozen Japanese players could play in the majors. But it's the imminent exodus of top players like Matsui, along with Yomiuri Giants centerfielder Hideki Matsui and Kintetsu Buffaloes third baseman Norihiro Nakamura, that threatens to turn a national point of pride into just another major league farm system.
"Every day, people [in Japan] are watching major league baseball games, and short term, that's not so good for us," says Steve Inow, the former general manager of the Orix Blue Wave who sold the rights to Ichiro to Seattle in 2000 rather than lose him as a free agent with no compensation. "These are difficult times. Japanese baseball is at a turning point. Which way do we go?"
So far, all arrows point down. Attendance and TV ratings for Japanese baseball have been sliding for years, but last season, with Ichiro's Mariners games as competition, the drop was precipitous. Even the bellwether Giants saw their television share drop to 15.1% of viewers last season—the first time the Tokyo-based team's share had dipped below 20%. Meanwhile, since 1983 the percentage of baseball viewers 19 years and under has plummeted more than 66%. You can walk the streets of Tokyo for weeks without seeing a Giants hat; you'll see a Mariners logo within an hour. The recession has reduced the number of teams in Japan's Industrial League, its de facto minor league system, from 300 in the late 1980s to 90 today. There has been talk about creating an Asian League with South Korea and China to spark interest, even whispers about contraction.
Yet the success of Ichiro and the 10 other Japanese players now at work in the U.S. not only blunts any popular concern about the health of the Japanese game but also contradicts it. Never have so many Japanese players done so well at so high a level; fans can justifiably say that Japanese baseball has never been better. Last year Robert Whiting, a Tokyo resident and expert on Japanese baseball, appeared on Japanese TV and asked the host, "Doesn't this bother you? You had this great tradition of baseball, and now you've lost it. All your stars are leaving."
The host said, "No, the Japanese are very excited. It shows Japanese superiority to Americans."
It wasn't always this way. Baseball has been played in Japan since the late 1800s, and the Japan League started in 1936, but before 1995 only one Japanese player had made it to the major leagues. Reliever Masanori Murakami appeared in a total of 54 games for the San Francisco Giants in 1964 and '65, and then only because his parent club sent him to the U.S. for seasoning. But in the winter of '95 Kintetsu Buffaloes pitcher Hideo Nomo and his agent, Don Nomura, exploited a loophole in the agreement between Japanese baseball and the major leagues: If a player retired, he was free to play for whomever he wished. Nomo announced his retirement and promptly struck a deal with the Dodgers, and all Japan reacted as if he'd blown a hole in Mount Fuji. The Buffaloes' general manager resigned. Nomo's parents wept and begged him to come home. Nomura's mother and stepfather, legendary catcher Katsuya Nomura, broke off all relations with their son.
"Nomo opened the gate, and at the time people said, 'He's a traitor to Japanese baseball,'" says alltime homer king Sadaharu Oh, who manages the Fukuoka Daiei Hawks. "Now if you're a good player, people ask, 'Why don't you go to the United States?'" Oh likes it better this way. "Why not?" he says. "I wish I had the chance to go."
Nomo's success—he was the 1995 NL Rookie of the Year and at week's end was 10 wins short of 100 for his major league career—led so many other pitchers to take the leap that in 2000 Inow devised the current system of player "posting." Instead of losing talented players when they became free agents after nine seasons, Japanese teams could now sell them to American teams.
Inow sold Ichiro's rights to Seattle for $13 million. The second player to be posted, Kazuhisa Ishii, was signed by the Dodgers in February and was tied for third in wins (11) in the National League through Sunday, but it's the daily success of Ichiro—the first Japanese-born position player to make it in America—that has erased the inferiority complex of his ballplaying countrymen. "Now we feel if you're a good player in Japan, you can be a good player anywhere," says Kazuo Matsui, who's still mulling over whether he wants to be posted after this, his eighth season. "It pushes me even more, having that freedom."
For the next five months, though, all manner of speculation, panic and pride will rain down on Giants centerfielder Hideki Matsui, 28, the free-agent slugger, two-time MVP and former batting champion who is called Godzilla "because I look so scary," he says. The 6'2", 210-pound Hideki bears the fortunate burden of playing for Japan's oldest, most successful team, an institution combining the prestige of the Yankees and the fan reverence accorded Notre Dame. The Giants always lead the league in attendance and give their stars a profile Ichiro could only have dreamed of when he played in Japan. Giants owner Tsuneo Watanabe has never lost a player to America and speaks often these days about "sports patriotism." But Hideki turned down a long-term contract last year and has spent this season making adjustments in his swing, some say, to prepare for the majors.
The idea that Ichiro's success could spark interest in baseball and blunt soccer's growing popularity seems logical. But it's scant consolation to those who love the proud history of the Japan League. More Japanese kids will want to play, certainly—just not in Japan.
"If Hideki leaves, it's a tragedy," says Jun Ikushima, a Tokyo reporter and co-author with Seattle Mariners reliever Shigetoshi Hasegawa of the book My Way to Study English, which became a best-seller in Japan. "Hideki's the best player in Japan now, and the Giants are the symbol of Japanese baseball. It's bigger than Ichiro leaving. We depend on Hideki for so much—his popularity, his dynamism—that if he goes, I can't imagine what will happen. I will feel emptiness. It will be the beginning of the destruction of Japanese baseball."
Fans intent on seeing the best Japanese players will have to follow the trail taken by the stream of jet-lagged Japanese tourists stumbling around Dodger Stadium, Pac Bell Park and Safeco Field. The influx into Seattle has been so pronounced that the team has posted signs in Japanese around the ballpark. "I'd like to say to Seattle baseball people and the mayor of Seattle, 'Please give an award to me,'" Inow says. "Seattle was known in Japan before, but it was not so popular. Now look: Seattle is Ichiro's town, and Japanese people are coming. I need a special bonus."
Who waits like this? More ballplayers each day, it seems. Ichiro's on-deck gyrations have become a Seattle model of cool, with Little Leaguers everywhere trying to keep their faces blank while contorting like pretzels. It is the fourth inning of last Thursday night's game against the Oakland Athletics. Lefthander Barry Zito, winner of nine straight, is on the mound for the A's. As he prepares to step in, Ichiro betrays no awareness that he's enduring his longest drought—0 for 13—of the season. No, as always, Ichiro spends his time running through at least six different stretches. "Same thing every time," says Mariners outfielder Charles Gipson. "He never gets out of the zone."
Ichiro's at bats are clinics in working over a pitcher: stretch, shirt tug, foul, foul, foul, flare to left center. With his maddening skill at making contact, it's nearly impossible to fire three pitches past Ichiro. When he dives after a curveball in the dirt, as Zito induces him to do in his first at bat, "I can't really pat myself on the back," Zito says. He figures Ichiro just made a rare mistake.
No one makes the game look easier, and for a public happy to interpret Ichiro's few, banal utterances ("Whether it's a good day or a bad day, I look back and find anyplace I can correct myself," he says. "I absorb it, digest it and come back the next day. That's all I can do") as proof of Zen profundity, there's the temptation to believe he received his gift from some monk on a mountaintop. It doesn't quite fit that Japan's master hitter actually grew up an American cliche: Ichiro worked himself to greatness.
His father, Nobuyuki, made him feel special from the start, naming him Ichiro—"first boy"—though he was actually the second. Nobuyuki, a former high school player himself, poured his chosen one into the game, drilling with him every day for four years. By the time Ichiro was a freshman in high school, his competitiveness had been honed to a fine point. It's a tradition in Japan for freshman ballplayers to wash the uniforms of the seniors, so to make sure he lost no daylight practice time, Ichiro would wake up at 3 a.m. to do the laundry. During classes he slept. In his first year as a professional he spent most of his free time in the batting cage, with teammates coming and going from breakfast, lunch, nap, dinner to the endless tattoo of his bat on ball.
So now arrives the perfect Ichiro moment. He slaps a ground ball three steps to the left of first base, but he is so fast that Zito never comes close to covering the bag in time, and what would be a sure out for anyone else ends with Ichiro safe again, a paradox in action. "When Ichiro doesn't hit the ball well, it's almost to his advantage," Zito says. "He's a pain in the ass."
The crowd of 42,159 at Safeco Field erupts. Everyone leans forward, waiting for his reaction. But Ichiro gives nothing away. Somewhere in Tokyo a ballplayer forgets his breakfast for a moment and stares, wondering how it feels to be so very rare.
COLOR PHOTO: PHOTOGRAPH BY HOWARD SCHATZ COVER MIDSEASON BASEBALL REPORT The Improbable Impact of Ichiro "I am very rare"
COLOR PHOTO: BRAD
MANGINCOLOR PHOTO: PHOTOGRAPH BY CHUCK SOLOMONCOLOR PHOTO: KOJI SASAHARA/AP PIED PIPER Ichiro's popularity back home may lead more stars like San Francisco's Tsuyoshi Shinjo (right) to join him in the U.S. COLOR PHOTO: KYODO NEWS/AP [See caption above]COLOR PHOTO: JED JACOBSOHN/GETTY IMAGES [See caption above]COLOR PHOTO: YOMIURI SHIMBUNTWO COLOR PHOTOS: KYODO NEWS (2)COLOR PHOTO: BOB ROSATO FAST TRACK Always a threat to bunt because of his speed, Ichiro is leading the majors in hits for the second straight year.
Coming ATTRACTIONS? Japan has already lost a slew of its best pitchers, and these position players may follow
HIDEKI MATSUI Centerfielder, Yomiuri Giants .316 BA 15 HR 38 RBIs .433 On-base Pct. A free agent and the best bet to test the market in the U.S., Matsui would deal a major blow to the Giants, who are the Yankees of the Japan League, if he were to depart.
KAZUO MATSUI Shortstop, Seibu Lions .318 BA 16 HR 39 RBIs 13 SB This Matsui, a switch-hitter, has been more coy about coming to the U.S. and will require a posting fee to the Lions if he's to be signed, but he's considered the best athlete in Japanese baseball.
NORIHIRO NAKAMURA Third baseman, Kintetsu Buffaloes .302 BA 23 HR 55 RBIs .672 Slg. Pct. The righthanded-hitting Nakamura is a free agent and one of the top power hitters in Japan, but there are questions about whether he would be as big a homer threat in the U.S.
Statistics through Sunday
"Every day, people in Japan are watching major league baseball games," says Inow. "Short term, that's not so good for us."
"When Ichiro doesn't hit the ball well, it's almost to his advantage," says Zito. "He's a pain in the ass."