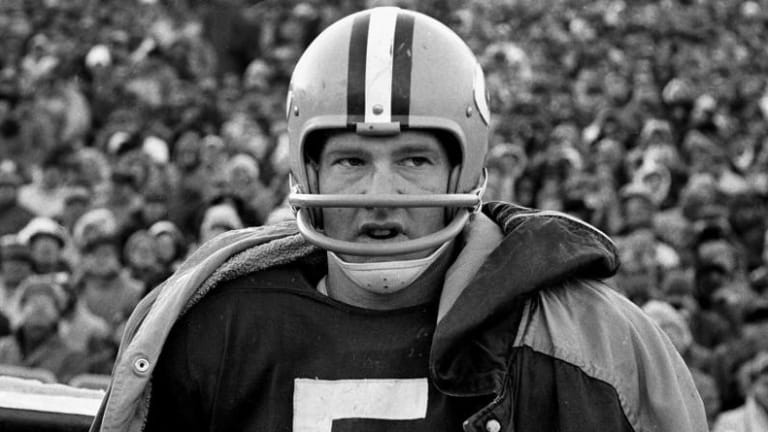 Still Golden
Paul Hornung, the fabled Heisman winner at Notre Dame and a Hall of Famer with the Packers, transferred his Midas touch to his business enterprises.
This article originally appeared in the July 15, 2002 issue of SPORTS ILLUSTRATED.    
On the second Saturday in June a 66-year-old man in a sport coat, with flowing gray hair and a prodigious midsection, stood at the curb outside the Surrey Suite Hotel in New York City, awaiting his ride to the Belmont Stakes. From the chaos of Manhattan traffic came a piercing voice: "Hey, Golden Boy!" Paul Hornung is not so golden anymore, and certainly not a boy, yet people still see him as he once was. Is it the nickname? The everlasting imprint of the Lombardi era? Or Notre Dame and the Heisman? Is it all those wild stories they once heard?
Eight days later Hornung sat lakeside at a festival in Tomah, Wis., dispensing autographs with former Green Bay Packers teammate Max McGee, connecting townsfolk to the team's glorious past. McGee signed from a stack of artist's prints depicting his famous two-touchdown performance in the first Super Bowl. ("I sort of remember that day," McGee, who had stayed out all night on the eve of the game, tells people, a well-practiced line that he delivers with convincing fogginess.) Hornung affixed his signature to a classic shot, a photograph from 1960 in which he is captured running onto the field at the start of a game, sun illuminating his blond curls, eye black applied to his cheekbones, the Pack's green-and-yellow helmet dangling from his right hand. "These guys were the greatest—real football players," said Chuck Roeske, 62, a maintenance machinist at the local VA hospital and a lifelong Packers fan, after getting his autographs. "Paul Hornung, he was the Golden Boy, you know."
Nearly half a century has passed since the afternoon in 1954 when Hornung, an 18-year-old sophomore-to-be from Louisville, played in Notre Dame's spring football game and heralded such great promise that a sportswriter from Hornung's hometown wrote words to the effect that the Golden Dome at last had found its Golden Boy. America was nearing the end of its age of grand nicknames (the Brown Bomber, the Yankee Clipper, the Splendid Splinter), but what a moniker this was, freighted with entitlement.
And what a life the man has lived, worthy of the title. He was a Fighting Irish quarterback who won the Heisman Trophy and went on to run the fabled Green Bay sweep behind Jerry Kramer and Fuzzy Thurston. Better yet, Hornung was the paragon of male fantasy, the star with a woman on each arm (every night!) who could party all week and win with style on Sunday.
Hornung walked away from the game at 31, finished by a neck injury that has left his left arm withered and dangling. But he had already jump-started his life beyond football by investing wisely, and now he owns part of a hugely successful business and chunks of real estate all over his native city. Once suspended from the NFL for gambling, he still thrives on action, especially at the racetrack. (He brags that he bet $200 to win on 70-1 Belmont Stakes winner Sarava, a payoff that was worth more than $14,000.) Yet he derives as much pleasure from giving money away as from earning it or winning it. About 18 months ago he sold his Heisman Trophy for $250,000, using the money to endow academic scholarships for Notre Dame students from the Louisville area. If you send him a piece of memorabilia to be autographed, Hornung will sign it and send it back with a note requesting that you write a check to Louisville's Sister Visitor Program, which helps provide food and clothing for people in the poor west end of the city.
"People always said he was a playboy because women loved him," says former Packers teammate Ron Kramer. "That's true, they did. But his friends loved him too. And their wives and kids too. And anybody else who was lucky enough to meet him. He's charming and generous and just a beautiful guy to know." Late in life the debauchery is gone (most of it, anyway), but the joie de vivre remains.
For his first 18 years he was just Paul, a kid from Louisville's west end who lived with his mother, Loretta, in a second-floor apartment over a grocery store. (His father, Paul, was an insurance executive on Long Island who eventually moved back to Louisville.) Hornung grew into a terrific athlete at Flaget High—6'2", 200-pound split T quarterback who could run, throw and kick—and was recruited by all the major college powers. Hornung wanted desperately to attend Kentucky and play for its new coach, Paul (Bear) Bryant, but his mother, a devout Catholic, wanted just as desperately for him to play for Notre Dame. "I was so impressed by Coach Bryant, and I wanted to play for him, but I couldn't say no to my mother," says Hornung. "It just wouldn't have been right."
Four years later he won the Heisman, passing for 917 yards and running for another 420 while doubling on special teams, as a kicker and return man. He became the only player from a losing (2-8) team to win the statue in its 67-year history. Green Bay selected Hornung with the first pick in the 1957 NFL draft and moved him to running back, though early on he spent some time at quarterback. For two seasons he was a forgettable player on a poor team. In '59, Vince Lombardi arrived and everything changed. He made Hornung, who by then weighed more than 220 pounds, the focal point of the Green Bay power sweep, utilizing his gliding speed and natural cutting instincts. Hornung won back-to-back NFL MVP awards in 1960, when he scored 176 points (an NFL record that stood for 45 years), and '61, when Lombardi's Packers won the first of five league titles in seven years.
"He was a great blocker, he could catch the ball, and he was a better runner close to the goal line than anybody I've ever seen," says Ron Kramer. "But he did a lot of other things for the team too. He kept [fullback] Jimmy Taylor in line when all Jimmy cared about was how many yards he got. He took all the s--- that Vinny dished out in practice, because he just could. Some guys Vinny had to treat differently, like Bart [Starr]. But Paul could take it, and Vinny knew that."
Of course, the Golden Boy was more than a football player. He was a man who lived long nights, indulging a voracious appetite for excess. He was Namath before Namath. In David Maraniss's 1999 book, When Pride Still Mattered: A Life of Vince Lombardi, the late journalist Dick Schaap describes a week he spent with the Packers and Hornung in the autumn of 1961: "At three, he'd come home, mix a pitcher of martinis and drink martinis until six o'clock with [Ron] Kramer and the others. Then they'd go out to dinner, a group of players. Scotch before dinner. Wine with dinner. Brandy after dinner. Then back on scotch. Every day. I lost count by the time it had reached more than sixty just how many drinks he had in that week leading up to the Browns game. Also, he never went to bed before four in the morning, he never went to bed alone, and he never repeated himself."
The stories have the feel of mythology. "But they're all true," says McGee. "Those and a whole lot of others, probably worse. And Lombardi knew where all of us were at all times. But with Paul, especially, he didn't make a lot of noise, because he liked Paul and Paul was such a money player."
In more ways than one. Hornung was suspended for the 1963 season by commissioner Pete Rozelle after admitting that he had bet on NFL games. The suspension is an ugly part of Hornung's legacy, yet in Hornung's mind it could have been much worse had he not stared down Rozelle in their meetings. "Rozelle had me, and I knew he had me," Hornung says. "But I told him, 'Pete, we both know that other guys are betting. I know who they are, and I am not answering questions about anybody else. But if I go to Washington [where a Senate subcommittee was investigating gambling] and raise my right hand, this whole league is in trouble.'" Hornung says he wasn't bluffing, and Rozelle blinked. Hornung took his suspension. Detroit Lions defensive tackle Alex Karras was also suspended. ("He was stupid," Hornung says. "They didn't have anything on him, but he confessed anyway.") It helped the league avoid a larger scandal.
Three years later Hornung was all but finished. A neck injury first sustained when Tom Brookshier of the Philadelphia Eagles drilled him in the 1960 NFL Championship Game was made worse when the Bears' Doug Buffone clotheslined him in the 10th game of the '66 season. Eight weeks later Hornung was the only Packer who didn't play in Super Bowl I. "Lombardi asked me if I wanted to go in for a few plays just to say I played," Hornung says. "I said, 'Nah.'" About a month later New Orleans took Hornung in the expansion draft. But he never played a down for the Saints; he retired before the season started.
More than 30 years later Hornung sits in a booth at the Delta Restaurant and Lounge, an old-fashioned businessman's lunch joint in downtown Louisville. He orders a ham steak sandwich—"With yellow mustard; make sure it's yellow, not brown," he barks good-naturedly at a waitress he calls "Kid"—and wolfs it down. Hornung has been eating at the Delta for years. "Same people, every day," he says. "In and out in half an hour, and they make a good little sandwich. Nothing fancy." A thirtysomething man dressed in a sharp business suit passes by. "My stockbroker," says Hornung. "I just switched to him a little while ago because he's young and he likes to gamble, and so do I. The stock market. That's legal gambling for the Horn."
Money has never been a problem. Back in the late '50s, when Hornung didn't know if his pro football career would last two seasons or 10, he sent all his paychecks home to a family friend, Henry Hoffmann, who began investing in real estate in the Louisville area. Hornung now owns a building with more than 600 apartments, ground leases on many businesses and, with Leonard Lyles, a former Baltimore Colts and San Francisco 49ers defensive back who also grew up in the west end, a shopping center. Along with the estate of his late friend and partner Frank Metts, Hornung is also part owner of Golden Foods/Golden Brands, a vegetable- and soybean-oil company in Louisville that
Hornung says did more than $175 million in sales last year and counts Frito-Lay and McDonald's among its customers. Recently he had 2,000 Paul Hornung bobblehead dolls made and, much to his amazement, more than half of them have sold.
"He's got great business instincts," says Bob Stallings, Hornung's Louisville attorney. "He's had a few losers, but his winners far outnumber his losers."
Hornung was among the first wave of pro football players to move directly from the field to the broadcast booth, working first for a CBS affiliate in Chicago for two years and then for 11 more seasons doing NFL games for the network. He has been a part of Notre Dame broadcasts for 33 years, the last two as host of the pregame and halftime radio shows. "Best job in TV or radio," Hornung says. He remains passionately involved with his alma mater. He has missed only a handful of games in three decades, has pledged more than $500,000 to the school and has endowed those scholarships. Yet he hasn't been afraid to criticize Notre Dame's football program.
Example 1: "The whole [George] O'Leary thing was absolutely ridiculous. In the first place they should have been able to hire a better coach. And how do you let the resume thing happen? That's Kevin White's mistake. He's the athletic director."
Example 2: "They've got to do something about the academic standards. They need more urban athletes, and unfortunately a lot of those kids can't get in under the current standards. They make everybody take calculus! That's ridiculous. The priests
don't understand what to do anymore."
His outbursts are like thunderstorms momentarily blocking the sun. Most of Hornung's life is spent in good cheer. He has been married for 23 years to his second wife, Angela, 55. She spots him three shots a side when they play golf at either of their two Louisville country clubs, and they are decorating a new home with Hornung's collection of celebrity art, including works by Tony Bennett, Peter Falk, Anthony Quinn and Red Skelton. Putting Hornung's football trophies on display will be more difficult. "He's not a trophy person," says Angela. "He's strange about them. The Heisman had spent time in the garage before he sold it."
On the first weekend in May, every year, Hornung hosts a Kentucky Derby party at his home, with dozens of guests from Louisville, South Bend, Green Bay and far beyond. "It's for Paul's friends," says Stallings. "That's a lot of people." Time surely stops on nights like these, when Hornung lifts a glass and toasts a long life lived fully. "If I could be born again and come back as anybody I wanted," says Hornung, "I'd be myself again. I've been lucky, about as lucky as a man could be." A boy no more, but still golden after all.