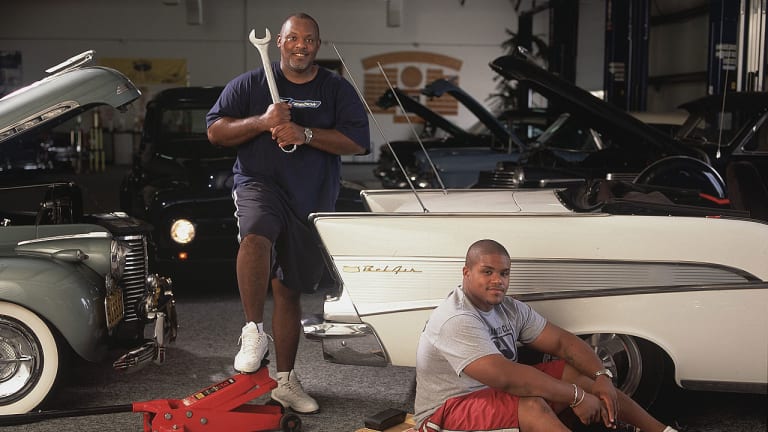 Whack Daddy
The onetime power potentate has spawned the mighty Prince, a Brewers first-rounder and possible heir apparent to his father's home run crown
Big daddy is in his element. An unlit stogie clenched between his teeth, Cecil Fielder sits in the stands of a former minor league ballpark in Sebring, Fla., while some of Florida's best high school players take batting practice before an intrastate all-star game. Sitting near him are 60 scouts and team executives scribbling notes in preparation for the major league draft, which is less than two weeks away.
The baseball men have no trouble recognizing Big Daddy, who hit 319 home runs in 13 big league seasons, including 51 for the Detroit Tigers in 1990, back when 50 was still a magic number. Fielder led the majors in RBIs for three straight seasons, from '90 through '92, becoming the only player besides Babe Ruth to do so. He also won a ring with the New York Yankees in '96, hitting .391 in the World Series. Besides, Big Daddy is, well, big. He was listed at 6'3" and 240 pounds for much of his playing career, though he admits the latter figure was forgiving. He now weighs, he says, about 280.
Fielder works the crowd, a handshake here, a nod there. As baseball men do whenever they are together, they talk about the game. They castigate today's players for their frenetic adjustments in the batter's box (New York Mets utilityman Joe McEwing is deemed the biggest culprit); they talk respectfully about bygone hurlers who would gladly plant one in your earflap (Dave Stewart earns tribute). Fielder reminisces about a 1988 game in which, despite his bulk, he played second base, and recalls some of his mighty dingers of yesteryear. Engaging in such chatter is a pleasant way to laze away a May afternoon, but it is not why the men are here. They have come to see the best high school seniors from the talent-rich state--including one whose daddy is Big Daddy.
Prince Fielder is an 18-year-old first baseman with 255 thickly muscled pounds packed on a 6-foot frame and sequoia-solid arms sprouting from a beer-barrel midsection. He graduated from Eau Gallie High in Melbourne a week earlier, after a senior season in which he hit .524 with 10 homers, 13 doubles and 41 RBIs in 82 at bats. As Prince's time at the plate approaches, his father fidgets, though he insists he's not nervous. "Prince can play," Big Daddy says. "You can ask any of these scouts. Just wait until he swings the bat. I'm telling you, it just makes a different sound. He can get down."
Finally his son steps up. On his second swing the lefthanded-hitting Prince (Cecil batted from the right side) launches a moon shot over the rightfield wall. Big Daddy beams. Later Prince deposits three balls over the fence in four swings. On the last one he muscles an inside pitch just over the wall in right. "He got jammed, huh?" deadpans a scout to Big Daddy, who chuckles, his big frame shaking.
After Prince takes his cuts, Big Daddy lights up his cigar and takes a few puffs. He's thinking about those summer days when Prince tagged along to his dad's job, hitting batting-practice homers (Prince's first was an upper-deck job at Tiger Stadium at age 12) and getting tossed into lockers by Big Daddy's teammates, giggling all the while. Now Cecil can envision a future for the two of them that again includes big league stadiums and clubhouses, but this time with him trailing along as the proud father.
What could be better? "A boy and his dad and baseball," Big Daddy says, blowing smoke. "They just go together. No question about it."
Cecil's career began with a lot less fanfare than his son's. He didn't play baseball at Nogales High in La Puente, Calif., until his junior year. Basketball was his game, though it's hard now to imagine Fielder as the high-flying point guard who averaged 27 points, 12 rebounds and 10 assists as a senior. After the Orioles drafted him in the 31st round in 1981, Baltimore scout Ed Crosby came to the Fielder house with this advice: "Cecil, stay in school." The Orioles didn't even offer a bonus. After Fielder spent one semester at Mount San Antonio College in Walnut, Calif., the Kansas City Royals chose him in the fourth round of the since scuttled secondary draft for players who had been drafted previously. K.C. threw in a $3,000 bonus, and Fielder headed to his rookie league team in Butte, Mont., where he hit 20 home runs in only 273 at bats and was an instant crowd favorite.
While Fielder always had a knack for hitting homers and winning fans with his beer-league-softball physique, he had a more difficult time convincing baseball executives that he could be an every-day player. After a 1983 trade sent him to the Toronto Blue Jays, he hit 31 home runs in 506 big league at bats from '85 through '88 but struggled for playing time. The Blue Jays allowed him to go to Japan, and it was there that Big Daddy proved himself. He hit 38 home runs for the Hanshin Tigers in '89, earning a two-year, $3 million deal with Detroit. He soon became the biggest thing in baseball, literally and figuratively, bashing his 50th and 51st homers on the final day of the 1990 season in Yankee Stadium. Fielder was the first player to have reached that plateau in 13 years.
Fielder's success was even sweeter because he shared it with his son, who spent several summers as the Tigers' de facto mascot. In hotels on the road the Fielder boys arose at around 10:30 and watched cartoons. By noon Prince would begin hectoring his dad to head for the park. Cecil would throw some BP to his son at around three, and even then the hefty seven-year-old could rake it. When game time rolled around, Prince repaired to the clubhouse, where he would usually fall asleep. In between he spent his time getting stuffed into laundry baskets and being playfully smacked around by veterans Pete Incaviglia and Tony Phillips. It's no surprise that Prince envisioned a similar life for himself when he grew up.
For a while it seemed as if Prince might have grown a bit too much. As a sophomore in high school he weighed 306 pounds. Prince asked his father to hire him a personal trainer, who helped whip the teenager into shape.
Prince had the sweet stroke all along. His dad says he didn't have much to do with that besides passing along his genes, though he did insist that his son, a righthander, swing from the left side. This spring Prince put on a batting-practice show at the Tigers' spring training site in Lakeland, Fla., hitting eight tape-measure shots. Detroit Hall of Famer Al Kaline, standing near the warning track, assumed he was watching the team's first baseman, Randall Simon, take his cuts.
"At 18 years old he can handle the bat like a big leaguer," Big Daddy says. "I can't believe it sometimes. Prince is a different breed. Sometimes I want to give him advice, but then he puts the next pitch over the wall in centerfield, and what am I going to say?"
Cecil knows that, at age 38, he's leading a charmed life. He lives in a Space Coast mansion in Melbourne with his wife, Stacey, and daughter Ceclynn, 10. He is a part-owner of MBC Network, a cable station based in Atlanta, for which he hosts a sports show with 13 new installments a year.
Mostly, though, he follows his son's burgeoning career. The two spent last year going to showcases for the scouts, in places such as Wilmington, N.C., and Jupiter, Fla. The Fielders had 50 friends and family members over for the June 4 draft and whooped it up when Brewers scouting director Jack Zduriencik called just before it started to say that Milwaukee would take Prince if he lasted until the seventh spot. Prince did, and the Brewers drafted him. Two weeks later the younger Fielder agreed to a $2.4 million signing bonus. Cecil served as his son's agent, to ensure that Prince signed quickly and could keep the entire bonus. "Agents made enough money off me," Cecil says.
On June 19, in his first game for the Ogden (Utah) Raptors of the Pioneer Rookie League, Prince blasted a grand slam. "In our estimation he is the best power hitter in the country," Zduriencik says of Prince, who is eager to prove the Milwaukee executive correct. He can't wait to return to the majors, as a player instead of a player's son.
"I look at him every day, and he's like, Dad, what are you looking at?" says Cecil, who on June 28 showed up in Utah to begin monitoring Prince's progress. "I'm looking at myself again, you know what I mean? It's awesome, man, just awesome." You can already picture Cecil sitting in Milwaukee's Miller Park five years from now, lighting up another stogie as Prince trots around the bases after another tape-measure homer. Big Daddy's son is rising, and he isn't about to miss the show.