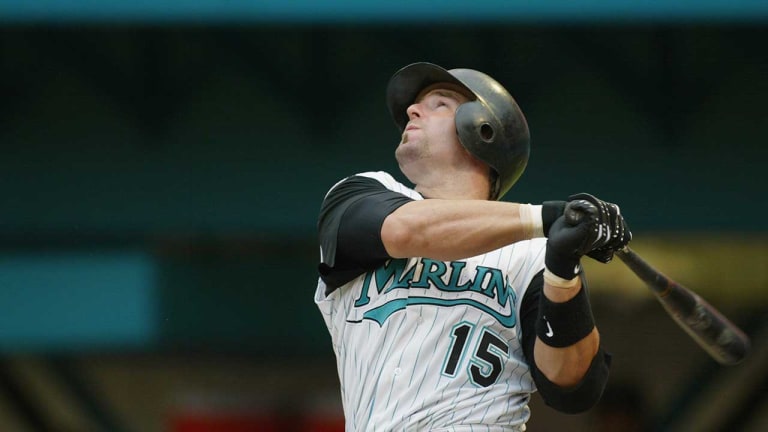 A Character Guy
Strike talk have you down? Then watch the Marlins' wacky Kevin Millar, who keeps everybody laughing
Florida Marlins outfielder Kevin Millar emerges from the shower after a game with the panache of a Versace runway model. After drying off, he folds a fresh towel in half and neatly wraps it around his watermelon torso like a miniskirt. The white cotton comfortably drapes his thighs, leaving a thin slit down his left leg. It's neat and stylish and graceful and....
"Oh, my God!" yells catcher Mike Redmond. "What kind of look is that?"
Millar, who describes his 6-foot, 215-pound physique as a "Harley body," is never one to pass up a chance for a smackdown. "Dude, how are those obliques doing?" says Millar, pointing to the modest rolls of flesh hanging over the top of Redmond's shorts. "Are they waiting for a bus or something?" He doesn't stop there; he busts on Redmond's Texas-sized forehead and fading hairline as well.
Everyone's fair game for Millar. First baseman Derrek Lee's lips are "the world's fattest." Catcher Ramon Castro owns "Jay Leno's chin." Third baseman Mike Lowell has "Pete Sampras's eyebrows." The Marlins' clubhouse, more Delta Tau Delta chapter room than big league locker room, goes berserk when Millar lets loose. Laughter and shouting fill the air. No holds are barred. Millar is tagged a "dumb cracker" and "a homeboy trapped in a white man's body."
"I'd say he's the funniest guy I've ever played with, but that's not enough," says Lee. "Kevin is the funniest person I've ever met."
When Florida took the field for the first game of a road series against the Chicago Cubs last August, Millar burst from the dugout and mimicked Sammy Sosa's Wrigley ritual--sprinting to rightfield at full speed, right hand to ear. The bleacher bums responded with a bloodthirsty chorus of boos. "They're calling me Billy Ray Cyrus, they're calling me Mullet Head," says Millar, who, in fact, sports a mullet. "I was thinking, Hmmm, maybe this wasn't a good joke." Yet Millar imitated Sosa again the next day. And the next. By the time the Marlins left town, Wrigley belonged to Millar.
On a team of young, flamethrowing starting pitchers and powerful, athletic regulars, Millar is an oddity: 30, lumpy and flawed--well below average as a base runner and outfielder. Yet after last season, during which he hit .314 with 20 homers and 85 RBIs in a career-high 449 at bats, he earned a starting job. As Florida's second-oldest regular, Millar sets the tone for the kids. "You can lead in many ways," says Marlins manager Jeff Torborg. "One is by needling or kidding or cajoling. That's his calling."
In yet another disappointing season for Florida (60-63 through Sunday), during which its No. 1 starter (Ryan Dempster) and All-Star slugger (Cliff Floyd) have been dumped because of their salaries, Millar's affability has helped keep his teammates' spirits afloat. He's not the Marlins' best player (in an injury-plagued season he was hitting .273 with 13 homers and 37 RBIs in 89 games at week's end), but in trying times he's the most valuable. "Humor," Millar says, "reminds us that we're here to have fun. And that's important."
Unlike most of his peers, Millar has had to survive a lifetime of baseball rejection. At University High in Los Angeles he was a hard-nosed, underskilled third baseman who hardly seemed destined for the majors. "You could name four or five guys on the team who were better than he was," says high school teammate Dave Ravitz, who went on to play at UCLA. While friends were pursued by four-year schools, Millar's only contact came (without a scholarship offer) from L.A. City College, a two-year school in the heart of gang-infested South Central Los Angeles. During a showcase game in front of scouts in nearby Compton, "there was a Crips and Bloods peace council in the parking lot," says Millar. "Gangsters were cruising around, checking out the action."
Undrafted out of junior college despite a .385 average in his second year, Millar was recruited by only one Division I school, a place he'd never heard of in a town he didn't know. Still, when coach Jim Gilligan of Lamar, in Beaumont, Texas, offered a full ride, Millar jumped. "First time I saw him was in L.A., and we hit him 10 grounders at third base," says Gilligan. "Eight or nine hit him in the chest or face. His technique was terrible. His enthusiasm was off the charts."
After a fine first year at Lamar, Millar again failed to get drafted. During his senior year, in which he batted .324 with 54 RBIs, scouts routinely told him he was on their lists. Then came the draft, and again he was ignored. Afterward Millar--a light drinker--bought a 12-pack and checked into a motel. "I sat there by myself, thinking baseball was over for me," he says. "I got smashed, and I cried and cried. It was the first time this game brought me to tears."
The next day Millar snapped out of the doldrums. He received a call from Gilligan, who on his behalf had phoned a friend with the St. Paul Saints of the independent Northern League. Millar was flown in for a tryout, at which he met Leon (Bull) Durham, the former Cubs All-Star who also was trying to catch on with the Saints. The two made the team and roomed together. It proved to be an invaluable experience for Millar, then 21. "That season was what baseball is all about," he says. "The Saints had a pig take balls to the umpire and a nun giving massages behind the first base dugout--and Bull told me several times that I would make it to the big leagues. So many people had said I wouldn't. He believed in me."
Durham's faith was well placed. On Sept. 20, 1993, the Marlins purchased Millar's contract and those of two other Saints for a total of $5,000, and he spent the next season with the Class A Kane County (Ill.) Cougars in the Midwest League. He batted .302 that year and continued to hit well as he rose through the organization, but there was always a highly touted prospect blocking his path to the majors. As a result he bounced from third base to first base to leftfield. In '97, playing for the Portland (Maine) Sea Dogs, he was named Eastern League Player of the Year after thumping Double A pitchers for a .342 average, 32 homers and 131 RBIs. He was Florida manager Jim Leyland's final cut that spring. Finally, early in the '98 season, he received the call from the Marlins. "I dropped the phone," he says. "That moment is something you live for."
Like the crabgrass growing outside Pro Player Stadium, Millar wouldn't go away. In May 2001, after Tony Perez replaced John Boles as manager, he told Millar that if he drove in more than he let in, he'd be the every-day rightfielder. "There are guys who fall through the cracks, and they have to do every little thing they can to get noticed," says Redmond. "Kevin's stuck around for one reason--he's a gamer."
But mostly he's a character. Millar has golden streaks dyed into his hair. He drives a Harley with baseball-seamed skulls painted on the gas tank. He has worn the same batting helmet for four years; it's grotesquely caked with pine tar and crud. Last off-season, to celebrate his 2001 success, Millar, who lives in Beaumont with his wife, Jeana, went deer hunting for the first time. It was a windy day in West Texas, so one of the guides instructed Millar and his pals to use doe urine to cover their scent and attract bucks. While the experienced outdoorsmen dabbed the liquid around their ankles, Millar treated it like Old Spice, rubbing it on his face, neck and arms. When the others noticed what he was doing, they cracked up. "I felt like a fool," Millar says, "so I told them that on Opening Day I'd spread doe urine on my bat for good luck, just for them."