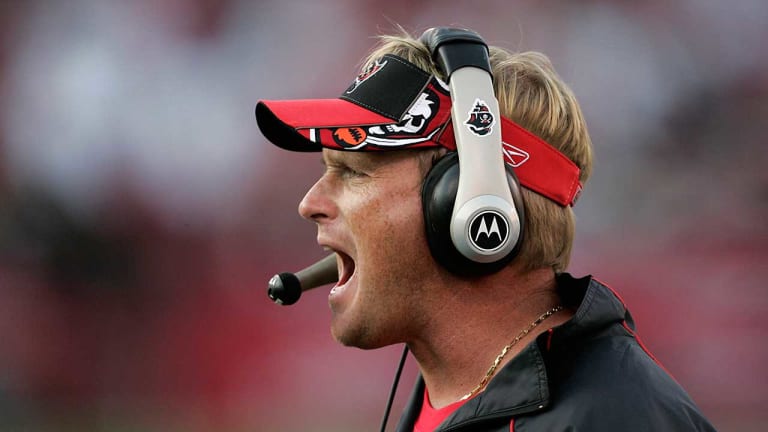 Coach Chucky
The Buccaneers' Jon Gruden has all the qualities of the perfect NFL coach: He's tireless, hypercritical and, occasionally, scary as hell
Jon Gruden does not go deep. "I'm a real shallow guy," he says without a hint of embarrassment. "It's not like I've got a three handicap, or I can play the guitar, or I can tell you anything about the stock market. It's not like you and I could have a conversation about anything else. I've got this job, I've got my three boys and my wife, my family. That's it. I like to fish a little. But there's not a lot of me."
He pauses, cocks an eyebrow, turns back to the computer monitor. He tries to be polite, but really, he has no time. It's 5:20 a.m. on a Monday in August, and Gruden has been sitting in his Orlando hotel room for the last half hour rushing to type up the day's script for the offense. He keeps his back to his guest, speaking over his shoulder with one eye on the screen. With just a week to go before his debut as coach of the Tampa Bay Buccaneers, in a preseason game against Miami, he's still a long way from getting his new coaching staff, 11 newly arrived free agents and the Bucs' offensive unit--which is scrambling to master its fourth system in four years--on the same page. Not that Gruden expects anyone to feel sorry for him.
Why should he? At 39, Gruden, the youngest coach in the NFL, has enjoyed one of the most spectacular rises in football history. In his four years as coach of the Oakland Raiders he revived one of the league's storied franchises, attracted the interest of two of the nation's fabled college programs ("I don't know many guys who had a chance to coach Ohio State and Notre Dame back-to-back, and turned them down," says Jim Gruden, Jon's father), was named one of People magazine's 50 Most Beautiful People and so dazzled the Tampa Bay owner, Malcolm Glazer, and his sons that they surrendered $8 million and two first-round and two second-round draft picks to get him--without once speaking to Gruden directly. "He's special," says Bucs executive vice president Joel Glazer. "When you're dealing with special, sometimes you do special things."
Indeed, Gruden has such star power that Tampa Bay fans have shrugged off what Bucs safety John Lynch calls the Glazer family's "embarrassing" mistakes as it struggled to hire a new coach after firing Tony Dungy at the end of last season. So many Raiders and Bucs have described Gruden as an "offensive genius"--a term used so often these days that you'd think the NFL housed the greatest collection of brains since Los Alamos--that no one cares anymore that the Glazers bungled shots at master builder Bill Parcells and former Florida coach Steve Spurrier.
"Those guys deserve to be called geniuses," Gruden says. "I'm just a grunt. You know what I mean? I'm just trying to get another four or five plays into this script, as you can see. I wouldn't be getting up this early if I was a genius, man."
This is not false modesty. No one has ever accused Gruden of lacking confidence. But ever since he got into coaching, in 1986, he has been living a grunt's schedule--beginning each day at 3:17 a.m., often ending it near midnight--because when he was a teenager a lot of people thought he was stupid, and he has never gotten over it. Jon once told his father that he works so hard because he's not as smart as other NFL coaches. "And I think he's right," says Jim, a San Francisco 49ers scout.
Jon's one blessing is that, in a profession marked by baggy eyes and coffee breath, he came equipped with a body custom-designed to take the punishment. He rarely napped as a child and was always up before his two brothers. The slightest noise wakes him, so he cranks up a loud fan by the bed to drown out the night. "I feel like I'm on a plane," says his wife, Cindy. "He's awake while he sleeps." Yet, Gruden says, he never feels tired, and he attacks each day as if his hair were aflame. "His energy is unreal," Lynch says.
"Everything is just bam-bam-bam high intensity," Cindy says. "He's so programmed to work like a maniac, he knows no other way. We went to Busch Gardens and he said, 'I'm going to the bathroom; I'll be back in 30 seconds.' One time we brought a movie home, and I went up to put the kids to bed. When I came down, he was previewing the movie in fast-forward. I was like, 'Can't we just watch it at regular speed?'"
In Tampa, much has been made of Gruden's local ties. Two decades ago his father served as an assistant to the Bucs' first coach, USC legend John McKay. Jon and his younger brother, Jay, spent a lot of time with the team, and both would copy Doug Williams's raspy snap count--"RED-day!"--in the backyard. After the Bucs fired Jim, who was by then director of player personnel, in 1987, the Grudens hated the franchise in unison. But Jim and his wife, Kathy, stayed on in Tampa, where Kathy would have a long career as a beloved elementary-school teacher and then, with the boys scattered around the country, beat kidney cancer. Jay became an all-state quarterback at Tampa's Chamberlain High, later married a former Bucs staffer and now lives in nearby Orlando. Now Jon, in answer to his mom's prayers, is back in Tampa. He has the Bucs franchise in his hands and the city by the scruff, and he and his brood live just five minutes away from his parents. A nice tale of a family reunited, if only Jon cared about such things.
"A lot of that [homecoming story] is exaggerated," he says. No one who knows Gruden has any illusions about him. No one expects him to be sentimental or more thoughtful. "You think he'll spend more time with his family just because he's in Tampa?" Raiders quarterback Rich Gannon asks rhetorically. "Family's important to him, but he's not going to change."
No, the moment for that came and went more than three years ago, in the winter of 1999, when Gruden was coming off his first season as Raiders coach and could see that all his work was beginning to pay off. The phone rang. It was Bobb McKittrick, the notorious offensive-line coach of the 49ers. Nearly a decade earlier, as an offensive assistant in San Francisco, Gruden had sat at McKittrick's knee, writing down and soaking up everything the man said, watching hungrily as McKittrick spent all his waking hours making decent players great. Gruden worshiped McKittrick for his toughness and intellect. Gruden had been a volunteer ball boy for Bob Knight at Indiana and had seen workaholic NFL coaches Dan Devine, George Seifert and Mike Holmgren up close. None of them could touch McKittrick. He was the best coach Gruden ever saw.
"Jon?" McKittrick said over the phone. "I've got cancer and I'm going to die."
Gruden stammered a few words, but McKittrick wasn't listening. "I wanted to call and tell you: It's not just about football," McKittrick said. "Go be with your kids and your wife. Football is irrelevant. I don't want you to be like me."
But Gruden didn't want to hear it. By then he had arrived at a point, as Raiders coach, that suited his driving ambition. He had found his place, and nothing, not even the sting of words like these, could make him move. Gruden likes to say, "I'm a real shallow guy," but that's less an innate quality than a conscious choice. Offered a glimpse of the deepest water there is, Gruden forced himself to look away.
"But Bobb," he said. "I want to be just like you."
The boy with pink hair hesitates, unsure, a bit scared. "What's wrong with you?" Jon Gruden says. "I want to see a mean face!"
The boy stands frozen. Cameras snap. The crowd of strangers is laughing. Somebody had had the bright idea of drawing fake stitches on his face, scrawling CHUCKY on his forehead and shoving him into Gruden's path as the coach walked off the practice field one morning at training camp. Who knew the boy would be expected to act the part too?
As beautiful as Gruden is supposed to be, his sideline expressions are not pretty. In 1998, as Raiders running back Harvey Williams stood wilting under a torrent of Gruden invective, he took in the coach's arched eyebrow, the shining eyes and the lopsided grin that was anything but happy, and came up with a nickname that perfectly captured the fearsome sight: Chucky. As in the gleefully homicidal doll in the horror movie Child's Play.
"Har-vey Will-iams," Gruden says, using that aw-shucks cadence common to coaches and airline pilots, when the '98 incident comes up in conversation. Then he remembers why he'd been so mad. "He went the wrong way on an audible," Gruden says. "Ninety-six is to the right, 97 is to the left: We called a 96, he went 97. The guy went the other way. Of course there were only five major television networks at the game, 70,000 fans there booing. Sorry for getting upset. Gee. Next thing I know, a newspaper has a picture of Chucky next to a picture of me. Next thing I know, no one knows my name anymore."
Don't be fooled: Gruden loves this. He crouches next to the boy with pink hair. The boy just stands rigid, posing for a picture with a blank expression, but Gruden knows what's expected. He grits his teeth and growls. "Rrraaar!" says the new coach of the Buccaneers. "RRRAAARRR!"
The kid clears out as quickly as he can. Gruden begins his daily walk through the heat-baked gantlet of fans, who include, besides the usual eager boys and memorabilia hounds, a deep and patient line of women. One 60ish matron grabs Gruden's arm, says, "I love you!" and kisses it.
"Finally," says one man, "a Super Bowl coach."
"Aw, we got to get there, man," Gruden says. .
Noon in Orlando in August: To stand here is to stand on an anvil in the desert. Gruden stays until everyone has gotten a piece of him, signs Chucky dolls and T-shirts, says thank you, poses for each camera. The women giggle and whisper the word cute. A tubby man walks up to them. "Any players?" he asks.
"No," say two women almost simultaneously, "they saved the best for last." Gruden gets into a cart and rides off to applause. He couldn't have been more charming. Then again, he never stopped moving.
"He's a warm and fuzzy guy the first time he meets you, and if that's a five-minute deal, he's the greatest guy in the world," says Jay Gruden, 35, who, after four years and two Arena Football League titles as coach of the Orlando Predators, returned to the field last spring as the team's quarterback. "But sit with him for a half hour? You got problems."
Jon's support of his little brother's comeback as a player was constant and public, and he made it clear that Jay--without any major-college or NFL coaching experience--would have a place on his staff the moment the arena season ended. Jay is now a Bucs offensive assistant, but before taking the job he was wary. He'd seen that Chucky face his whole life. "Jon is very easily agitated," Jay says. "We get along great, but the thing that worried me was, if you're in the same room with him for a long period of time, he's going to find something you're doing that bothers him. If I had an itch, he'd call me Dog Boy. Move my foot wrong? Sit still."
Jay laughs at the memory. So do the other Grudens, who love Jon and long ago learned to live with his quirks. When the family lived in Ohio during Jim's coaching stint at Dayton from 1969 to '72, the racket of one aunt's eating habits scarred Jon for life. The clank of a spoon on a bowl or on teeth is intolerable to him, and he has gotten on Cindy for swallowing too loudly. When his wife and three boys sit down for breakfast, Jon takes his plate and sits on a couch far from the nightmare.
"He's in the perfect place," Cindy says of Jon's job. "He works long hours, so he doesn't drive me crazy--he gets very irritated quickly. If he's in a movie theater and someone's chewing too loudly or talking, we get up and move. One time we moved five times. I was so embarrassed. It's just the chewing thing. Is that weird?"
God bless Kathy Gruden. Anyone with a big family knows the casual riot caused by three tart-tongued and headstrong brothers. With her husband gone for long stretches, Kathy raised her boys with little more than her will and a deadly wooden spoon. Besides playing the usual mom roles of cook and cheerleader, she endured bruises on her shins from trying to catch baseballs and bruises on her heart from trying to keep the peace. Jon battled daily with his other brother, James, who is three years older and had no deep interest in sports; he loved to study. Jon thought James was a nerd. James thought Jon was nothing but a jock--just smart enough, he told Jon, to be his chauffeur someday. One time the fighting got so savage that Kathy took the three boys into the living room and made them kneel and pray to God for some mutual respect.
"It was tough for me," Jon says of being James's brother. "He was a 4.0 student, and I was about a 2.0. People thought something was wrong with me. Teachers would ask, and my brother thought something was wrong with me too. But I just wanted to be an athlete. Then my younger brother comes up, and he's twice the athlete I am. So I had some issues to deal with."
After his father was hired by Devine at Notre Dame in 1978, Jon worked out with the Irish players and made himself into a solid quarterback at South Bend Clay High. Unlike his valedictorian older brother, Jon is remembered in town as feisty--he bloodied his fists on one fan who badmouthed the Notre Dame coaching staff--ultracompetitive and lacking nearly every physical tool needed to land a major-college scholarship. In his junior year he took his SATs with no preparation, "and I think he got a better score than I did," says James, who is today the director of cardiothoracic imaging at Emory's medical school and an adjunct professor of biomedical engineering at Georgia Tech. "Suddenly I'm thinking, Oh, my God, this guy is not stupid."
But Kathy and Jim knew that while James would thrive at any college, Jon had to have football. So they insisted that James take the free tuition (as a coach's child) at Notre Dame, and they paid for Jon to go to tiny Muskingum College in Ohio because he'd have a chance to play there. With that motivation, they knew, Jon would stay in school. "Thank God football exists," James says, "because otherwise he'd be in real trouble."
After a year, Jon transferred to Dayton, where he didn't see much action beyond mop-up and holding for kicks. "The most disappointing thing in my whole life," he says, "is not being able to be anything but a ham-and-egger."
Lord knows, he tried. His mom always told him to find his passion and embrace it, and at Dayton no one squeezed harder than Jon. He threw spirals endlessly with those too-small hands, he lifted weights in the off-season, he ran--sure that he could make himself into a player. The summer of 1983, after his first year at Dayton, he was in the best shape of his life, and he would come home from a workout in Tampa sweating and glancing at himself in the mirror. Jay, about to enter his junior year of high school, hadn't yet blossomed as a player, and he spent the hot days watching TV and munching microwave popcorn. Jon couldn't help himself. "Get off the couch, Zit Butt," he'd say to Jay. "Hey, Dog Boy. Hey, Pig. I just threw 400 TD passes. I just ran five miles. Why don't you get up and do something?"
After weeks of this, Jay finally cocked an eyebrow and said, "You want to race me?"
They agreed on two miles, and they were neck and neck until the last two-tenths of a mile. Then Jay opened it up and left Jon behind and realizing at last that he'd never be a real player. "Talk about getting humiliated: Hey, loser," he says. "That's when I knew."
The following summer, things only got worse between them. Jon kept sniping--about a pillow, the TV clicker, anything--and suddenly he and Jay were out in the yard, punching the hell out of each other while trying to stick to the family rule against hitting in the face. For 15 minutes the battle went on, both boys getting shots in but the quicker, taller Jay pounding his older brother on the shoulders, arms and, eventually, the face. At last Jon walked away. "I couldn't throw the ball for a week," he says. "He beat me in a race, and he beat me up. Now you see why I got into coaching."
Say this for Jon: He let it all go. Jay went on to break passing records at Louisville, playing Division I-A football for a renowned coach, Howard Schnellenberger. Jon began his career as a coaching grunt but kept tabs on Jay from afar. Each Saturday, no matter where Jon was, he would climb to a high spot and search the dial on a tiny transistor radio for the Louisville game. Sometimes he'd stand alone on a hill or a roof for hours, radio pressed to his ear, playing each play with Jay, listening to the scratchy crowd noise, the announcers, the sound of Dog Boy doing something big.
For a long time he was certain it was killing him. Why can't I sleep? What's wrong with me? Gruden went from doctor to doctor, and they had no answers. He tried sleeping pills. Still, there he'd be, three or four hours into a deep snooze, and then--bang!--eyes open, staring at the ceiling. He convinced himself that he was tired, because that's what everyone said. You can't keep going like this, Jon, you'll burn out. He heard it so many times that he almost believed it. He must be exhausted.
Except that he wasn't. His father had been the same way, running on empty and no worse for it, but it took a doctor in Dayton to turn Jon around. "Stop worrying about it," he told Jon. "Consider it a strength. Find something you like to do."
Now there was a new problem. Gruden wanted to play football at Dayton, but how many teammates were up for passing drills at 4 a.m.? He tried to fill all that time in the dark by reading Rolling Stone cover to cover, writing letters to anyone he could think of. Gruden had always loved the idea of coaching, had loved going to work with his dad. Once, before Jim joined Lee Corso's staff at Indiana in 1973, he told Jon he was thinking about quitting and getting a normal job. "I'll spend more time with you boys, be around more," Jim said. Jon told him to stop talking nonsense. At Dayton, Jon declared in a questionnaire that he wanted to be the head coach at Michigan by age 39. But what did that have to do with sleep?
After graduating in 1985, Gruden went to Tennessee as a graduate assistant. His job entailed cutting up game film. It was supposed to be simple stuff, but each Saturday night Gruden buried himself under all that footage and spliced together everything--sideline shots, end-zone shots, all the angles, each reel tailored to the needs of a specific coach. The staff would come in on Sunday morning and find all that chaos organized and laid out like a Scorsese flick. Gruden had been up nearly all night. What the hell. It beat reading up on Van Halen.
He had guts, too. When the son of Vols coach Johnny Majors broke up with his girlfriend, a Tennessee cheerleader, Gruden moved in for the kill. Cindy Brooks never dated again. Three years later Walt Harris, the Vols' offensive coordinator, took over as coach at University of the Pacific and brought Gruden in as wide receivers coach. After one season, Gruden landed in the coaching gold mine at 49ers headquarters in Santa Clara, Calif.--"the greatest show on earth," as he puts it--working as an aide to Holmgren, the team's offensive coordinator, and taking in the work of McKittrick, Seifert and Ray Rhodes. After that, Gruden, a confirmed West Coast offense man, went off to work with one of the scheme's gurus, Paul Hackett at Pitt. Holmgren had promised that if he ever made head coach in the NFL, he would have a job for Gruden. When, in 1992, Holmgren took over the Green Bay Packers, he punched Gruden's ticket, naming him an offensive assistant at 28.
Quickly, it became clear that Gruden's two most disquieting qualities were, in the high-pressure world of the NFL, enviable assets. He directed his insomniac's energy into studying film and game plans and stealing ideas, and when it came to players' tendencies and mistakes--those details that can mean the difference between a penalty flag and a touchdown--well, anyone in the Gruden family knew that Jon would spot them first.
After one season Holmgren made Gruden his receivers coach, and as Gruden negotiated the flinty egos of Mark Clayton and Sterling Sharpe--and later, as the league's youngest offensive coordinator, for the Philadelphia Eagles, the egos of quarterback Randall Cunningham and running back Ricky Watters--another thing became obvious: Players listened to him. He had not played big-time ball, yet his knowledge and passion won the players' respect, and his trash talking made them laugh.
"Of all the coaches I've been around, he's most like a player," says Gannon, the Oakland quarterback. "He'd give me plays during practice, and often he'd get in the huddle and almost call the play. He'd love to take the snap. Then, in meetings, his comments were comical. I would say ruthless, but with his tone they were just hysterical."
After People named Gruden one of its 50 most beautiful in 2001, he knew his preening players would razz him and would respect only one response. Gruden grinned and yelled, "You don't like it? Well, I don't give a s---, because I'm one of the motherf------ most beautiful people on this planet!" Of course, players never saw the flip side of that cockiness: Whenever Oakland lost, Gruden would moan about how he'd been outcoached. "I don't think we're going to win another game," he'd say to his brother James.
"Even after they won the division the first time [in 2000], he had this neurosis about preparing more, working harder, staying on top," James says. "I said, 'Jon, you've proven yourself, give it a rest,' and he'd say, 'No, I haven't.'"
Nothing has changed. Already, Bucs players and staffers mimic Gruden's rapid-fire delivery. "You like football?" he'll ask, getting into a player's face. "You love football?" Last spring Gruden called Lynch and, after a few pleasantries, snapped, "Enough with the bulls---. I'm watching film on how to isolate number 47 in this first minicamp, and let me tell you: The first time you bring that weakside free-safety blitz, I'm going to buzz a slant right by your f---ing head. You won't know what hit you!"
Bucs receiver Keyshawn Johnson says that when he was with the New York Jets, he tried desperately to get traded to Gruden's Raiders. "A young Bill Parcells," Johnson calls his new coach. In his rush to replace Dungy's one-dimensional attack with his own aggressive and disciplined scheme, Gruden had the offense run more than 1,000 plays during its minicamp, and in training camp he would jam two dozen plays into 10 minutes. "We've always had a tremendous tempo on defense," Lynch says. "Now the offense is starting to match it."
This is no small feat. The Bucs won their first two preseason games over their intrastate rivals, the Miami Dolphins and the Jacksonville Jaguars, but Gruden's biggest challenge has come in the offense's battles against Tampa Bay's fearsome defense. Led by tackle Warren Sapp, who vowed to Gruden that he'd be his daily nightmare, the Bucs' D is a "high-testosterone unit, with a lot of libidos," says defensive end Simeon Rice. But early in the first week of training camp Gruden got his offense moving, and Sapp & Co. backpedaled all the way downfield. After each play Gruden would go into the huddle, his face Chuckified, and say, "Let's keep ripping their asses."
"And we'd rip them again," says receiver Keenan McCardell. "It's contagious."
Compared with all this, then, what are the words of a dying man? Of course, McKittrick was right. But Gruden knows that few people understand what they want out of life, fewer still have the gifts to match their ambition, and fewest of all get rich and famous in the bargain. McKittrick had "made me reflect on being a good husband, a good family man and all that," Gruden says, "but at the same time, I love this."
He is sitting in the Orlando hotel, shades drawn. It's 5:50 a.m. His face is lit by the glow of the computer.
"I love this," Gruden says again. "I love the strategy. I love being around the guys. I like the competition. I love flying home after a big win, the locker room celebrations. I like to see how we all act in the face of adversity. Are we going to throw our helmets, or are we going to find a way out of this? Is it going to be second-and-nine or first-and-10? Are we going to make this field goal? What's the weather going to be like tomorrow for the game? I wonder if it's going to be a loud crowd. I wonder if they're going to raise hell in that end zone like they always do. I just like the thrill of it all."
Envy the man, and pity him, too. He has everything he ever wanted.