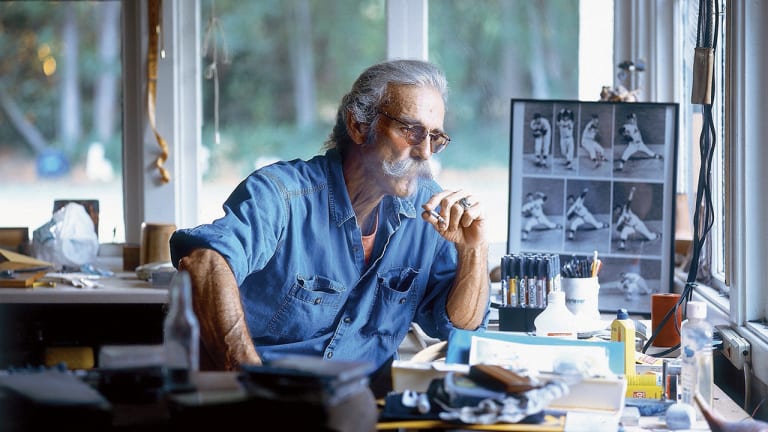 The Uncommon Life of Hank McGraw
While his little brother Tug won fame and fortune and two World Series, a former bonus baby chose a path without compromise or material rewards
I left behind the interstate, then the highway, then the country road. I turned left at the brown-and-white horses and the black-and-white goat. A dentist in Northern California had told me about a hermit who lived here, on the outskirts of Napa.
I headed down a long private lane cloaked in laurel and plum and fig trees. A mystical man, the dentist said, tucked away from the world, without telephone or television.
I parked beside an old dented truck with a fractured windshield and a cobwebbed dashboard. Wyatt Earp with hair to his ass, another man described him. A drill-sergeant hippie.
I gazed at the tiny white cottage. The recluse inside existed so far from fortune and fame, so distant from mainstream and madness—and so near them.
One of his brothers, Tug McGraw, helped pitch both the New York Mets and the Philadelphia Phillies to world championships.
His nephew Tim McGraw had six platinum CDs and an even shinier wife, Faith Hill.
His other brother, Dennis McGraw, recently pumped four bullets into a man with a short-barrel .22 rifle.
I got out of the car. There stood Hank McGraw, one of the Mets' first bonus babies: the McGraw who was supposed to go the furthest of them all. "The pearl at the bottom of the ocean." That's what Tug, his little brother, called him. "A mythical figure. He was All-Everything when I was a kid, and all I ever wanted was to be part of his world. Even after I'd made a name in the big leagues, Hank would appear in the clubhouse, and it was like Jesus showing up. He's risen! He's returned! The rest of us had become what we'd had to become to be major leaguers. Not Hank. He wouldn't compromise who he was or what he believed. He wouldn't cut his hair. All of a sudden my teammates would be around him like ants on a sugar cube. Next thing you know my hotel room's the convention center—Cleon Jones and Tommie Agee and Jerry Koosman and the guys are all there with beer and ribs, and Hank's playing his guitar and everyone's singing. Then he'd disappear again. When you're out there as the forward scout, you can't come back and stay on the wagon train. Someone has to go to the edge and be willing to risk falling off so the rest of us can know when to turn back."
Hank approached me, 42 years past his days as a high school All-America, a few months shy of 60, gray hair spilling over his shoulders, spilling from his chin, from his upper lip and eyebrows. He wanted to know why I was there.
I looked past him. On the front of the cottage, in the first week of August, hung Christmas lights in the shape of a star. In the front yard stood giant ceramic letters that formed two words: OH F---. I couldn't answer his question any more than I could understand a Christmas star next to an obscenity.
He invited me in, against his better judgment, he said. On the walls were photos of Tug and Tim and Indian medicine men. On the floor were cardboard boxes. He'd be leaving soon. The earth beneath him, out there on the edge, had begun to rumble. First came the murder charge against his brother in July. Then his relationship with a woman who lived nearby ended, and he was no longer welcome in this cottage where she'd permitted him to live. He was about to uproot and blow in the wind again.
"I'll admit it," he said. "I'm scared s---less. I haven't been out among 'em for a while. What am I afraid of? Where will I sleep? Don't even have a tent. I can't hitchhike this time—I've got to pee too often.
"Don't feel sorry for me. I don't. I have no method, but I have ways. I have no intentions—but many thoughts. I'm full of gripes, and a few ideas. I'm an ass----, and I mean that sincerely. I have no false pride. I'll give charity, and take charity. I'm trying to become more honest. If you can just get honest, maybe you can take that last breath without it catching in your throat."
He hadn't much to offer—cigarettes, coffee, water—but he offered it anyway. He lived, it appeared, on money from occasional odd jobs and from members of his family who looked out for him. "I'm a lot of things to a lot of people," he said. "I'm a rural myth. I hear stories that I threw a football 75 yards on a jump pass running around right end in high school, and stories of all the baseballs I knocked over the fence. A lot of these are exaggerations, and I'll be the first to tell you. I'm authentic—sort of.
"Some call me a free spirit. Some a goddam bum, a subversive Commie pinko. People are afraid of me. I'm the enemy. When I walk down the street, women pull in their purses."
His eyes fixed on me again. "But you've got to explain something," he said. "Why would you want to write a story about me? What are you looking for?"
I wasn't sure. Maybe I needed a break from the go-getters and hell-benters. Maybe after a couple of decades of chasing them, of watching and hearing and writing and reading them, I just wanted off the treadmill. Maybe it was the looming strike—week after week of watching baseball play chicken on a cliff edge over a backup infielder's right to earn $3 million a year—that finally made me jerk my car off the expressway and seek a ballplayer who'd gone off the cliff decades ago, to see what the world looked like from down there.
"Just seemed like you'd be an interesting guy to talk to," I said.
The flesh and hair crowded around his eyes. Maybe it was just the cigarette he was drawing on. I'd heard a little of the legend he had inspired a dozen miles away in Vallejo, of the college scholarships he'd been offered and the shadow he'd cast so wide that it made even Tug, a future All-Star, hard to see. I noticed the big shoulders and hands and the fists of muscle in his calves. I wondered how that had felt—a man's body taking him one way as his spirit drifted another—and when it was he felt the first hitch.
"To tell you the truth," he said, "I was still a wannabe John Wayne, still rarin' to go, when I took the Mets' offer and left home in '61. I got assigned to Lexington, North Carolina, and the first day I stepped out of that hotel, 18 and dumb as a short-handled shovel, my world changed. Two black guys stepped off the sidewalk to let me pass, and I just wanted to say, 'No, please, don't.'
"We headed off on a road trip, and our team got out of the bus to eat. Our three black players couldn't go in the restaurant. I looked around, and nobody on my team was raising an eyebrow. I went back in the bus with the black guys. My manager took me aside and told me I couldn't do that if I wanted to go anywhere in baseball."
The black players became his friends, invited him into their homes and began to decipher the world as they knew it for him. He watched one of them, Bobby Adams, start a rally-killing triple play in the last inning of a game on the road and then face a mob as he left the field—a disaster averted when the home plate umpire pulled a pistol from behind his chest protector and led Adams to safety.
"Racism was a serious mind-f--- for me," Hank said. "I couldn't just ignore it. I ended up in the backs of buses, singing with the blacks and Latinos. Some managers, when you lost, wanted it so quiet you could hear a rat piss on cotton. I wanted to win, but I cared more about how you played, about the game not ending than about winning or losing. I'd be singing Splish Splash (I Was Takin' a Bath) when I was supposed to be thinking about how horses--- I was. That's one of the things that started the label on me."
He blew a ring of smoke and came up with it, out of his story and his past. "But who do you think cares?" he asked. "Haven't we talked long enough for you to figure out what you're looking for?"
Maybe it was a voice I was looking for, a man with an ear for a urinating rodent, a taste for tangents and a tongue for wordplay—a holiday, for God's sake, from p.r. and cliche. But what if you were his manager?
What do you do with a player like this, the one still sitting in the stands before a game on the road, lost in the moment, soaking in the contours of a new ballpark and the cut of a new team's uniforms as the sun sets? The catcher who lies in bed every night with a baseball, tossing it up and trying to graze the ceiling over and over, musing on what he'd seen while nosing around town that day, perusing the historical plaques and local maps or going to the library to research the history of hemp. The one who'd spend hours working up cryptograms for big leaguers' names to stump a pal with on a postcard. Bog Flower? That would be Pete Rose, of course. Honky Model-T? Whitey Ford, naturally. Volition Pasture Puzzle? Will Lea Maze, for sure. Or memorizing the words and chords to a song about the Say Hey Kid so he could sing it and strum it and cry. "They said I didn't care about the game enough," he said. "Maybe I just cared about it differently."
What's to be done when your MVP, as Hank was on two minor league teams, opens a tackle box full of beads in the clubhouse and pulls out a hammer and anvil and spool of brass string to make necklaces for teammates' girlfriends or a rainbow choker to wear around his own throat behind the plate? Could such a thing be brooked? "No," his manager would hiss. "That's not baseball."
Hank couldn't endure such dogma, such unfairness. It made his presence untenable in that clubhouse, impossible in that universe, damn near un-American in this America: He believed in a code more than he did in his own hopes and dreams. He'd point at teammates wearing conventional jewelry and say to his manager, "So ... gold necklace is baseball? Religious necklace is baseball? Gold and silver are O.K., but glass beads aren't? You're wearing a wristwatch. Is that O.K.? Is that baseball?"
He belted 29 homers and drove in 100 runs in 1964, his third year of minor league ball, persuading the Mets, and then the Phillies, to keep waiting and hoping for the riddle of Hank McGraw to be solved. He hit 16 homers and .304 for the Phillies' Double A team in Reading in 1969, was promoted to Eugene in Triple A and was among the Pacific Coast League leaders in RBIs, home runs and extra-base hits in 1970. It was a felicitous surge, occurring in the season that both Phillies catchers, Tim McCarver and Mike Ryan, broke hands on foul tips in the same inning. Hank was 27, and he'd closed enough bars to smell it coming: last call. Last shot at the Show.
The Phillies changed managers at Eugene, called on no-nonsense, big-jowled Southerner Lou Kahn to run a tighter ship. Kahn called a clubhouse meeting and demanded that his players get proper haircuts. Hank, whose hair was bushy but didn't quite reach his collar, entered Kahn's office. "I said, 'Lou, is this a rule of yours to shake everybody up, or is this organizational?'" Hank said. "'If it's organizational, then it's got to apply to the Phillies, the guys you're holding up as our models, and they've got longer hair than we do. Is that fair?' He said he'd call the Phillies' front office.
"Next day I show up at the yard and he says, 'You're suspended, no pay, and I don't want you in my clubhouse. Clear your gear out after the team's on the field.' All of a sudden I'm a terrorist.
"The wire services picked up the story. Letters started coming from all over: Go home, stay away from baseball, you Commie bastard. One mother blamed me for her daughter running off and marrying some long-haired freak. I stayed suspended for three, four weeks. Then the Phillies sold me to the Hawaii Islanders—a team with no big league affiliation. I knew then I'd never go to the Show.
"Oakland A's won the World Series a year or two later, with Afros and muttonchops and—." He stopped, whirled in mid-sentence and stabbed a finger at my shirt. "What's that?" he demanded.
I glanced down. Two small, faint letters were inscribed above my sinking heart.
"A logo!" he cried.
"But ... but you can barely see it," I spluttered.
He lit another cigarette and grunted. I couldn't be sure, through the haze and the mustache, what worked across his lips. It might've been a grin.
Maybe it was rebellion I was looking for. Not what passes for it in sports today. Not the diamond-crusted superstar backing the Benz away from the 18-bedroom mansion and the six other cars in the circular driveway to go prowl for something fresher than his wife as he rants about keeping it real.
A logoless man—yes, one existed! Hank began modeling for me his own line of shirts, ones he'd designed and hand-labeled. SAVE A FOREST. WHACK THE BUSHES, said one. The message he wore on his shirt at his Catholic high school's homecoming game a few years ago was larger and briefer: LEGALIZE WEED.
The rebel lasted two more years in baseball, including a winter in Guaymas, Mexico, where fans christened him El Pelo—the Hair—and chanted the nickname when he strode to the plate. At 29, in 1972, he was done.
He tried a number of things after that. Making leather goods. Ceramics. Tending bars. Singing in bars. Hitchhiking. Playing Virgil Blessing in Bus Stop at a repertory theater. Selling hot dogs. Marriage. Fatherhood. Couple of semesters at Penn State. Working at his father-in-law's industrial-solvent plant. Running for the hills. Panning for gold. Coaching felons at a rehabilitation school. Coaching Phillies prospects at Bend, Ore., a job Tug arranged. Back to the hills. Founding a softball league for freaks and backwoodsmen. Making pizzas. Waiting tables. Painting houses. Hanging out on three concert tours with Tug's son Tim.
None of it took. Except the hills.
He could make a moment magic. He enchanted the felons he coached with the tricks he performed with a ball. He pulled his hair into a ponytail a few hours before the Phillies' World Series games in 1980, pulled on one of Tug's uniforms and dazzled the batting practice crowd by camping under fly balls with his hands at his sides, then ducking at the last instant so the balls virtually grazed his neck and dropped into the glove he casually flicked behind him. He made an arena crowd roar when he slipped onstage with a broom behind Tim and his band in mid-jam, pretending to be an oblivious janitor sweeping up, then suddenly whirling and joining the band front stage to play air guitar on his broom. But when Tim said, "C'mon, Uncle Hank, you've got to do that again," he refused, because then it would be routine, suffocating, contrived. A trapdoor opened, he vanished from center stage or centerfield, scuttled back through that secret passageway between fame and oblivion, and emerged ... only the crickets knew where.
I listened. I scribbled. Regret, I kept wondering. Where's regret? How about anguish, jealousy, bitterness, the taste in your mouth watching your little brother—the one you talked the Mets into giving a look-see—shoot by and take the hill at Shea in front of 40,000?
"To me it felt fair—hell, Tug had to go through the first half of life as Hank's brother," he said. "I remember one time, just seeing Tug on the field in a big league uniform before a game—I started crying. Damn, it'll choke me up right now if we keep talking about it. It was like we were both out there, like we were joined at the hip, like I was Tug McGraw, but not in an ego-blast kind of way. I couldn't have become the athlete I was without him there to compete against when we were kids, and he couldn't have done it without me.
"I never felt, That could've been me. Every once in a while I'll do a little regret—you could've made something of your life, you could've been a wealthy landowner—but it never lasts long. I wanted to pan for gold, but not own a gold mine. I wanted to own a car, but not a certain car. Fame's like living under Nazis. You have to be on guard all the time. Tug can handle it. Tug makes a living being Tug, giving speeches all over. I'd rather be the little guy outside the palace gates than the one walking through them. When I put on slacks I feel like I'm putting on the enemy's uniform. Like I'm letting somebody down somewhere, some homeless guy on the street."
Maybe what I'd begun feeling was what his managers, ex-wife and lovers felt, the need for something more from him, the need to feel his need. I pressed again: Hank, c'mon—no pain, no grief, no rage over the dream that leaked away?
Well, O.K., once, he admitted. It was 1965, the year Tug made the Mets. Hank was 0 for June or July or August—who could remember which?—for the Mets' Double A team in Williamsport, Pa., and was drinking beer hard one night way past midnight. He left his apartment and headed into the woods with a hatchet.
His eyes fell on a tree. He loathed what the white man had done to the forests. He assaulted the tree, hacking and sobbing and hacking. It took an hour to bring it down, and when he was done his hands were so bloody and blistered that it would be agony to hold a bat the next day. "I was a monster that night," he said. "I went into a space I don't want to ever go into again."
He cleared his throat. "Goin' hoarse," he said. He fixed that look on me again.
"Maybe some tea with lemon and honey would help," I said.
He was 10 the first time they put away his mother. She was the one who'd introduced him to singing and dancing and drawing and poetry, and to shocking wallops when her rage burst. After her fourth trip to Napa State Hospital for electric shock treatment, she didn't come home. The three boys cried. Their parents' marriage ended. Their mother moved to San Francisco, an hour and a half away.
No man's rebellion is abstract, unattached to the pinions and piston rods of his past. Most rebellions rise as a lifelong middle finger at a father, but Hank's wouldn't come straight out of the manual—his dad, determined to salvage what he could of the family, became Hank's best friend.
Maybe what Tug said was right. Maybe Hank—working two paper routes to kick in his earnings, minding his two younger brothers, ironing shirts and cooking scrambled eggs for dinner, trying to fill the holes while Dad worked at the water treatment plant—felt old too young. Maybe that's why, when he left home at 18, he'd had his fill of responsibility.
Hank can't say. Every day now he sorts through the pieces of his childhood. Every day since his stomach dropped through the floor a few months ago when he read in the newspaper that his brother Dennis, four years younger, had killed a neighbor in Vallejo after an argument in broad daylight. "Not rehashing it to find my innocence or guilt in any of this," said Hank. "Just to understand. Denny was the academic one, the intellectual. I wasn't aware of it at the time, but it had to be tough on him, all the attention Tug and I got. They put him in Napa State Hospital 23, 24 years ago, after he hit a cop, and he told the social worker there that we were the problem and that I'd stolen more than my share of the gene pool. Tug and I both were told that if we tried to go near him, there'd be a restraining order on us. So I haven't seen him in all those years. I thought he was living under some kind of supervision. Turns out he was on his own. Now it seems that the guy he killed was severely harassing him. He pleaded not guilty."
"I'm thinking all three of us are borderline crazy, and that got us where we are. None of us got regular jobs. We're just not stable, regular people. People think I'm a freak, and Tug was known as a screwball. Maybe Denny is closest of all of us to genuine. Maybe Tug and I used athletics and comedy to cover our crazy. I've looked at this thing from a lot of directions. But I've got no answers."
He looked at me. "If I was honest-to-God, I'd tell you to go crap in your hat," he said. "Why am I doing this?"
"I don't know," I said. "What are you looking for?"
Maybe it was a way back to the world he was looking for. Somewhere for a gray-haired man with no money, no home, no pension or medical plan to turn when he finished packing and reached that black-and-white goat and those brown-and-white horses at the end of the long private lane.
"Maybe," he said, "I'm hoping to get a job. When I used to make leather goods, I never liked it when the old artisans hoarded their secrets. I've got some stuff to pass on. Baseball. That's what I'd love to get back into."
For three years, in the early '90s, he drove an hour every spring day from his cabin in the mountains to the ball field at his alma mater, St. Patrick High, to help coach the jayvee and varsity teams. Then the coach who hired him moved on, and Hank had no wish to take charge. "I'm not a rock you can build a church on," he said. "I'm more like gravel—a lot of little pieces from all over."
He had ideas about the metaphysics of the game that he'd begun trying out on the kids at St. Patrick. Infield practice with no ball so they could imagine and mime their movements. Juggling and flip games to develop hand speed and a feeling for the ball. Sliding drills in slick parachute pants after it rained. Baserunning with no shoes on to revive the connection between the soles of the feet and the earth. Leaving the players without a coach now and then, giving children their own time and space to create, because adults with the best of intentions were organizing the lifeblood out of games. "My brother and I developed behind the backs of adults," he said. "Imagination and creativity have to be there if you want a Derek Jeter. The element of play has to come in, not just mechanics. We stick kids in the outfield in T-ball leagues, where nobody hits them a ball for an hour, and wonder why they end up on skateboards.
"The spiritual side of the game is what I'd like to teach. People say great athletes block out the fans and noise and distractions—the hell they do. They take it in. There's a humility in a pure athlete like Jeter that allows him to disappear into the energy of the game. There are possibilities in baseball that most players never tune in to, space for art and dance and rhythm.
"Nuance is what we're losing. Players need to learn what's not obvious, what's not on the surface. Now it's just, Jack one to make the highlights and hear an idiot go Boo-ya!
"Baseball will go on no matter what any of us idiots does. We're just passing through the movie. But I'll tell you what makes me angriest about sports today, and what I'd like to teach kids: How we treat opponents. An opponent should get more respect on a ball field than Jesus or your parents. Because without an opponent it's just practice, and you'll never find out what matters. You'll never find out about yourself."
A camp for little kids in the woods—that's where, in his daydreams, the old hippie would roam the final years of his life. A camp that would be like the world was for him long ago, before the first unfairness, before he lost the smell of his mother's skin or the scent of his own possibility. "Where I could pass on little-boy skills," he said. "Skipping rocks, throwing stones at boulders, throwing mudballs at trees. Swinging at socks wrapped around a rock. That's how I learned to play the game and began to find out who I was."
Who I was. Maybe that's what I was looking for. Me, that guy who'd lived in the Andes and roamed Europe with a duffel bag. Maybe in the middle of the mortgage and marriage, the two careers and three kids, all of us compromisers secretly wish to see how it turns out for a man who doesn't compromise.
I looked at him one last time, to see what I saw. Before me stood a man who woke up whenever he woke up, bicycled for his morning newspaper, came home and sipped coffee and barked at the newsprint as he read. A man who said it hurt sometimes that he rarely saw his 30-year-old daughter on the other side of the country but that he didn't brood about it because he'd tried—written her nearly a dozen letters that went unanswered.
A man who'd sat in his yard with his guitar the night before, singing and staring at a meteor shower till 4 a.m. A man whose teeth and gums were so rotted a few months ago that he could barely eat, until friends coaxed him to a dentist and Tug picked up the tab.
A man who'd learned fine points of the game from Rogers Hornsby and Chuck Tanner and old black catchers you never heard of, and who'd played alongside Koosman and Seaver, Swoboda and Kranepool, Harrelson and Bowa. A man with a world to offer if only he could....
It's a funny word, compromise. Those who do it call it growing up. Those who don't call it giving up.
The future, I said. Didn't it scare him?
"Sometimes I worry how I'll end up," he said. "I had an uncle who was a sailor, a wanderer, a boxer, a storyteller. I saw Uncle Tom go over the railing on the back porch one night, he was so drunk. Saw him with the D.T.'s. He died from a rotted liver. I've seen both sides of a free spirit's life.
"Baseball, relationships, jobs, anything that ever went wrong—I'm 50 or 51 percent to blame, and that's a low-end estimate. I don't really think the reason I didn't make the big leagues had to do with hair or being a rebel. To be honest, I never felt like I deserved to make it. I never felt I was good enough.
"But I'm glad I made my stand, even if it didn't seem to make any difference. You've got to go on faith, because you hardly ever get to see your seeds become trees. Someone can be influenced by how you walked down the street, and you'll never even know it.
"My life's been great in ways people won't understand. I still like waking up each morning. Just by waking up, you got another shot at a miracle. And, damn, I got some stories."
Darkness was falling as I moved toward my car. He was looking at the sky, telling me that the meteors would shower again that night. Something in the way he said it made it feel like an invitation, and I paused, thinking how much I'd love to lie in a lawn chair all night, singing backup to Splish Splash and watching billion-year-old cosmic fragments burn and die.
In a hotel room an hour away, my wife and children were waiting for me to return to eat dinner. I said goodbye, got into the car and backed away, watching the Christmas star and the giant oh f---. I headed down the long private lane, to the country road, to the highway, to the interstate.