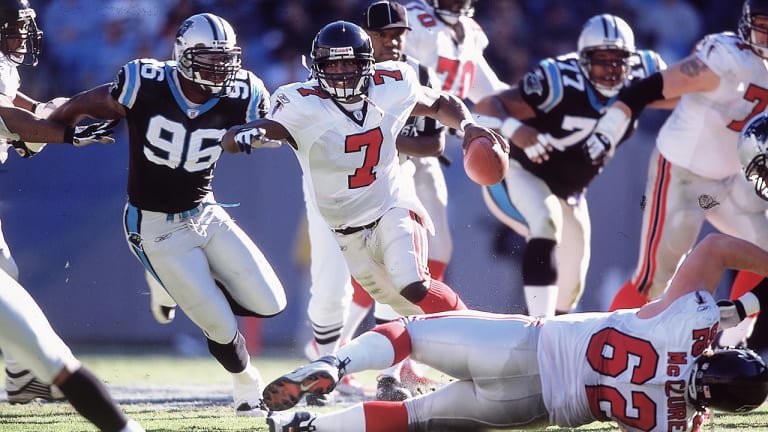 Generally Electric
Falcons quarterback Michael Vick has given the NFL a jolt, but his most exciting days are still ahead
Frodo Baggins has his ring, and Harry Potter has his wand. Michael Vick, the man who's hell-bent on turning the football world on its ear, works his magic with a small tube of emollient. If you want to know what makes Vick tick, flash back to the first time the electrifying quarterback stepped into the huddle during a regular-season game, when the Atlanta Falcons were pinned deep in their own territory in the first quarter of their 2001 opener, at San Francisco's 3Com Park. As Vick jogged onto the field to join his teammates, all eyes were on the No. 1 draft pick with the blazing speed and the amazing left arm. We'll let former Falcons running back Jamal Anderson tell the rest: "We're backed up in our own end zone, and the 49ers' fans are screaming at us, calling Vick's mama every name in the book. We're all looking at Mike and sizing him up—his first game, all the hype, how will he react? And the kid pulls out a Chap Stick, waxes his lips and pops it back into his helmet. I looked at him and said, 'Are you kidding me?' He just started laughing, and then everyone else did too. And I'm thinking, This is the coolest guy on the planet."
Fourteen months and countless tubes of lip balm later, Vick is also the hottest football player on earth. In just 12 career starts—including Sunday's 19-of-24, two-touchdown-pass day in the Falcons' 41–0 shellacking of the Carolina Panthers--the would-be college senior has become the NFL's most electrifying player and energized a foundering franchise. Atlanta (7-3-1) can attribute its seven-game unbeaten streak to Vick's rapid ascension, and he has no intention of leveling off at cruising altitude anytime soon.
"It's been cool so far, but realize that I'm striving for greatness," Vick says. "God blessed me with some unbelievable talent, and I'm using it. I was daydreaming during a team meeting earlier today, and it hit me that I could easily be just like the average person, working in a regular day job and trying to get by. Yet here I am, with the Falcons—in this great city, Hotlanta—and everything's fallen into place. And you know what? I deserve it. I worked very hard to get here, and I didn't shortchange myself along the way."
Remarkably, Vick can say things like that without coming across as cocky. He is sitting on a couch in his Alpharetta, Ga., town house just days before he'll move to a large house in a gated community near the Falcons' training facility—"where all the big-timers live," he says, smiling. While his pit bull, Champagne, chews on what was formerly a miniature basketball, a bunch of Vick's southeastern Virginia homies sit amid the mess in the soon-to-be-vacated crib, watching college football on the big screen and sucking down Coronas. It's evident that Vick, at 22, is still an unspoiled, upbeat kid who would be chilling in a Virginia Tech dorm room were it not for his prodigious talent.
Ask Vick if he enjoys watching highlights of his more breathtaking plays, and he lets out a giggle. "Oh, yeah, my boys and I do it sometimes," he says, rubbing Chap Stick on his lips. "I'll say, 'Hey, run that back; that was kind of hot.' Sometimes, I swear I think my body moves on its own, and I amaze myself."
Vick is so fast (4.3 seconds in the 40) and elusive, says Green Bay Packers quarterback Brett Favre, that "if you put him in a six-by-six cell with 11 guys, it'd take them an hour to touch him. Other than Deion [Sanders], I've never seen anybody with as much ability, and Deion didn't handle the ball every play." Vick is a threat to take off anytime, which buys him precious seconds before he has to throw the ball. Pass rushers hesitate before charging him lest they be juked, and his ability to keep plays alive bedevils opposing defensive backs, who are asked to cover receivers for an inordinately long time.
But even if Vick were a lead-footed statue of a quarterback, he'd still be worth the price of admission. His arm is among the league's strongest; he throws pretty spirals with the slightest flick of the wrist. "The dude is a freak, because he barely moves in practice, and we still see some of the wildest things you could imagine," Falcons cornerback Ray Buchanan says. "I've seen the boy throw 60 yards, to the opposite side of the field, off his back foot."
"There is no barometer for his excellence, because we've never seen anything like this," says Anderson. "He has the speed and elusiveness of Marshall Faulk, the arm of Jeff George and the athletic ability of Donovan McNabb."
In other words, Vick is sick. Take his 74-yard touchdown pass to wideout Trevor Gaylor on Nov. 17, against the New Orleans Saints: Vick scrambled to his left and casually flipped the ball 50 yards to his target. Or take Vick's own favorite play, a slicing, dicing 44-yard touchdown run on Oct. 20 against the Panthers. Or a play on Sunday in which he bought time by scrambling out of the pocket and delivered a 20-yard bullet to running back Warrick Dunn, who carried the ball the last 25 yards for a touchdown.
On Nov. 10, in the Falcons' 34–34 tie with the Pittsburgh Steelers, Vick's prowess was mind-blowing. He converted three passes for first downs on third-and-22 or longer (including two on one drive) and led Atlanta back from a 17-point deficit in the last 12:34 of regulation. The final points came on a sizzling 11-yard scramble during which Vick got outside and stiff-armed Steelers safety Lee Flowers, though it appeared to the naked eye as if the quarterback had simply vaporized for a second or two. As Vick says, "Ray Buchanan always tells me he thinks I've got some invisible-juice in my helmet."
The concoction that Vick does keep wedged in his helmet is the source of much amusement among teammates. Why the obsession with moist smackers? Blame Litisha Hymon, one of Vick's eighth-grade classmates at Huntington Middle School in Newport News, Va. "We were sitting there at a lab table one day, and she told me my lips looked ashen," Vick recalls. "I went to the bathroom and saw all this white stuff around my lips. I used to lick them all the time, so from that point on I got hooked on Chap Stick. I probably spend about $1,000 a year on it, because I'm always losing the stuff." Considering that the man has not yet been tagged with a nickname, allow us to suggest a couple of possibilities: Da Balm. Or Chap Vick.
Now consider this: Not long after middle-schooler Vick became addicted to Chap Stick, in 1993, his favorite NFL player, 49ers quarterback Steve Young, lost his second consecutive NFC Championship Game to the Dallas Cowboys. Like Vick now, Young was an immensely talented, scrambling lefty. The next season, under the tutelage of 49ers offensive coordinator Mike Shanahan, Young became a masterly shredder of defenses, leading the Niners to a Super Bowl championship and making his case as a future Hall of Famer. Young foresees a similar path for Vick, whom he has taken under his wing—Young has shown him what he looks for on film, for instance—since visiting the Falcons' training camp this summer.
"What impresses me most is his attitude," Young says. "For all his talent, I think he's recognized that being on SportsCenter isn't nearly enough, and he expressed a sincere desire to learn to be a quarterback. I don't think anyone could have imagined him being any further along than he is, and there is so much that will improve—his understanding of schemes, his footwork, knowing when to give up on a play, and the caliber of players around him. I think he's on a quest."
The quest began in the 2000 Sugar Bowl, when Virginia Tech faced heavily favored Florida State for the national title with Vick, a redshirt freshman, at quarterback. "We went down 28–7," he recalls, "and I gathered everyone around and said, 'Yo, it ain't going down like this. Somebody's gotta step up. I guess it's going to be me.'"
What happened next remains etched in the minds of everyone who saw the game. Vick threw for 225 yards, ran for 97 more and rallied the Hokies to a 29–28 lead before they succumbed 46–29. From that point on Vick's future in the NFL was assured. He stuck around Blacksburg for another season, finished his college career with a 20–1 record as a starter and waited to see which team would take him with the first pick.
A day before the 2001 draft the Falcons traded first-, second-and third-round picks, as well as wideout Tim Dwight, to the San Diego Chargers for the first selection. A few months ago the Chargers were basking in the deal's glow, having secured a franchise running back (LaDanian Tomlinson) and a promising quarterback (Drew Brees) in the same draft. Though the 7–4 Chargers can't be accused of having Sam Bowied their draft, Vick's recent performances suggest that San Diego may have passed on football's MJ, a once-in-a-generation superstar.
Both before and after the trade there were rumblings about Vick's supposed inadequacies. After all, every Superman has his Kryptonite, and the concern about the 6-foot, 215-pound Vick is that his reckless running style will lead to a debilitating injury. "A few weeks ago we brought out a coach from the Atlanta Braves [former big league infielder Terry Pendleton] to teach Mike how to slide," says Falcons owner Arthur Blank, who bought the team last February. "I want him to lead our franchise for years and years, and he has to learn how to protect himself." Vick did suffer a sprained right shoulder after being sacked by Simeon Rice in an Oct. 6 loss to the Tampa Bay Buccaneers—he left in the third quarter and sat out the next week's game, a victory over the New York Giants—but the quarterback is undaunted by the possibility of further harm. "People think those hits hurt me, but they don't," he scoffs. "Watch my college film: I got smacked 15 times a game, and I was fine. I know NFL players are bigger and stronger, but I'm built like a running back."
Concerns persist about Vick's vulnerability to injury, but his play this year has squelched other doubts: about his accuracy (his completion percentage for the season is 59.5, up from 44.2 in his rookie year) and his ability to master the intricacies of an NFL offense. Tentative and confused as a rookie, Vick has become proficient at running the Falcons' system thanks to increased film study—he has a Betamax machine hooked up to the big-screen TV in his bedroom, and he watches opponents' game tapes for 90 minutes each weeknight—and to a long overdue decision by Atlanta coach Dan Reeves to change his antiquated, long-winded play names. Now the calls require about half of the words and are easier to understand. Says veteran tackle Bob Whitfield, "Last year our plays were some Edgar Allan Poe–type s---, but they turned it into Dr. Seuss."
"I don't want to talk bad about Dan's offense, but it was stupid, ridiculous," Vick says. "There was just so much verbiage, and instead of studying routes or coverages, I came to practice just worried about getting the names of the plays out. As the backup [to Chris Chandler] I'd get eight reps, and I'd hold up practice because I screwed up six of them."
Reeves informed Vick of the terminology change in a call last February, the same one in which he handed Vick the starting job by telling him of Chandler's imminent release. With a new owner in place, and after three straight losing years since the Falcons' 1998 Super Bowl season, turning the team over to Vick seemed a chancy proposition. Although no one questioned his work ethic in practice or the weight room, Vick admits that he enjoyed Atlanta's thriving social scene and the spoils of bachelorhood. (His son, Michael Jr., was born in July, but Vick remains single.)
"Last year I would go out at night and hang out in the clubs because I wasn't playing, which was the wrong attitude," Vick says. Before leaving for training camp this summer, he recalls his mother, Brenda Boddie, telling him, "Look, I know you're 22 years old. Can you control yourself for 16 weeks? Can you be focused for that long, because after that you're free to do whatever you want to do." Vick laughs at the recollection and adds, "She's right, but it's easier said than done. We've got all these fine women running around Atlanta. I might have to sneak out once in a while."
Whatever Vick's doing, it's working. He opened the season by completing his first 10 passes and taking the favored Packers to overtime at Lambeau Field before losing, and his growth curve seems to have risen sharply with each passing month. His numbers after 11 weeks are impressive—a 90.4 passer rating, with nine touchdown passes and only two interceptions--and his teammates are wowed by his leadership. Vick has been stunningly effective in two-minute drills, setting up the last-second field goal that won the Falcons' first meeting with the Saints and completing the wild comeback against the Steelers. "The guy isn't flustered by anything," says veteran wideout Shawn Jefferson. "I've seen John Elway in crunch time, and Mike's got the same poise. There's an eerie calm that comes over our huddle."
Reeves, who coached Elway in Denver, believes Vick has a chance to reach Elway's rarefied level. "Like John, Mike is blessed with great talent and still works his butt off," Reeves says. "If he's bothering defenses now, just wait until a year or two from now, when he puts it all together. I don't even know how far he can go."
On a chilly night in mid-November, Vick's Ford Expedition is headed up I85. He and four-month-old Mike Jr., who's visiting from Newport News, Va., are in the back; longtime buddy Charles (C.J.) Reamon is at the wheel. When Reamon turns onto Jimmy Carter Boulevard, Vick exclaims, "Jimmy Carter--that's my dawg!" He goes on to explain that when the former president visited the Falcons' locker room after their victory over the Cincinnati Bengals on Sept. 22, he said, "I enjoyed watching you play, Michael. You're unbelievable."
Vick is used to the acclaim. Around Atlanta, when he goes out in Buckhead or shops at the Lenox Mall, he gets approached by fans and celebrities (rappers, actors, athletes), most of whom tell him, "You're changing the game."
He does not dispute this, but Vick is also trying to get better every day, using his explosiveness to win games while he learns the lessons that all young quarterbacks must. He can't wait for another crack at the NFC South–leading Buccaneers on Dec. 8 in Tampa. "They got me last time," he says, "but I've got a little something for them this time. This will be my biggest game of the year. I'm sure of it."
His long-term goals are not modest. He wants to emulate Jordan, and he can envision a day when the phrase be like Mike includes a certain football superstar. "I want to get to the top, make a ton of money and become a businessman," Vick says as the SUV stops in his driveway. With his left arm he picks up Mike Jr.; in his right hand he holds a tube of Chap Stick, which he presses to his ever-ready lips.
"I love this little man so much," Vick says, smiling. "He's the person I pick up all those first downs on third-and-25 for, the one I take all those hits for."
His lips moist and pink, Vick slips the Chap Stick back into his pocket. Meanwhile, all around the NFL, ashen-faced defenders are trying to figure out how to counter his magic.