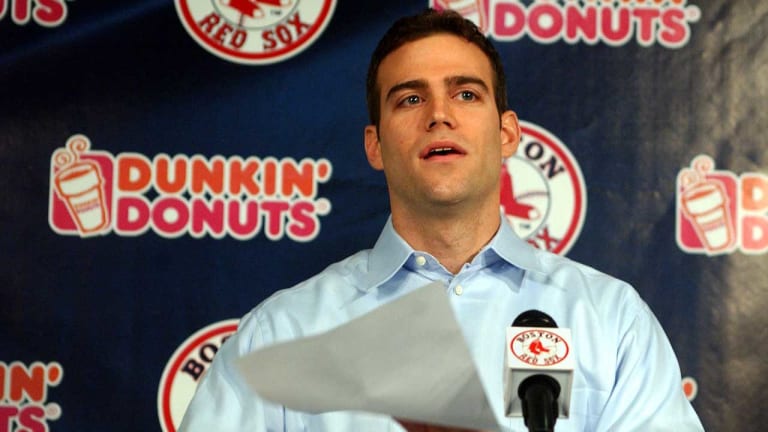 Publish date:
The Babe
Is 28-year-old Theo Epstein—the youngest G.M. in history—ready for one of baseball's most scrutinized jobs, running the Red Sox? He'd better be
Nine days into the job, he sits in his cluttered second-floor office at Fenway Park, sifting through a sea of spreadsheets and attempting, out of politeness to his guest, to ignore the regular bleating of his telephone and the insistent pings of instant messages on his computer. "My life changed instantaneously," says Theo Epstein, Boston's freshly minted 28-year-old general manager. "Having been an assistant G.M., having been in the room when trades were done and contracts were negotiated, it was easy to anticipate what it might be like as the G.M., when my voice was the final voice. It's much more difficult to anticipate: What will it be like when I'm no longer anonymous? What will it be like when my free time is all of a sudden nonexistent?"
Like this: Epstein has been working 16-hour days, rarely leaving Fenway before midnight. He has cheerfully, if wearily, complied with the scores of interview requests spurred by the novelty of his being the youngest G.M. in baseball history, and a Beantown native to boot. He has become the subject of instant hagiography across New England, his family history and childhood in Brookline tirelessly mined for quirky detail. (Did you know that his grandfather Philip and great-uncle Julius cowrote the screenplay for Casablanca?) He has pleaded with his father, Leslie, to "stop telling spanking stories," but it was tough for reporters to resist asking for comments, especially when Leslie delivered such sound bites as, "At Theo's age Alexander the Great was already general manager of the world."
The result is that Epstein has witnessed the immediate and essentially complete fusion of his private and public selves; he has become the common property of Red Sox Nation. "The hard part," he says, "has been finding time for baseball."
This afternoon the baseball talk in Epstein's office revolves around a National League player rumored to be on the block. Epstein is scrolling through a half-dozen scouting reports, poring over the page with the player's record in the Stats, Inc. handbook--the manual of sabermetricians (named for the Society for American Baseball Research) that is never far from Epstein's right hand--and highlighting lines on the thick statistical printouts that indicate why this player, whose name Epstein does not want to mention publicly, is such an attractive proposition. "Plus-plus walk rate, plus-plus isolated power," he says.
This is the vocabulary of the new-school G.M.; Epstein, like the Oakland Athletics' Billy Beane, 40, and the Toronto Blue Jays' J.P. Ricciardi, 43 (both of whom passed up the Boston job before it fell to Epstein), is a true believer in the value of statistical evaluation. All three subscribe to the notion that crunching minor league numbers is as likely to unearth a prospect as a scout's keen eye. But these front-office stat geeks--as it has become de rigueur to dub them--discount traditional numbers like batting average, RBIs and stolen bases, instead prizing on-base and slugging percentages as more reliable indicators of a hitter's ability to generate runs and as signals of potential breakout players.
"I'm still kicking myself in the pants," San Diego Padres general manager Kevin Towers says of the recommendation he failed to act on two years ago when Epstein, then director of baseball operations for San Diego, urged him to claim shortstop David Eckstein off waivers. "I told Theo he was too little, but Theo said no, look at his numbers, he's an on-base machine." Last season Eckstein hit .293 with a .363 OBP for the world champion Anaheim Angels and finished 11th in the American League MVP race.
Epstein's Red Sox have developed a series of metrics that further adjust those statistics by factoring in such things as a player's age, home-ballpark configuration, minor league region and level, and so on. It's not groundbreaking thinking, but for a franchise characterized of late mostly by its willingness to just throw piles of cash at underperforming free agents--running up a $108 million payroll, the second highest in baseball--it's positively radical. "Baseball operations is in a transition here," says Red Sox CEO Larry Lucchino, who last month hired statistical svengali Bill James as a senior adviser. "We will never desert the traditional approaches, but we will mix them into an amalgam that has more modern, quantitative, sabermetric approaches. Undeniably part of the appeal of Theo was to move in that direction."
Epstein's speedy arrival at the G.M.'s desk is a product of his single-minded desire for advancement. While attending Yale as an undergrad in the early 1990s he worked summers in the Orioles' p.r. department, and when Lucchino, Baltimore's president and CEO, moved to the Padres in '95, Epstein followed him after his graduation that year. In '99 he was promoted to director of baseball operations, and last spring he was named assistant G.M. in Boston. Though he was a successful student at Yale, Epstein didn't knock himself out. "He was an American Studies major, which was the athletes' major, kind of a joke," says his older sister, Anya, also a Yale grad. "He was remarkably unconcerned about his grades." But Epstein threw himself into his baseball jobs. During his first summer internship with the Orioles, Epstein, who knew no one in Baltimore, hatched the idea of a Negro leagues players' reunion; organized almost solely by him, it became a main event at the '93 All-Star Game.
Urged by Towers and Lucchino to round out his resume with a law degree, Epstein enrolled at the University of San Diego, grinding out credits despite missing virtually all of his lectures. "Supposedly he was going to law school, but he was putting in 70 hours a week with the Padres," says San Diego assistant G.M. Fred Uhlman Jr. "There was always a time around the end of the semester when he would disappear for 10 days to study. And of course he passed the bar on his first try." It still rankles Epstein that because he was a part-time employee, he was earning only $8.75 an hour despite performing the duties of the director of baseball operations; the Pad Squad cheerleaders, he notes, made $12 an hour. He was most productive late at night at Qualcomm Stadium, and when he did go home, Epstein would play his guitar to unwind, then call Uhlman at all hours of the night, strumming the folk-rock songs he'd composed.
Along the way he cultivated a conservative, frugal approach to personnel moves, one well-suited to the cost-cutting mandate imposed by John Henry's ownership group, which took over the Red Sox last February. "Most approaches today are risk-averse," Epstein says. "Resources are finite, and any one mistake leaves you shorthanded. You can have the best scouts writing the best reports; you can have Bill James and the best objective analysis, but even when you find the right deal, you cannot make the odds 80--20 in your favor. There's inherent risk in injuries and randomness. So maybe you change the odds from 50--50 to 55--45. Over time, the trend will favor you."
Epstein's first three moves since taking over in Boston on Nov. 25 fit the pattern of minimal risk with a good chance of at least a modest return. On Nov. 27 he claimed righthander Ryan Rupe off waivers from Tampa Bay to bolster the Red Sox bullpen; despite a 5--10 record and 5.60 ERA last season with the Devil Rays, Rupe had a 2.7to1 strikeout-to-walk ratio and 6.7 K's per nine innings, above-average totals in areas that are strong indicators of future performance.
Last Thursday, on the eve of the winter meetings, Epstein dealt two minor leaguers to Cincinnati for second baseman Todd Walker, who will replace Rey Sanchez, a .286 hitter with a subpar .318 on-base percentage and only 16 extra-base hits last year. In Walker, Epstein obtained a superior OBP (.353) and a two-hole lefthanded hitter who will aim his opposite-field power stroke (11 home runs among 56 extra-base hits) at the inviting Green Monster in left.
Then on Sunday, Epstein acquired Jeremy Giambi from the Philadelphia Phillies for mid-level pitching prospect Josh Hancock. A power-hitting lefty with extraordinary plate discipline--4.52 pitches per at bat and one walk every five plate appearances last season--Giambi gives Boston a first baseman with pop, and his .414 OBP dramatically bests the .348 of incumbent Brian Daubach.
None of those moves rocked the Hub as did, say, the eight-year, $160 million contract former G.M. Dan Duquette bestowed on outfielder Manny Ramirez two years ago, but blockbusters aren't Epstein's style.
Boston's new G.M. will face unique challenges, because his age and relative inexperience will breed resentment among some executives. "You're always going to have people in the business who are jealous," Towers says. "Boston is one of the more attractive jobs in the game, and Theo's 28 and he's never run anything." Although Epstein has moved in executive circles, he does not possess a playing, coaching or scouting background, a deficiency that could hurt him.
"The obstacle Theo will have to overcome is that he's not in the good-ole'-boy network," Ricciardi says. "There's sometimes the idea in baseball that if you didn't play or manage in the bigs, you don't know what a big league guy has to be." Epstein's thorough knowledge of the personnel in other organizations, however--with San Diego, he annually produced depth charts of each club's 40-man roster and its top minor league prospects--will give him credibility at the bargaining table.
Finally, Epstein must disabuse doubters of the notion, which has acquired some currency, that he's a puppet of Lucchino, well-known as one of the game's most hands-on chief executives and the man responsible for each of Epstein's moves up the ladder, from Baltimore to San Diego to Boston. "They're dead wrong," Epstein says of those who assume he'll take his marching orders from Lucchino. "We have very healthy debates. On baseball issues we disagree more often than we agree. I don't think he exercises any more control over me than most presidents do over their G.M.'s."
After Epstein's hiring there was disbelief, followed by skepticism and, hard on its heels, envy. Twenty-eight is no age to take over the Boston Red Sox, not even if the kid grew up a mile from Fenway, game always on the tube. Not when he leapfrogged a crowd of baseball lifers, front-office men who've been doing deals since he was in diapers. And not in a city thick with amateur aspirants to the post, shouting in the Southie bars and on WEEI's phone lines how they could do it better. Yet here is Epstein, an overachiever or a born winner, take your pick.
"No, I'm neither of those things," he says. "The best way I can explain it--and I'm not trying to be immodest, because I don't think this is anything special--but I remember going down to Baltimore on spring break in February of my freshman year, to interview for a p.r. internship with the Orioles. It was 9:15 in the morning, and I remember finding a bathroom somewhere, tossing some water on my face to prepare myself, looking in the mirror and saying, This might be your one chance to break into baseball. Don't f---it up.
"That's being honest. This was very, very important to me. It's really hard to break into a front office, and I knew I wanted to work in baseball for the rest of my life."
So now Theo Epstein, the youngest general manager in baseball, is working on becoming the oldest.