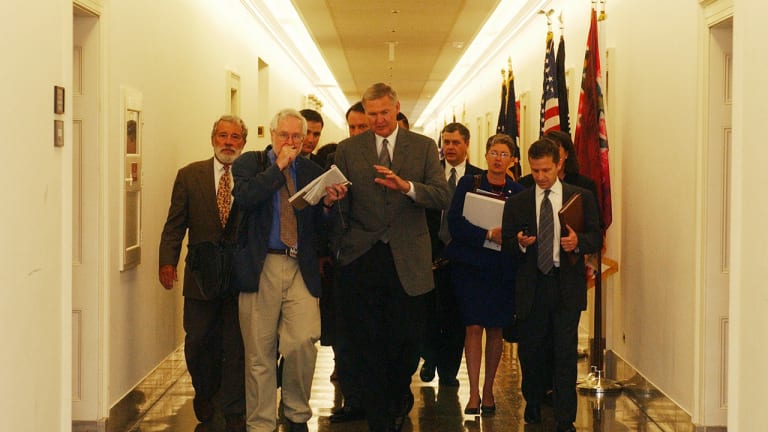 Master Builder Jerry West—The Agony of Victory
What would possess the man who assembled the championship Lakers to abandon L.A. and move to Memphis to run the toothless Grizzlies? The answer lies inside the head of sports' most talented and tortured executive
Jerry West has left the building. Vanished. When the Memphis Grizzlies began their game against the New Orleans Hornets earlier this evening, West was in his usual perch, a corporate suite in the Pyramid, high above court level. At every Grizzlies home game he sits by himself in the dark--where no one can witness his agony or hear his fusillades of profanity--as he watches the team he is charged with rebuilding. Tonight the Grizzlies improbably sprinted to a 31-point lead. If you looked hard and caught the light penetrating the suite at just the right angle, you could make out traces of a smile on West's face.
But this being the NBA--and the inexperienced Grizzlies being the inexperienced Grizzlies--New Orleans whittled Memphis's lead to single digits by the fourth quarter. West, a nervous wreck even in the best of times, averted his eyes from the collapse. He walked stealthily out of the suite, keeping his head down as he cruised past oblivious fans on the concourse, and exited the arena through a back door. As he folded his 6'5" frame into his Lexus, he cranked up some jazz and started to drive home. By the time he reached his doge's palace in the Southwind section of town, the Grizzlies somehow had held on to win 106--102.
"Jerry sitting through an entire game without getting so tense he has to leave?" asks Gary Colson, West's longtime friend and his assistant in Memphis. "Come on! Some things don't change."
The last time he ran a basketball team, West was the custodian of the Los Angeles Lakers, perhaps the most charmed franchise in sports. The stars that played for him had names like Kareem, Magic, Kobe and Shaquille. West, who was a player, a coach and finally an executive for the Lakers, spent 42 years in L.A., and he traveled in the right circles. He lived in Bel Air, was a member of its eponymous country club and had a table at the best steak house in town.
Today, West is president of the Grizzlies, a team that in its grim seven-year history has never won more than 23 games in a season. Its two best players are Pau Gasol, the dipstick-thin "power" forward from Spain, and Jason Williams, the point guard whose name always rides tandem with the adjective volatile. From West's spartan third-floor office in downtown Memphis, a universe removed from El Segundo, he can hear the flatulence of foghorns on barges along the muddy Mississippi.
The biggest difference between now and then? West says, "I can't remember the last time I was this--well, I don't want to say happy, but I do feel energized."
It was the middle of last spring when West made the stunning announcement that he was considering an offer to run the Grizzlies. On its face it made no sense. The famous half-court shot that West hit in the 1970 NBA Finals? It would be a layup compared with rebuilding this team. The Grizzlies were a laughingstock franchise that had moved to Tennessee in 2001 after failing spectacularly in Vancouver.
The team's front office had compiled a striking collection of personnel blunders. In 1997 the Grizzlies gave up a No. 1 draft pick for doddering forward Otis Thorpe, who played all of 47 games for the franchise. That same year, the team used the fourth pick of the draft to select Antonio Daniels, who couldn't crack the starting lineup and was traded for table scraps after one season. Steve Francis, you'll recall, cried when the Grizzlies drafted him with the second pick in 1999; he then extorted a trade to Houston.
A bone-deep malaise had settled over the players, who'd grown inured to losing. West, meanwhile, was retired and living a country squire's life. As a Los Angeles Times columnist put it when the rumor surfaced, "I believe Jerry West is going to Memphis. I also believe that muttonchopped fat guys moonlighting in satin suits are Elvis." West, however, is legendary for spotting value and opportunity where no one else sees them. Within a week he had accepted the job.
Even though he was laboring under inherited salary-cap restrictions, West almost immediately put his imprint on the Grizzlies. He snookered Cleveland out of veteran scorer Wes Person, giving up only Nick Anderson and draft pick Matt Barnes, neither of whom would make the Cavaliers' roster. West made a solid if undaring draft choice--Kansas forward Drew Gooden with the fourth pick--and then, in exchange for a second-rounder in 2004, picked up San Antonio's Gordan Giricek, a Croatian shooting guard who is now starting for Memphis. West also found a pet project in Cezary Trybanski, a 7'2" Polish center who, West is convinced, "will be a real player."
On the court, however, the West era in Memphis got off to an inauspicious start. Alone in the darkness of his luxury suite, West looked on in horror as his 2002--03 team showed utter indifference to defense and betrayed no more fire in games than it did in warmups. Williams seemed to care more about behind-the-back passes than routine assists. Gasol, the reigning Rookie of the Year, had mysteriously misplaced his confidence. Eight games into the season, the Grizzlies were winless.
Had he still been in L.A., West would have pondered a hemlock run. Instead, he slept through the night. He spoke to his wife and son when he got home from the games, something he hadn't always done when the Lakers lost. His magnificent head of hair, undiminished by age, remained intact--not a strand out of place. "Was I happy with how things were going?" he says. "No. But I was doing fine. Understand, the expectations were so different." Still, it was clear that coach Sidney Lowe, nice guy though he was, had lost the players. West had to make a change. The rabbit he pulled out of his hat came in the form of a 69-year-old martinet.
Hubie Brown had last coached in the NBA in 1986--87. His basketball IQ had always been unimpeachable--"A basketball genius," West calls him--but he was notorious for his abrasive manner and the demands he put on players. (And that was when rookies were 22 and had played four years of college ball.) For the past 15 years Brown had been a ubiquitous presence on television, calling upward of 50 NBA games a season, and by all accounts he was not angling to return to coaching. "Hubie Brown back on the bench?" asks one Eastern Conference general manager. "It wasn't even close to being on the radar."
But, as ever, West had done his homework. He knew that Brown's on-air duties with Turner Broadcasting had been reduced because of the NBA's new television deal with ABC and ESPN. (In fact, Brown's network obligations were so few this season that he had agreed to work 42 games for the San Antonio Spurs.) West also knew that Brown's youngest son, Brendan, was an advance scout for the Grizzlies, so Hubie had more than a passing familiarity with the franchise. West called Brown and began his overture by saying, "Hubie, are you sitting down?"
They had six conversations within the next two hours, but for Brown the decision was easy. "This was totally the farthest thing from my mind," says Brown, "but you're not talking about working for just anyone. You're talking about Jerry West."
"I'm a Gemini," says West. "Know what that means? There are two very different sides to me." It's not that he hasn't tried to analyze his personality--he is nothing if not introspective--but at age 64 he is resigned to blaming it on the stars. "Two very different sides."
On one side: He is extremely personable and self-possessed. In a rare departure from modesty he says, "I think I'm a great guy." On the other: When his team plays lousily, he retreats under a dark cloud for days.
One side: West is successful by any definition. He's well respected--no, lionized--in his field: one of the top 50 NBA players of all time, one so iconic that his silhouette adorns the NBA's logo. The other side: He is convinced that failure lurks around every corner. "Fear of failure, it's the greatest motivational tool," he says wistfully. "It drives me and drives me and drives me."
Another paradox: During his 19 years in the Lakers' front office, West was the benchmark against which all other sports executives, not just NBA executives, were measured. He had a keen eye for talent and unfailing instincts about a player's competitive resolve. He negotiated honorably and was all but incapable of b.s. And yet for all his savvy at the bargaining table, West cut a raw deal with himself. The terms: If the Lakers won, he deferred all credit to the coaches, players and his staff; he even refused to show up for the championship parades. If, on the other hand, the team lost, the burden--all of it--fell squarely on his shoulders. West, after all, was the team's architect. If the foundation has structural flaws, shouldn't he be blamed?
By the spring of 2000 West's labors were coming to fruition. The Lakers hadn't won an NBA title since 1988, and West had spent the better part of the '90s playing collagist, masterfully assembling a superior team. Some of his handiwork: He replaced Kareem Abdul-Jabbar with a little-known, chain-smoking Serbian center named Vlade Divac. He pilfered players such as Nick Van Exel and George Lynch from the deep recesses of the draft. He signed Shaquille O'Neal as a free agent. Divac, expendable, was traded for a teenager who had just graduated from high school in the Philadelphia suburbs. And damn if Kobe Bryant couldn't play a bit. West later coaxed Phil Jackson into returning to the NBA and coaching his team. Along the way he mined hidden gems like Derek Fisher of Arkansas--Little Rock and Devean George of minuscule Augsburg. The payoff was at hand. And West was miserable.
"Not a happy time," he says, shaking his head at the memory. Were mental illness not such a taboo in the macho sports world, one might have been inclined to diagnose West's condition as clinical depression. He wasn't sleeping--"I'd be up 10, 12 times in the night, easy," he says. He felt worn-out by the time he arrived at work. The stress of the job caused him to develop an irregular heartbeat. "Nothing looked good, nothing sounded good, nothing was good," he recalls. "It was a sickness, it really was. I felt like I couldn't make a difference, like it was out of my hands."
During the games, West--Mr. Clutch in another lifetime--would pace the Staples Center walkways like an expectant father. He would grimace and mutter after botched plays or missed shots, gripping the rail in front of him as if he were in the first car of a roller coaster. And that was when he could bear to watch. When the Lakers made an enthralling fourth-quarter rally to beat the Portland Trail Blazers in Game 7 of the 2000 Western Conference finals, where was West, the man who had assembled the team? At a movie theater watching Gladiator.
Those Lakers would go on to win the NBA title, the first of three straight (and counting). West finally exhaled. "It wasn't joy," he says, "just relief." The morning after L.A. won the championship West showed up at the office, trenches and ridges etched into his face, air bags under his eyes. Twelve hours after achieving a goal 12 years in the making, he had come in early to work out a college player he was considering drafting. The Lakers were now the champs, and expectations would be even higher.
"It was just such an unhealthy situation," says Lakers general manager Mitch Kupchak, a close friend of West's who was then the team's director of player personnel. "I mean, we had just won a championship, and ... I don't know, maybe Jerry is just not capable of being happy."
That West is an unrelenting perfectionist doesn't help. Perfection is a noble pursuit for most of us. Its saving grace, of course, is that it is merely an ideal, an unattainable abstraction. But when you're overseeing the best team in basketball, perfection isn't all that far-fetched. Every win, West reasoned, was a logical result of his hard work and the team's superior talent. Every loss, an abject failure. "The expectations were unbelievable," he says. "Winning wasn't enough. We had to win every game. Anything less was unacceptable."
Within weeks of the Lakers' triumph, West retired, citing health concerns. The team kept him on as a "consultant"--the rough job description being to fish and golf and play cards on the team's dime. Overnight, West's heartbeat returned to normal, the lines vanished from his face, he slept soundly. Kupchak, meanwhile, had been promoted to West's old job, and West, eager to give his protege some space, divorced himself from basketball operations. "Looking back, it was a godsend," West says. "I didn't realize the enormity of the pressure I was putting on myself."
But his life of repose didn't last long. It was soon clear that playing gin rummy with the boys in Bel Air was not going to quench West's thirst for perfection, that taking early retirement was playing into his fear of failure. Within a year he was taking his consultant title seriously. He scouted games for the Lakers, kibitzed with other teams' G.M.'s, researched players' base-year compensation. "Many people, men in particular, just can't not be active," West says. "I guess our minds demand that we seek other challenges."
Word got out that West was seeking a new challenge, and the suitors lined up last spring. The New York Knicks, the Golden State Warriors and the Atlanta Hawks made overtures. West was serious enough about a job offer from the Hawks to fly to Atlanta during the Final Four to look at houses. Then he received what he characterizes as an "intriguing" call from Grizzlies owner Michael Heisley. The more West thought about Memphis, the more it made sense. Not only did Heisley possess that rare combination of cavernous pockets and a hands-off style, but the franchise's perennial haplessness was actually a selling point. The great expectations that had tortured West in L.A.? Heck, if the Grizzlies won 30 games all season--a mediocre first half by the Lakers' standards--it would be a banner year. West's inner perfectionist, who had caused those sleepless nights, would be easily suppressed when the goal was mediocrity, the playoffs a pipe dream, the title a mirage.
During his salad days in L.A., West, ever the conflicted soul, often felt a perverse envy when he considered his colleagues at franchises that didn't have the Lakers' sprawling fan base, their gilded tradition, the championship banners hanging from the ceiling of a swanky new arena. He had always been curious about how the other half lived. "For some reason I always wanted to work in an environment where things weren't so good," he says. "I'm no messiah, but I always wanted to try and make a difference where a team hadn't prospered."
By taking the Grizzlies job, West was like the Hollywood star who retreats to an off-Broadway stage to reaffirm his love for his craft. But if Memphis was going to validate West, so too would West validate Memphis. A city that thinks of itself as New Orleans writ small, Memphis has long felt inferior to other big league towns. From the ABA's Tams to the Mad Dogs of the Canadian Football League, a procession of teams failed, for one reason or another, to make it in the Bluff City. The last pro club to call Memphis home? The Maniax of the XFL. Then, in barely a year, an NBA team moved to town and Jerry West--Jerry West!--came to run the show. "You've got the best executive in sports deciding to leave L.A. to come work and live here," says Memphis-based NBA and NFL agent Jimmy Sexton. "You have to realize what that does as far as building pride in this city."
To West's embarrassment he became an A-list celebrity in Memphis. But he's enough of a realist to know that when you don't have Shaq and Kobe to market, and you play in a media market one tenth the size of Los Angeles, you use whatever assets you have to sell tickets. So West does the rounds at the sponsors' grip-and-grins. His picture adorns the team's media guide. He even appeared in a cutesy television ad, helping an old lady choose a tomato at the store. "Jerry sees his job as building the whole franchise, not just the basketball part," says Andy Dolich, the Grizzlies' president of business operations. "The only bad part is that he's so well-liked and such an icon, he can't have much of a private life."
That's fine by West. He starts his day by dropping off his 14-year-old son, Jonathan, at school. By 8:20 he is in the office, consumed by all matters basketball. He's going full-bore on scouting junkets, appearing inconspicuously in the stands of high school and college games. Next month he leaves on a two-week trip through Europe. As the trade deadline nears he studies a magnetic board on the far wall of his office that lists every player in the league. "Talking with him, you can tell right away how rejuvenated he is, that he's not in this torture chamber anymore," says Indiana Pacers president Donnie Walsh. "People say, 'Why would he go to a losing team?' My response is that as soon as he walked in the door, they stopped being a losing team."
Hubie Brown's corona of white hair stood straight up as he straddled the midcourt line, his hands on his hips. The Grizzlies were half an hour from leaving town on a six-game, 10-day road trip, but their unlikely coach was giving a lesson. Sounding all of his 69 years as his hoarse voice echoed through the quaint gym at Rhodes College, where the team practices, Brown intoned, "Olowokandi loves to go for the jump hook off the left shoulder, so whoever's got Brand has to come over!" The players looked at their teacher and nodded earnestly. Sitting courtside on a metal folding chair, Jerry West knew that yet again, he had outfoxed them all.
Brown scrapped the existing Grizzlies offense his first day on the job and installed a new system in a series of two-a-days. He also made it clear that defense and effort were not optional. Those not in compliance could send their resumes elsewhere. (Are you listening, Stromile Swift?) Memphis practices are now filled with instruction; the team rehearses and re-rehearses formations and spacing and nuances until they become second nature. "Practicing with Hubie," says center Lorenzen Wright, "is like being in a classroom."
Since the coaching change, Memphis was 11--17 through Sunday, including a 10--9 record at home. Under Brown the team has given up five fewer points a game than under Lowe. Williams, thought to be the epitome of uncoachable, has been playing the best ball of his career. "I've never had a coach who teaches like this," he says. "I love it." And while it's startling to behold this man of nearly 70 screaming during timeouts so his voice can be heard over Missy Elliott's stylings on the P.A., the generation gap--generation canyon?--between Brown and his players is not an issue. "He wasn't brought in to hang out with us, to be our homey," says forward Shane Battier. "He was brought to teach us, get us to appreciate defense and help us win."
West readily concedes that his Jerry-built team has holes in need of spackling. "Hubie isn't playing with a full deck," he says, referring to Memphis's barren roster, not the coach's mental capacities. West's main concern is finding a reliable late-game scorer. "We have some talented players here," he says, "but we need that one guy who, in the heart of the game, is capable of creating a shot, making that play. If you have one or two tough-minded players who have been through the wars, you'll get a few wins. And we don't have those players. We don't yet have the tough-minded guys to win those grinding games. I know what it feels like to have a good team. Our players don't." (Translation: No one's roster spot is safe, and this will be a busy off-season.)
But the architect has his blueprint. He hired his coach, and he'll clear some cap room this summer. The team even broke ground on a publicly funded downtown arena, hard by Beale Street, that's set to open in 2004. West hasn't once second-guessed his move. "Everything," he says, "is going about as well as I could have hoped."
He doesn't spend much time dwelling on the Lakers' psychodrama this season, but in West's eyes his former franchise is still the standard. "To me, there would be no greater joy than Memphis beating Los Angeles in a playoff series," he says, smiling in his private reverie. "That would mean we had beaten the best."
If that happens, one shudders to think what it would do to the calm that has overtaken West. The Grizzlies would be winners, the fans would be rabid, Memphis would have cachet with free agents, and expectations would mount. Where is the joy in all that?
COLOR PHOTO ILLUSTRATION: PHOTOGRAPH BY PETER GREGOIRE West--whose stature and classic form as a player made him the model for the NBA logo (opposite)--has every roster in the league on his big board in Memphis, where he hunts for Grizzlies of the future.
B/W PHOTO: BETTMANN--CORBIS [See caption above]
COLOR PHOTO: JOE MURPHY/NBAE/GETTY IMAGES MISTER MEMPHIS As the front man for the Grizzlies, West appears at events such as the groundbreaking for their new arena.
COLOR PHOTO: JOE MURPHY/NBAE/GETTY IMAGES SUPPORTING CAST West believes the Grizzlies need a veteran go-to scorer to lead (from left) Battier, Gasol and Williams.
COLOR PHOTO: FERNANDO MEDINA/NBAE/GETTY IMAGES [See caption above]
COLOR PHOTO: JOE MURPHY/NBAE/GETTY IMAGES [See caption above]
TEN COLOR PHOTOS: JOHN W. MCDONOUGH (10)
THREE COLOR PHOTOS: JOE MURPHY/NBAE/GETTY IMAGES (3)
COLOR PHOTO: KENT HORNER/NBAE/GETTY IMAGES (TRYBANSKI)
COLOR PHOTO: SIMON BRUTY (BROWN)
PIECE BY PIECE After winning three titles as Lakers G.M. in the '80s, Jerry West kept restocking the team until it regained the crown in 2000. JUNE 1989 VLADE DIVAC The 7-footer from Yugoslavia, drafted with the 26th pick, replaces Kareem Abdul-Jabbar at center.
JUNE 1993 NICK VAN EXEL The Cincinnati guard, a second-round pick, is a reliable scorer, averaging 15.1 during five seasons in L.A.
JUNE 1996 DEREK FISHER The gritty guard from Arkansas--Little Rock, a first-round choice, is a deadly marksman from behind the arc.
JULY 1996 KOBE BRYANT The future superstar, drafted out of high school by the Hornets in the first round, is traded to L.A. for Divac.
JULY 1996 SHAQUILLE O'NEAL Signed as a free agent, the former Magic center will become, in L.A., the NBA's dominant force.
JANUARY 1997 ROBERT HORRY The veteran forward, acquired in a trade with Phoenix, adds tough D and some clutch shooting.
AUGUST 1997 RICK FOX Signed as a free agent, the former Celtics forward will start on the Lakers' title teams.
JUNE 1999 PHIL JACKSON The Zen master, who won six rings as Bulls coach, unretires and soon wins three more with the Lakers.
JUNE 1999 DEVEAN GEORGE A first-rounder out of minuscule Augsburg, the athletic swingman will develop into a solid reserve.
OCTOBER 1999 RON HARPER Reunited with Phil Jackson, the former Bulls guard will be a solid floor leader for two title teams.
STARTING OVER West wasted little time in beginning to remake the Grizzlies, bringing in these players and, just as important, a coach.
JUNE 2002 DREW GOODEN Drafted with the fourth overall pick, the Kansas forward had averaged 12.9 points and 5.6 rebounds through Sunday.
JUNE 2002 WESLEY PERSON Acquired in a trade with Cleveland, the veteran swingman has added leadership and three-point shooting.
JUNE 2002 GORDAN GIRICEK The Croatian guard, acquired from San Antonio, had averaged 11.0 points at week's end.
JULY 2002 CEZARY TRYBANSKI West has high hopes for the 7'2" center from Warsaw, signed as a free agent out of the Polish league.
NOVEMBER 2002 HUBIE BROWN Although he hadn't coached an NBA team in 15 years, the taskmaster quickly accepted West's invitation to coach the Grizzlies, who responded to his tutorials by going on a four-game winning streak in December.
The famous HALF-COURT SHOT that West hit as a Laker in the 1970 NBA Finals? It would be a layup compared with rebuilding this team.
Sitting courtside in a metal folding chair and WATCHING BROWN teach his players, West knew that yet again he had outfoxed them all.