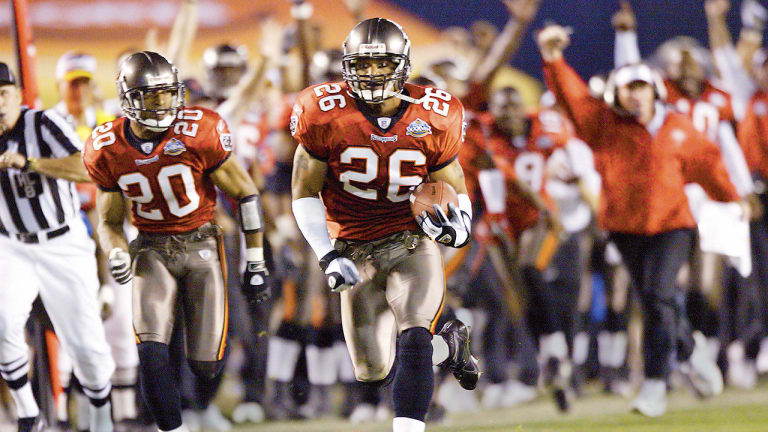 What A Steal!
Led by a defense that picked off five passes and a coach who proved his worth, Tampa Bay blistered Oakland to win its first NFL title
Mama told Jon Gruden there'd be days like these--days when his
dreams would play out with chilling clarity, his incessant
intensity would be rewarded and nothing could wipe the blissful
smirk from his freckled face. Kathy Gruden couldn't have known
that her son's most vivid triumph would come on Super Sunday, but
that was always the dream for little Jonny. As a six-year-old in
Dayton, he watched the Kansas City Chiefs upset the Minnesota
Vikings in Super Bowl IV; then, he says, "I went out in the
backyard and made diving catches in the mud, pretending I was
Otis Taylor."
Thirty-three years later, on a warm, still evening in San Diego,
Gruden's dream became reality. The first-year coach of the Tampa
Bay Buccaneers prodded and cajoled his team to a 48--21 weed
whacking of the Oakland Raiders in Super Bowl XXXVII. In front
of 67,603 fans at Qualcomm Stadium and more than 100 million TV
viewers, Gruden's team smoked the favored Raiders,
simultaneously showing up his former employer, Oakland boss Al
Davis, and validating Tampa Bay owner Malcolm Glazer's desperate
pursuit of Gruden's services last winter.
It was a story line only a hokey screenwriter would pitch, with
an ending only a mother could love. And so, late on Sunday at the
Bucs' team hotel, Kathy entered Room 2086 and started crying as
she locked her son in a long embrace and whispered, "I'm so proud
of you. You put a lot of things to rest tonight."
First and foremost, Gruden, 39, ended the debate over whether he
was worth the ostentatious price (two first-round and two
second-round draft picks, plus $8 million) that Glazer paid last
February to pry him away from the Raiders with a year left on his
contract. We now know that Gruden, as many critics had charged,
wasn't worth it--he was worth more. In the words of Bucs
executive vice president Joel Glazer, one of Malcolm's three sons
who help him run the team, "He's one in a million. We'd make the
deal again without blinking." That was said two days before a
Super Bowl in which Gruden, as both a motivator and strategist,
fielded a team that was as well-prepared for a title game as any
that ever strapped on helmets.
"I've never been involved in a game where everything we ran in
practice played out so identically," said All-Pro strong safety
John Lynch, part of a swift and swarming defense that keyed the
victory.
In erasing 26 years of frustration for Tampa Bay and becoming the
youngest coach to win a Super Bowl, Gruden proved an old adage:
Defense wins championships. The battle between the NFC-champion
Bucs, who had the league's No. 1 defense, and the AFC-champion
Raiders, who boasted the NFL's top-ranked offense, was a bigger
mismatch than Star Jones versus a Junior Mint. Tampa Bay
intercepted a Super Bowl--record five passes, returning three for
touchdowns; sacked quarterback Rich Gannon, the league MVP, five
times; and held Gannon to 72 passing yards in the first 40
minutes of the game. At that point the Raiders trailed 34--3, and
though they rallied to cut the deficit to 13 points, the comeback
only inspired the Bucs' defense to tack on two more touchdowns on
interception returns.
"Their defense was just unbelievable," Oakland fullback Jon
Ritchie said. "It was just really, well, perfect."
Oakland, meanwhile, hit a speed bump even before taking on Tampa
Bay. On Saturday evening, after Pro Bowl center Barret Robbins
missed a walk-through and a team meeting (THE LIFE OF REILLY,
page 88), first-year coach Bill Callahan told his dumbfounded
players that they'd be going into their biggest game without
their most important lineman. Callahan, who had coached Oakland's
offensive line and served as offensive coordinator before
succeeding Gruden last March, said he had "dismissed" Robbins
from the game. Sixth-year man Adam Treu, who started 14 games
last season in place of an injured Robbins, was thrust into the
fray. Said Gannon of Robbins's absence, "Obviously, it didn't
help our cause, but I don't know whether it would have made a
difference."
While Callahan was doing damage control, Gruden was dispensing
his uniquely eloquent motivational advice to his players. Citing
the San Francisco 49ers, who followed a stirring comeback victory
over the New York Giants in the wild-card round of the playoffs
with a lackluster 31--6 loss to the Bucs in Tampa, Gruden
exhorted his players not to go "limp" in the wake of their robust
27--10 upset of the Philadelphia Eagles in the NFC Championship
Game. That Gruden, in typically bawdy fashion, used a part of the
male anatomy to underscore his point was the source of much
amusement in the team's meeting room.
If the Glazers were looking for a departure from the style of the
staid Tony Dungy--who was fired last January despite four playoff
appearances in six years--they could not have picked a lewder
dude. "The day they hired Gruden, he came in to address the team,
and the first thing out of his mouth was a curse word," wideout
Keyshawn Johnson recalled last week as he dined at an Italian
restaurant in San Diego's Gaslamp district. "We were like, 'Wow,
things will be a lot different around here.' Tony's a great
coach, but after six years some people had gotten bored with his
coaching style. Jon gave us new energy, a charge."
What Gruden remembers about that initial address to the team was
how daunting it was for him. Gruden wasn't allowed to take any of
his coaching staff with him--the only Oakland employee he brought
along was administrative assistant Mark Arteaga, and even then
the coach says the Raiders threatened to file tampering charges
with the league--so he walked into One Buc Place feeling like a
callow corporate executive taking over a family business. "It
wasn't just meeting the players, bro; it was meeting a coaching
staff, trainers and secretaries too," Gruden said last Friday. "I
was succeeding a guy who had done a hell of a job, and I was
talking to a group of people who loved him. I told them, 'I
respect who I'm succeeding, and I understand that it's emotional.
Just give me a chance to implement a program.'"
At the same time that Gruden was winning over his new players, he
was alienating some of his old ones. During his four years in
Oakland, Gruden had turned a dysfunctional franchise into a
championship contender and was the popular leader of a veteran
team. Once he split town, however, Gruden turned his back like
the Bachelor walking away from discarded contestants after a rose
ceremony. "Maybe I should've called some people when I left, but
I don't know--I was leaving, you know?" Gruden said after
Sunday's game. "It's unproductive to talk to them, and it's
uncomfortable for everyone. Hey, I hope those guys know how much
they mean to me, but if they don't, they don't."
Beginning last March with veteran wideout Tim Brown and
continuing into the season, several Raiders criticized their
former coach for conservative play-calling, a perceived lack of
sincerity and his dominating personality. Oakland players weren't
the only ones bringing the heat. Last Thursday night Gruden
walked outside the team hotel to retrieve some items from his
rental car. As he reached into the trunk, several Raiders fans
began berating him for being a "traitor," among other things.
"They wanted to kill me," Gruden said. "Even in Tampa some
Raiders fans just can't help but say something when they see me."
Some Bucs fans were slow to warm to the new coach as well,
especially after Tampa Bay lost its opener to New Orleans. The
Saints beat the Buccaneers again on Dec. 1, and three weeks later
Tampa Bay suffered a 17--7 loss to the Pittsburgh Steelers, whose
strong safety, Lee Flowers, had rankled Dungy's players the
previous year by referring to them as "paper champions." Though
Tampa Bay would recover to capture the NFC South title and secure
a first-round playoff bye, there was far more acclaim for
Gruden's former team when the postseason started than for his
current one. Whereas the Bucs' offense had been slow to hit its
stride, Callahan's pass-happy attack in Oakland had racked up
huge numbers and spurred Gannon to the top of the league's
passing lists.
Still, for all of Gannon's productivity and fiery leadership, the
player nicknamed Red-Ass Rich was about as popular in the Oakland
locker room as Al Davis is in the NFL's offices. "We love what
he's done for the team, but not very many people like the guy,"
said a Raiders player, one of several who anonymously criticized
Gannon in the days leading up to the Super Bowl. "He jumps on
everybody, and it's always everyone's fault but his." Gannon
could not escape blame after Sunday's choppy performance, which
was a direct result of the Bucs' defensive blueprint.
Thanks to Gruden's knowledge of his former team and the tactics
of his old friend Monte Kiffin, Dungy's longtime defensive
coordinator who stayed on in Tampa, the Bucs' defenders were all
over the Raiders like the tattoos that cover many of Oakland's
fans. "They were jumping our routes before our receivers even
made their breaks," Raiders running back Tyrone Wheatley said.
Added Bucs middle linebacker Shelton Quarles, "Monte changed a
couple of coverages according to formations right before the
game. It was unusual, but we rolled with it."
One of Gruden's prime contributions had come during last
Thursday's practice, when the former University of Dayton
quarterback surprised his players by running the scout team
during a two-minute drill. Though his passing skills were
dubious--"Some of his throws looked like kickoffs," said wideout
Reggie Barlow--Gruden did simulate Oakland's frenetic tempo. The
coach also cracked up his players with a spot-on impression of
the irascible Gannon, complete with rapid-fire audibles and
profanity-laced admonishments. "It was hilarious, but there was
value to it too," Lynch said. "He showed us how Rich despised
being limited to one option, how he'd check out of a play two or
three times. When it happened in the game, we were ready." In
fact, according to All-Pro linebacker Derrick Brooks, "[Gruden]
made sure he ran the scout-team offense at a quick tempo, and he
used a lot of their terminology. Gannon even used some of the
words that Gruden had used during the week."
While stars such as Lynch, Brooks (whose 44-yard interception
return for a touchdown sealed the victory with less than two
minutes to play), defensive tackle Warren Sapp and cornerback
Ronde Barber were quiet for most of the game, several
less-heralded Tampa defenders moved to the forefront. Fourth-year
free safety Dexter Jackson had a pair of early interceptions
(box, page 42) and was a largely symbolic MVP choice,
representing the entire Tampa Bay defense. Nickelback Dwight
Smith returned a pair of interceptions 44 and 50 yards for
touchdowns. The latter score, on the game's penultimate play,
inspired Gruden to race 10 yards along the sideline in
celebration, jumping over fallen Raiders pursuer Doug Jolley in
the process.
The defense's true heroes were ends Simeon Rice (two sacks) and
Greg Spires, who had a sack, deflected a pair of passes and
pressured Gannon into throwing the first interception to Jackson.
"Speed kills," Barber said. "We're a quick, physical, smart team,
and those big [offensive] linemen don't affect us like they do
other teams. You put anybody on the field today, and we would've
done this."
Having led the Bucs to victory in their first Super Bowl
appearance, Gruden will focus on bolstering his offense--a shaky
start on Sunday by quarterback Brad Johnson (18 of 34, 215 yards,
two touchdowns, one interception) was offset by the surprising
success of running back Michael Pittman (29 carries, 124
yards)--and enhancing his status as one of the game's elite
coaches.
"It was a tough week, hearing what was being said about me, and
yeah, I was challenged," Gruden said late on Sunday as he walked
from his hotel room to the lobby. "It was a grind of a year, but
I'll tell you what, it's been a blast. I'm not a philosophical
man, but this has deep meaning for me."
Just before arriving at his destination for a television
interview, Gruden stopped to hug his mother one more time. Then
he turned the corner and was immediately spotted by hundreds of
Bucs fans waiting to enter the team's victory party in a nearby
ballroom. Many of them began pointing at Gruden, snapping photos
and yelling, "We love you, Jon!"
The commotion stopped him, and for a moment it looked as if
Gruden might get choked up, as his mother had earlier. But, in an
instant, the smirk returned, and the most valuable football coach
in America strode swiftly onward, a trail of applause in his
wake.