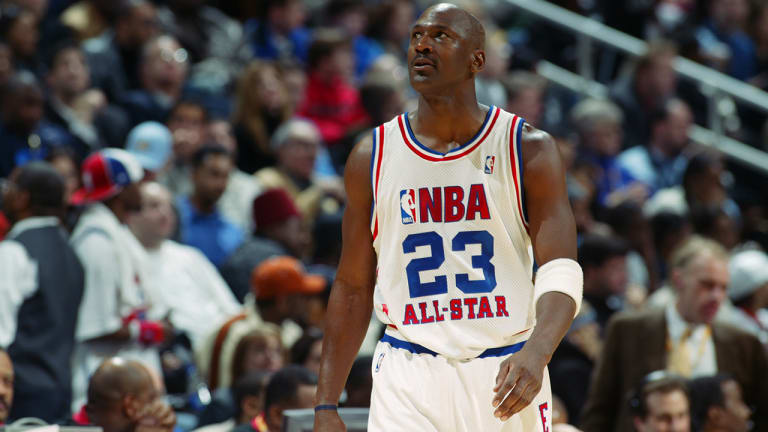 Going out in Style
As Michael Jordan's 40th birthday approached, the NBA's finest turned out in Atlanta to celebrate his myriad achievements (and to squeeze in an All-Star Game)
The king turns 40 on Monday, and nobody goes easy on him. His opponents push the pace of the game to run him ragged. When he's on defense, they run him off screens and catch him in switches to further sap his energy. When he's on offense, they put a big man on him to make it harder to post up, or they put a quick man on him if they think he's in the mood to drive. Always, of course, they put a younger man on him, for among NBA players, only Utah Jazz point guard John Stockton (page 38) and San Antonio Spurs forward Kevin Willis are older, and neither has ever been able to guard the king. Always--always--his opponents come at him hard because they remember how often he has, in the words of his coach, Doug Collins, "dog-whipped their asses, then let them know about it."
When you play the Washington Wizards, you're not playing a mediocre team battling to make the playoffs in the mediocre Eastern Conference. You're playing Michael Jordan on his last go-round. And that means something.
On many nights this season the king has looked his age. When the Wizards played at Chicago's United Center on Jan. 24, someone close to Jordan secretly wished that he would light up the Bulls for, say, 50 and then call it quits, right there in the city where he won six titles and made his legend, in the arena where his 17-foot-high statue stands sentinel. Jordan, who was greeted by a three-minute standing ovation, had a bad game--11 points in a 104--97 loss--but the wished-for scenario was far-fetched anyway, for His Airness never walks away in the middle of anything. He always finishes what he starts (even baseball). So on those nights when the jumper isn't working and the muscles are weary, Jordan still goes at it hard, because that's how he made his legend.
Is he still the same player? Of course not. Ask 100 people around the league what part of Jordan's game has slipped most, and 99 of them will say some version of this: his ability to finish around the basket. Back in the day, he would come roaring off a pick like a freight train steaming around the bend and dunk over players a half-foot taller. Or he would pretzel his body into some unfathomable position to avoid a defender near the basket and get his head up just in time to release a shot. He jumped both high and far (he was the best post--Julius Erving example of that gravitational impossibility known as hang time), and he jumped strong: He would not be deterred on his way to the basket, no matter how large the obstacles or how hard they hacked him. He doesn't have that forcefulness now, which is why he shoots fewer than four free throws per game. As late as 1997--98, the season before his second "retirement," he was averaging nearly nine foul shots.
Though Jordan was scoring 18.8 points per game at the All-Star break--respectable by any measure, extraordinary for a 39year-old--he rarely faces double teams,and even at the ends of games he does not get doubled. During the 1980s and '90s, when Jordan had the ball in the final seconds, he looked like a bank robber being cornered by the cops, so dense and frenetic was the defensive pressure. "You still have to guard him, but it's no longer worth the risk to leave somebody else open," says one Eastern Conference coach, requesting anonymity for fear that Michael would make him eat those words later this season.
On defense it is not Jordan but Jerry Stackhouse, his talented teammate, who usually draws the tougher big guard or small forward--probably the clearest indication of the king's advanced age. But to the majority of the basketball-watching public, Jordan is still Jordan, and to criticize his game is egregious nitpicking. Consider that at the All-Star Game in Atlanta on Sunday, he could hardly have gotten off to a rockier start. With his Eastern Conference teammates feeding him like a gang of aproned cafeteria workers, he looked nervous and missed his first seven shots. Jordan's final All-Star appearance, it seemed, was going to be his worst.
But then he found his stride, and sure enough, there he was with the ball in his hands and the game on the line. With the score tied and only five seconds left in overtime, Shawn Marion was all over Jordan, but he shouldered the 6'7" defender away ever so slightly, rocked back and hit a perfectly rotated, rainbow fallaway jumper from the right corner that should have given the East the game and MJ the MVP trophy. A questionable foul call at the other end, however, enabled Kobe Bryant, decked out in a pair of Air Jordans, to send the game into a second overtime. The West eventually won 155--145. "The script was written," said Jason Kidd, Jordan's East teammate. And, as usual, Michael played his part.
For Washington and the NBA, Jordan's $1.2 million salary is unquestionably the biggest bargain in history. The 24--25 Wizards lead the league in attendance, home and away, and fans aren't reaching into their wallets so they can check out Tyronn Lue's cornrows. There is nothing sad about Jordan's lion-in-winter show, no Willie Mays lunging at curveballs for the New York Mets, no Joe Namath limping back into the pocket for the Los Angeles Rams. After coming off the bench for the first 15 games of the year, Jordan got itchy, and as a starter he has been putting in 35.4 minutes per game. The tendinitis that shut him down last year--his right knee was surgically repaired at midseason--still flares up, but he shows no sign of wearing out. Only one player 39 or older has ever scored his age, and he has done it twice this season: on Jan. 4, when Jordan went for 41 points in a 107--104 win over the Indiana Pacers, and on Feb. 1, when he went for 45 in a 109--104 victory over the New Orleans Hornets.
Study the king during a game, and so much looks just as it always has. Whenever he goes against a defender he believes he can overpower, he posts up with the same ferocity, hooking his leg over his opponent's, holding him at bay with his elbows, willing himself to win the scrum that leads to superior position. On those nights when he's feeling it, he turns to face his opponent, holds the ball out behind him in one strong hand and stares the man down with that familiar look of playful challenge. He still has the sweep-back dribble, the one that left Utah's Bryon Russell (now a Wizards teammate) heading for the basket while he stepped back and shot--the tableau from the '98 Finals that was supposed to freeze-frame his career. He still has the head fakes and the arm pumps that send a defender into the air like a trampoline. He still has the deadly fallaway jumper, which he'll probably be able to nail over defenders when he's 70.
His competitive fire burns as hot as ever. Stackhouse says that watching MJ this season has motivated him to play past 40, perhaps until his age matches his jersey number, 42. "Of course, if Michael hears that, he'll probably stay a couple more years to make it harder for me," says Stackhouse. Jordan still yells instructions in that raspy baritone, still plays the role of coach on the floor. "Ty! X! We're in X!" he'll shout at Lue, directing the defense. He and his handpicked motivator, Charles Oakley, relentlessly go at the younger Wizards in the locker room, trying to instill in them a passion for the game that the two vets see as largely missing. But Jordan still has the sense to be a teammate, not just a Hall of Fame nag, by grabbing a guy in a bear hug or slapping him on the butt--a diplomatic skill still not grasped by Bryant, who has modeled his game after Michael's in so many other ways.
At times Jordan goes against his competitive nature and plays deferentially, "trims down his game," as Scottie Pippen puts it, to make his teammates step forward. There's an ulterior motive in that: Jordan will probably be running the Wizards again from the front office as part owner and as vice president of basketball operations, the title he held before he returned to the court for the 2001--02 season. (Sources say, however, that he will listen to overtures from the expansion team in Charlotte.) This makes for a strange working environment in D.C., where the CEO has come down to box up widgets on the assembly line. Perhaps the conflict inherent in Jordan's dual role as boss and player comes out behind closed doors, but that's where it has stayed.
Jordan wishes everything else had stayed hidden away. Over the past decade aspects of his private life (gambling habits; a divorce petition and subsequent reconciliation with his wife, Juanita; messy revelations of hush money paid to a woman with whom he had an affair) have been painfully laid out in public. Yet to most fans Jordan's image remains largely unaltered. It's certainly not because he's done much spin control. Though he dutifully meets the press after each game, it's always a Dragnet-type of interrogation--just the facts, ma'am--and woe to any reporter who strays into private territory. Jordan's appeal is this simple: People like what they see. He's a hero with smile and style, a champion with composure and competitiveness.
So, have a happy 40th, Michael. The Toronto Raptors are in town for your birthday, and nobody will come to the game expecting you to shoot your age. But then, nobody will be surprised if you do.