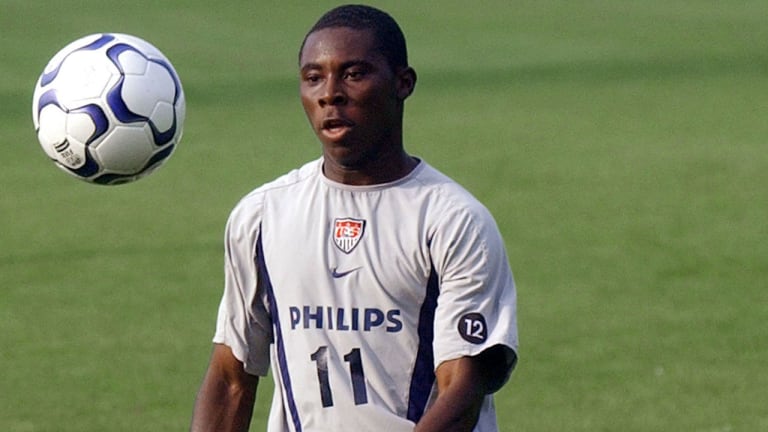 At 13, America's soccer prodigy has the world at his feet
Troy Dayak is an MLS All-Star defender. Freddy Adu isn't shaving yet. But when they met on a soccer field last spring, in a full-speed scrimmage between MLS's San Jose Earthquakes and the U.S. under-17 national team, a curious thing happened. Taking a pass on the left side, Freddy feinted to his right, then swerved like an X-wing fighter to his left with such a sudden and breathtaking whooosh that poor Dayak nearly fell over. Both benches howled. U.S. coach John Ellinger turned to the Earthquakes, then the defending MLS champs, and deadpanned, "I guess Troy hasn't played against a 12-year-old before."
How good is Freddy Adu, the prodigy of American soccer? Good enough that Ellinger (who helped develop U.S. World Cup stars Landon Donovan and DaMarcus Beasley) says Freddy could play in MLS right now, at age 13. Good enough that one MLS coach predicts he'll start for the U.S. in the 2006 World Cup--when he's 17, the same age that Pele was when he made his Cup debut. Good enough that some people have questioned whether he's really 13. And good enough that Inter Milan, one of the world's most storied clubs, offered Freddy's family a six-figure package to oversee his development, an unprecedented show of interest in a U.S.-based youngster.
"He has an unflinching confidence with the ball," marveled Dave Sarachan, the coach of MLS's Chicago Fire, after Freddy scored both goals in a 2-1 exhibition win over the Fire two weeks ago. "Speed kills, and if you give him any room, he'll break down your defenders."
Since Freddy moved from Potomac, Md., to the U.S. under-17 residency program in Bradenton, Fla., 13 months ago, the 5'8" forward has added 15 pounds of muscle (he now tips the scales at 140), scored 24 goals and busted enough "holy s---" moves to become the most talked-about youth in American soccer history. The videotapes don't lie. Here's Freddy slaloming through three Columbus Crew defenders--seasoned pros--on a single run. Here's Freddy blasting a free kick around a Canadian wall into the upper corner. Here's Freddy clowning four onrushing Finns, drawing a penalty kick while two of them crash into each other like punks in a mosh pit.
"I love having the ball at my feet and running at the defender one-on-one," Freddy says, flashing his megawatt smile. "That's when I'm at my best, when I can pull some weird move and get by him and everyone goes, Ohhhhhh. I love that."
It's all so much for a 13-year-old. On March 5, just three weeks after becoming an American citizen, he'll make his official U.S. debut at the qualifying tournament for August's Under-17 World Championship in Finland. Yet even if Freddy excels in those venues, the odds are stacked against his future stardom. Out of 144 players from the '99 U-17 championship who were eligible for their country's 2002 World Cup rosters, only three (Donovan, Beasley and Brazil's Kaka) made it to Korea/Japan last summer. "Freddy's without a doubt the most talented kid we've ever seen at that age," says U.S. national team coach Bruce Arena, "but who knows where he'll be two years down the road?" Says D.C. United coach Ray Hudson, who watched Freddy train with his team for a week last fall, "A blind man on a galloping horse can see his talent. He's a little Faberge egg, and everyone's just trying to protect him."
Including, not the least, his mother. As the offers poured in--from Inter Milan, from Adidas, from all manner of agents--Emelia Adu stood firm in her response: No. "He's just a young boy," says Emelia, who in 1997 brought her two sons, Freddy and Fro, to the U.S. from Ghana after the family won a green-card lottery. (They no longer live with the boys' father, Maxwell, who came with them from Ghana and remains in the D.C. area.) Most perplexing to Freddy's suitors was how a single mother working two full-time jobs could turn down security for her son. "I would get 10 calls a day, even at work," says Emelia, who now toils solely as a cashier at Home Depot. "'Are you Freddy's mom? Why didn't you take the deal?' Sometimes I cried at night thinking about it."
Emelia says education was the main reason the Adus left their home in Tema, a bustling harbor city on Ghana's Atlantic coast. As a six-year-old Freddy would spend hours each day at the neighborhood lot, polishing his skills in barefoot pickup games on a pebbly, sand-covered field against men three times his age. "They'd put me in games, and they would foul me," he says. "It was almost like they were teaching me to be tough."
Since their arrival in Potomac, Freddy and Fro (now 11 and in the U.S. under-15 pool) have thrived in sports and in school. Yet Freddy had never played organized soccer until the day a fourth-grade classmate, dazzled by Freddy's recess exploits, brought him to a tournament hosted by the Potomac Soccer Association. "He had all the instinctive skills to play soccer, as if they had been bestowed on him," says Arnold Tarzy, then coach of the elite Potomac Cougars travel team. "It was beyond imagining." Within 48 hours Freddy had joined Tarzy's team.
Along with Freddy's uncle, Anthony Yeboah, Tarzy has remained the Adus' closest adviser ("the only person I trust in America," Emelia says). It was Tarzy, the owner of a financial consulting firm, who hosted the meeting between Emelia and two Inter Milan reps in April 2000. That month 10-year-old Freddy had traveled to Italy with a U.S. Olympic Development Program team for an under-14 tournament against the youth squads of such Italian powerhouses as Lazio of Rome and Turin's Juventus. Not only did Freddy's team win the competition, but he led the tournament in scoring and was named MVP. Within days the Adus' phone in Potomac began ringing ... and ringing ... and ringing. "I told Emelia to get an unlisted number," Tarzy says, shaking his head.
Early last year Emelia finally said yes. At the national youth finals in Indiana, Ellinger invited Freddy to join the U.S. Soccer Federation's residency program at the IMG Academies in Florida. There he could train with the top 30 under-17 players in the country while completing his high school studies at an accelerated pace. One year later Freddy's reviews couldn't be better. "He's awesome," says teammate Corey Ashe, 16. "You don't see a 13-year-old doing step-overs and Maradonas and stuff, and he does them. He's a cool kid, too, always smiling, always positive. A lot of the guys have taken him in and looked after him."
That's the thing with Freddy. Everyone--parents, coaches, teammates--wants to protect him. Spend time around Freddy, and you soon realize he's a normal American teenager, one who's constantly joking with his teammates and mixing in as one of the guys on coed field trips to the cineplex. "Your social life is good here," Freddy says. "Before I came, I heard rumors about how this place was boring, but I love it."
At the same time, Freddy remains exceptional in so many ways. In his first organized basketball game two years ago, a jayvee contest for The Heights School in Potomac, Freddy scored 28 points. On the first golf hole he ever played, a 370-yard par-4, Freddy reached the green in two and two-putted for par. In his first art competition as a fifth-grader, his drawing won the top county prize. "This kid is just a freak show," Tarzy says, smiling.
But Freddy is human. "You can tell he's 13," says Trevor Moawad, the mental conditioning coach at IMG. One challenge is to address his occasional habit of swearing when he's frustrated on the field. "Every week he watches a 15-to 20-minute video of himself," Moawad says, "so that he can watch himself get upset. And we ask him: Is that the message you want to send?" In an attempt to connect Freddy with mentors, IMG has also set up hang time for him with Dallas Cowboys safety Roy Williams, retired track legend Michael Johnson and soccer star Clint Mathis.
When Freddy watched himself on tape after an under-17 tournament in December, he no doubt liked what he saw. Easily the U-17s' most entertaining player, he repeatedly bamboozled foes with his sleight of foot (most often his left). Even his teammates couldn't help but yell out, "Woo, Freddy!" "I don't say this to anyone," he says, "but sometimes I'll tell myself, If I get the ball and have two guys on me, I'm gonna take these guys. And then I'll do it." Freddy is also fast improving on his weaknesses, learning to move off the ball and to be even more unpredictable, "to mix up his one-touch and two-touch combinations so he can unbalance a defense," Ellinger says.
Even at this age, however, Freddy is learning one of soccer's brutal realities: Talented players are marked men. It's deeply unsettling to hear him scream when opponents scythe his legs out from under him, a tactic one defender used five times in the first 20 minutes of a December U-17 game (without the referee issuing a single yellow card). "This happens all the time," Freddy said afterward, holding an ice pack on his bruised ankle. "Once your name gets out, people just want to crack you." Sad but true: On the latest CD-ROM issued by the USSF's supervisor of officials, Freddy is cited as an example of how referees need to blow the whistle on persistent fouling.
Now if he could only clear the air, once and for all, about his age. Freddy has heard the whispers. He can't be 13. "I just take it as a compliment," he says. U.S. Soccer officials privately suggest that a bone scan might be in order to erase any doubts, and the family says bring it on, pointing out that nobody has found any evidence that the date on Freddy's certified birth registration (June 2, 1989) is incorrect. Nor did SI, in an effort to independently confirm Freddy's age through sources in Ghana, find any evidence that he's older than he says he is.
Then there's the biggest question: What comes next? If European interest remains after the under-17 championships, Freddy has persuaded Emelia to accept a pro offer this time. "I think I'm ready," he says. "I've played against MLS teams and done the same things to them that I do in every other game. If I go to another country, I'll play with their youth team for a year and then maybe jump into a professional setting." But new FIFA regulations forbid players under 18 from transferring into the European Union (unless they are moving for family reasons), and MLS recently rebuffed the Adus' inquiry about the possibility of Freddy's joining the league this season. ("At some point we'll look at it again, but 13 is just too young," says deputy commissioner Ivan Gazidis.) Of course, Freddy could stay in Bradenton another year, earn his high school diploma and train with the under-20 team--or even join his brother on the U-17s. A spot on the 2004 Olympic team (made up primarily of under-23 players) isn't out of the question.
Whenever anyone gets too carried away, though, soccer followers mention the cautionary tale of Nii Lamptey, the forward who won the MVP award at the 1991 Under-17 World Championship with Ghana, only to bounce around several European clubs before dropping off the radar. It's a sad reminder that there are never any guarantees, no can't-miss kids. "A lot of people have been hyped up to be great but just disappeared," Freddy says. "I promised myself I wouldn't be one of them."
As he strives to make good on that promise, he can't help but dream. "I see myself in a World Cup final for the U.S.A., playing against a top-notch team everyone picks to win," he says. "And we just come out and blast them. One day when I'm holding that trophy, someone's gonna take a picture. Oh, man. That is going to be huge."
Nobody denies that Freddy is a delightful young man blessed with otherworldly skills. Yet the questions remain: Is America ready for a 14-year-old MLS player? A 17-year-old World Cup phenom? Are we ready for Freddy? And more to the point, is Freddy ready for us?
COLOR PHOTO: BILL FRAKES [COVER INSET] BEYOND LEBRON The Next Sports Prodigies FREDDY ADU
SoccerCOLOR PHOTO: BOB ROSATO (LEFT) EASY DOES IT The young star is unfazed by the great expectations placed on him.COLOR PHOTO: BILL FRAKES (TOP)COLOR PHOTO: NIGEL PARRY/CPI MUCH ADO Says MLS's Hudson, "A blind man on a galloping horse can see his talent."COLOR PHOTO: BOB ROSATO BOY AMONG MEN Freddy has proved he's for real in scrimmages against seasoned American pros.COLOR PHOTO: BOB ROSATO SHORT-TIMER Like Pele, Adu (far right) could make his World Cup debut at 17.
"I love having the ball at my feet, when I can pull SOME WEIRD MOVE and everyone goes, Ohhhhh."