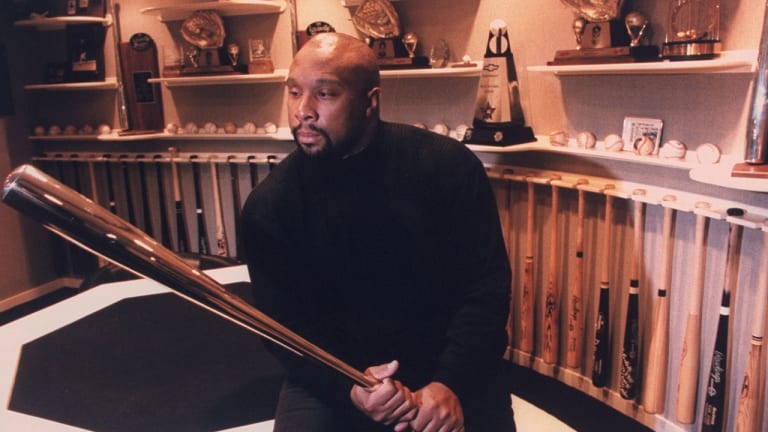 The Rise and Fall of Kirby Puckett
The media and the fans in Minnesota turned the Twins' Hall of Famer into a paragon of every virtue—and that made his human flaws, when they came to light, all the more shocking.
In the final analysis, all they really know now in Minnesota is that he was one whale of a baseball player. They'll never be so sure of anyone else again. So, maybe that's a tough lesson well learned. The dazzling creatures are still just ballplayers; don't wrap them in gauze and tie them up with the pretty ribbons of Nice Guy or Boy Next Door (and certainly not of Knight in Shining Armor). On the other hand, what a price did fans pay to lose their dear illusions. You see, when the hero falls, maybe the hero worshipers fall harder. After all, Kirby Puckett always knew who he was. Well, he probably did. Nothing seemed to faze him. It was all the other folks who decided he must be someone else, something more. Yeah, the lovable little Puck was living a lie, but whose lie was it? In the final analysis.
It wasn't just that he was such a good ballplayer. Barry Bonds is much better, but nobody would give him anything but the hammer and nails to build his own pedestal. The Puck, though: He was adorable, chubby and bald, Everymanish--"a cantaloupe with legs," as Jim Murray described him. Even his name! Absolutely euphonious, a joy out of Dickens. He was all-out, all-around, a gamer, the kinda guy who kept the National Pastime present. He was (this is a modest sampling of observations) "a real-life Smurf ... [with] an immaculate reputation ... the eighth wonder of the world ... everything that is good about baseball." He was given the Branch Rickey Award and the Roberto Clemente Man of the Year Award--both for service to the community--and inducted into the World Sports Humanitarian Hall of Fame. Bob Costas, the Cupid of baseball, named his firstborn after, of all the players on all the teams of all time, Kirby Puckett. Kirby Coins were minted. For the children: Kirby Bears. When a local magazine listed "The 100 Best Things about the Twin Cities," Puckett was the top-rated citizen, ranked fifth overall, just ahead of the Mississippi River and Betty Crocker.
Maybe all this stuff was a burden. Especially after he woke up one bright spring morning in 1996 and thought he'd slept funny on one eye, only it was glaucoma, and so never again could the Puck stand in against horsehides flung 90 to 95 mph. Just like that, no warning, he had to hang it up. Then he wasn't a ballplayer anymore, let alone a whale of one. Then he was just back to being fat little Kirby Puckett. Of course, this meant being able to spend more time with his mistress of many years, who nobody seems to have known existed, because Kirby was, of course, an ideal family man--even though, truth be told, he wasn't even an ideal scoundrel, because he also had cheated on his mistress of many years with a passel of other sad and lonely women. And you thought the fans were duped. She was so shocked at his perfidy, the mistress of many years, that she began to seek comfort in commiseration with the wife.
Anyway, the mistress of many years says that when Puckett couldn't play baseball anymore, "he started to become full of himself and very abusive." He began to perform lewd acts in public, such as going to a fancy shopping center, parking there, then opening his car door and stepping out and peeing in plain view of other people (Twins fans presumably included).
The mistress decided that it had to be one of two things. Either: "It was almost like he wanted to see what he could get away with." Or: "He wanted to get caught."
Finally, Puckett found the limits of either and achieved or when, last Sept. 6, in a suburban bar-restaurant called the Redstone American Grill, he allegedly pulled a woman into the men's room. She says it was against her will, and so was what followed.
So it is that Kirby Puckett, one whale of a ballplayer, goes on trial for false imprisonment and criminal sexual assault on March 24, a week before the baseball season opens. His lawyers have been protesting that this happened--the arrest and indictment--only because he's Kirby Puckett. Well, yes, for sure, although maybe not the way the lawyers mean that.
Oscar Wilde, a cynic, observed, "The Americans are certainly hero worshipers and always take their heroes from the criminal classes." But what did Wilde really know about us? It may be more cause and effect: It's not where we find our heroes, but where we lead them. In the final analysis.
Puckett was all the easier for Minnesota to love, because of where he came from and because of where he stayed. He was born, one of nine children, in the meanest Chicago projects, turf once stigmatized as "the place where hope died." But he rose gamely above his circumstances, left an assembly line at the Ford plant to go to college and was drafted by the Twins in 1982. Then he won the hearts of the Twin Cities, perhaps as much for simply settling there as for his glorious ballpark achievements.
Now, Minneapolis and St. Paul are wonderful hometowns, friendly and progressive, even urbane for their size, but to fans in all the less glamorous big league metropolises, it means a great deal when their players actually certify them by staying year-round. From F. Scott Fitzgerald to the Andrews Sisters, people from the Twin Cities have tended to become famous only after they've left the Twin Cities behind. In so many places like Minneapolis--St. Paul there are no stars in residence. The likes of television weathermen are promoted to celebrity. Good God, in Minnesota they gave a professional wrassler the whole state just because he continued to grace it with his fame. Besides, in a nation tilting Sunbelt, Minnesota must also fight the nasty stain of brrr.
Athletes are romantic idols, worshiped by innocent children and stunted adults, but the more knowing burghers keep them at arm's length, understanding that they are theirs only by uniform, just highly paid drummers passing through. So when Kirby Puckett married a beautiful local girl, Tonya Hudson, and took root in the Twin Cities, it mattered--all the more so because he was African-American. After all, Puckett was one of the few blacks on a team in a metropolitan area with a small minority population, so he was held up as Exhibit A Homey, not only for other African-Americans who would join the Twins but also for those hired by the Vikings and, later, the Timberwolves.
He continued to profess love for his new hometown, and his well-documented philanthropic efforts, particularly on behalf of poor and sick children, endeared him all the more to the citizenry. This is the favored expression in such cases: He gave back to his community.
Says Jeff Dubay, a personality at sports radio KFAN, "Kirby was not a guy who lived here for only six months. He is the professional athlete who has been put above all others. People think of this town as being a little different from L.A. or New York. There are values here." Puckett embodied them. He was invariably lumped together with Cal Ripken Jr. in Baltimore and Tony Gwynn in San Diego as one of those rare, dear throwback players who prize love and loyalty above the mercenary lures of the highest bidder. By 1989 Puckett was the highest-paid player in the game, but the fans begrudged him nothing, and, in 1992, when the pinch-penny Twins vacillated about paying market value for Puckett, his neighbors rose up as one--well, 81% of them, by actual poll--to demand that the Twins fork over to Puckett whatever it took to keep him in their fond embrace. That summer, at the Democratic National Convention in New York City, the Great State of Minnesota was no longer the Land of 10,000 Lakes. No, its spokesman officially proclaimed it thusly: "Minnesota, the state of Walter Mondale, Hubert Humphrey and Kirby Puckett...." That time was Minnesota's own Summer of Love.
Puckett was stirred by the mass affection. "Everything I do now, the fans give me a standing ovation," he said. "How could I be anything but overwhelmed?" He lived up to his end of the romantic bargain, too, by signing another Minnesota contract, the terms of which, though a bountiful $30 million for five years, were considerably less than he could have earned in sexier, more affluent markets. Soon, a grateful Kirby and Tonya increased their largesse to their hometown by endowing a scholarship program at the University of Minnesota.
"He was so personable and [so much a] part of the community fabric," says Sharon Sayles Belton, who was mayor of Minneapolis from 1994 through 2001. "He was Kirby, the baseball icon, and Kirby, the person. Even when he had to leave baseball, people went the extra mile to let him know that they still cared." To the Twin Cities on the Mississippi, Kirby Puckett was not only .318 lifetime, he was also a paragon. The state that had bequeathed us the original American sports hero, Paul Bunyan, finally had found the big fellow's 20th-century heir.
Now, of course, on the far side of the millennium, Sayles Belton says, "People are hurting. It's sad for the fans. It's very sad. Everyone is hurting."
More pointedly, Jeff Dubay at KFAN says, "It makes us look a little stupid."
Women have always thrown themselves at athletes. That was so even before they made gobs of money. The women who marry athletes accommodate the reality of their husbands' lives in various ways, denial being one of them. Before he became a radio interlocutor, Dubay worked as a Twins bat boy. "With the exception of guys who were devout Christians," he remembers, "virtually everybody had someone on the side. I would walk past the wives and think, They are either the dumbest or the most naive people in the world. I mean, everybody knew it was going on."
Tonya Puckett says she didn't know. She was only 20 when Kirby first took her out. He was in his second season with the team but was already fast becoming a star and everybody's pet. That very first night he told Tonya he was going to marry her. She wasn't that guileless; she could recognize a line when she heard one. But only two weeks later, Kirby sat down with her father and, in that old-fashioned way, told Mr. Hudson that he wanted to marry his daughter and care for her. Not long after, Tonya and Kirby were engaged, and then they were wed, on Nov. 1, 1986.
Not seven weeks later, on the evening of Dec. 23, Laura Nygren picked up the phone in her apartment to hear Puckett tell her that he wanted to see her that night. She says he groused, "Why the hell did I marry that bitch?"
Puckett had met Nygren a couple of years before at a nightclub, where she was checking coats that evening. She is short and blonde, a single parent in her forties now. Shortly after they met, they began a romance that lasted until, incredibly, she went to his bachelor party and gave him a good-luck goodbye kiss. But the affair resumed the night that he called her almost two months later, and it ended only when Nygren obtained a temporary order of protection against Puckett last March.
Meanwhile, oblivious to Kirby's infidelity, Tonya became the most adoring and supportive of wives. She had not gone to college, and she and Kirby decided she would not go to work, so Tonya threw herself into the business of burnishing his image. It was thrilling enough just to be Mrs. Kirby Puckett. "I was one of those wives who went to every single game," Tonya says. "People begin to know who you are. They'd see me right alongside Kirby. It was very exciting. It was a lot of very fun times.
"I loved Kirby. He said all the right things. I would have walked through fire for him. I gave up everything for him. Kirby and I decided I would follow his career and we would have children and I would do community work."
The glamour came quickly, for in 1987, Puckett's fourth major league season, the Twins won their first World Series. As Puckett hit .357, the team came from behind to beat the St. Louis Cardinals in seven games. That season Puckett also led the team in batting with a .332 average and the American League with 207 hits. It was only the start. He would go on to get more hits in his first 10 seasons than anyone else in the 20th century. It was as if he could do anything he wanted to in baseball. His first 612 times at the plate, he didn't hit a single home run. Then, magically, he turned himself into a very respectable power hitter. He could run--that comical little bowling-ball body scooting lickety-split around the bases. He had a wonderful throwing arm and six times won the Gold Glove. Ten times he would be an All-Star, once that game's MVP. At one time or another he led the league in batting average, hits, runs scored and RBIs. And, always, he was adored by everybody in the game. "Something about the guy just makes you feel good," his manager Tom Kelly said.
The Pucketts' marriage, however, was not idyllic, even if Tonya was unaware of Laura Nygren and Kirby's many other women. But the problems did not seem large at first, and anyway, the Pucketts kept their troubles to themselves. "People would see only what Kirby and I wanted them to see," Tonya explains. They could not conceive a child, and so after four years of marriage they adopted a daughter, Catherine. Two years later they adopted a son and named him Kirby Puckett Jr. The all-African-American family was complete. Kirby made millions and Tonya concentrated on charity work, notably on their most favored foundation, Children's HeartLink, which helps indigent children with heart problems.
They moved into a magnificent brick house on the top of a small hill in Edina, Minneapolis's most fashionable suburb. The place is immaculate and meticulously ordered. Every candle, every flower arrangement, every sculpture seems to connect with everything else. And dotting the house all over are pictures of the two lovely children, who are 12 and 10 now. Pictures of Kirby, too, once speckled the rooms. It took Tonya a couple of months to weed them all out.
She is her own woman now, grown up and come to grips. "Kirby was losing it a lot, and I realized he was not the person I thought he was," she says. Indeed, none of the terrible stress of the last year is visible upon her face, and she looks far younger than her 37 years. Maybe it is because she is a resilient Minnesotan, imbued with the belief, which she often expresses, that no matter what has happened, three things can make life whole again: hard work, love and God.
Tonya takes a seat upon a handsome chair in the exquisite living room. She has brown saucer eyes, long curly hair and a few cute freckles on her nose and cheeks. Unlike her roly-poly ex-husband, she has a trim figure. She is, in fact, beautiful, so that it is human nature for everyone who sees Tonya to pause and ponder how her husband could ever have strayed from a woman so gorgeous. In a way, Tonya ponders that too. "I still wake up and can't believe some of what has happened," she says.
She does not want to hate the man with whom she made a life, though. When she told the children about their father's arrest, this was how she explained it: "Daddy was at a restaurant, and there was a woman there who doesn't like your dad. She said some things about your dad that are not very nice. Your dad says he didn't do anything, and she doesn't have a reason not to like him. But she doesn't like him, so Daddy might have to go to trial to clear this all up."
Kirby Jr. took this in, and then he asked his mother if she still believed his father. Straightaway, Tonya replied, "That is your daddy, and he will always be your daddy, and I am going to believe your dad until I hear I shouldn't believe your dad."
Tonya smiles gamely at the recollection. Then she sits back and talks about her exhusband, speaking evenly, almost clinically: "Kirby never cared what people thought about him. I remember after we got married one of things he told me was, 'Don't worry about what other people think about you.' That was scary. I knew that he dealt with situations much differently than anyone I had ever seen. He was not an emotional person, and things that might bother the average person never bothered Kirby."
She pauses and then, shifting slightly, grows more intense and critical: "I think Kirby had many, many opportunities to change the way he was living his life, and when you make poor choices there have to be consequences." Tonya pauses again. "In my heart," she says, "I think Kirby feels that there are things that he deserves."
That is the nub of it, really. We give our sports heroes so very much, starting with the benefit of the doubt, that soon so many of them start to expect. And then to grasp.
"Look at Kirby, look at all of them," Tonya goes on. "I don't know too many athletes, even the ones who claim to be these wonderful Christians, who aren't out doing some terrible things. It's insane. There is something terribly wrong with this, because it doesn't just start in the major leagues. It starts when they're young, like in high school, and there is a code they follow. You get somebody like Kirby Puckett, and he is with this girl and doing this and that, and I think something just happens to your mind when you lie and cheat for that long."
She means, specifically, that she fears that, while being an icon, he was "spinning out of control." It was hardly just the womanizing, after all. When Tonya finally called the Edina police on Dec. 21, 2001, to report that Kirby had, over the phone, threatened to kill her, she also mentioned earlier abuses. Her husband was, she said through her tears, a violent man. Once, she said, he tried to strangle her with an electrical cord. Once he locked her in the basement. Another time, when he was furious and she locked herself in a room, he used a power saw to cut through the door. Once he even put a gun, cocked, to Tonya's head as she quaked, clasping little Catherine in her arms.
Still, she stayed with him. It was only years later, when Tonya learned that he'd been unfaithful, that she felt she had to leave Kirby. Different straws break the camel's back for different people. "I was absolutely devastated," Tonya says. "I loved Kirby so much. I didn't think I could live without him."
Some of the most terrifying incidents that Tonya recalls took place in the Puckett house in and around the Summer of Love. That was Kirby's special season, but the previous year had been the most enchanting baseball time ever for Minnesota. The Twins had finished in the cellar in 1990, but in '91, led by Puckett, they became the first team in baseball history to go from last place to world champions. They stormed through the Toronto Blue Jays in the playoffs as Puckett, the series MVP, hit .429. This brought the team up against the Atlanta Braves in the World Series. Minnesota fell behind, three games to two, while, for the first time that postseason, Puckett struggled some at the plate.
In the sixth game, though, as the two teams battled nine innings to a 3-3 tie, it was the Puck who kept the Twins alive. He hit a triple, a sacrifice fly, a single; he stole a base and scored a run; and he made a spectacular catch that saved a run--and with it, the game and the Series. In the 11th inning, with the score still tied at three, Puckett led off with the home run that won the game (and made it possible for Minnesota to win the Series the next night).
The seasons that followed may have been less dramatic because the Twins tumbled from the top, but Puckett continued to produce with the consistency that would, indeed, make him an easy first-ballot selection to the Hall of Fame. He blew by the 2,000-hit mark, and in 1995, in his 12th season, at age 34, he still had one of his best years: .314 with 23 home runs and 99 RBIs.
In the Twin Cities he was more beloved than ever, especially for all the good works he did for sick children. He even wrote a children's book, Kirby Puckett: Be the Best You Can Be. Contributions to the annual pool tournament, the Kirby Puckett Eight-Ball Invitational, that he and Tonya ran for Children's HeartLink, were reaching several million dollars. People on the inside knew that it was Tonya who was doing all the work, but most of the acclaim went to the ballplayer who showed up to shoot pool with the other local celebrities. Tonya didn't mind. She understood how we have this compulsion to build up our nice athletes, to exaggerate their generosity--and their intellect and their spirituality and their travails and their humor, too. "Yes, Kirby gets the claps," she admitted to the Saint Paul Pioneer Press after she sued for divorce, "but I know in my heart what I do, and people who know me know what I do. I didn't need the claps." It was more important for her to sustain her husband's impeccable reputation.
Today, though, Tonya doesn't know whether Kirby was at all genuine in giving what little he did of himself to her good works. She pauses for a long time before venturing, "I guess, well, only Kirby has the answer to that. Only he can say if his heart was really in it."
However, Nygren, the other woman, says that Puckett often spoke resentfully about having to visit children in order to bulwark his image. "He always said how much he hated going to the hospitals," Nygren says. "He became more [vocal] about how much he hated it after he retired, but he always said he hated it."
One day, enjoying his retirement, Puckett was with Nygren when he said he had to leave and go visit a sick child who was waiting to meet him. Nygren said, "That's great, you get to make that kid's day. That must make you feel good."
She says Puckett snapped back, "I don't give a s---. It's just another kid who's sick."
Even though Nygren knew him so well by then, the virulent mean-spiritedness stunned her. She wanted to think the best of him, to think that his inability to play anymore must have made him bitter. But when she asked him if he missed the ballpark, he snapped at her again: "F---no! That part of my life is over. I don't care."
Indeed, it was remarkable how well he appeared--at least on the surface--to accept his fate. After all, one day, March 27, 1996, he was the same as always. Why, he'd even hit .360 in spring training. But then on March 28 there wasn't enough blood flowing to the retina in his right eye, and, even though his left was still 20/20, there was a big black dot in the middle of his vision.
Five surgeries followed over the next few months, all to no avail. Puckett had to retire, but he was as plucky, even valiant, as ever he had been on the diamond. "It may be a cloudy day in my right eye," he declared in the clubhouse, "but there's sunshine in my left." Indeed, it was Tonya, at his side as he announced his retirement, who broke down and wept, so Kirby reached over and gently rubbed her back and, more tenderly, wiped a tear from her cheek. That was the last public vision of the heroic player, Minnesota's own Kirby Puckett.
Yet not long thereafter, denied a chance to play his game, he began to behave erratically. "He became much more thrill-seeking," Nygren says. "And more abusive." He would ask her to have sex with him in public places--especially in crowded parking lots--and in his office at the Twins' headquarters, which were located on what was now called Kirby Puckett Place.
Besides sentimentality, the Twins had a pragmatic reason for keeping Puckett on the payroll. The team's owner, Carl Pohlad, was seeking funding for a new stadium. Unpopular himself, Pohlad paid Puckett a reported $500,000 a year to essentially be a lobbyist and goodwill ambassador. Says John Marty, a state senator from Roseville, "Kirby came to the Capitol, and the media were using him, and people were saying, 'Do this for Kirby's sake.' He was as popular as Santa Claus."
Unfortunately for the Twins, not even Puckett was able to get the legislature to pony up, and then some on the team began to realize that Puckett himself was losing his good sense, risking his pristine reputation. Twins employees apparently booked trips for Puckett with Nygren and other lovers--as, it seems, some had assisted him with his trysts in the past, when he was still a player. (The Twins say it's common practice for major league teams to book trips for players' relatives and friends.)
Tonya would eventually find out, through a private detective she hired after overhearing Kirby in an intimate phone conversation with another woman, that Kirby had many lovers. One of them, she alleges, was Anne Potter, the owner of a limousine service that had transported Tonya and the children as well as Kirby. Nygren, growing more bitter at the cavalier way Puckett treated her--she says he never took her out, never gave her presents, and he sneered that she was "damaged goods" because she had a child--finally understood how many other women there were. "What Kirby thrived on," she says, "were women who had low self-esteem, were overweight, on welfare and had kids. It's safe for him. He thinks we're thankful because nobody else will have us."
As 2001, the year that Puckett would become eligible for the Hall of Fame, approached, some in the Twins' front office were aware of Puckett's transgressions, which if exposed would surely jeopardize his chances for induction. When a female employee threatened to file a sexual harassment suit against the team because of Puckett's and other men's behavior, the Twins allegedly made a financial settlement that ensured her silence. (The team declined to comment on this.) Puckett's public persona remained clean, and in January 2001, sure enough, he was overwhelmingly voted into Cooperstown. Tonya, as always, was elated. "I would be grinning from ear to ear whenever he got an award," she says. "I felt so much joy, so much pride because I knew that I helped him to get where he was."
Puckett, though, had a new problem. Nygren was trying to get him to help support her son, who is now 15 years old. She believed that the child was his, and although a test had proved otherwise, she wanted to file a paternity suit and retest him. According to Nygren, he pleaded with her to wait until after his induction into the Hall of Fame, and she complied.
So, on a soft, clear summer's afternoon (what a glorious day for a baseball game!), Aug. 5, 2001, in Abner Doubleday's Cooperstown, as Tonya and their children watched, Kirby Puckett walked to the podium to accept induction into what is always called "the shrine." He began, "There may be a few people out there who remember a time when the word on Kirby Puckett was that he was too short or didn't have enough power to make it to the big leagues. Well, despite the fact that I didn't get to play all the years I wanted to, I did it."
He also expressed his gratitude: "Most importantly, my beautiful wife, Tonya, who has been there with me through a lot of the highs and lows of my career.... I love you, Tonya, and thank you for all that you have done for me. And you'll always be there for me, sweetie."
It was a little more than four months later that Tonya picked up the phone and heard Kirby in that intimate conversation with a lover, and it was two days after this, she says, that he threatened to kill her, and the myth of Kirby Puckett began to go up in smoke.
The divorce is final now. Tonya says, "I hope that other women can look at me and say, Where there is a will there is a way. You don't have to put up with all that. You can demand respect. It may take 16 years, but you can stand up and say I am not going to take this, not going to allow people to treat me with that much disrespect." She sighs. "There are certain things that you love that you have to walk away from because they are not good for you."
So now Kirby, who declined to speak to SI for this story, lives alone in a condominium in Bloomington. He does not see Nygren anymore. On Valentine's Day, 2002, when he learned that the mistress of 18 years was talking with the wife of 16--Tonya made the first call--he allegedly told Nygren, menacingly, "If I find out that it was you who sold me out, you're in trouble, girl." For that, Nygren obtained the order of protection, but eventually there was an agreement in which she promised never to release one of the tapes she had made of many of their calls.
The Twins are still located on a street named Kirby Puckett Place, but the namesake does not work there anymore, no matter how much the front office sugarcoats its comments about old number 34. The team did not use him last year in its latest quest to get public funding for a new stadium.
Last Sept. 5, Puckett drove a few miles from Bloomington to Eden Prairie, to the Redstone American Grill. He spent much of the evening at the bar in the company of an old friend, Minneapolis police officer Tony Adams. But at half past midnight, according to witness accounts, a woman in her thirties, identified only as K.L., was standing near the rest rooms when suddenly a stocky, bald black man in a blue shirt materialized at her side, seized her left forearm and began to drag her into the men's room. K.L. grabbed at the door frame, sustaining bruises on an arm and an ankle, as the man kept yanking her into the room.
According to the police report, K.L. was pulled into a toilet stall, where the man touched one of her breasts. It was her belief--as she told 911 a few minutes later--that the man intended to rape her, but her girlfriend opened the door to the men's room and screamed. The man released his grip on K.L., and she fled back into the bar, looking, a patron said, "terrified."
She reportedly did not know who her assailant was, but when she pointed out the stocky, bald black man in the blue shirt, a bar employee identified him as Puckett, and he was subsequently charged with a felony, false imprisonment, and a misdemeanor, fifth-degree criminal sexual assault. If convicted, Puckett probably faces up to a year in jail, plus fines and community service.
His lawyers claim that the woman was intoxicated and had been acting in a lewd fashion. The prosecutor for Hennepin County, Amy Klobuchar, calls that defamatory and dismisses it as "a standard defense tactic" in he-said/she-said trials of this nature. She maintains that the county has a solid "independent witness" who saw the alleged abduction, and she avers, "We have gone to court before with less evidence than what we have in this case."
Puckett's friends, of course, want to believe that his accuser is an attention-seeker taking advantage of a celebrity. Despite Puckett's tarnished reputation, many people in Minnesota still stand by him. For example, Greg Peterson, a game-room store owner who has known Puckett for more than a decade, says, "He never asked for attention. It came because that's just the type of person he is. It was genuine. Sure, Kirby might have a little flaw. Everyone does."
We do cling hard to a belief in our athletes. Ours is an increasingly sedentary society, and we are beholden to technology--very little of which we comprehend--so the physical prowess of athletes is all the more appealing. Even with a war hanging over us, warriors, our most traditional heroes, are not so romantic anymore, not in an armed force of gas masks and smart bombs. Ah, but athletes: they who, as of yore, simply achieve physically, naturally (is there any sweeter phrase than natural athlete?), as human beings, flesh and blood.
Puckett stays pretty much to himself now, rarely venturing into public except to attend Timberwolves games. At 5'8" he played heavy, around 220, maybe 230, and the weight was cute then, icing on his persona, but now he's up to 280, perhaps even 300, and he's just plain fat. "He looks horrible, like he's about to blow up," Nygren says. "Both his parents died of heart disease, and with his weight where it is now, he's getting into very dangerous territory."
A lot of athletes put on weight when they leave the game, Tonya points out, and their problems can multiply if they also get divorced. "For so many of these guys, the wife is like the mother, the agent, the cook, everything," she says. "And all of a sudden, when you don't have someone to take care of you, life gets tough."
It's most telling that when Tonya thinks about that night in the Redstone and wonders whether Kirby did the things he is charged with, this is what comes first to her mind: "It does seem kinda odd, because why would he need to do that?" After all, nobody knows better than she does how much fans give their heroes, how much Minnesota gave her husband and how much, it seems, we need to lionize boys and men who play games so much better than we do.