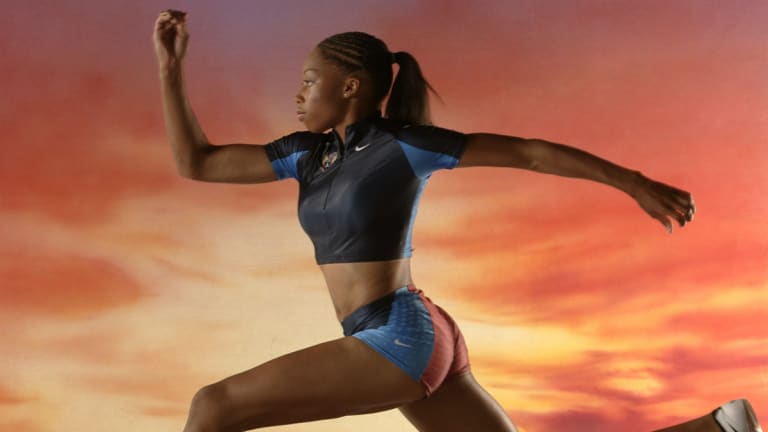 Catch Her If You Can
California sprinter Allyson Felix will soon be giving Marion Jones a run for her money
On a cool afternoon in the spring of 2000, Jonathan Patton busied himself with the thankless work of a part-time high school track coach. He made the short drive from his job as general manager of a rubber sealers business to his alma mater, Los Angeles Baptist High, a small private school in the San Fernando Valley city of North Hills. Having already spent two weeks running off dilettantes with grueling workouts, Patton would now see if there were any talented sprinters among the newcomers who remained, though he doubted it. He used metal posts in a chain-link fence to eyeball 60 meters and marked the distance with two orange cones on the dirt track. It was a Friday, and Patton already had one eye on his weekend as the first freshman girl lined up at the start.
She was a shade under 5'6", slender as a sapling, and she wore floppy shorts and clunky Gary Payton-model basketball shoes that looked like bricks on her feet. Yet when Patton blew his whistle, she took flight. Patton punched his watch at the finish and examined the time. Too fast—the cones must have been in the wrong place. But one after another the rest of the girls ran, and their times made sense. The cones were right.
When the skinny girl in the Paytons ran again, she was just as fast as she had been the first time. Patton approached her, sheepish because over the past two weeks he had not bothered to acquaint himself. "That was good," he said. "What's your name again?"
Just three years later that name has sent shivers through the world of international track and field. "Allyson Felix, the next great female sprinter in America," says Trevor Graham, the respected coach best known for guiding Marion Jones to five Olympic medals in 2000 and Tim Montgomery to the world record in the 100 meters last September. Through nearly four outdoor seasons Allyson has been a brilliant high school runner. She qualified for the hypercompetitive California state meet finals as a freshman (finishing seventh in the 200, just 10 weeks after her tryout with Patton) and then won three individual state titles--two in the 100 meters and one in the 200--over the next two years. As a junior she won the state 200 title in 22.83, then the eighth-fastest time by a high school girl.
Last Nov. 18, her 17th birthday, she signed a letter of intent with Southern Cal, at which her brother, Wes, is the Pac-10's reigning 200-meter champion, and there was little doubt that she would someday contend for Olympic berths and perhaps for Olympic medals. This spring, however, as Jones sits out awaiting the birth of her first child, Allyson has turned someday into now. "You could say I've readjusted my goals," she says.
On April 19 at the Mount San Antonio College Relays in Walnut, Calif., a venerable early-season meet, Allyson ran 22.51 to win the 200 meters, not only breaking Jones's 11-year-old U.S. high school record (22.58) but also beating a field that included 1999 world champion and two-time Olympian Inger Miller. Two weeks later Allyson ran in the Banamex Grand Prix in front of more than 50,000 spectators at the Mexico City Olympic Stadium, a track and field temple that hosted the epic 1968 Games of Bob Beamon, Tommie Smith and John Carlos. Allyson beat another international field, this time in 22.11 seconds, the fastest junior (19-and-under) time in history, the best in the world this year for any woman and .01 of a second faster than Marie-Jose Perec of France ran to win the gold medal at the 1996 Atlanta Olympics. (Florence Griffith Joyner's untouchable world record is 21.34.) Sprint times are faster in the thin air at Mexico City's 7,546-foot altitude, but Allyson was running into a slight headwind.
"She's got plenty of time," says Graham. "America needs to nurture a talent like this."
At home in Los Angeles, four-time NCAA 100-meter champion and Olympic hopeful Angela Williams saw Allyson's time and felt the same shock that hit many in the track community. "I'm thinking, Wooo ... she's making some pretty big drops here," recalls Williams. "How much lower does she plan on going?"
Allyson's remarkable spring has thrust her into track and field's version of LeBron Land, a place where high school athletes choose between college sports and pro money. She has spent her last semester of high school testing the waters of professional track with one foot (Mt. SAC, Mexico City and last week's Home Depot Invitational in Carson, Calif., where she finished seventh in the 100, an event in which she is a high school standout but not yet at world-class level) and winding up her scholastic career with the other (this week she makes her final appearance at the California state meet). On June 21 and 22, at the USA Track and Field nationals at Stanford, she will be favored to make the team that will represent the U.S. at the world championships in Paris on Aug. 22-31. Not so far in the distance are the 2004 Athens Olympic Games.
Over the coming months Allyson and her family must decide whether it is best for her to train for the Olympics independently or under USC's coaching staff, and whether to sign with a shoe company and earn money on the pro circuit or keep her college eligibility. She would not command anywhere near the $90 million that LeBron James got from Nike last month, but the six-year, $1.5 million contract that 2001 high school mile sensation Alan Webb got from the swoosh folks last spring, after one year at Michigan, is a reasonable barometer.
"Nobody has made us an offer," says Allyson's father, Paul, a 50-year-old minister who is also a New Testament professor at The Master's Seminary in Sun Valley, Calif. "People have talked a lot about offers, but nobody has made one. Right now, education is a priority; Allyson could pull a hamstring and then what? We don't want her to be just another high school phenom. But when you talk about the Alan Webb situation, it would be hard to turn that down just to run in college."
On a recent May afternoon Allyson worked through a series of 150-meter sprints in 90° heat at Cal State-Northridge, which has the nearest modern track to her home. When she sprints, she appears to float, economically gliding over the track. Her style is more reminiscent of the graceful Perec than of the powerful Jones. "She's incredibly fluid and light on her feet," says Graham, after having watched Allyson run at Mt. SAC and Mexico City. "I'm impressed with the way she carries herself. She's not scared of competition."
Although she gets flown to international meets by organizers and put up in meet hotels, she's still just a kid--one who likes to eat fried chicken, spicy Cheetos and ice cream, watch The Cosby Show reruns and burn CDs off the Internet. She and her father learned of the Mexico City meet while surfing the Web, but the site was in Spanish, so one of her coaches had to translate the entry information. It pains her that the state meet prelims will force her to miss her senior prom. "When I came into this spring, I had the goal of breaking Marion's 200 record," she says. "Now there's much more to deal with. I want to make the Worlds team. The Olympics are definitely a goal."
Allyson is not only a preacher's daughter but also the grandchild of two other preachers, men who attended the same seminary school in Philadelphia and moved their families west after World War II. Allyson's parents, Paul and Marlean, a 46-year-old third-grade teacher, have known each other since they were children and have been married since 1976. They joke about giving life to such speedy offspring. "I guess it's because I walk fast and my husband used to run," says Marlean. In fact, Wes and Allyson have inherited Paul's speed (he ran the 100-yard dash in 9.9 seconds on a dirt track in high school) and Marlean's long legs, a fortunate distribution of genes.
"God gave me this ability," says Allyson, who prays each night with her mother and tries to share a Bible-study lesson with her at least once a week. "I'm trying to do the best I can with it. Prayer helps me. I pray before big meets." She laughs, and adds, "I pray a little more before really hard workouts."
Allyson has scarcely grown taller since her first freshman workout, but steady weight training under Barry Ross, a former powerlifter who volunteers as strength coach at L.A. Baptist, has helped her add 13 pounds and muscle tone to her willowy frame. When she trains in the small, cinder-block weight room at her high school, football players pause to watch her deadlift as much as 270 pounds and power clean nearly 170.
Patton, a 48-second quarter-miler in junior college, has trained Allyson with high-intensity, low-volume workouts. (She seldom runs more than 800 meters, cumulatively, in a training session, though it's all done at high intensity.) He has worked at correcting technical flaws. "I've given up being surprised at what she does," he says.
There is little doubt that Allyson will get faster. "She's still young and raw," says Graham. "You get her in the right environment and teach her some things, look out. But she's got plenty of time. America needs to nurture a talent like this."
Track history is littered with high school stars who peaked early and failed to win Olympic medals as adults. Allyson's precocity is a gift and a challenge. On a mid-May afternoon she left practice with her parents, walking with mom on one side of her and dad on the other, the three of them casting long shadows and debating which parent would drive her home to supper. Bigger decisions await.