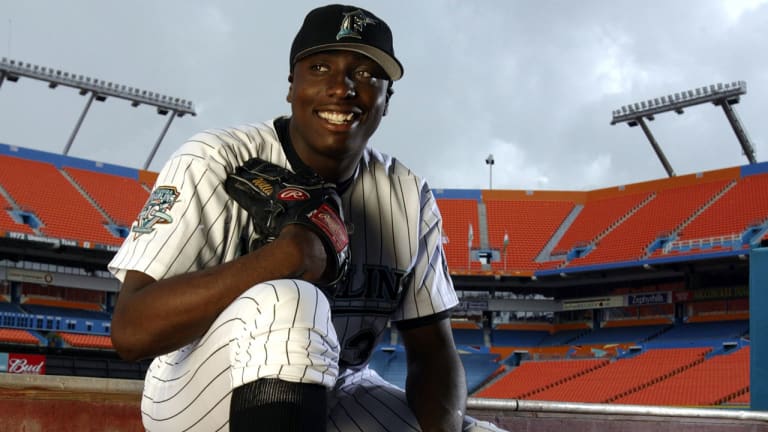 Publish date:
The Kid With The Kick
High-styling, high-fiving Florida rookie Dontrelle Willis has everybody, even the famously indifferent Marlins fans, talking about his historic start
Even Dontrelle Willis will tell you that the Dontrelle Willis story is becoming a tad surreal. In early May, Willis was a little-known prospect pitching for the Double A Carolina Mudcats in Zebulon, N.C. Last Friday the 21-year-old Florida Marlins rookie lefthander was at a Hooters outside Miami, autographing large baseball cards for a flock of fans. "It's crazy," said Willis of his Hooters appearance. "There was a line out the door, and people were coming back a second time. I didn't think that many people were in tune with the Marlins."
They're not. Rather, it is Willis, he of the animated demeanor, corkscrew windup and 7–1 record and 2.38 ERA at week's end, who has Floridians fired up. Granted, that is a relative concept in Miami, where the crowds at Pro Player Stadium are so sparse (average attendance through Sunday: 13,020) that they should be referred to as gatherings, but Willis has still succeeded in creating a buzz. TV ratings spike when he pitches—his June 11 start against the Milwaukee Brewers was the highest-rated local telecast of a Marlins game in the last five years—and last week alone he received more than 50 interview requests. By now he has answered the same questions so many times that he says he wishes he had a tape recorder so that he could just cue up the responses.
What's all the fuss about? For starters, Willis is putting on one of the best rookie pitching performances in recent history. Drafted in the eighth round by the Chicago Cubs in 2000, Willis came to Florida as a highly touted prospect last year, along with righthander Julian Tavarez and two other minor leaguers, in a deal for righthanders Matt Clement and Antonio Alfonseca. After winning 16 of 18 decisions in the minors following the trade, Willis was called up on May 9 to take the rotation spot of righthander A.J. Burnett, who is out for the season after undergoing right elbow surgery.
Since then Willis had won seven of nine starts through Sunday, including his last six, the most impressive of which was a one-hitter against the New York Mets on June 16. During that six-game span, Willis's ERA was 0.84 and opponents batted .184 against him. For the season, he had 55 strikeouts and 18 walks in 56 2/3 innings. Those are not the numbers of a flash in the pan. After fanning three times against Willis, Mets outfielder Cliff Floyd told reporters, only half jokingly, that Willis was "the best pitcher I've ever seen," adding he didn't want to give Willis too much credit because he had to face him again someday, but that "he deserved it."
As eye-catching as Willis's numbers are, his windup is even more so. It's been described as "unorthodox" (Marlins skipper Jack McKeon), "funky" (pitching coach Wayne Rosenthal) and "goofy" (Willis himself), but Burnett may sum it—and the rookie's pitching style—up best when he says, "He's an effing lunatic out there. It's absolutely wonderful."
If ever the term windup was appropriate, it is in regard to Willis's delivery. Here's how it looks: The long-limbed, 6'4", 200-pound Willis starts with his shoulders slouched. After receiving the sign and nodding at the catcher, he rocks back to his right and hoists his right leg in what looks like a particularly ambitious Twister move. Torquing to the rear, he spins his body around so far that, for a brief moment, his back is facing the hitter, while his leg remains Rockette high and his eyes briefly fix on a faraway spot in the sky. Then he uncoils and swings his arm low to a three-quarters, abdomen-high release.
By keeping his body turned away from the hitter for as long as he does, Willis conceals the ball far longer than most pitchers, making it extremely hard for batters to pick up. The entire motion, when combined with Willis's excitable demeanor—full of high fives and glove slaps and huge grins—has generated comparisons to everyone from Juan Marichal and Vida Blue (the leg kick) to Mark Fidrych (the quirkiness) to Luis Tiant (the back-to-the-batter position) to Fernando Valenzuela (the skyward glance).
Marlins lefty Mark Redman recently told Willis he needed to remember only two things: "Strike one and work quick." Indeed, once he's on the mound, Willis appears to be doing his damnedest to get off it. He routinely throws in the low 90s, and his best pitch is a two-seam fastball that Rosenthal describes as "exploding." He also throws a four-seamer, a curveball and a slider. But it's his improved changeup that has been the crucial component of his success. "At this time last year he didn't have a consistent changeup or breaking ball," says Rosenthal. "He worked on it in the pen all year with Gil Lopez"—the pitching coach for the Class A Jupiter (Fla.) Hammerheads—"and now he has the confidence to throw it when he needs to."
To get a feel for the off-speed grip Willis carried a baseball around with him in Miami so he could finger the seams. "I took it everywhere until a couple of times in church I sat on it, so I cut off doing it on Sundays," says Willis with a laugh. "But I'd always had trouble with the changeup, so I knew if I could get it down, it would make me that much more successful."
Another reason for Willis's success can be found under the bill of his cap, where he's written one word: JOYCE. Willis learned much of his baseball from his mother, Joyce Harris, a welder who raised Dontrelle by herself in Alameda, Calif. (He never knew his father.) A catcher and first baseman with power, Joyce played in several elite-level softball leagues during her son's childhood. "I remember going out there to watch her play," says Willis. "It was basically a bunch of mothers going out there and bashing." Now, after every one of Willis's starts, the two talk on the phone. "She's my inspiration," says Willis. "She's a tough woman."
Willis's windup originated during the long afternoons of his youth, when he and his friends would play a simple pitcher-versus-hitter game called strikeout in his driveway. In an attempt to fool the hitter Willis added the leg kick to his delivery and found it worked. Seeing no reason not to transfer it to a real mound, he used it at Alameda's Encinal High, where he went 12–1 with an 0.82 ERA as a senior.
Willis's work ethic and enthusiasm have endeared him to his teammates and the Florida brass. McKeon can fill up a reporter's notebook with his praise for Willis's dedication and attitude. Says veteran first baseman Derrek Lee, "It's refreshing to see a guy so in awe of the big leagues, with such charisma. It's great for the media, too; it gives them something to grab hold of."
Not all the Marlins think that's so wonderful. Three hours before Willis's most recent start, against the Tampa Bay Devil Rays last Saturday, third base coach Ozzie Guillen walked into the clubhouse to find, spread out on a table, yet another full-page story about Willis, complete with 11 photos detailing his delivery. "What is this?" Guillen asked incredulously, brandishing the newspaper at a group of reporters as if it were damning evidence in a murder trial. "You're going to ruin this guy. What, you've never seen someone put his leg up before? The kid's going to give up 10 runs in the first inning tonight, and you'll all write about that. You're jinxing him."
Guillen's fears, however, proved to be unfounded, and Willis pitched five scoreless innings against the Devil Rays before rain ended the game, a 2–0 Florida victory. Willis gave up only two hits and one walk, but it is an indication of how well he's pitched this year that afterward he talked about how nice it was to get a win when he didn't have his "good stuff."
Of course, that wasn't all he talked about. Long after his teammates had headed out of the clubhouse, Willis stayed put, patiently answering questions. No, he wasn't thinking about the All-Star Game yet, but he was flattered that McKeon was campaigning for his inclusion. Yeah, occasionally he felt like pricking himself, as when he saw Ken Griffey Jr.—Ken Griffey Jr.!—taking batting practice in the flesh and Griffey said hi to him. At one point he even chastised a radio reporter who looked too solemn, saying, "I'm a happy-go-lucky guy, you got to smile around me."
Asked what comes next, Willis proved that he is already a true big leaguer by producing that most sacred of cliches. "I'm trying not to get ahead of myself," he said. "I'm just taking it one game at a time."
In other words, he's ready for whatever twists, literal and otherwise, the Dontrelle Willis story may yet hold.