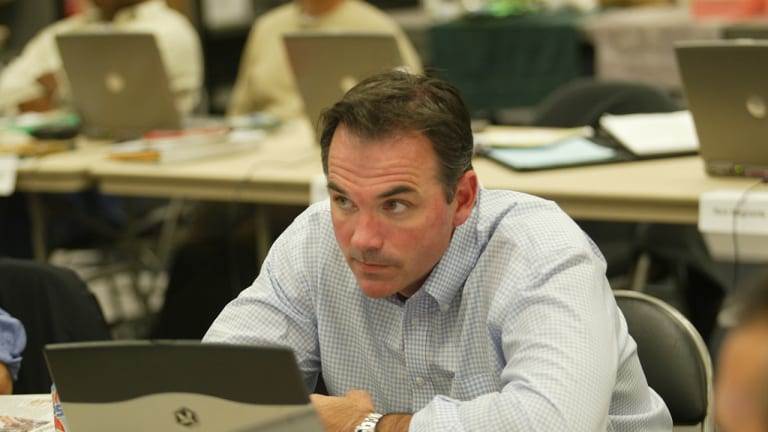 Publish date:
The Unbearable Brightness of Beane
A best-seller made A's G.M. Billy Beane look like a genius. Will it also make him a pariah?
The book Moneyball has made A's general manager Billy Beane as famous as any of his players. Author Michael Lewis depicts the 41-year-old Beane as the Tchaikovsky of trades, a man who relies on the statistical art of sabermetrics to create masterpiece deals while most other G.M.'s make rather less enlightened swaps. In Moneyball, Beane is seen working his magic on general managers such as the Expos' Omar Minaya and the Giants' Brian Sabean. The book has been excerpted in SI (May 12) and praised by critics; last week it was No. 2 on The New York Times best-seller list. Even though the A's were 5 1/2 games out of first place on Monday, Beane, a man of no small ego, would appear to be having a very good year.
But has Beane, by sitting for such a flattering portrait, overplayed his hand? Moneyball has been discussed in front offices from Seattle to Miami, and there the reviews have not been so favorable. "What was the point?" asks a National League G.M., speaking of the unprecedented access that Beane gave Lewis last season. "All of us have our quirks and ways of doing things. It's presumptuous to think you do it better. If I were his owner, I'd be concerned. It goes beyond self-serving." Adds Grady Fuson, the Rangers' assistant G.M. and the former A's scouting director who is severely criticized by Beane in the book, "He has to be held accountable for what was written.... There's no way you can make me believe he was [mis]quoted for 258 pages."
Could this ill will hamper Beane's ability to make deals in the peak trading month of July? Who's going to return his phone calls? Beane wasn't available for comment on this subject, but there is at least one reason for other G.M.'s to keep trading with him: To get what he wants, Beane surrenders a lot of real talent. In December 2001, Beane sent third baseman Eric Hinske, last season's Rookie of the Year, to Toronto for closer Billy Koch; to obtain lefthander Ted Lilly in a three-way deal last July, Beane gave the Tigers righthander Jeremy Bonderman, first baseman Carlos Pena and righthander Franklyn German, all Detroit regulars. Says an American League source, "It's not like Billy's shopping crap, because they don't have crap to begin with."
Getting value, though, requires matching Beane's skills; less savvy G.M.'s such as the Royals' Allard Baird, who in separate deals handed Beane Johnny Damon and Jermaine Dye in return for second-tier players, are still apt to get snookered. And history shows that Beane's canniest moves of the year are yet to come.
Among the less gossipy--but highly salient--details in Moneyball is the observation that Oakland has become baseball's best second-half team. In Beane's five seasons as G.M., the A's have gone 180-99 after the July 31 trade deadline (a .645 winning percentage and the best in baseball over that time) compared with 277-253 (.523) before it. "As spring turned to summer," Lewis writes, "the market allowed Beane to do things that he could do at no other time of the year. The bad teams lost hope. With the loss of hope came a desire to cut costs. With the desire to cut costs came the dumping of players. As the supply of players rose, their prices fell. Beane was able to acquire players he could never have afforded at the start of the season."
The roster of players Beane has added via July trades--including outfielder Terrence Long and pitchers Kevin Appier and Jason Isringhausen in '99, outfielder Dye in '01 and second baseman Ray Durham in '02--is staggering, and goes a long way toward bolstering Lewis's representation of Beane as a shark swimming with guppies. Now even G.M.'s who don't object to Moneyball must weigh the possibility of getting pickpocketed by someone whom even the casual fan sees as a master. As this year's trading season begins, the question isn't who's forgiven Beane his hubris, but rather, who's still man enough to step up to the table with him?