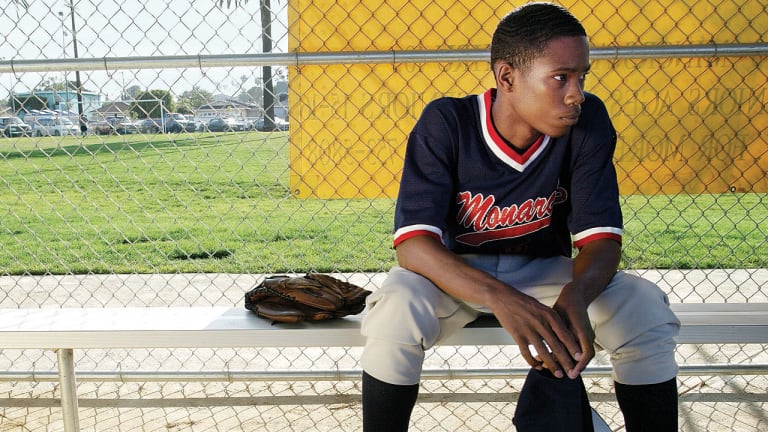 Blackout
The African-American baseball player is vanishing. Does he have a future?
On meticulously clipped adjacent diamonds in Fort Myers, Fla., this spring, one could catch a glimpse of the future of major league baseball. About 150 premier high school players from across America ran, hit, pitched and fielded at a privately run camp at which they hoped to catch the eye of pro scouts and college coaches. Al Davis watched proudly as his 16-year-old son, Stephan, competed among the mass of young men running about in the bright sunshine. At this moment baseball shimmered with the possibilities of youth; perhaps even a future star or two was in the mix. But there was something else about the scene that struck Davis with the force of an open palm across the face. "One hundred and fifty kids," says Davis, an African-American who works in sports marketing, "and I counted six blacks."
More than half a century after Jackie Robinson courageously began the integration of major league baseball and a generation after blacks filled one of every four big league roster spots, the African-American ballplayer is becoming a rarity again. As the 2003 season neared its midpoint on Sunday, there were only 90 blacks in the major leagues, or 10% of the players on 25-man rosters and disabled lists. "And you can expect that number to go down even more," says Southern University coach Roger Cador.
The trend in high school and college, coupled with what some blacks identify as a cultural disconnect with the game, suggests that the disappearance of black players from the major leagues will continue. According to the 2003 Racial and Gender Report Card, prepared by Richard E. Lapchick of the Institute for Diversity and Ethics in Sport at the University of Central Florida, the number of blacks (defined as U.S.-born African-Americans) in the major leagues dropped almost by half from 1995 to 2002—from 19% to 10%. The number is down 63% from 1975, when blacks filled 27% of roster spots.
The evidence is on view at every major league ballpark. On the weekend of June 13-15, for instance, the New York Yankees and the St. Louis Cardinals met for the first time since the 1964 World Series and drew 165,000 fans to the three-game interleague series at Yankee Stadium. Between them the Yankees and the Cardinals suited up only three blacks: New York shortstop Derek Jeter and outfielder Charles Gipson and St. Louis outfielder Kerry Robinson. When they last played in '64, during the heyday of the civil rights movement, the Yankees and the Cardinals featured six African-Americans combined.
Among other evidence that the black presence in the game is diminishing:
• Seven African-Americans were named to the 2002 All-Star team, compared with 15 in 1972.
• There are 13 black pitchers in the majors, including only five starters.
• There are 19 blacks younger than 26 in the majors; only one of them (Philadelphia Phillies shortstop Jimmy Rollins) has been an All-Star.
• The Boston Red Sox do not have a black starting pitcher or every-day player for the first time since 1961, two years after they became the last team to integrate their roster.
The picture in college baseball, which provides a great portion of the next generation of major leaguers, is also bleak:
• In 2001, according to the most recent analysis (using data supplied by the NCAA) from the Institute for Diversity and Ethics in Sport, African-Americans made up 6.7% of Division I college ballplayers on scholarship (excluding those at historically black institutions, such as Southern).
• There were 52 blacks on the rosters of teams in the six biggest conferences (ACC, Big East, Big Ten, Big 12, Pac-10, SEC), including three in the 11-school Big Ten, according to The Daily Northwestern.
• There were 11 blacks on the eight teams that participated in the recently concluded College World Series.
"My wife and I talk about it every night," says Al Davis, who has an older son, Julian, who plays college baseball at St. Leo (Fla.) University. Stephan plays first and third base at Hillsborough High in Tampa. "It's a sad thing, to be honest with you. You ask the black kids, 'What is Cooperstown?' They look at you like, 'What's that?'"
The Pittsburgh Pirates won the 1979 World Series with 10 blacks on their 25-man roster. As recently as 1994 all six starting outfielders in the All-Star Game were African-American (Barry Bonds, Joe Carter, Ken Griffey Jr., Tony Gwynn, David Justice and Kirby Puckett).
Why has the number of black ballplayers dropped so sharply in recent years? Baseball's inability to match the buzz-producing marketing of football and basketball is an easy target, as is the fallout from the 1994-95 strike. "Football and basketball have come up," Cleveland Indians pitcher C.C. Sabathia says. "One big thing: Baseball took a big hit in the last strike with both races." No African-American ballplayer emerged with nearly the broad-based marketable appeal of basketball icon Michael Jordan. Two of the stars headed on that track, Griffey and Frank Thomas, had their careers and images derailed by injuries and ineffectiveness. Bonds, one of the game's greatest players ever, turns 39 this month and has exhibited little interest in a Jordan-like responsibility to sell his sport.
There are, however, many more complex and grass-roots reasons beyond how the major league game is packaged and sold. Many blacks are encountering economic and instructional gaps—they don't have access to the groomed fields, expert instruction and the pay-for-play mentality associated with suburbia. The demise of the two-parent household and the passionate neighborhood volunteer coach have cut the connection between baseball and young blacks. And colleges, by maintaining a low ceiling on baseball scholarships, continue to make football and basketball more attractive options.
The ominous net effect of the socioeconomic factors is that now there are so few blacks in the sport that baseball has lost its aspirational appeal to many African-Americans. The game, built upon opportunity for European immigrants in the first half of the 20th century and more recently for Latinos and Asians, no longer is viewed by many blacks as an inclusive sport for them. "I guarantee you," says New York Mets outfielder Cliff Floyd, who grew up on the South Side of Chicago, "there are many people from where I come from that don't even know I play ball. I could say, 'I'm Cliff,' and they'd ask me what I was doing now. There's just not a high interest in baseball. If I played basketball, it would be totally different."
Rollins, who grew up in Alameda, Calif., outside Oakland, says friends there "kid me" about playing baseball. When asked if he meant they kidded him about playing a sport with so few blacks, as opposed to football or basketball, Rollins nods and says, "Exactly what you just said."
"I think there's definitely a sociological element to what we're talking about," says John Young, an African-American former major league scout who in 1989 established Reviving Baseball in Inner Cities (RBI), a development program run by Major League Baseball for youths 13 through 18. "Now that two girls from Compton dominate tennis [the Williams sisters] and a kid from Cypress dominates golf [Tiger Woods], a lot of intelligent black people that I know--professional, educated people—believe that the last bastion for white America is baseball. I'm talking about very intelligent people who believe that."
Outspoken Atlanta Braves outfielder Gary Sheffield says former Los Angeles Dodgers teammate Eric Karros asked him once how he could withstand booing and criticism in Los Angeles when he played for the Dodgers. "I told him, 'Imagine if you looked to your left in the clubhouse and everybody was black, and you looked to your right and everybody was black,'" says Sheffield of playing in a predominantly white atmosphere. "'You went in the trainer's room and everybody was black. You looked in the stands and everybody was black. Then maybe you can understand how we feel.'
"If I'm a kid and I don't see any faces like my own, why do I want to play baseball when I can play football or basketball?"
The decline of the black ballplayer has coincided most notably with the rise of the Latino player. (The number of white players in the major leagues has held between 58% and 62% every year from 1995 through 2002—down from 70% in 1990.) Latins held a record 28% of roster spots last year, up from 20% in '96 and more than double the 13% in '90. Their number should continue to rise as 46% of the 6,196 minor league players at the start of this season were foreign-born, with most of them coming from Latin America.
Major league clubs pump $60 million annually into Latin American scouting and development, which includes club-run academies at which a 16-year-old can stay for up to 30 days while the team decides whether to sign him to a pro contract, usually at a fraction of what a U.S.-born player would cost. By contrast, players born in the U.S. are subject to the major league draft and cannot be signed until they or their high school class graduates. Also, in Latin America major league clubs seldom have to compete for their players' attention with football and basketball, college recruiters or computers and other diversions prevalent among teenagers in the States.
One bright January morning during a visit to the Dominican Republic three years ago, an American reporter noticed scores of young ballplayers going through drills on a diamond in a Santo Domingo public park. The reporter asked a bystander what kind of teams these were. The bystander replied that they weren't teams at all, that the young men met every morning on their own to work out. In their midst were big leaguers such as Pedro Martinez, Pedro Astacio and Jose Mesa.
Such passion for baseball has become as rare in urban America as a well-maintained ball field.
What used to be fertile ground for African-American ballplayers now produces mushrooms. The infields at the Belmont Heights Little League complex in Tampa are so unkempt this June afternoon that giant toadstools give off shade. The grass and weeds are a half-foot high. The sun is shining. The complex is empty. Nobody is playing baseball. When there are games, Al Davis says, sometimes they are stopped so that adults can comb the uneven fields for broken glass. The only clue that this once was home to a model program for black ballplayers is a sign attached to a rusted blue canopy above the metal bleachers of the one full-sized diamond. It reads, DWIGHT "DR. K" GOODEN SENIOR LEAGUE FIELD.
In the 1970s you could have watched a game at Belmont Heights any night of the week during the season, and chances were there'd be a future major leaguer on the field. Gooden, Sheffield, Derek Bell, Carl Everett and Vance Lovelace all played here. Billy Reed, the beloved Hillsborough High coach, was often at the complex, coming straight from practice to give the little guys lessons and encouragement. The Belmont Heights team reached the Little League World Series in Williamsport, Pa., four times.
"What I remember," says Gooden, 38, the 1985 Cy Young Award winner, "was they'd have registration day on a Saturday. And if you didn't show up early enough, you'd get turned away because all the spots filled up. We had six teams on every [age] level. Now each level has three teams. They have so few kids playing they have to go play teams from other parks just to fill out their schedule.
"We used to play all the time, not just Little League ball. Eight or nine of us would get on our bikes and ride to another neighborhood and play a bunch of other kids. And maybe next time they'd come to our neighborhood. And if there was a game on TV or radio, we were watching or listening. Nothing like that happens anymore. Nobody's playing."
And there aren't enough Billy Reeds around these days.
Like the folklore of an ancient tribe, love of baseball is passed down from elders in the form of oral history. Such are the nuances of the game and the subtleties of its requisite hand-eye skills that children rarely come to it naturally and independently--not, say, as jauntily as they learn to fling a ball through a hoop or tuck a football under one arm and feel the wind whistle past their ears as their feet fly over the ground. Baseball needs its elders. Young, the former scout, knew men like that when he was growing up in South Central Los Angeles, volunteers whom he calls "pied pipers."
"Now that older guy likes basketball," Young says. "Baseball lost those pied pipers."
Traditionally those pied pipers have been fathers, and there is even a media genre dedicated to the father-son dogma of baseball theology. In 2001, Bob Muzikowski wrote the book on urban black Little Leaguers. Safe at Home chronicles how Muzikowski, a white insurance broker transplanted from New Jersey, started a Little League program in the neighborhood of the famously dangerous and downtrodden Cabrini Green projects in Chicago. He has since begun another Little League program for blacks on the West Side. "How many Little Leagues do you know of where fathers are not coaching?" Muzikowski asks rhetorically. "The backbone of Little League baseball is nurturing fathers. Most of our kids wouldn't know their fathers if they walked into the same room. People don't want to talk about it--it's not politically correct--but the facts are obvious. In 1960, 80 percent of urban black families were two-parent households. Now it's 20 percent."
Al Davis is a pied piper who not only teaches baseball to his sons but also offers free lessons to neighborhood boys. Davis lived in Tampa before moving to one of its suburbs, Valrico, for 14 years. He marveled at the manicured, lighted fields, the batting cages, the expensive bats and gloves and the army of parental volunteers, who would appear in great numbers to drag the infield, cut the grass with their own riding mowers, organize car pools to and from games and provide good instruction.
Recently Davis moved back to the city. Sure, the lack of groomed facilities was obvious, but what saddened him more was the lack of interest and instruction. In the 14 years he was away, Tampa had fallen out of love with baseball. Football and basketball had stolen the hearts of the pied pipers, who were drawn to games with a faster beat and more players with faces like their own. The number of black players in the NFL, for instance, grew from 60% in 1990 to 65% in 2002, though the rise of blacks at the glamour position, quarterback, made their presence seem larger still. Basketball prospered with money sprinkled around from shoe companies, whose products became icons not just in the sporting culture but the increasingly mainstream hip-hop world. The NBA has been between 72% and 82% black for the past 12 years.
"The thing about baseball is that it's such a team sport," says the Phillies' Rollins, who was a point guard in high school. "And when you're in the inner city, it's all about being the man, about establishing your strength as an individual. So how can you be the man? You want that ball in your hands with three seconds on the clock to take the shot, or you want the football under your arm. That's how."
Without its pied pipers, baseball, the more pedagogic game, suffers. "Just grabbing a bat and ball doesn't make you a coach," Davis says. "I don't see the baseball knowledge [in the inner city]. Blacks don't understand the degree to which they have to take the game seriously. By the time the kid tries out for the high school team in ninth grade, it's too late. I know people get mad and there's prejudice everywhere in life, but it's not [the reason in this case]. It's because kids didn't get proper training to compete."
There is also an economic gap between baseball and basketball. Baseball requires bats, balls, gloves and a large field that has to be maintained. Basketball needs only a ball and a court. Larry Harper, founder and director of the Good Tidings Foundation, which supports youth programs and builds athletic facilities in the San Francisco Bay Area, says a state-of-the-art basketball court costs $30,000, with a generic blacktop one running as little as $5,000. A baseball field, he says, costs $100,000. Then, too, Harper says, "even if you get the field built, there's [only] a 50-50 chance the field will be maintained."
Yet that economic breach was a fundamental truth even when many blacks were playing baseball. The gap that has recently changed the landscape is the instructional chasm to which Davis refers. With the demise of the three-sport athlete (SI, Nov. 18, 2002), those suburban kids who play baseball are saturated with practice and games year-round. Parents are doling out up to $5,000 to have their sons play on travel teams with multiple sets of fancy uniforms, up to $500 to attend showcase camps in which they walk away with promotional CD-ROMs of their son and up to $60 an hour once or twice a week in the off-season to have Johnny take private lessons. The young African-American without access to that kind of intensive training is hopelessly behind the learning curve of a game that is difficult to grasp. "We've lost them by age 13," says DeJon Watson, director of professional scouting for the Indians.
Says Al Davis, "By the time the kids get to high school, the white kid who's had pitching lessons can throw three pitches and the black kid has one pitch, a fastball, and all the batters can hit that. Come tournament time you see the inner-city teams get knocked off quickly. The white kids might not have as good athletic ability, but they understand the game. It's a sad thing, to be honest with you. I've seen such good athletes who just didn't understand [the game], and now you see them hanging out on the corner. If they had had instruction, maybe you could have done something for them. The [rich person's] game was golf when I was a kid. Baseball is almost like golf was. You've got to have the money or you're in bad shape."
Rickie Weeks, a black ballplayer, was good though not a star at Lake Brantley High in Altamonte Springs, Fla., and graduated in 2000. He was thin, 180 pounds on a 5'11" frame, with exceptional speed but little power for an outfielder. Pro scouts took a look at him, but no club drafted him. No major college was interested. "We're scouting kids less for tools than we did before," Young says of the deemphasis of athleticism.
A pro scout who knew Cador, the Southern University coach, recommended Weeks as a player who would be a good fit for Cador's program. Cador gave Weeks a scholarship. Three years later the Milwaukee Brewers took Weeks, now a sinewy power-hitting second baseman, with the second overall pick in last month's draft. "A lot of times the pros and the colleges will take the polished player over the athlete," Cador says. "The coach in the SEC is getting paid big money to win. And if he doesn't win, he's going to lose his job. So he can't do what I'm doing. He's going to take the more polished player."
Ray Fagnant, a Red Sox scout who covers New England, New Jersey, New York and eastern Canada, says he had "maybe six" black players in his entire territory this year who were considered even borderline pro prospects. A National League team area scout says New York City has generally been without a big-time African-American prospect since Shawon Dunston 21 years ago. "Most of the better players in the city are Latin now," the scout says. "You don't see the [black] players you might have years ago. They don't play. And if a kid is a good athlete, the high school football coach or the basketball coach doesn't want to share him. We're just not seeing them play baseball. Now you can drive by a basketball court at two o'clock in the morning and it'll be packed."
Not a single African-American from Boston, New York or Philadelphia plays in the majors now. Only two current big leaguers—Floyd and Braves lefty reliever Ray King—came out of Chicago.
Many major league clubs, such as the Red Sox, the Oakland A's and the Toronto Blue Jays, emphasize drafting college players over high school players because the college kids are more developed and their potential is more easily defined. However, the carrot of a baseball scholarship is a rather small one. The NCAA permits a total of 11.7 baseball scholarships at any given time, and they are typically parsed among most of the 30 or so players on a roster. Full rides are rare. Parents can find more financial incentive in football, which is allowed up to 85 scholarships, and even basketball, which gets 13 for a roster that is half the size of baseball's. Even softball is permitted more grants (12) than baseball.
There are 34 blacks in the majors who attended four-year colleges, including such stars from major programs as Barry Bonds (Arizona State), Barry Larkin (Michigan), Charles Johnson (Miami), Frank Thomas (Auburn) and Mo Vaughn (Seton Hall). But those players appear to be remnants of another era because the flow from that pipeline has slowed to a trickle in recent years. Only five of the college-bred black big leaguers are younger than 29--and none of them are stars (Juan Pierre, Ken Harvey, Willie Harris, Jerry Hairston and Jacque Jones).
At some point," Bob Muzikowski says, "there will be a tipping point, a societal change that we don't know about yet, and blacks will return to the sport." John Young believes a three-day conference among black leaders and baseball executives is needed to map out a recovery plan. The Indians' DeJon Watson says the sport needs to tailor part of its packaging to blacks. "We don't market our game very well," he says. "Take Nelly, the rapper. From a major league baseball standpoint he's a perfect marketing tool. He has played the game. Maybe get him to tell his story to reach kids."
Hall of Famer Frank Robinson is not so concerned with marketing campaigns. An 11-year-old in West Oakland, Calif., when Jackie Robinson changed baseball, Frank Robinson became part of the first generation of great black players in the major leagues, which also included Hank Aaron, Ernie Banks and Willie Mays. Now 67 and the manager of the Montreal Expos, Frank Robinson says today's black stars share in the blame for the decline of the black ballplayer. "People seem to think they owe nothing but playing the game," he says. "You don't see minorities attached to the community or going home and giving something back. Now the stars and the top players, they hide. They don't go into the community. They don't go back into the inner city or where their roots were.
"Baseball is now third, maybe fourth in the [inner-city] household. Golf is now talked about more than baseball. Why? Because of the influence of Tiger Woods. He gives back through his foundation."
Says Sheffield, "We need to do more. We have to do a better job giving back." Several years ago Sheffield and Gooden wrote checks to the Belmont Heights Little League program for improvements, such as the installation of batting cages. Now Gooden, Sheffield and Everett plan to develop a youth center in Tampa. In the meantime Gooden, a pitching coach for the Yankees' rookie league team in Tampa, says he would like to run camps and clinics at the Yankees' minor league complex in his off-hours, perhaps busing kids there. "It's time to take the first step," he says.
Mets first baseman Tony Clark, formerly with the Detroit Tigers, has donated baseball equipment to Detroit public schools through his foundation. San Francisco Giants outfielder Marquis Grissom runs a foundation that supports youth programs near his childhood home of Red Oak, Ga., renovating fields and distributing equipment. "I believe in what [Hall of Famer] Joe Morgan once said," Grissom says. "If baseball is concerned about the decrease of black players, it should open clinics and academies in the inner cities of the U.S., just like they do in the Dominican Republic."
There is agreement at baseball's highest level. "I'm a product of the '50s, '60s, '70s and '80s, and I remember the strong level of interest in the African-American community," says commissioner Bud Selig. "Over the years that interest declined. We've tried to deal with it, but we clearly need to do more. That means expanding the RBI program and spending more money on building fields. The Baseball Tomorrow Fund, our joint program with the players, is building fields in the inner cities to give those kids the same access to baseball that they have to basketball and football. We need to intensify our effort. This [decline of black players] is startling."
Last year the Baseball Tomorrow Fund awarded approximately $1.4 million to 28 youth baseball and softball programs, an average of $50,000 per program, or about half the cost of building a baseball field.
Major League Baseball is planning to open its first urban academy, in the Los Angeles area. Members of the major league scouting bureau will help provide instruction. The academy is expected to include two full-sized fields, a youth field and one softball field. Along with the on-field training, there will be classroom instruction and the use of computers to teach the sport. The cost will be borne by Major League Baseball. "The idea is that every major league club will want one in the shadow of their own stadium," says Jimmie Lee Solomon, Major League Baseball's senior vice president, baseball operations. "Hopefully all 30 clubs will have one, and there will be more in places that are not major league cities." Such academies, Solomon says, would reach kids as young as eight years old.
"What I've learned is that we need to get kids when they're younger," says Young, the founder of RBI. The 185 RBI programs around the world are run with varying degrees of success. The programs in Houston, where Tampa Bay Devil Rays outfielder Carl Crawford played, and Atlanta are regarded as strong centers. The ideal RBI program may be the one in Los Angeles, which is thriving—it sends youths to showcase camps and out-of-state tournaments—because of the financial support of Dodgers pitcher Kevin Brown, who is white.
"We can do things here because Kevin Brown gave us a million dollars," Young says. "I get saddened sometimes because when I started RBI 14 years ago, 17 percent of the players in the majors were black. And now it's 10 percent. I feel like I've failed." Young understands, too, that inner-city demographics are changing, especially in places such as Los Angeles, Miami and New York, where the number of Latinos is increasing significantly. Blacks accounted for 65% of the participants in RBI two years ago; now they account for 50%.
"The RBI program is nice," the NL team area scout says, "but they're not getting the best athletes. Those athletes are going into other sports."
Says Phillies general manager Ed Wade, "If you're a young African-American, and you see LeBron James out of high school getting $90 million and going straight to the NBA, and you have a choice of sports to play, baseball isn't going to have that kind of young role model."
Imagine a black youth watching the April 11 game at Minute Maid Park between the Cardinals and the Houston Astros, two of the best teams in the National League Central. The game is a thriller, with Houston second baseman Jeff Kent beating St. Louis ace Matt Morris with a two-run walk-off homer. The two teams used 23 players in the game. None of them were black—just as it was in 1946.
There is a saying in baseball that scouts go where the talent is, from the heart of a big city to the edge of a one-stoplight town. Every tank of gas is a chance to see the next Sheffield. "Nobody slips through the cracks," says Fagnant, the Boston scout.
One hot day two springs ago, with baseball season in full bloom, Fagnant was driving in Fort Myers on a road that runs between the Red Sox' minor league training complex and their spring-training ballpark. Off to the side of the road he saw young, fit, athletic blacks playing a spirited pickup game in a park. He saw what he figured were as many as 150 people watching and cheering with delight. The baseball man's heart sank as he kept driving, the image shrinking in his rearview mirror. The boys were playing football.