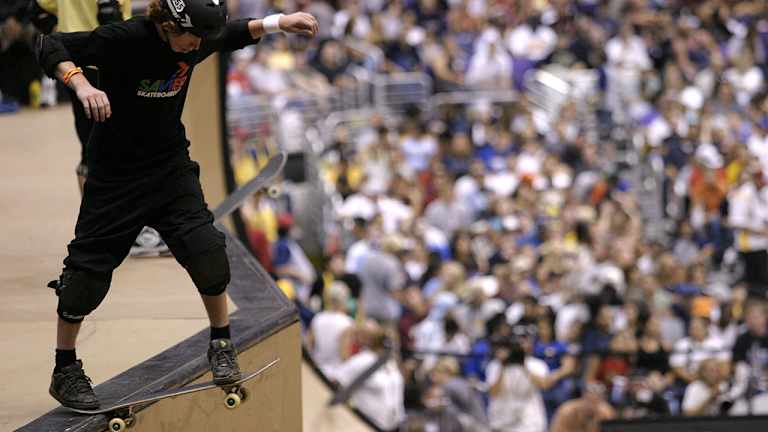 Double Ripper
At 16 Shaun White rules snowboarding; now the red-hot redhead is launching himself into big-time skateboarding, too
The United Airlines' Red Carpet Club at Chicago's O'Hare airport is reserved for the jet-setting elite--the FORTUNE 500 CEOs, U.N. diplomats and European models who fly more than 100,000 miles a year on the airline. Shaun White is a Premier Executive 1K member, but one day last fall a United representative three times his age clearly couldn't believe it, especially when the scruffy 16-year-old carrottop in untied sneakers slouched down into a black leather couch and asked to be served a glass of milk. "They told me I wasn't supposed to be in the lounge," White says. "They were like, 'There's no way you're 1K. You're using your dad's card.'"
A United customer rep took White's 1K card and revoked his frequent flier status. White admits that he, like, um, may have flipped off the employee as he left the counter. When he was about to board his plane to Los Angeles, White was pulled off the flight by a ticket agent for disruptive behavior. "United sucks, man," he says. "I've got like a million miles, and they never bump me to first class because they think I'm just a kid and give the seat to some schmoozy guy in a business suit."
The gangly 5'6", 130-pound White may not command respect from the friendly skies folks, but there are plenty of schmoozy guys in business suits working to make sure you take notice of the biggest crossover star to come along since that other Shaun (Palmer), the pro snowboarder and mountain biker. Next month White, the world's hottest snowboarder, will compete in the Summer X Games in Los Angeles as a professional skateboarder, making him the first athlete to compete in both the Summer and Winter X Games. White's sponsors are spending millions to market the boy wonder with the toothy grin who has been tabbed as the action-sports hero who will succeed his aging mentor, Tony Hawk. "Shaun White has lasting power. He's in a position to transcend both sports," says Mark Ervin, his IMG agent.
This summer White will star in a national back-to-school commercial for Target. In August his image, 80 feet high, will be plastered on the sides of two towers along L.A.'s Sunset Boulevard to promote the Summer X Games. A cartoon version of White will wow kids in an intergalactic skate park in an upcoming episode of Nickelodeon's Rocket Power. White is also a character in PlayStation's snowboarding video game.
Last winter White won 10 of the 15 pro snowboarding contests he entered. He crushed the Winter X Games, catching big air to win both slopestyle and superpipe, as well as the Games' best-athlete award. A month later he became the youngest snowboarder to win the U.S. Open slopestyle championship. "A guy like Shaun comes along once every 10 years, like a Kelly Slater or a Tony Hawk," says Gus Buckner, Oakley's board sports marketing director. "Shaun is going to be the next icon of extreme sports."
Fresh off his success on the slopes, White decided it was time to give professional vert (halfpipe) skateboarding a chance. His goal is to win the Summer and Winter X Games in the same year. In May, in his first pro skating contest, he finished fourth at the Slam City Jam in Vancouver, to qualify for the Gravity Games and the Summer X Games.
Says Cody Dresser, a TRANSWORLD SNOWBOARDING associate editor and a former pro rider, "Every pro snowboarder desperately wants to be a pro skateboarder. No one's done it. It's bad enough that Shaun White destroys everyone whenever he enters a snow contest, but now he's a pro vert skater and living out every rider's dream. How sick is that?"
"It's all about having fun," Shaun says, pushing back a wisp of his red hair. "I just don't want to burn out before I turn 17."
In late May, a week after winning the snowboard superpipe division at the inaugural X Games Global Championship in Whistler, B.C., White is scheduled to take his driving test in Oceanside, Calif., near his hometown of Carlsbad. This is a big moment for any teen, but especially for one who in recent snowboarding competitions has won two trucks and an SUV. The night before the exam he decides to bail because the DMV testers are "bitter old women who are just looking to fail me because I'm a teenager."
He would end up getting his license a week later, but in the meantime, while practicing his driving on the way to school the following morning (with his older brother, Jesse, riding shotgun), White pumps the gas pedal with his right foot and, as he describes it, "pull[s his] groin, but more like in the hip." In the student parking lot at Carlsbad High, he hobbles out of the silver Ford Ranger that he got for sweeping the 2001 Vans Triple Crown series and announces he is unable to walk to his independent study class. Jesse, 23, who is also Shaun's Burton team manager, drives back home in the vehicle his kid brother gave him. "He'll do anything to get out of school," Jesse says.
White, who completed his sophomore year in June, attends classes at Carlsbad when he's not off competing on remote mountains in Chile, Japan, Norway or Costa Rica. He's looking forward to the junior prom next year and would love to take Avril Lavigne to the dance. He's on track to graduate in 2005 thanks to a creative academic plan. He gets art credit for choosing the graphics on his signature Burton 154 snowboard, economics credit for refinancing the $600,000 Carlsbad beachfront pad he bought last year for himself and his family, English credit for media interviews and of course a passing grade in P.E. for skating at the Encinitas YMCA Skate Park. "If snowboarding or skateboarding stops being fun when I'm 19 or 20, I'll just go back to school and get a law degree or something," he says.
Or something. White started snowboarding at age six and dominated the amateur circuit for seven years before turning pro at 13. Announcers introduced him as Future Boy before he dropped into a run. Soon everyone was calling him that. "I hated it," he says. "It only made me more determined to show up at contests and do well."
By his third pro season White was placing in all the major snowboarding events, and he barely missed making the 2002 U.S. Olympic team in halfpipe. While Olympic golden boy Ross Powers is known as a pipe jock and Kevin Jones as the king of big air, White competes in all three disciplines--halfpipe or superpipe, slopestyle and rails--and soars higher than anyone else with his seamless runs and technically superior tricks. Says Dresser, "He's basically mastered every discipline in snowboarding aside from backcountry. When he's proven the point repeatedly that he's the best at everything and burns out on contests, he'll go heliboarding with the Mac Dawg film crew, and we'll see him do backside 720s off cliffs."
For now White will focus on tearing apart the pro vert world. Over the past few years he has been preparing by performing on the Tony Hawk Gigantic Skateboard Tour and the Boom Boom HuckJam exhibitions with such marquee performers as Hawk, Bob Burnquist, Bucky Lasek and Andy Macdonald. Two summers ago the pro skaters tied White's hands behind his back and made him pledge to quit snowboarding. Says White, "If in a couple years I can get ahead of everyone else in snowboarding, maybe I'll take a year off and just focus on skating."
At the end of an all-American cul-de-sac in Carlsbad lives an all-American boy in a three-bedroom house with his parents, Roger and Cathy, and his sister Kari, 18. Here neighbors hang flags on the front porch and take their dogs for walks along the beach at sunset. Shaun, who refers to everything as "creepy" or "suh-weet," skates with a couple of kids his age after dinner and reviews tricks in Thrasher magazine with them. Sometimes he'll go across the street and surf with Roger, who works for the San Clemente Water Department, while Kari has brownies baking in the oven. There is nothing here that suggests Shaun is a cult phenomenon in Japan, where girls ask him to sign their faces and everyone wants to pet his hair. At the Winter X Games, Shaun wore an improvised red bandanna over his nose because he ran out of sunscreen. Now kids in Tokyo wear red bandannas too. Says Ervin, "I wouldn't be surprised if everyone in Japan starts dyeing their hair red."
No amount of star power, however, can get Shaun out of a photo shoot for one of his sponsors today. He pleads with his brother to reschedule so he can spend the afternoon skating. "Sorry, dude," Jesse says. Shaun leaves the house, sulking and rubbing his hip in hopes of gaining sympathy from his brother, who pays no attention. Cathy, though, runs out to the driveway as the two leave. "Shaunnn! Remember to fasten your seat belt!" Shaun takes his mother's concern in stride and waves her off.
Cathy constantly worries about her baby boy: Is he drinking enough water? Is he wearing enough sunscreen? Is his helmet strapped on tightly? "I get scared every time he rolls into the pipe," says Cathy, who traveled with Shaun for his first two pro seasons. When Shaun was six months old, he had open-heart surgery for tetralogy of Fallot, a genetic defect. Six months later he needed another heart surgery. His long-term prognosis is fine, but he continues to see a cardiac specialist for a regular checkup.
Best bud Rob Lorifice buzzes White on his cell to see if he'll be at the skate park this afternoon. White is bumming that he won't be back before the park closes. Squished in the backseat of the pickup truck, White leans over to turn up the stereo and takes out his teen angst by rapping with Eminem: "Let's get down to business/I don't got no time to play around, what is this?"
It's another beautiful sunny California afternoon, and White has cut out of school early to practice at Tony Hawk's private vert pipe, an 80-foot-long skating oasis tucked away in a friend's Oceanside backyard. His homey Rob, a 15-year-old skate rat who recently got his braces tightened, drops in from one of the 14-foot sidecuts and lands a backside Smith. He challenges White to do one.
"Awwww, they're not that hard," White says.
"Well, you've got a little girl's voice in a little girl's body," Rob says. He continues to taunt White with a paraphrase of Avril Lavigne: "Shaun is a skater boy/She said see ya later boy!"
White ignores him and works on getting more height on his Air to Fakie. Jesse, watching from the ledge, is busy fielding phone calls. A rep from Burton rings to talk about Luke Mitrani, an 11-year-old snowboarder from Vermont who is being hailed as the next Shaun White. "Shaun, they need a quote about Luke," Jesse says. "Do you think he's the next you?"
The next Tony Hawk stops skating and stands, legs akimbo, tugging at a lock of his mop. "Awwww, seriously?" he says. "Just say I hate him."
He's kidding, of course. White doesn't want to follow in Tony Hawk's footsteps anymore than Luke Mitrani wants to follow in his.
"Come on, Shaun," Jesse pleads. "Give me something." White smiles and drops back into the vert pipe, intent on creating his own unique path.