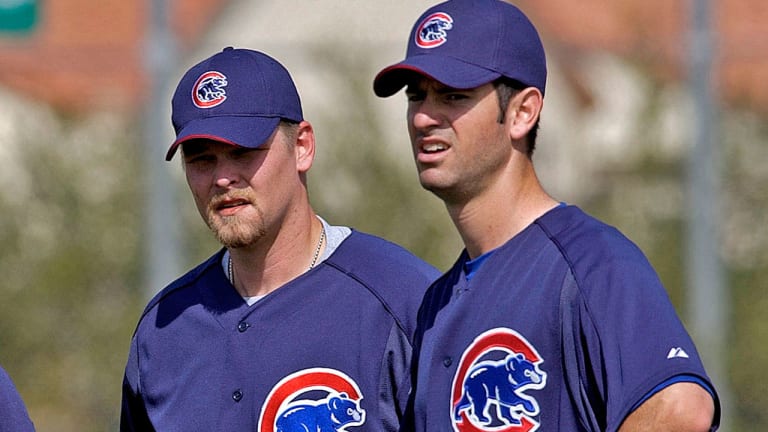 Double Whammy
The surprising Cubs are banking on Mark Prior and Kerry Wood to end their championship drought
Ninety-five years' worth of frustration envelops Kerry Wood and Mark Prior, but the two Chicago Cubs righthanders fight through it the best way they can: with 95-mph heat. Arriving on the North Side four years apart, each has been labeled a phenom and, much to their chagrin, a franchise savior. As spring turns into sweltering summer, and the surprising Cubs hover in or near the lead in the National League Central--they were one game behind the St. Louis Cardinals at week's end--expectations only intensify for a club that hasn't won a World Series since 1908. ¶ Even as Chicago's sluggers were struggling--No. 3 hitter Sammy Sosa and cleanup hitter Moises Alou had only 10 home runs each--the Cubs staff, which features an unprecedented collection of power pitchers, was whiffing batters at a record clip. Led by a Gas Gang of 90-mph hurlers that includes Wood, Prior, Joe Borowski, Matt Clement, Juan Cruz, Kyle Farnsworth and Carlos Zambrano, the Cubs had 705 strikeouts through 80 games and were on pace to break the league single-season mark (1,344) set by the Cubs in 2001. They could also join the 1968 Cleveland Indians as the only clubs in history with more strikeouts than hits allowed. Wood (143 K's in 115 innings) and Prior (127 in 110 1/3) ranked first and second in the majors in strikeouts, and could become the second set of teammates in the last 27 seasons, after the Arizona Diamondbacks' Randy Johnson and Curt Schilling, to finish one-two. Armed with similar fastballs and tightly wound breaking balls, Wood (8-5, 2.90 ERA) and Prior (8-3, 2.61) are poised to become the game's most dominant power-pitcher combo.
"They're a lot like Randy and Curt," says Cubs catcher Damian Miller, who caught Johnson and Schilling from 2000 through '02. "Woody's kind of like Randy, his stuff is just electric; Mark's comparable to Curt, a power pitcher yet also a control pitcher. But these guys are 26 [Woods] and 22 years old. Randy and Curt didn't get a grip and harness their stuff until later in their careers. It's scary to think about how good these two are going to be."
Wood is best known for his major-league-record-tying 20 strikeouts in his fifth big league start, a one-hitter against the Astros on May 6, 1998. His most effective pitch in going 13-6 and winning National League Rookie of the Year honors that year was a big-breaking slurve, a tumbling power ball that started inside on righthanded hitters and dived down and away, off the plate. But after a ruptured ligament in his right elbow (requiring Tommy John surgery that sidelined him all of 1999) robbed him of that pitch, Wood was transformed from an unrefined hard thrower with supernatural stuff to a craftsman. "A young guy with that kind of stuff is really blessed," says Cubs pitching coach Larry Rothschild. "But in some ways it doesn't allow him to become a pitcher, because he doesn't have to understand how to approach hitters. Until you have to search for a different way, you're not going to."
The 6'5", 225-pound Wood had always craved strikeouts and worked hitters deep into the count trying to get them, often piling up triple-digit pitch counts by the middle innings. "Strikeouts were something everybody always talked about with me," Wood says. "I started thinking about striking out people on 0-and-0 counts, so I would find myself at 115 pitches in the fifth inning, and my day would be done."
While rehabbing his elbow in '99, Wood studied Chicago veterans Jon Lieber and Kevin Tapani, who relied on finesse rather than velocity. Wood watched their starts closely and even tagged along for their bullpen sessions, absorbing lessons on pitch sequences and setting up batters, while slowly learning the book on NL hitters. He added a changeup to his arsenal and found that when he had command of his pitches, he could throw them effectively at 70% effort, conserving energy for later innings--and later in the season. Last year Wood cracked 200 innings for the first time in his career.
Another factor in Wood's retooling was replacing the slurve with the slider. Wood acknowledges that the slurve, which he threw across his body, caused extra strain on his elbow and contributed to his injury; his slider is thrown over the top. "It's been a better pitch after the surgery," Wood says. "It's not big and loopy, but it's hard like a fastball, comes out of the same plane and, right before the hitter decides he wants to swing, dips in the strike zone."
Wood didn't lose anything on his curveball, which travels 10 mph slower than his slider, but as he has matured as a pitcher he has learned to win without it. In a June 24 start against the Milwaukee Brewers he realized that his curve was hanging up in the zone, so he threw it only 12 times in 114 pitches and compensated by using his slider on both sides of the plate. Wood struck out eight, five on sliders, while limiting Milwaukee to one run in seven innings. "In '98 I wouldn't have made it through four innings on a night like that," Wood says. "I would have panicked over not having my good stuff."
Wood has also learned to deal with the expectations that he struggled to manage as a rookie. "I was very uncomfortable," Wood says. "The attention I had generated in high school, in the minors, was nothing like what I got after I struck out 20. I wasn't ready for it. It was just my fifth game, and I was still getting acclimated to the big leagues." Says Chicago general manager Jim Hendry, "Cubs fans are wonderful people, but that [pressure], at a young age, I'm sure was hard to live up to."
Prior, by contrast, came to the majors last year as the pitcher Wood had to learn to be. The second pick, out of Southern Cal, in the 2001 draft, Prior signed a five-year, $10.5 million contract and arrived in Chicago after only nine minor league starts, already possessing a sophisticated approach to hitters and a tailored conditioning program. Since he was a sophomore at the University of San Diego High, Prior had studied with former major league lefthander and pitching coach Tom House, who had developed a scientific approach to pitching biomechanics through computer analysis and designed a regimented workout that Prior still follows.
On the first and second days after a start, Prior does an hour of cardio, whether on a stationary bike, on a StairMaster or running in the outfield. On the first and third days he does weight training but emphasizes functional strength. For example, while doing forearm exercises Prior will position his arm to mimic the grips on his fastball, curve and change, training the muscle groups that each pitch requires. The third day is also Prior's day to throw in the bullpen, a brief session in which he sharpens all three pitches. "Mark throws very little on the side," Rothschild says, "and he does it very efficiently. He gets good work in, but he doesn't throw until he's tired." Prior also tries to put himself in game-type situations in the bullpen, imagining confrontations with the hitters he'll face in his next start. When he's at home Prior may watch his next opponents' games on his satellite dish. Day 4 is a light day of sprints and long tossing, basically a freshener before the start.
Prior's arsenal is simple but effective. The 6'5" 230-pounder relies on two pitches, a mid-90s fastball, expertly located, and a low-80s curve with a sharp downward break. The fastball is the linchpin. Recalls Mike Gillespie, Prior's coach at USC, "He pitched to the outer two inches of the plate on both sides, and if he drew an umpire who was calling the outer six inches, forget it, because he could put it there, too." In 227 major league innings through Sunday, Prior averaged 10.9 strikeouts against 2.5 walks per nine innings.
"He's not worried about throwing an inside fastball to a Jeff Bagwell with men on second and third," Wood says. "If that's the pitch he needs to make, he'll make it." Prior throws his curve with as much precision as his fastball, and its action is devastating: It can start at the letters and break out of the strike zone, vanishing into the dirt with much more speed than the typical 12-6 curve.
Prior will occasionally show a straight change against lefthanded hitters. During a 16-strikeout performance against Milwaukee last Thursday--the Cubs lost 5-3, but Prior did not get the decision--he froze Geoff Jenkins with an 87-mph change, sandwiched between two 94-mph fastballs, a pitch so arresting it prompted Gillespie to immediately leave a message on Prior's cellphone telling him how impressed he was with the pitch. Rothschild believes that by the end of the season Prior will be regularly throwing the change against righthanders as well.
Though he's fundamentally sound, Prior, who was 6-6 in 19 starts last year, is still learning to endure the rigors of a full major league season. The day after a 119-pitch, 5 2/3-inning outing against the Toronto Blue Jays last month, Prior told manager Dusty Baker that he was fatigued before being taken out and should have been more forthcoming about his condition. "Dusty said, 'Yeah, you have to, because you've got 32 starts to make, and we need you to be as strong in August and September as you are now,'" Prior recalls.
Like Wood four years earlier, Prior grappled with all the attention he received as a rookie last year. "People want to know who you are, what you do, and I'm a pretty private guy, so people coming up to me in restaurants blows me away," Prior says. "It's tough to be nice and also make people understand that you want to be respected and have a private life."
Neither Wood nor Prior will soon shake the burden of carrying the rotation and the Cubs' playoff hopes, but other loads have been lightened. One morning last week Ryan Harvey, the Cubs' first-round draft pick in June, visited Wrigley Field and took BP after accepting a $2.4 million signing bonus. Beforehand, Harvey, a big 18-year-old outfielder with a baby face that will get him carded until he's 30, toured the clubhouse, eyes agape. When Harvey came to Sammy Sosa's open locker and stopped, taking a long gaze inside, outfielder Tom Goodwin bellowed, "Got a new bonus baby! You ain't it anymore, Prior." At that, Prior cracked a smile.