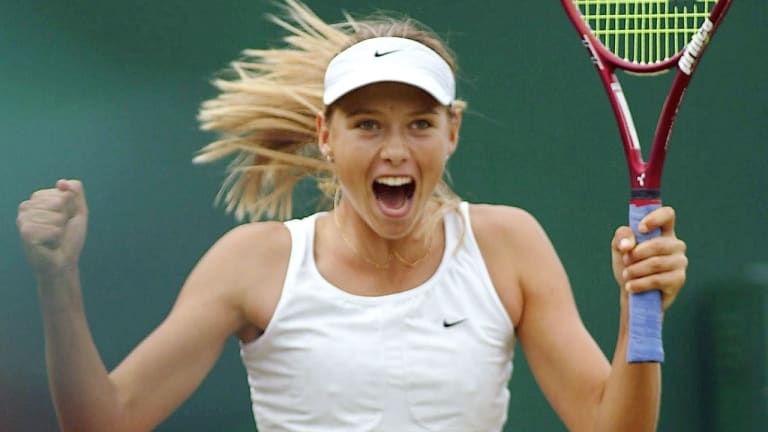 Youth Movement
Maria Sharapova was the latest 16-year-old to take Wimbledon by storm. But where will she be in a few years?
They keep coming, a new one every month it seems, all of them
young and stinging the ball and filling the sport with surprise.
They're always sweet to see, so refreshing: After Maria
Sharapova, two months past her 16th birthday, served her final
ace last Saturday to polish off 11th-seeded Jelena Dokic in
straight sets, she dropped her racket onto the grass of
Wimbledon's Court 1 in disbelief, her golden hair swaying in the
sunlight. She clasped her hands as if in prayer and raised them
to the sky.
Few pros are as demonstrative: Sharapova barks at herself after
each point, clenches her fist on each stroll to the service line,
squeals with each shot. Fewer still show such happiness. How long
will it last? As Sharapova blew kisses, Dokic hoisted her bag and
hurried away.
Remember Dokic? Four years ago she was that same blonde girl, two
months past her 16th birthday, when she rocked Wimbledon by
upsetting world No. 1 Martina Hingis in the first round. Two
other girls burst through then too--18-year-old Alexandra
Stevenson and 17-year-old Mirjana Lucic, both of whom advanced to
the semifinals. This year Stevenson lost in the first round, as
she has at almost every Grand Slam event since the summer of
1999. Lucic isn't even in the WTA media guide anymore.
Dokic sits through her press conferences now and speaks in a
voice full of weariness, unimpressed by the questions. Her father
is no longer a part of her tennis life. "We'll see," Dokic says
when asked about Sharapova. "We've seen a lot of players come and
go."
Despite her three-set loss on Monday to fellow Russian Svetlana
Kuznetsova in the round of 16, Sharapova is tennis's hottest
property, ranked 88th only on the computer. She was born in
Siberia, but at two her family moved to Sochi to flee radioactive
fallout from the Chernobyl disaster. When she was six, her
father, Uri, had her playing a tournament in Moscow, where
Martina Navratilova recommended Nick Bollettieri's Academy in
Florida. Two years later Maria and her father arrived in Miami,
then journeyed to Bollettieri's uninvited. A coach took her on
court; Sharapova knocked his hat off with her first stroke. "Then
I hit a few [more] balls, and he called Nick right away,"
Sharapova says.
She now works with Robert Lansdorp, legendary coach of Tracy
Austin, Lindsay Davenport and Pete Sampras, who says Sharapova
has "that quality of a champion: She plays without fear." She is
nearly six feet tall and pounds the ball from the baseline; she
grunts so loudly during play that opponents and observers
complain. "At times I say to Maria, 'Just shut up,'" Lansdorp
says.
Sharapova had never advanced past the first round of a Grand Slam
event until last week, but she carries herself with unusual
maturity. She laughs off the photographers, says she finds
modeling boring, doesn't fight the damning Anna Kournikova
comparison. "Right now it might be my looks or my grunts
[attracting the attention], but in a few years, if I become a
great player, it's not going to be about my looks or my grunts,"
she says. "It's going to be about how I became a champion."
Sharapova dispatched Ashley Harkleroad, 21st-seeded Elena Bovina
and Dokic before falling to Kuznetsova. "I'm expecting to win,"
Sharapova said last Saturday. "I can't go to a tournament
thinking, Yeah, I'm going to get my ass kicked today, so I might
as well just leave. I mean, I'm very happy and I'm very
surprised. Yes, I'm very young; I'm 16, and I'm in the fourth
round at Wimbledon? How odd is that?"
Not so odd anymore. Wimbledon was full last week of girls who had
flashed and faded. While Sharapova charmed reporters with her
laugh and walked past the people pointing at her on the grounds
at Wimbledon, Dokic huddled with her boyfriend in the players'
restaurant and ate undisturbed. Hingis sat at a table in the sun,
retired at 22 and grinning as well-wishers stopped by. She had
won Wimbledon at 16, but no, Hingis said, she didn't miss the
tour. "I got out at the right time," Hingis said, happier even
than the girl who just got in.