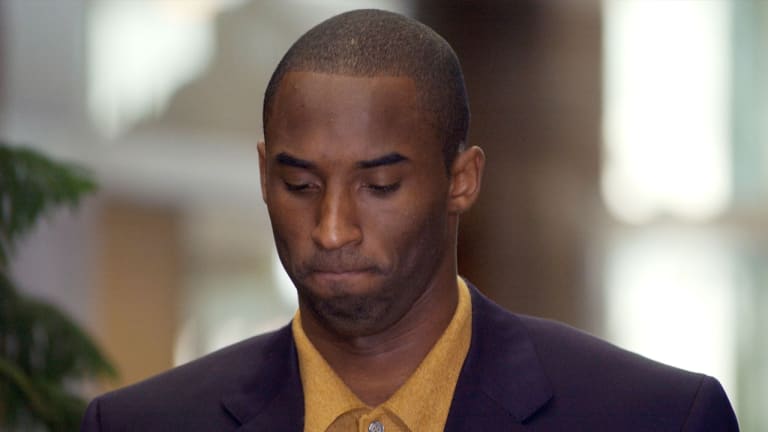 The Dark Side of a Star
Kobe Bryant's carefully cultivated image has been badly stained by his admission of adultery, and a charge of sexual assault
If Kobe Bryant had not yet become the next Michael Jordan he was most assuredly not Allen Iverson, and for that most NBA fans were grateful and bestowed on him much love. The Los Angeles Lakers' 24-year-old superstar cooperated with the media after games, smiled warmly and was polite to fans, rarely mouthed off to opponents or referees, and preferred conventional coiffure to cornrows. Bryant maximized his breathtaking talent on the court and his marketing power off it, but when the cameras were off he provided only glimpses of himself, shutting out the world behind designer shades, an often haughty demeanor and his insistence that his private life was just that. We knew only as much about this 6'7" child of fortune as he wanted us to know.
That is no longer the case.
By his own admission, Bryant, the married father of a six-month-old daughter, is an adulterer. And in the view of district attorney Mark Hurlbert and other Eagle County, Colo., authorities he is something far worse: a felon who around midnight on June 30 sexually assaulted a 19-year-old woman in a hotel room, a charge that Bryant forcefully denies, and one that carries a prison sentence of four years to life.
It seems naive in the extreme to profess amazement that a professional athlete might have extramarital sex, given the privileges of the lifestyle, the ease with which the stars attract women, and the fact that so many high-profile males (a president, for one) have been unfaithful. While some who never bought into Bryant's squeaky-clean persona were still surprised by the allegation of violence, others have long believed he has a darker side. The excavation of his life and character has begun.
"Kobe is an extremely cold and calculating man," says a source close to Bryant in the Lakers' organization who requested anonymity. But the Bryant on display at a press conference last Friday at the Staples Center appeared to be vulnerable and apprehensive, even during those moments when he insisted that the sex in the Colorado hotel room was consensual. Bryant prides himself on his steely composure, but he had to choke back tears and, before 100 reporters, including one from Celebrity Justice, admit in a quavering voice that he had strayed. "I sit here before you guys furious at myself, disgusted at myself for making the mistake of adultery," Bryant said, shaking his head and pursing his lips, trying to stay in control as his 21-year-old wife, Vanessa, gripped his hand and stared into his eyes.
Bryant is scheduled to be arraigned in Eagle County on Aug. 6, and if the case proceeds, he will probably stand trial in Colorado next year. The court of public opinion, meanwhile, has already convened. Assuming that Bryant will be clothed in Lakers purple and gold at the start of the 2003-04 season--the NBA has already said he will be allowed to play while the case is pending--he will have to tune out the barbs from fans who have seen him torch their teams over his seven seasons. How he bears up will go a long way toward deciding the fate of a franchise that last Thursday held an upbeat press conference to announce the signing of free agents Karl Malone and Gary Payton, a serendipitous one-two that many believed would return Los Angeles to championship form.
The media affair at the arena 31 1/2 hours later was, by contrast, somber and strange--dramatic because the Bryants' appearance was a surprise, riveting because of the severity of the charges facing Kobe, jarring because of his affirmations of love to his wife ("You're a piece of my heart, you're the air I breathe"). Bryant's lead lawyer, Pamela Mackey, said the evidence pointed to her client's innocence, while L.A. general manager Mitch Kupchak issued a statement of the team's support but did not speak.
As of Monday none of the major companies for which Bryant endorses products (Nike, Coca-Cola, McDonald's and Spalding) had pulled out of their deals with him--he earns a reported $20 million a year off the court--even though disreputable behavior can result in the cancellation of such contracts. In 1997 Converse terminated its four-year, $32 million deal with Latrell Sprewell after he choked P.J. Carlesimo, his coach with the Golden State Warriors.
Separating fact from fiction is never easy with superstar athletes. Their exploits between the lines make them heroic; their carefully constructed corporate images make them iconic. There is Kobe leading the Lakers to titles in 2000, '01 and '02, then scoring 40-plus points in nine consecutive games last season. There is Kobe, in a McDonald's commercial, stopping at a playground to shoot hoops with kids. There is Kobe, in a spot for Sprite, grunting through a sweat-soaked free-weight workout. For Bryant and the companies trading on him, these images of the man, in effect, become the man himself.
At 10 p.m. on June 30, Bryant, accompanied by three, as of Monday, unidentified men, checked into the Lodge & Spa at Cordillera, a 56-room resort located halfway between the small town of Eagle and the ski resort of Vail. He was scheduled to have arthroscopic surgery on his right knee at the Steadman Hawkins Clinic in Vail the next day. While working at the lodge's front desk, the alleged victim, a receptionist and concierge, reportedly spoke with Bryant. Between 11:13 and midnight she went to his room and stayed for an undetermined length of time. While she was alone with Bryant, the alleged sexual assault occurred.
The alleged victim's name had not been reported as of Monday, but her identity was well known to her 3,000 fellow citizens of Eagle and to the members of the press camped in front of her parents' two-story house, which sits on a cul-de-sac and overlooks the town. Among the details about her background that the media had reported at week's end: She was a cheerleader and choirgirl at Eagle Valley High. She tried out for American Idol last November--her song was Forgive, by Rebecca Lynn Howard--in Austin. She has completed her freshman year at Northern Colorado.
One close friend, Starlene Bray, says that at the time of the incident the alleged victim was "emotionally fragile" as a result of the death of a friend in a June 1 car accident and breaking up with her boyfriend last fall. Another friend, Ashley Scriver, says, "If you knew her, you'd know that she wouldn't lie." Others in town demurred. "She was a drama queen," says high school classmate Jessica Willenborg.
Bryant's legal team is headed by Mackey, who successfully defended Colorado Avalanche goalie Patrick Roy in a domestic violence charge in 2001, and Hal Haddon, who represented John and Patricia Ramsey in the still unsolved 1996 killing of their daughter, JonBenet. The 34-year-old Hurlbert, a graduate of nearby Summit High who got a law degree at Colorado, tried his biggest case in 2002, when he successfully prosecuted burglar-alarm vendor Charles Garrison for murdering his wife and burying her in their front yard. Hurlbert's handling of a recent sexual assault case came to light in The Denver Post on Sunday, when an alleged rape victim, 24-year-old Melissa Holcomb of Nashotah, Wis., told the paper that Hurlbert dropped the charges in her case last January, three days before the trial was to have begun. Hurlbert told the Post he dismissed the case because he did not believe it was provable; two former deputy district attorneys said they believed that it was.
Last Friday, Hurlbert stood outside the Eagle County Justice Center on a sweltering afternoon, his comments going out to a national TV audience. He emphasized his concern for the alleged victim and said that he had consulted with other prosecutors around the state before deciding that he had sufficient evidence, both physical and testimonial, to accuse a sports superstar--a man who finished behind only Tiger Woods and Michael Jordan in a Burns Sports and Celebrities, Inc., poll ranking athletes as reliable endorsers--of rape. "I have an ethical burden not to prosecute unless I can prove my case beyond a reasonable doubt," he said. "I believe I can."
In any rape prosecution the medical evidence is critical, and it comes from the nurses and physicians who examine the victim. They are trained to follow a protocol in which they record any injuries and gather evidence--for example, semen or pubic hair--to preserve for use in a trial. (An abrasion within the vagina was pivotal in the 1992 rape conviction of Mike Tyson; the lack of similar evidence was pivotal when Green Bay Packers tight end Mark Chmura was acquitted of sexual assault charges in 2001.) The alleged victim, accompanied by her parents, lodged a complaint against Bryant at the Eagle County sheriff's department on July 1 and was examined at the Vail Valley Medical Center. After being contacted by the sheriff's office, Bryant submitted to a medical examination at Valley View Hospital in Glenwood Springs on July 2.
Since entering the NBA out of Lower Merion (Pa.) High in 1996, Bryant has exhibited a charitable side: He has been involved with the Pediatric AIDS Foundation and the Center for Abused Children. A couple of years ago T.J. Simers, a Los Angeles Times sports columnist known for his sarcasm, opined that his daughter could shoot three-pointers better than Bryant, a comment to which Kobe responded with good humor, agreeing to shoot against her for charity. Here's what Simers wrote in his column on Sunday: "I don't write the headlines in this newspaper, but I wouldn't have disagreed with the one on the Page 2 (March 28, 2002) column: THIS IS A GUY THEY CAN BRING HOME TO DADDY."
Among the Lakers, though, Bryant has been viewed as a wondrous talent but an extremely aloof individual who pursued his own agenda, sitting alone in the back of the team bus, Walkman or cellphone pressed to his ear. He frequently travels with his longtime trainer, Joe Carbone, and two or three members of a security team. Bryant's very presence in Colorado demonstrated his autonomy: He had made the appointment for surgery without informing the team.
Bryant's longtime agent, Arn Tellem, typically does not handle his affairs now and would not comment on him. The Tellem associate at SFX Sports who works most extensively with Bryant, Rob Pelinka, referred questions about him to Mackey. However, one source close to SFX calls Bryant "rude and condescending," describes being "horrified at times by how he treated people" and adds that while many clients can be abrasive, Kobe "was among the worst."
The Bryant incident capped a month of embarrassing headlines for the NBA, including Damon Stoudamire's arrest on July 3 on a charge of marijuana possession and Jerry Stackhouse's arrest on an assault charge on July 13. There was even bad news for one of the new Lakers--last Saturday, authorities in Toronto upgraded a charge against Payton from common assault to assault causing bodily harm, the fallout from an April 11 altercation outside a nightclub. With David Robinson going out with a crown and LeBron James coming in like a king, the NBA wanted to feel good about itself this summer, but, alas, that feeling has been lost. "For the league, for the Lakers and for Kobe," said one NBA general manager, "this is an unmitigated disaster."
But not an entirely unexpected one. For star athletes, every public appearance outside the lines is an encounter between heroes and hero worshipers with potential for exploitation on either side. Lakers coach Phil Jackson said last week that Bryant is "an intelligent young man who learns from mistakes" and that he will "turn this one into a growth situation." Perhaps. Before charges were filed, Bryant defended himself to the Los Angeles Times, saying, "You guys know me.... You know I would never do something like that." But only when all the facts are revealed will anyone know who Kobe Bryant really is.
COLOR PHOTO: PHOTOGRAPH BY EAGLE COUNTY SHERIFF/REUTERS [COVER] KOBE BRYANT ACCUSED Eagle County Sheriff's Office July 4, 2003
COLOR PHOTO: LUCY NICHOLSON/REUTERS SELF-DEFENSE With Vanessa at his side, Bryant professed his innocence of the rape charge being prosecuted by Hurlbert (top).
COLOR PHOTO: KIRK SPEER/GETTY IMAGES (HURLBERT) [See caption above]
COLOR PHOTO: LUIZ C. RIBEIRO/N.Y. POST/REX USA IF WALLS COULD TALK Bryant's room at the Lodge & Spa at Cordillera, where the alleged victim held a summer job.
COLOR PHOTO: KIRK SPEER/GETTY IMAGES [See caption above]
CHARGED, BUT NOT SIDELINED There's a history of pros who've played while facing a felony rap
KOBE BRYANT is expected to be arraigned on Aug. 6 and still suit up for the Lakers this fall. Here are seven athletes who were in similar circumstances; only one missed playing time.
ATHLETE, POS., TEAM FELONY CHARGE DISPOSITION
CORNELIUS BENNETT, LB, Falcons Sodomy Pleaded guilty to lesser charge Pleaded to misdemeanor sexual misconduct after May 1997 encounter with a woman in his Buffalo hotel room. Sentenced to 60 days in jail; served 36 days in the off-season.
BRIAN BLADES, WR, Seahawks Manslaughter Acquitted Charged in July 1995 in the shooting death of his cousin. Convicted in June '96, but Florida judge threw out verdict three days later. Caught 77 passes for 1,001 yards in 1995.
MARK FITZPATRICK, G, Panthers Aggravated battery Dismissed Agreed to participate in pretrial intervention program to dismiss charge brought by his pregnant wife, who claimed he hit, shoved and kicked her during an argument in July 1994.
GERALD PERRY, OL, Broncos Sexual assault Dismissed Pleaded guilty to misdemeanor sexual assault in attack on fiancee of a Denver teammate in November 1990. Sentenced to 180 days in jail; served 65 days after the season.
REGGIE ROGERS, DE, Lions Negligent homicide Convicted While intoxicated, killed three teens in October 1988 car accident in Pontiac, Mich. On injured list for most of '88; missed 1989 and '90 seasons while serving 12 1/2 months.
JOHNNY RUFFIN, P, Reds Attempted sexual battery Pleaded no contest Initially charged with rape after January 1994 incident in a Sarasota, Fla., motel. Sentenced, in part, to 500 hours of community service. Lost no playing time and finished 7-2.
LAMAR THOMAS, WR, Buccaneers Aggravated battery Pleaded no contest Cut by Tampa Bay a week after his arrest in July 1996; signed by Miami 10 days later. Sentenced to 18 months' probation and eight days in jail. Did not miss a game.