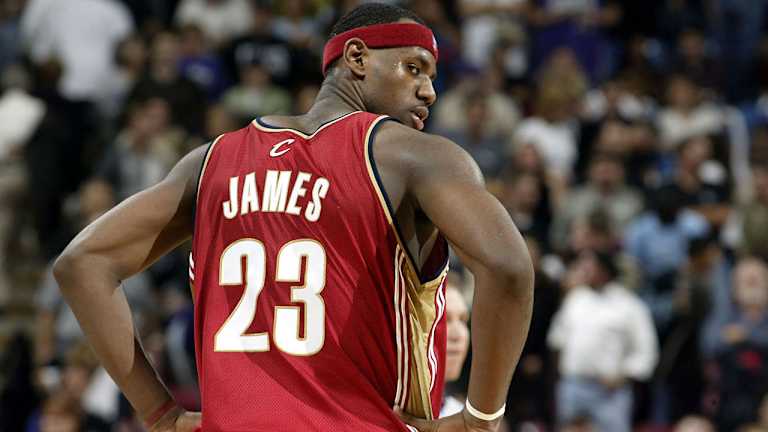 You Gotta Carry That Weight
Can an 18-year-old shoulder the burden of a league, a city and a few corporations?
Here comes LeBron James, Cavaliers cap pulled down low, the sight of him sending an energy surge through the dozens gathered near Cleveland's team bus. He works the crowd like a polished pol, hugging and shaking hands and smiling.
Then he comes to Mama, and to her he extends an additional honor: He puts the cap on her head, bends down and kisses her on the cheek. Gloria James--wearing a green-and-gold jersey from her son's high school in Akron, the one with number 23 and LEBRON'S MOM on the back--looks as if she might burst with pride. LeBron's cellie rings, as it does hundreds of times a day, but he ignores it. Who knows? It might have been Michael. James has Jordan on speed dial, but he won't say in what spot, only that Mama is No. 1.
That was the scene after James's first pro game, a 100-96 preseason victory over the Detroit Pistons at The Palace of Auburn Hills on Oct. 7, but time and place are irrelevant. This is what it will look like all the time for James, one of the most famous and well-paid athletes on the planet though he has yet to play one official NBA minute, is two months shy of his 19th birthday, and begins each morning with a big bowl of Fruity Pebbles--"No extra sugar," he assures. Hordes of reporters will cluster around his locker before each game; thousands of eyes will lock on him while he plays; sound-bite seekers will trail him afterward; an army of acolytes will wait for him before he departs into the night. Madness. Nothing but madness, 24/7.
"I've been going through it for two years," says James. "I can handle it."
NBA officials will tell you that we've seen this before, a phenom receiving big bucks, arriving amid much fanfare. But they're kidding themselves and they know it. No one has gotten this much this soon, no one has ever entered any league under so much scrutiny. The three-year, $10.8 million rookie contract he's getting from the Cavaliers is Monopoly money to James, who has endorsement deals worth more than $100 million. "I've been around the game for 40 years," says Cavs coach Paul Silas, "and I've never seen anything like it. It's scary."
The Cleveland law firm that represents James has pursued more than 1,000 infringements on LeBron's name and image. At the Caesars Palace Race & Sports Book these days you can wager on all things James. He's 10-to-1 to score between 22.1 and 24 points per game, 8-to-1 to have a high game of 49, 50 or 51 points. Already he is an economic system as much as he is an athlete, the primary link in a long chain of dependency. His performance on the court and his comportment off it bear consequences for--take a deep breath--a city, a franchise, a coach, a general manager, a league, several corporations and an extended family bound to get even more extended.
There are no odds posted in Las Vegas on James's emerging from all this with his money, his integrity or his sanity. He's a better bet than most, and not merely because he's a 6'8", 240-pound man-child who could pass for twice his age. It's also because he has overcome so much already, having been engulfed in a climate of avarice since first demonstrating that magical thing called promise.
"I can handle it," says James. That is his mantra. I can handle it.
"He's done well so far," says Fred Nance, his lawyer, "but it's hard to imagine that any 18-year-old could fully comprehend all of this."
LEBRON AND THE GAME
The popular observation that James's easiest adjustment will be on the court is glib at best. The $90 million he's getting from Nike isn't for being an All-Star someday. It is not enough for him to follow in the footsteps of Kevin Garnett, Kobe Bryant and Tracy McGrady, the straight-from-high-school phenoms who needed a few years of seasoning before they sizzled. The standards for James are no less than Jordan, Magic Johnson, Larry Bird and Tim Duncan, all of whom entered the league ready to dominate.
James won't be as good right away as any of them. It's not only his lack of big-time experience (Duncan had four years of college, Bird and Jordan three, Magic two); it's also that, unlike those four, he doesn't have a position. Silas started James at point guard in the summer league but scrapped that idea because he couldn't shake smaller guards and he was taking too much time getting the Cavs into their half-court sets. James is a classic swingman--which by definition means he's neither a true shooting guard nor a true small forward--who's also big and brawny enough to be a power forward. He will have to find a role, do a little bit from several positions, scratch and claw to find the right path.
At this point James is most like--ready for this?--Bird. A moment from James's first exhibition game: On a fast break the ball flies out of the hands of 6'9" Darius Miles toward James, who immediately one-touches it from the left of the lane to an unguarded Ricky Davis under the basket. Bird was a master of those trigger-quick reaction plays. "You can only call it court sense," says Cleveland power forward Carlos Boozer. "The way he takes advantage of a situation right away can't be taught. He just has it."
His shooting touch is clearly inferior to Bird's, but his athleticism is clearly superior. The Cavaliers rate their players' vertical jump, strength, agility, body fat and speed on a combined scale of 1 to 5; strength and conditioning coach Stan Kellers says, "LeBron's a six." There is no simple scale to rate a player who's built like a fullback, runs like a tailback and thinks like a quarterback.
The best thing about James, though, is that he truly understands what he is and what he can become. The shot-happy Davis wears a GET BUCKETS message on his armband; James says, "I only want to make my teammates better." It sounds rote, of course, but that's the way he has always played, even at St. Vincent-St. Mary High, where he could have averaged 50 points but settled for a modest 30. There are, of course, questions about his game, his outside touch primary among them; in five preseason games through Saturday he had shot 30.8%. And James has yet to show he can blow by defenders the way Jordan did and Bryant does. But barring injury, there is no way James will not become a great player, most likely as a forward who can post up, face up and shoot, score off rebounds, create space for himself, get off his shot against anyone, orchestrate the offense from the frontcourt and defend muscularly and cannily. If James extends his shooting range of 18 feet to beyond the arc--throughout the preseason he stayed after almost every practice to work on his jumper--he will be an immortal.
LEBRON AND THE CITY
Cleveland lies on the mouth of the Cuyahoga River, which on a summer day in 1969 famously burst into flames from an oil slick. Three years later the bushy black hair of Mayor Ralph J. Perk caught on fire when he cut a steel ribbon with a blowtorch. "For a long time," says Nance, a Cleveland native, "we were a Johnny Carson joke."
Certainly the sports history of Cleveland is defined by capitalized failure. The Drive, the Fumble and the Shot are all well-known local shorthand for postseason debacles afflicting the NFL's Browns (the first two) and the Cavs (Jordan's 1989 buzzer-beater). The city's last major pro championship was the Browns' 1964 NFL title, pre-Super Bowl. Let the caterwauling of Boston and Chicago be silenced: Cleveland is the city of true sports suffering.
So when the May draft lottery rolled around and the lowly Cavs had the same odds (22%) as the Denver Nuggets, everyone figured a new painful epithet was coming: the Pick. But lo and behold the Cavaliers won the No. 1 choice, and as general manager Jim Paxson says, "We essentially took LeBron at that moment without a vote."
A downtown renaissance had already started before the Ping-Pong balls bounced Cleveland's way, but the excitement level there now is soaring--and it's not because second-round pick Jason Kapono has a nice jump shot. "What LeBron has done to Cleveland," says Len Komoroski, the Cavs' president, "is to accelerate the positive direction we were already taking." Nance, one of the key figures in bringing the Browns back to Cleveland in 1999, sees James's influence extending further. "All kinds of retail operations are coming in," says Nance. "People expect a much higher activity level downtown because of LeBron and all that he brings."
Though James is building his dream home halfway between Cleveland and Akron, he is canny enough to say all the right things about his adopted city. "Come on out to Cleveland," he says, "and it'll be lit up like Vegas." Still, this is new ground: a teenager triggering a real estate boom. If LeBron is something less than spectacular, does that mean downtown dies?
LEBRON AND THE COACH
Most certainly, if James fails to measure up, the dominoes within the organization will start falling. Paxson, who started to remake the Cavs with exciting young players three years ago, would likely be fired. What Komoroski calls "the positive burst of energy within the organization"--accentuated by a return to the team's colors of the 1970s ("a new expression of wine and gold," as the team's marketing department calls it)--would be quickly depleted. And undoubtedly Silas, who was fired last year by the New Orleans Hornets, would soon be a goner.
James is a savvy kid and is surely cognizant of at least some of this burden of consequence, particularly as it regards his coach, a rugged rebounding machine during his 16 NBA seasons. James has responded to Silas's confident manner and brand of tough love. "Everybody who comes into this league needs an NBA skill," Silas says with a smile, "and mine was whupping ass." James likes that. He sees himself as a smiling assassin with a lot of old school in his game. Silas, in turn, is awed by the young man's talent but not to the point that he won't sit him down and "chew his ass" once in a while.
Still, Silas feels the pressure. How could he not? On an afternoon before training camp began, the coach glanced at the regular-season schedule (road games in Sacramento, Phoenix and Portland before the Nov. 5 home opener against the Nuggets) and mused, "We've gotta get one of those first three, then beat Denver at home to be 2-2." Sweating the W's and L's so early in the season seems out of character for such a veteran coach.
If James stays healthy, Silas knows his team is expected to be markedly better than the disorganized duds who went 17-65 last season under John Lucas and Keith Smart. How much better? There are whispers within the organization about contending for a playoff spot in the Eastern Conference--even with a probable starting five whose average age is an absurdly callow 22 years, 10 months. Then, too, Silas believes that rookies can learn by watching, a tack he took with the Hornets in 1999-2000, when he frequently sat rookie point guard Baron Davis. Silas has joked that "David Stern will be looking at me" if James is on the bench for long stretches. His quandary is clear: It's one thing to bench Baron Davis, quite another to keep the most celebrated draftee since Elvis Presley on the pine.
"I don't have any plan about how much I should play," says James. "It's all up to Coach Silas. I'm in his hands."
And he, Bron, is in yours.
LEBRON AND HIS TEAMMATES
With an entirely straight face James has proclaimed, "This isn't my team. It's Z's team and Ricky's team." He refers to center Zydrunas Ilgauskas, an established low-post scorer but one who has missed two entire seasons and parts of two others with foot injuries, and the 6'7" Davis, a talented swingman whose most memorable moment last season came when he deliberately shot at the wrong basket, mistakenly believing that he could fill out his triple double by grabbing his own rebound there.
James's statement is the politic thing to say, what you should say when you're 18. It's also nonsense; even if he doesn't spend a minute at point guard this season, he must take over the team.
But how to manage this? In deference to the others, the Cavs have tried, in Paxson's words, "to pull LeBron back more than push him out front." Paxson told the team's marketers to use Boozer, Davis, Ilgauskas and Miles, not James, for a bus ad. The cover of the Cavaliers' press guide does not proclaim WE'VE GOT LEBRON!; it's a generic photo of the new uniforms. Silas hasn't spoken with James about leadership. "Until you've done something on the court, veterans are reluctant to listen to you," says Silas. "LeBron is smart enough not to push it. Leadership comes. You can't mandate it."
As well as he understands anything, James knows that he should not jump into the spotlight, pound his chest and talk about, as Reggie Jackson once memorably put it, "the magnitude of me." In this respect he is further along than, say, the young Jordan, who didn't realize that some of his peers might resent his celebrity. James is genuinely solicitous of the men around him. He invariably mentions other Cavs during interviews. "I don't want to be a cocky rookie coming in trying to lead right off the bat," says James. "I'm going to lead more by example this first year. If there's one message I want to get to my teammates it's that I'll be there for them, do whatever they think I need to do."
It's anybody's guess what Davis, Cleveland's second-best player, thinks that might be. But here's a clue. "LeBron is going to help me," says Davis. "With a great athlete like myself and a great athlete like him, we can put it all together." Davis also mentions that he sees himself as a "Jamal Mashburn type," a point forward through whom the offense flows. One problem: That's the role James should play. Good luck straightening that out, Coach Silas.
James's closest friend on the team is Miles, who came straight out of East St. Louis Senior High as the third pick (by the Los Angeles Clippers) in the 2000 draft. James calls him "my main man" and says Miles's brain is the one he picks when he wants to talk about the nuances of coming into the league straight from high school. Miles is a likeable young man but, having just turned 22 and not being the most fundamentally sound of players, not the ideal tutor for this special tyro.
It's a fine line James must walk between working his way into the team respectfully yet not surrendering too much of his game to soothe the egos of his buds. Believe this: The sooner the Cavs become the James Gang, the better for everyone.
LEBRON AND THE LEAGUE
If James doesn't catch on a la Jordan and turns into merely another young master of conspicuous consumption, the NBA will suffer, and suffer deeply. It's not just the Cavs (average attendance: a league-low 11,497 in '02-03) who are looking for sellouts. Cleveland games are suddenly a hot ticket for other franchises, which are using Cavs dates to induce fans to buy partial season-ticket plans. If that is to be a trend rather than a novelty, James will have to play stylishly and well. Predictably, the Cavaliers' national TV appearances went from zero last season to 13, and that number will be increased if he's as good as advertised. If he isn't, sets will begin to click off in frightening numbers.
Far less popular than pro football and far less ingrained in the American consciousness than major league baseball, the NBA counts heavily on the crossover appeal of its superstars. Bob Williams, the CEO of Burns Sports & Celebrities, a company that specializes in placing endorsers with companies, says James is off to "the best start to an endorsement career ever, better than Michael, better than Tiger." While Nike is being careful to stay away from comparisons with Jordan, Lynn Merritt, the Swoosh exec who handles James, says that the Internet and the growth of global marketing provides James the potential "to have the largest impact in sports-marketing history."
Williams is almost as impressed with the $12 million James got over six years to endorse Sprite and Powerade, both Coca-Cola products, as he is with the Nike deal. "Jordan got 10 years from advertisers but for the same dollars at the peak of his career," says Williams. James also has a $5 million deal with Upper Deck, and his agent, Aaron Goodwin, says more are in the works, a computer company likely being one of them.
One company that should be looking to get in is Cadbury Schweppes, which makes Bubblicious. That green gob coming out of James's mouth during games is eerily reminiscent of Jordan's wagging tongue. "I didn't even know I did it until my mom said something about it," says James. Another possibility is Post cereals, which puts the fruit--well, sugar--in Fruity Pebbles. "That's the endorsement I really want," says James, only half kidding. "Somebody gave me 10 boxes of it for [high school] graduation. Best present I got."
Jordan was successful as a salesman because, with an image best described as corporate-hip, he straddled lines of gender, race and age. That clearly doesn't describe James. "The line has moved to the left, and that means this kid is what America is looking for," says Goodwin. "The hip-hop generation is a culture and style, not a race. LeBron is not Tiger and he's not Michael. He's the next generation."
Wisely the Next Generation does not talk much about being the Next Generation. "My focus is basketball," he says. "The commercial stuff is off to the side." But not far off. "LeBron has to do what Michael did to live up to that kind of corporate investment," says Williams. "He has to dominate his position, take a downtrodden franchise to the playoffs and eventually to a championship. He will make a lot of money and live happily ever after. But no one has ever had more expectations put on him than this young man right now."
LEBRON AND THE CREW
James never knew his biological father, by some accounts a sweet street-baller and the apparent wellspring of James's athleticism. James doesn't talk about him. Many around Gloria say that she has done her best in raising LeBron, and certainly that's the way her son feels. "My mother is my everything," says James. "Always has been. Always will be." But Gloria, Glo to her friends, did not always provide a stable home for James. When he was five, she and LeBron moved seven times; when he was in fourth grade, James says, he missed 82 days of school; for parts of the next two years he lived with a foster family. (Gloria James declined to be interviewed by SI.)
The man LeBron refers to as his father, Gloria's longtime boyfriend Eddie Jackson, was sentenced to three years in prison for mail fraud and mortgage fraud last December, having served a previous stint for drug trafficking. Jackson and Gloria were recently sued by an Akron businessman who says they owe him $115,874 for a loan he made to them when LeBron was in high school so that Jackson could travel to negotiate shoe deals. The $80,000 loan Gloria famously secured to buy LeBron a Hummer H2 when he turned 18 last Dec. 30 will trail him for a while. "Hey, LeBron," a courtside Pistons fan shouted. "Your Hummer's ugly." James cracked up.
The situation has the elements of classic tragedy: A kid who grew up with nothing is suddenly an 18-year-old with unlimited celebrity, unlimited resources and unlimited charisma. What happens now?
Gloria remains one of the two most important individuals in the cocoon around LeBron. The other is Goodwin, his agent, whose office is in Seattle. Goodwin says his firm's accountants handle James's money and his marketing people (he has three on LeBron's account) work out his endorsement deals. Besides his teammates and Silas, those closest to James on a daily basis are Randy Mims, an uncle, and Maverick Carter, a former high school teammate three years his senior now employed by Nike to take care of their Ninety-Million-Dollar Man. James says he talks to his buddies from high school "almost every day," particularly Sian Cotton, a redshirt football player at Ohio State, and Romeo Travis, a freshman basketball player at Akron. Dru Joyce III, another Akron player and the son of the St. Vincent-St. Mary coach, and Brandon Weems, the high school's incumbent point guard, are also in the circle. Chris Dennis, a family friend who lives in Akron and runs lebronjames.com ("40,000 hits a week," says Dennis), checks in regularly. Nance is nearby too.
And what happens when Jackson gets out of prison? He will be kept out of the loop, says someone close to James.
Is that a strong enough bulwark for the young man? Who's to say? "There's so much riding on LeBron that he can't realize at his age," says Spike Lee, who directed James in an NBA-sanctioned commercial for TNT's TV package. "I told Aaron [Goodwin], 'This can't be messed up.' It's a crucial time for African-American athletes, who are taking such an image-beating, partly because of what happened to Kobe. LeBron has got to perform on the court and, just as important, he's got to perform off of it."
At times James seems just like any other 18-year-old. You can get him talking about his high school football days ("I could've been an NFL receiver, even though I didn't like getting hit") and his flair for art ("I drew up the design for our uniforms all four years in high school"); you can see his interest is piqued when he learns that Jordan, Tiger and Charles Barkley stay in touch with one another constantly via cellphone. ("I've never met Tiger, but I like to watch him compete.") But in the next moment he must turn into an adult and ponder the complications presented by extravagant fame and fortune.
James says he feels comfortable and protected, assured that those who are watching his back and watching his money have his best interests at heart. "Sure, outside people will want to get to know me, because it's happened already," he says. "I'll sit down and talk to them because I'm not standoffish. But I can recognize the people who are true to me and the people who aren't. Right now what I have to do is take care of business on the court and let everybody else worry about things away from basketball. It was a dream come true to me to make it here, to get to the NBA this early, the answer to all my prayers."
A cynic named Oscar Wilde once noted, though, "When the gods wish to punish us, they answer our prayers." James's seemingly limitless talent has brought him this far this fast, but he will need so much more--integrity, sound advice, foresight and plain good fortune--to claim his postion as one of the Chosen Ones. He's off to an encouraging start, but it's a long and complex journey.