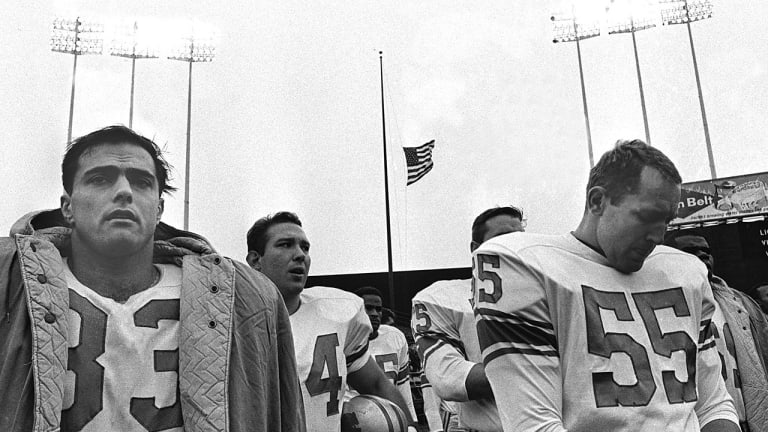 Black Sunday
Forty years ago this weekend, as America grieved for President John F. Kennedy, stunned NFL players were told to take the field
The ice spread out of a brilliantly blue Southern sky. It suffused the air. You took it in with every breath, and it got into your blood and spread to your deepest places. It made the world fragile, and you with it, until it seemed that you might shatter at the slightest sound, and all the world shatter around you. On the morning of Nov. 22, 1963, there were things that the United States believed about itself, and those things were solid and basic and seemed as permanent as granite. By midday, as the ice spread through them, those fundamental things became delicate and crystalline. Anything loud seemed dangerous.
Cheering was loud. There had been cheering in Dallas, along the streets and on either side of that long, slow--too damned slow--turn from Houston down onto Elm Street past the book warehouse. Some of the cheering was so loud that the gunfire drowned in it. After that, for the next three days, the country breathed shallowly. It spoke to itself only in chapel whispers. Football, by contrast, is loud, and therefore it seemed a perilous thing.
On that Friday at noon, the Washington Redskins were beginning an ordinary practice in the middle of a season that was going nowhere. They'd lost seven games in a row. Their game that weekend was in Philadelphia, against the Eagles, who were even more woeful than the Redskins. Philadelphia was in a long slide in which it would lose eight of its last nine games and finish 2-10-2, slightly worse than Washington's 3-11.
Amid this hopeless flotsam, the Redskins' Bobby Mitchell was having a good season. He was on his way to 69 catches and seven touchdowns. In Philadelphia, Tommy McDonald would end 1963 with 41 catches and eight touchdowns, but neither man had any illusions about his team. "We were pretty terrible," recalls McDonald. "It wasn't the best year, anyway, before all this happened."
The players heard the news, like the country did, in a thousand ways. Raymond Berry and the Baltimore Colts heard it on their airplane, at 30,000 feet, on their way to Los Angeles for a game with the Rams. Sam Huff, the New York Giants linebacker who'd campaigned for John F. Kennedy in 1960 before the pivotal primary in Huff's home state, West Virginia, heard it on his car radio in the middle of the Triborough Bridge. McDonald found out after practice.
In Washington, coach Bill McPeak called the Redskins together in the middle of the field outside D.C. Stadium. Mitchell was baffled. McPeak, an unemotional organization man, told everyone to take a knee and pray because the president was dead.
"The first thing I thought was, God, Mr. Marshall died," Mitchell says, referring to Redskins president George Preston Marshall. His teammates sank to the ground around him, and then he knew. "It never occurred to me," Mitchell says. "I mean, that somebody would shoot the president of the United States? It took me a couple of seconds to realize that was what he meant."
Mitchell had gone to Washington in 1962, two years after the Kennedy Administration began. He'd become close friends with Robert Kennedy, the president's brother and the attorney general, and had met President Kennedy several times, once at a state dinner at the White House. Mitchell had even gone to Robert Kennedy's home in Virginia to play touch football with that boisterous and ever-expanding family. Now, as he fell to his knees on the hardening earth of autumn, Mitchell thought mostly about his friend.
"I was frozen there for a minute because I'd really fallen in love with Bobby," Mitchell says. "My thoughts turned to him, and I thought, Damn, this is going to kill Bobby."
The Redskins practiced anyway, and it was terrible, and McPeak finally gave up and sent the team home. The streets of Washington were a shadow play. Cars disappeared almost entirely. Black crape began to appear in shop windows. Mitchell saw people on the sidewalk, still and weeping, as though they were afraid to move. He felt cold and numb too. He felt close to breaking.
"It was just silence," he says. "That's what I remember. Even the playgrounds were empty and quiet. I felt, I don't know, slow, somehow, and like everything had slowed down around me."
On the way home through the stunned and silent streets, the last thing Mitchell thought about was the game in Philadelphia two days later. It had been a forgettable piece of business anyway, and now it seemed unspeakable. Why did we even practice? he wondered. He was home that evening, glued to his television like the rest of his frozen and fragile country, when Air Force One came back from Dallas.
Football was what they played on the New Frontier. Oh, they paid the usual obeisance to baseball, the ritual national pastime. But football ran deep in the Kennedy family mystique. All four Kennedy brothers had played the game at Harvard. John was a halfback undersized even by the standards of the Ivy League in the 1930s, but young Edward once scored a touchdown in the Yale game. Football was an integral part of Joseph Kennedy's grand plan--a demonstration of muscular Americanism that would help break down the prejudices his children would face for being rich, Irish and Catholic.
"Politics is like football," JFK once noted. "If you see daylight, go through the hole." And photographs of John Kennedy hauling in passes from his brothers helped camouflage his myriad health problems, some of which have only recently come to light.
Moreover, the touch football games at the compound in Hyannis Port, Mass., were part of the glamour of the Kennedy White House, as much as Jacqueline Kennedy's horses and the iconic PT-109 tie clips. There was a tyranny of the new at work, stretching from outer space to Southeast Asia. Football was a part of all that.
By 1963 Pete Rozelle and his National Football League already were well on their way to developing a new national pastime, changing the way Americans watched their sports, much as the Kennedy campaign had changed the way Americans elected their presidents. Both were perfect creatures of television, a medium just then coming into the fullness of its power. Rozelle tailored his games to TV the way that Kennedy tailored his press conferences to it. Both the NFL and the Kennedy Administration were pure products of the brawling, confident America that had been built by the generation that had fought World War II.
The year had not been the easiest for Rozelle. In April he'd indefinitely suspended two star players, Alex Karras of the Detroit Lions and Paul Hornung of the Green Bay Packers, for gambling on their teams' games, and a bidding war for college players still raged because the renegade American Football League had stubbornly refused to fold. But on Nov. 22 Rozelle was confronted with a decision that seemed to render all the others he'd made that year trivial.
There was no blueprint for what to do on the weekend that a president is being buried on national television. In Wisconsin more than 100 high school basketball games were played on the night of the assassination. Pimlico Race Course in Baltimore ran all weekend, and games were played in both the NBA and the NHL. In college football Nebraska and Oklahoma played each other, but all four games in the Big Ten were rescheduled, and Iowa and Notre Dame canceled their game. The AFL wiped out its entire slate of games, but Rozelle had made Sunday afternoons the property of the NFL, and because of that he was on the hook.
He called his college friend Pierre Salinger, who was Kennedy's press secretary. Speaking from the Honolulu airport, shell-shocked by the events of the day, Salinger gave Rozelle what amounted to the dead president's permission to play. "Football," Rozelle said in making the announcement, "was Mr. Kennedy's game."
The reaction very nearly undid Rozelle. At least two owners called and begged him to reconsider. Cleveland's Art Modell wound up paying for extra security to guard the Dallas Cowboys, who were in town that weekend to play the Browns. In Philadelphia, Eagles owner Frank McNamee announced that he would miss his first game in 15 years and Mayor James H.J. Tate, who'd shared a platform at Independence Hall with President Kennedy a year earlier on July 4, tried to get a court to stop the Eagles-Redskins game.
It also became clear that Rozelle's golden touch with the media had deserted him. He was barbecued for going ahead with the schedule. In the New York Herald-Tribune, Red Smith all but called Rozelle a heartless mercenary, and Melvin Durslag of the Los Angeles Herald Examiner called the games that weekend "a sick joke." In The Philadelphia Inquirer, Sandy Grady wrote, "I am ashamed of this fatuous dreamland."
Perhaps the most significant thing of all was that players around the league began to rebel, in their hearts if not on the field. "Nobody wanted to play," says McDonald. "There wasn't anything you could do about it, but there was no way anybody wanted to go out and play a game that weekend. I'm a guy who wears his emotions on his sleeve, and I couldn't stop crying.
"It was bad enough playing, but that weekend, to be playing the Redskins, from Washington, where the president lived, that was just another reason to be upset."
For his part, Mitchell felt strange leaving Washington. "Everywhere you looked, down along the street, people would just start crying," he says. "It didn't seem like the time to leave." The Redskins drove the three hours to Philadelphia and checked into their hotel. Across town, at the Sheraton on Chestnut Street, where the Eagles always stayed before home games, the team was falling apart.
The Eagles had decided to collect money for the family of Dallas policeman J.D. Tippitt, who'd been shot to death on Friday afternoon, allegedly by Lee Harvey Oswald. A team meeting, which also reportedly dealt with the Eagles' feelings about playing the game the next day, ended with a fistfight between defensive back Ben Scotti and defensive lineman John Mellekas. The two went behind closed doors to finish it, and both wound up in the hospital that night, Scotti with a broken hand and Mellekas with severe facial cuts. In his room, McDonald watched TV and never heard a thing.
That Sunday dawned cold and surreal. In their hotels, caught up in what became the first national news miniseries of the television age, the template for CNN and Fox and for the Watergate hearings and the O.J. trial and everything that came after, the players were drowning in the coverage, and how strangely that strangest of Sundays began depended vitally on where you were playing that weekend.
Kickoff was at 1 p.m. Eastern standard time. Some players around the league were at stadiums and some were in their hotels, but wherever they were, many of them were watching television at 12:21 p.m. EST when the Dallas police were transferring Oswald to the county jail and Jack Ruby gunned him down. "That was the last thing that weekend that I couldn't believe," says McDonald.
Then people showed up to watch football. That was the remarkable thing. There were 60,671 fans at Franklin Field to see the Eagles and the Redskins play a game that didn't matter on a weekend on which almost everything else seemed to matter. There was no pregame hoo-ha; Rozelle, at least, had drawn the line at that. There were no player introductions. The Eagles and the Redskins simply walked out to midfield and joined hands. A bugler blew Taps, which nearly finished McDonald on the spot. Then the whole stadium sang the national anthem a cappella.
After that the stadium was as silent as a football stadium can be, as if tearing themselves away from the extended obsequies on television had used all the energy the fans had left. McDonald was bawling when he went back to receive the opening kickoff, and Mitchell noticed that even his coaches' words seemed hollow. "Before the game there was a lot of what you could tell was false chatter," Mitchell says. "Coaches are always over there saying, 'Grr, let's go get 'em.' And me, I gave them a weak yell."
He made plays. So did McDonald. They each caught four passes in the game. Once, while running down the sideline for a pass, Mitchell felt the game dissolve around him. "I was there, looking up, concentrating on the ball spiraling in the air, like you're supposed to, and then I started thinking about everything that was going on in Washington," he recalls. The ball sailed over his head.
Redskins quarterback Norm Snead had a hot hand. He pushed his team out to a 13-0 lead at halftime, hitting on 12 of his first 17 passes for 192 yards. Late in the second quarter he found Dick James for a 31-yard touchdown. The game, however, seemed to be played in a virtual vacuum. "You didn't hear anything," Mitchell says. "I don't remember any noise from the stands, and in the pileups, where guys are always shouting and jiving, there was none of that. It was one play after another, trying to get the game done. To this day, sometimes I can't believe that I played that game. I still think I was out there in slow motion."
It wasn't a day for coming from behind. It looked for a long while as though Washington was on its way to its first shutout since 1958. However, playing with a stiff wind behind them in the fourth quarter, the Eagles mustered 10 points, highlighted by a 25-yard touchdown pass from Sonny Jurgensen to Timmy Brown. But on Philadelphia's final drive McDonald let a pass go through his hands, and Mike Clark missed a 16-yard field goal that would have tied the game. The Redskins won 13-10.
Out in the players' parking lot, Eagles backup quarterback King Hill discovered that all the windows in his car had been shattered. The car had Texas plates.
That night, when he got home, Mitchell was struck for the last time that weekend by how quiet the streets of Washington had become. It was the strangest game any of the players had ever played and, in some ways, the most dangerous. Football is best (and most safely) played with heedless emotion, and everyone on the field seemed to be holding back. They played like men who had become aware of some unfamiliar fragility deep in themselves--far beneath muscle and bone, ligament and tendon, where they hadn't noticed any before.
Bobby Mitchell avoided Bobby Kennedy for as long as he could. Finally, about a month after the Philadelphia game, somebody from the Justice Department called Mitchell and told him that Kennedy wanted him to help dedicate the John F. Kennedy Playground on Seventh Street in the Washington ghetto. Mitchell went, distractedly driving slowly around the block, again and again, until he realized what he was doing. He was looking at all the rooftops for someone with a gun.
At the playground Mitchell took a spot in the back of the crowd, hoping that Kennedy wouldn't see him. "I was afraid," he admits. "I didn't know what I'd say to him." Kennedy spotted him, though, and brought him up to the front of the crowd, near where they had already turned the cold earth for the groundbreaking.
Kennedy was gaunt, almost lifeless in the face. He gripped Mitchell as if with iron talons. "I don't think I can do this," he said, and he couldn't. His hands were shaking too hard to work the shovel. He handed it to Mitchell so they held it together.
"I was so nervous," Mitchell recalls, "I must've thrown that dirt 50 feet over my head behind me."
He's older now, telling his story in the lobby of the Willard, a great old history-laden pile on Pennsylvania Avenue, not far from the White House. Abraham Lincoln was taken there when he was smuggled into Washington before his first inauguration, and it was the Willard's lobby that reputedly inspired the word lobbying when people gathered there to ply and beg and otherwise try to sublet President Ulysses S. Grant.
History has more or less passed judgment on those three frozen days in November. Later in his life Rozelle wrote that the worst decision he ever made was to play the games that weekend. And history sits with Bobby Mitchell in the awful synchronicity of anniversaries: Every commemoration of John Kennedy's death follows a commemoration of Robert's. This week will mark the 40th anniversary of John's death, not long after the 35th of Robert's, and Mitchell knows that the ice is still there, deep within him.
"You're never sure how that kind of thing will affect you, or when," he says. "We all learned from it, I think. Back after 9/11, there wasn't any choice: Teams just didn't play. That was something we learned from that weekend in 1963."
And he leaves then, across the great lobby and out into the late autumn sunshine. Washington is alive with color as this November afternoon falls toward evening. Earlier that day, across the river in Arlington, down the hill from the gravesite and the eternal flame, drums were beating deep behind the golden trees, distant and muffled, like a heartbeat encased in something that can never melt but only shatter and reform, and then shatter again, over and over and over.