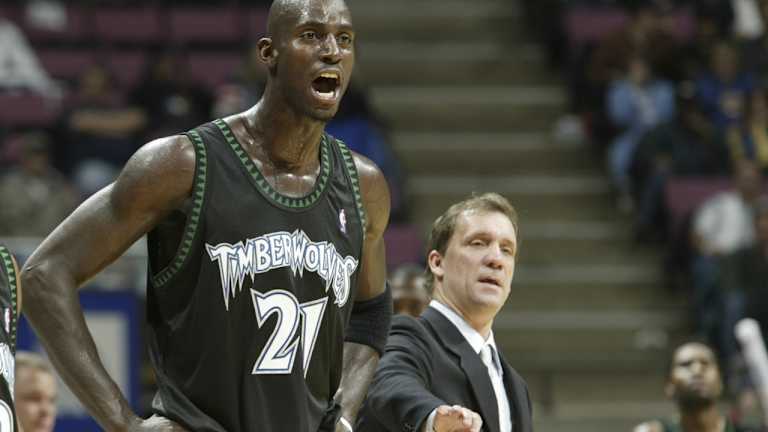 When Great Isn't Good Enough
Minnesota's Kevin Garnett, the highest-paid player in the NBA, must constantly fight off the image of the Star Who Hasn't Measured Up
Kevin Garnett's face is bony, almost gaunt, with chiseled cheekbones, an angular nose and a mouth that goes quickly from frown to smile and vice versa. He cuts an intimidating figure on the court, his arms and legs impossibly long (Garnett claims he's 6'11", but his Minnesota Timberwolves coach, Flip Saunders, jokes that he's 6'13"), his glowering countenance marked by an interstate of veins bulging from his shaved head. But after the game there is often a look of vulnerability and uncertainty in his brown eyes. That look. When I reflect on covering the NBA this year, that's what I think of first. That Kevin Garnett look. In the history of the league there have been few players like Garnett, 27, a power forward who runs the floor, handles the ball and protects the basket with surpassing skill. Yet for all his brilliance, KG has always had a bundle to prove. He spent the first couple of seasons showing that he belonged after jumping straight from high school to the NBA in 1995. (Can he cut it? Was Minnesota crazy to pick him fifth?) Then he had to try to justify the six-year, $126 million contract he signed six years ago. (Shouldn't the best player get the biggest bucks? How can a guy earn $20 million a year for dunking a basketball?)
And lately he's entered a more damnable circle of doubt, joining those superstars--Charles Barkley, Patrick Ewing and John Stockton, to name a few--who, despite all their accomplishments, never won a championship. Worse for Garnett, he has never even led the Timberwolves to victory in a single playoff series. How can he constantly fail to rise to the occasion? What is he doing to make his teammates better? Why, for all his talent and the money he earns, doesn't he become more ruthless in the postseason and simply take the game over? You have to wonder what it feels like to have everything but the ring.
I went to Minneapolis to do a story on Garnett last spring. He was playing so strongly that he'd become an MVP candidate, though many expected that the award would go to either the San Antonio Spurs' Tim Duncan or the Los Angeles Lakers' Kobe Bryant. (Sure enough, KG finished second to Duncan.) The T-Wolves were in the hunt for home court advantage in the first round of the rugged Western Conference playoffs, though many expected they wouldn't advance even if they landed it. (Sure enough, after edging the Lakers for the fourth seed, Minnesota exited with a six-game loss to L.A.)
With NBA superstars, there's a ritual associated with the postgame interview. Duncan dresses quickly and answers questions grudgingly, if at all. The Lakers' Shaquille O'Neal rambles noisily through the dressing area, though whether he'll stop to offer a few witticisms is anyone's guess. Bryant has adopted the Michael Jordan approach, taking his good sweet time, getting all primped and powdered, but always posting, even if he has only cliches to offer. Garnett is out of that school. So it was, about 45 minutes after a disheartening 111-99 loss to the Spurs last March 12, that he sat down amid a dozen reporters at the Target Center and spoke honestly but glumly. When he finished after 10 minutes, I asked if I could get him one-on-one sometime over the next few days.
"Let's do it right now," he said, sitting back down.
"Not now," I protested. "You're tired. It's late. You're pissed off after the loss. You're not going to be into it."
"Right now," Garnett insisted. "It's the best time."
I shrugged and pulled out the tape recorder, then conducted the first extended interview in a locker room of my 22-year SI career. The minutes went by, the teammates and trainers and even the jock-picker-uppers went home, but Garnett stayed put, never glancing at his watch or indicating that he had a postgame social engagement. "I'm usually too keyed up after a game to sleep," he said.
He talked about the personal adjustments he, a native of Mauldin, S.C., had made to play in the frozen tundra of Minnesota: "Too cold to go outside in the winter, so you focus on basketball instead of partying. Some of my friends snowmobile. I'm a little scared of it." About dabbling in yoga: "Helps me relax for when I'm on the bench. See, I have a problem sometimes with being too hyper." About being proud that Kobe (this is the pre-rape-charge Bryant) had followed his example in making a successful transition from high school to the NBA: "We talked a lot, and I could see in his face the determination he had to make it. It's the same face I wore."
Those are the little insights that help build a story, but Garnett knew where the interview was headed next. Are you frustrated by Minnesota's inability to get beyond the first round? Is it your fault? Did your contract hamstring the franchise? Will you take less money when your contract's up this summer to allow the team to improve its roster?
What struck me was not the perspicacity of his answers but rather the intensity with which they were delivered, his eyes blazing now, as the hour approached midnight. He lamented that the T-Wolves have never been able to keep a worthy supporting actor--"a partner in crime," as he put it--who could elevate the team. He was a little uncomfortable talking about his contract, but he made it clear that he would not demand maximum money as long as management got him some help. And he said that when the postseason came, he absolutely, positively would continue to give up his shot if a teammate had a better one. "Versatile players can win championships," Garnett said, his sturdy jaw set. "I can win a championship that way." Did he believe it? Or was he trying to convince himself?
As it turned out, Minnesota did make off-season moves, adding veterans Latrell Sprewell and Sam Cassell, and Garnett did sign for less than the max on Oct. 1 (even if $100 million over five years sounds pretty max). As 2003 ends, the Timberwolves are an improved team that is near the top of the league's most competitive division, the Midwest. But given their history, one can reasonably expect that--despite another spectacular year by KG--at season's end they will once again be looking up at the defending-champion Spurs as well as the two elite teams in the Pacific, the Lakers and the Sacramento Kings.
When anyone asks me if I think athletes are overpaid, I say, "Of course they are. Just like movie stars, politicians, broadcasters and CEOs." But celebrity and bloated bank accounts come with a price for pro jocks: They must prove themselves publicly and explain themselves endlessly, all the while enduring the slings and arrows of daily criticism. Let's not start addressing sympathy cards, but let's not forget that either. The scrutiny is maximized for athletes like Garnett. He's near the top of his game, but he will never truly get there unless he wins a title, which so few do. He knows that, and it gnaws at him, maybe even consumes him. But he doesn't pretend it doesn't, and for that I appreciate him.
COLOR PHOTO: BOB BINDER/NBAE/GETTY IMAGES FELLOWSHIP OF THE RINGLESS Why can't a player with Garnett's surpassing skills carry his team past the first round?