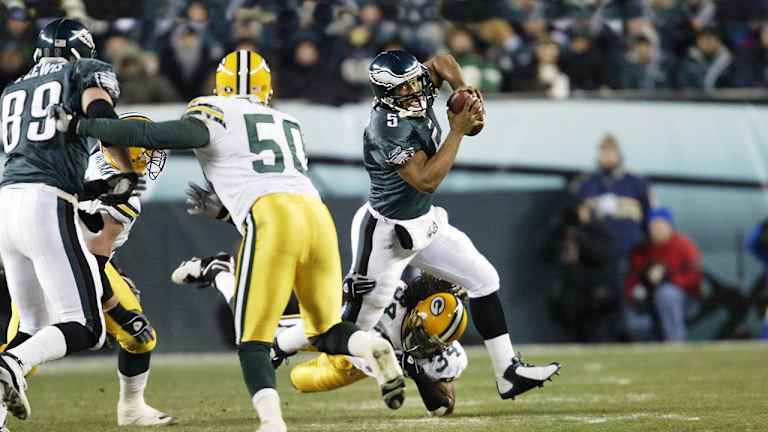 McNificent
In a weekend filled with nail-biting finishes, Donovan McNabb rallied Philadelphia to an improbable win over Green Bay
DONOVAN McNABB was about to throw the most important pass of his
life, and as the Philadelphia Eagles' quarterback stood tall
against the Green Bay Packers' pass rush--and Philly's legacy of
big-game letdowns--one of the people he depends on most was out
of position. "I can't look," McNabb's mother and constant
champion, Wilma, said from the back of a luxury suite at Lincoln
Financial Field on Sunday night, having abandoned her seat up
front several seconds earlier. With the Eagles trailing by three
points and only 1:12 remaining in an NFC divisional playoff,
McNabb had dropped back on fourth-and-26 from the Philly 26 as a
chilling wind swept through the open windows of box 48. Wilma
couldn't bear to watch the last-gasp attempt, which, were it to
fall short, would doom her son to a new wave of criticism from
temperamental Eagles fans, not to mention devotees of a certain
conservative commentator who last September played the race card
while discussing her son's on-field struggles.
The rush was on, and down on the field Wilma's baby never
flinched. "Just give it all you've got," McNabb had told his
teammates in the huddle before the snap. "Leave it all on the
field, and let's go get this." The call was 74 Double-Go, and
when McNabb saw that Green Bay was in its 44 coverage, a soft
zone that featured four defensive backs spread across the field
near the first-down marker, he knew to lock in on slot receiver
Freddie Mitchell, who'd be dashing up the middle.
The blitz-happy Packers had sacked McNabb on four of his previous
eight pass plays, but this time they rushed only four men, giving
the quarterback time to set his feet and step into his throw.
McNabb's perfect spiral zoomed toward Mitchell, who nabbed it
between defensive back Bhawoh Jue and fast-closing safeties
Darren Sharper and Marques Anderson for a 28-yard gain. The
raucous roar that followed from 67,706 fans and one protective
mother brought some brotherly love back to an often cynical city
and quickened the pulses of viewers around the country.
In capping a wild weekend of postseason football at its best,
McNabb and the Eagles flipped the script and wrote a surprise
ending. Instead of falling short of the Super Bowl for the fourth
consecutive postseason, McNabb guided his team into position for
David Akers's game-tying 37-yard field goal with five seconds
left in regulation. Instead of extending his winter whirlwind of
grief-tinged grandeur, Packers quarterback Brett Favre served up
an unfathomably ugly interception to free safety Brian Dawkins on
his team's first snap in overtime, setting up Akers's 31-yard
game-winner.
Thus the top-seeded Eagles escaped with a 20-17 victory that
propelled them into the NFC Championship Game this Sunday against
the Carolina Panthers. With a win in that matchup at the Linc, a
Philly team that lost its first two games of the season would
take the franchise to its second-ever Super Bowl and its first in
23 years. "How the hell does that happen?" Eagles fullback Jon
Ritchie asked after Sunday's game. "Our success remains a
mystery."
How could a team that, in falling behind 14-0 in the first
quarter on Sunday, looked uglier than Saddam Hussein in his
spider hole emerge victorious? How could a quarterback who
appeared so skittish in the pocket--McNabb was sacked eight times
and scrambled on 11 other occasions, albeit for 107 yards (an NFL
playoff record for a quarterback)--be so cool when it counted
most?
"It doesn't make sense," said Troy Vincent, Philly's injured Pro
Bowl cornerback. "There were so many situations in that game when
you'd say, 'It's over,' and then the next second you'd say, 'Wow,
how'd he do it?' It makes you wonder. Maybe we had something--I'm
not even going to say the word--on our side."
The word is destiny, and it has been tossed around liberally
since Dec. 22 when Favre, a day after the death of his father,
Irvin, from an apparent heart attack, threw for 399 yards and
four touchdowns in Green Bay's victory over the Oakland Raiders.
A series of unlikely events helped the Pack slip into the
playoffs, and then Favre added to his Hall of Fame resume by
keying a 33-27 overtime win against the Seattle Seahawks in the
wild-card round.
The Packers came floating into Philly convinced they had tapped
into some supernatural source--or, at the very least, a
34-year-old quarterback's inspired resurgence. On the other hand
McNabb and the Eagles wanted no part of the d word. Recalling the
previous season, when the top-seeded Eagles suffered a 27-10 home
loss to the Tampa Bay Buccaneers in the NFC Championship Game,
McNabb said last Friday, "We were destined last year. Look, only
one man knows what's going to happen next, and He doesn't care
about sports."
Then McNabb, as he seems to do every 2.3 seconds, broke into a
huge smile. He was sitting at a cafeteria table in the Eagles'
plush training facility, and the ebullient personality that makes
him a natural leader was on display. There's no prima donna in
him--McNabb is as comfortable kicking it with rapper Jay-Z, who
watched Philadelphia's regular-season home finale in the McNabb
family box, as he is goofing with the cafeteria workers. "Yo, Pee
Wee, where's the pizza?" McNabb yelled at one middle-aged man
behind the counter. When another man instructed a coworker to
"make this man [McNabb] a wrap," the quarterback shot back, "You
rap too?"
Earlier this season McNabb wasn't in a joking mood. After playing
poorly in season-opening home losses to the Bucs and the New
England Patriots, he was a topic of discussion on ESPN's Sept. 28
edition of NFL Countdown. Conservative talk-show host and ersatz
NFL analyst Rush Limbaugh deemed McNabb overrated, then suggested
that because McNabb is African-American, a "social concern" had
compelled members of the sports media to give him undue credit
for Philly's success in recent years.
The ensuing firestorm cost Limbaugh his ESPN gig (he resigned
three days later) and started McNabb's phone ringing off the
hook, as Bill Cosby, the Reverend Jesse Jackson and several
former NFL quarterbacks (Warren Moon, Randall Cunningham and
James Harris) were among those who called to offer their support.
Players around the NFL also rallied around McNabb, who maintained
his typically cool demeanor. "I thought about my cousins and my
friends' kids and all the people who walk around wearing my
jersey," McNabb says. "I wondered how [Limbaugh's] statement
would sit with them."
Besides, McNabb had other worries--his team's shaky start and a
sprained right thumb. After a 23-21 loss to the Dallas Cowboys
dropped their record to 2-3, the Eagles rebounded to win nine
straight. They rolled into the playoffs with a first-round bye,
and McNabb was tabbed for his fourth straight Pro Bowl. But
entering Sunday's game, fresh thoughts of last January's loss to
the Bucs were on the minds of Philly's fickle fans.
Sure enough, after McNabb misfired on six of his first seven
passes and lost a fumble at the Philadelphia 40, boos filled the
frigid air at the Linc. On the play after the turnover Favre went
up top to wideout Robert Ferguson for a touchdown, and six
minutes later threw a 17-yard scoring pass to Ferguson for a 14-0
lead with 1:28 left in the first quarter.
The Eagles stayed in the game partly because of what they did
(McNabb followed a 45-yard completion to Todd Pinkston with a
seven-yard shovel pass to running back Duce Staley for a
touchdown) and partly because of what Green Bay didn't do.
Leading 14-7 with two minutes left in the half, the Pack went for
the touchdown on fourth-and-goal from inside the one, but Ahman
Green (25 carries, 156 yards) tripped over guard Mike Wahle and
was stopped short.
Frustrated by the constant pressure in the pocket, McNabb (21 of
39, 248 yards, two touchdowns) spent much of the second half
turning busted plays into big gainers. The tying touchdown, on
the first play of the fourth quarter, came after he squirted away
from two Green Bay defenders, rolled right and fired a 12-yard
pass to Pinkston in the right-front corner of the end zone.
After Ryan Longwell's 21-yard field goal gave the Packers a 17-14
lead with 10:22 to play, the Eagles failed to do much offensively
until McNabb's magical throw to Mitchell. That pass was
undoubtedly a monumental moment for McNabb. Conversely, the pop
fly that Favre (15 of 28, 180 yards) served up under pressure in
overtime to Dawkins, who returned the ball 35 yards to the Green
Bay 34, may have been the future Hall of Famer's most regrettable
throw. Those two plays proved to be the difference. As McNabb
left the locker room on Sunday night--stopping in a corridor to
receive congratulations from his mother and father, Samuel, his
wife, Roxy, and older brother Sean (a.k.a. Big Sexy)--the
opportunity to play another Sunday seemed truly divine.
"What can [the critics] say now?" wondered Wilma. She gave her
son a hearty hug, then added, "I'm so proud of him, and let me
tell you, we deserve this. All of it. It's so sad what happened
to Brett's father. But right now, destiny is ours."