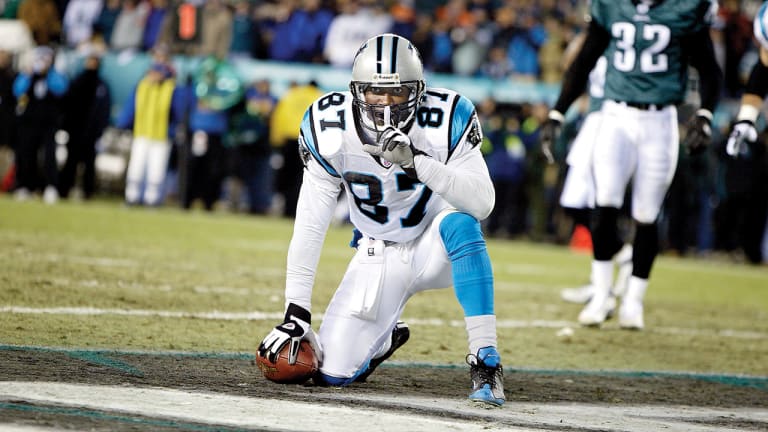 Coming Through
Two years removed from a 1-15 season, Carolina followed coach John Fox's blueprint to perfection and earned its first Super Bowl berth with an upset of Philadelphia
Carolina Panthers coach John Fox is Bill Parcells Jr. The two may
have had only three or four conversations over the years, but the
Panthers are going to their first Super Bowl because of Fox's
devotion to the same principles Parcells relied on to transform
the New York Giants, New England Patriots, New York Jets and
Dallas Cowboys into playoff teams: Run the ball on clock-eating
drives, stop the run, play great special teams, make few
mistakes, and don't worry that none of it looks pretty.
And like Parcells, Fox can be confrontational. Soon after he
was hired by Carolina in January 2002, Fox called a meeting
with his new players, who had lost their last 15 games of the
2001 season. It took them about three minutes to realize that
Fox was a little different from his grandfatherly predecessor,
George Seifert. "You know, I've watched a lot of tape from last
year," Fox told the team. "I won't stand up here and question
your athletic ability, but I am questioning your toughness. I
don't think you're very tough."
The room went silent. "I was shocked," says strong safety Mike
Minter. "I looked around, and the other guys were shocked too.
But then I thought, We got the right guy. We really weren't
mentally tough."
"My point," Fox said, "and this is what I told them, was, 'You
didn't get it done, so they fired a lot of the coaches. But I
want you to understand that it wasn't George Seifert dropping all
the passes and missing all the blocks to lose 15 games and get
fired.' To lose 15 in a row, there was some give-up, some quit in
that team."
So it is fitting that Fox joins Parcells as the only NFL coaches
to have taken their teams to the playoffs two years after the
clubs had gone 1-15. Parcells's Jets lost the 1998 AFC
Championship Game to the Denver Broncos; Fox's Panthers (14-5),
after dominating Parcells's Cowboys in the wild-card round and
stunning the St. Louis Rams on the road in the divisional
playoffs, embarrassed the Philadelphia Eagles 14-3 in the NFC
Championship Game on Sunday at Lincoln Financial Field and are
headed to Super Bowl XXXVIII against the New England Patriots.
All of Fox's tenets were put into practice against Philadelphia.
Keep the game plan simple. (Carolina has four base running
plays.) Play smashmouth football. (The Panthers ran the ball on
40 of their 54 plays.) Don't make mistakes. (Carolina had no
turnovers, did not allow a sack and was penalized only five
times, for 35 yards.) Play for field position. (The Eagles
started all 11 of their drives inside their 40.) Apply constant
defensive pressure and force the opponent to make mistakes. (The
Panthers had five sacks and intercepted four passes, including
three by rookie cornerback Ricky Manning Jr.)
And of course, protect the lead. During a hearty hug with
offensive coordinator Dan Henning after the game, Fox said,
"Who'd a thunk it?"
"Hey, Coach," Henning said, beaming. "Guess how many times we
threw it in the second half?"
Henning held up his right hand and extended three fingers.
"Good!" said Fox, laughing. "Now that's what I'm talking about!"
Neither man apologized for the unimaginative attack. "For those
who say we're not exciting?" said the 61-year-old Henning with a
twinkle in his eye. "Well, we're going to the Super Bowl."
"Running and stopping the run," Fox said. "It's the essence of
the game."
It's only logical that New England (16-2), with its sound defense
and ever-efficient quarterback, Tom Brady, was made a strong
favorite (seven points on Monday) to win the Super Bowl. But
Carolina is a dangerous team that makes big plays on defense,
puts together just enough offense--relying on the powerful and
shifty running of Stephen Davis and DeShaun Foster (33 carries
for 136 yards total in Philly)--and, like all title contenders,
has caught a few breaks along the way. The combination of
momentum-shifting plays and good fortune dates to the start of
the season when a 36-yard punt return set up quarterback Jake
Delhomme's crazy-quilt, 54-yard touchdown drive in the final
3:34. Delhomme was lucky enough to recover his own fumble on one
play and then, with 16 seconds left, completed a 12-yard
touchdown pass on fourth-and-11 to nip the Jacksonville Jaguars
24-23. The following week in Tampa, Carolina blocked a pair of
field goals and an extra point to beat the Super Bowl champion
Buccaneers 12-9 in overtime. All told, the Panthers won nine
regular-season games by six points or fewer, including three in
overtime, and then beat the Rams in double overtime in the
playoffs.
Five minutes into the second quarter of a scoreless game on
Sunday, another oh-no play became oh, yes. With first down at the
Philadelphia 24, Henning called for a safe pass into the left
flat to fullback Brad Hoover. But the Eagles blitzed, and Hoover
was covered. Delhomme saw wideout Muhsin Muhammad flash free from
cornerback Bobby Taylor near the goal line, but he didn't see
free safety Brian Dawkins moving over to help. Throwing off his
back foot to avoid the rush, Delhomme let fly a shaky spiral. It
appeared Dawkins and Taylor would be in position to knock down
the pass, if not intercept it.
"I could sit here and buffalo you about what a great plan we had
and what a great throw it was, but you know we got a little
lucky," said Delhomme afterward. "I knew Moose [Muhammad] would
go up and fight for it."
Muhammad turned and came back a couple of yards for the ball. But
Taylor and Dawkins, their backs to Delhomme, had overrun the play
and couldn't recover, and Muhammad made the catch. "When that
play happened," said Eagles cornerback Troy Vincent, "you started
to think, Maybe it's their destiny to win, not ours."
On this day the Panthers controlled their own destiny. They won
because they were tougher. Carolina practices in pads two or
three times a week during the season, even in December, when most
coaches lighten the workload to rest their banged-up squads.
"We're in pads a lot more than we'd like to be," center Jeff
Mitchell said on Sunday. "But it's who we are--a tough football
team. And it really paid off today."
How appropriate then that Foster provided the insurance touchdown
with the toughest run of his life, a play that went on the stat
sheet as a one-yard gain. With 4:18 left in the third quarter he
took a pitch and ran right, forced far to the outside by Dawkins.
Foster was hit first near the three-yard line, but the 6-foot,
222-pounder kept banging through Eagles--linebackers Mark
Simoneau and Nate Wayne, safety Michael Lewis and Simoneau again
delivered solid shots--until he was able to stretch the ball over
the goal line. "That play sums up our team," said Delhomme. "He
just wouldn't quit."
That's the attitude instilled by the 48-year-old Fox, who 7 1/2
years ago made a tough career decision that could have turned out
to be the biggest mistake of his coaching life. In 1996 he went
to training camp for his third season as the defensive
coordinator of the Oakland Raiders, but two weeks before the
opening game--irritated, he said, by owner Al Davis's repeated
suggestions that Fox run a different scheme than the attacking
style that he preferred--he resigned. "It could have been a
mistake," says Fox, who moved into the second floor of his
in-laws' house in Edwardsville, Ill. "I questioned myself all the
time about it. But it was actually one of my most enjoyable
years."
Fox got to coach sons Matthew and Mark in basketball, and he
landed a $5,000-a-month consulting gig with the Rams to study
film of free agents. He yearned to be a head coach, but would a
team take a chance on a guy who'd quit in the middle of training
camp? The following year Fox was back on the sideline as the
Giants' defensive coordinator. "An owner called me about Fox the
year we went to the Super Bowl [in January 2001]," says Giants
general manager Ernie Accorsi, "and I told him I'd only been
absolutely sure that two assistant coaches would become head
coaches in my life: Marty Schottenheimer and John Fox."
After Seifert was fired, Carolina general manager Marty Hurney
checked out Fox carefully and was convinced that the Raiders
incident was a fluke. Of his interview with Fox, Hurney recalls,
"It was like meeting your wife for the first time. It just felt
right."
"When John called me to be his offensive coordinator," says
Henning, who has spent three years coaching with Parcells, "I'd
been planning to go with Bill to Tampa, but that fell through.
John sold me on the same things Bill believed in."
At the start of his first Carolina training camp, Fox gave every
player John Wooden's book on the pyramid of success and had the
Wizard's principle painted in an eight-foot-high triangle just
outside the Panthers' locker room. "I've found in coaching and in
life that most people are afraid to raise the bar because they
might fail," Fox says. "But if you do raise the bar, your team
has to believe in what you're doing. I don't like dictatorial
leadership. You can force players to do what you want, but it
won't work over the long haul if they don't believe in it. You
get the most out of people when they believe what they're doing
works."
So posted around the Panthers' locker room are corny adages, such
as FAILING TO PREPARE IS PREPARING TO FAIL and DON'T BE AFRAID TO
BE GREAT. As he moved through the locker room one day this
season, Fox kept repeating, "Don't be the weak link." Defensive
tackle Brentson Buckner calls his coach a walking fortune cookie.
"I guarantee you," Fox told his players before the playoffs,
"your best will be good enough. Just give me your best."
That's been enough for the Panthers so far. If Fox can make it
last four more quarters, he'll be in Parcells's league at last.