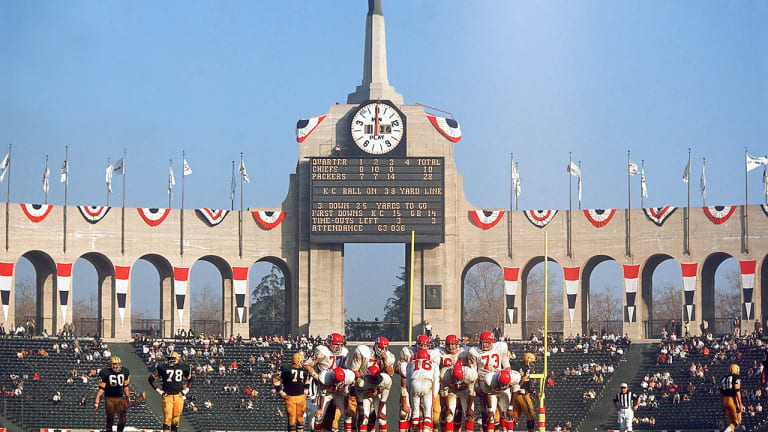 The Greatest Stories Never Told
Ever since the Green Bay Packers and the Kansas City Chiefs faced off on a sunny Sunday in Los Angeles in 1967, writers have marveled at the bizarre mixture of sport, revelry, commerce and bombast that is the Super Bowl. In the following pages 13 of our favorite writers tell the tales of football's high holy day that they've always kept under wraps
THE HOME GAME
To watch Super Bowl I, Paul Zimmerman staked out the best seat in
the house
I've covered 36 Super Bowls--pardon me, XXXVI Super Bowls--but I
didn't get to go to Super Bowl I. I wasn't sent there because
writers who covered the American Football League in those days
were creeps. We were swine, underlings, unworthy of being sent
anywhere NFL teams, and their writers, hung out. I was the New
York Post's beat man on the New York Jets--the AFL Jets. You've
no doubt heard old AFL players talk about what it was like in
those days, the scorn to which they were subjected, the shabby
way they were treated by their NFL counterparts. Well, that
extended to the writers. The Giants weren't a power anymore,
but their writers still carried the old arrogance. All the
old-time NFL writers did. We were a bunch of punks covering a
punk league. Oh, how I loved it in the press box two years
later, watching the Jets wipe the smug, arrogant looks off
their faces, sticking it right up their ... but I'm getting
ahead of myself.
I was never as desperate to see a game in my life as I was to see
that first Super Bowl. Because I knew the Kansas City Chiefs
would win. Yeah, the Packers were great, but they were old, too.
And the Chiefs were the best team in the AFL because Lamar Hunt
had the most money to buy good players. Little Mike Garrett, and
that great guard-tackle combination, Ed Budde and Jim Tyrer--was
there a better left side of a line anywhere? And Bobby Bell and
big Buck Buchanan. Yep, they were going to beat mighty Green Bay.
Justice would be done. Hadn't the upstart Cleveland Browns of the
AAFC murdered the Philadelphia Eagles just 16 years before that?
I begged my sports editor, Ike Gellis, to let me cover the game.
I'd pay my own way. I'd go back to schoolboy sports for a year.
Anything. Nope, he said, we're sending our NFL writer, Al Buck,
and that's it.
So the morning of the game I staked out a spot in front of the TV
at home and drew up more and better charts than I ever had before
or ever have since. I was going to chart this game to a
fare-thee-well; I was going to leave a record for mankind. Then
the phone rang.
"Don't answer it," my wife said. "It's an omen." Omen, what omen?
It was my sports editor, telling me that the Post's NBA writer,
Leonard Lewin, was sick, and that I had to go cover the
Celtics-76ers game. I don't know what I said to him. Gibberish.
Stream of consciousness. Whatever came into my head. Wife's sick
... get her to the hospital ... father-in-law flying in from
Denver ... caught my neck in a mangle ... brainlock... . The
words shot out of me like bullets.
"O.K., O.K.," Ike said. "I'll get someone else. Take it easy."
Still trembling, I watched the Chiefs lose and felt that somehow,
if I had been at the game, the outcome might have been different.
It's the one and only Super Bowl that I missed seeing in the
flesh. Sad, huh?
BEDTIME FOR GONZO
Thanks, Leigh Montville told the Good Doctor, but I can't write
on blotter acid
Stop and go. The cityscape of Houston would zip across the
windshield, then, screech, the car would slow down to almost
nothing, move along at a crawl. The crawling would continue for
maybe 30 seconds, then, wham, the needle on the speedometer
would flip all the way to the right again. Mothers would protect
their small children as a four-wheeled missile passed through intersections. Dr. Hunter S. Thompson was driving.
"What's he doing?" I asked from the backseat.
"He's trying to kill the NFL courtesy car," Boston broadcaster
Clark Booth said. "That's his ambition. To kill the NFL courtesy
car." I had just met the Good Doctor. This was before Super Bowl
VIII, 30 years ago, the last time the NFL Championship Game was
brought to Texas. I was young, new to the show, a football writer
for The Boston Globe eager to put the thermometer under the
tongue of this great capitalist athletic carnival, to take a true
reading of its many excesses. The Good Doctor seemed to have the
same idea.
Already famous for his 1971 best seller, Fear and Loathing in Las
Vegas, the inventor of what was called gonzo journalism, he had
stocked his room at the Hyatt with assorted chemicals, a boom
box, a bathtub full of Mexican beer and numerous bottles of Old
Grand-Dad. He was on assignment for Rolling Stone to write "Fear
and Loathing at the Super Bowl." The death of an NFL courtesy car
presumably would be a good opening to his article.
"What's he doing now?" I asked as he cut up some substance and
put bits of it into his drink in a booth at a sedate TGI Friday's
restaurant, our eventual destination on the edge of the city.
"I think that's blotter acid," George Kimball, then a writer for
the Boston Phoenix, said.
The excitement went on from there. I missed some of it--the
police raid at the biker bar, Hunter's ether-exaggerated reading
of an epistle from Saint Paul ("Daughters of Satan, ye be
consumed in a lake of fire") from a Jehovah's Witness comic book
while he stood at a railing 14 floors above the atrium bar at the
Hyatt--but I saw enough to know I was overmatched. The numbers on
Hunter's thermometer were far different from the ones on mine.
"What's the weirdest thing you've ever done?" I asked him
sometime during the week.
"Had to be the leeches," he replied in his clipped, speeded-up
way. "I was living in San Francisco. I shaved my head. I went to
an old Italian pharmacy and bought a jar of leeches. I put the
leeches all over my head. Gave you kind of a high, sucking the
blood to your brain. I moved the leeches around with a Number 2
pencil--just to make sure they didn't get too comfortable--and
walked into my favorite bar to see what everyone would say."
"What'd they say?"
"Not a thing. Not a damned thing. Too weird, too weird."
The Miami Dolphins beat the Minnesota Vikings 24-7. Hunter, upon
receipt of his carefully prepared NFL box lunch at halftime,
examined the contents and shouted, "Where's the acid?"
I don't remember much about the game, but I remember that.
ANOTHER COUNTRY
For Charles P. Pierce, the reality of riot-torn Miami pierced the
NFL's fantasy world
The boy would be 15 years old this January. When I first met
him, in Miami on Jan. 16, 1989, the Martin Luther King Jr.
national holiday, five nights before Super Bowl XXIII and about
six hours into the Overtown riots, he was sleeping under a
tattered blanket in the front seat of his grandmother's
Oldsmobile. They'd been there since the early evening, when men
with guns had run them out of their living room because its
windows commanded most of the street. There were still
sporadic, lethal pops coming from down the block. Wisps of
acrid, dead-smelling smoke drifted in front of the stars.
"He's a charmer," the grandmother said of the boy. "His momma's
lucky to be down on the Keys, where she can make some money and
be far away from this."
The riot had started that evening after a black motorcyclist
named Clement Lloyd had been shot in the head by a Hispanic Miami
policeman named William Lozano. Over the next two days and nights
Overtown burned. One person was shot and killed in the melee.
More than $1 million worth of damage was done. The boy and his
grandmother slept in their car. The Super Bowl would blithely go
on.
And it was a great one too, if you just count the game. The San
Francisco 49ers beat the Cincinnati Bengals 20-16 because Joe
Montana put together one of those drives that made him Joe
Montana. With a little more than two minutes left in the game, he
took the 49ers from their own eight-yard line all the way to the
Cincinnati 10, and from there he hit John Taylor with a gorgeous
slant pass for the winning touchdown. Joe Robbie Stadium
exploded, and you couldn't hear the distant sirens anymore.
This, of course, assumes that the Super Bowl is only a football
game--which it hasn't been since half past Roone Arledge--and not
the gilded festival upon which the Plutocrat Escadrille had
landed directly from the inauguration of President George H.W.
Bush. The lavish parties during the week before the game were
lavishly attended. In the media hospitality room on those days,
whenever someone changed the television to coverage of the riot,
some NFL functionary would drift by and change it again.
So on that first night of violence, three of us found ourselves a
death-or-glory cabbie who promised that, for the right price,
he'd drive us to Beirut and back. He took us into Overtown, and I
met a couple of people in a car, and I realized that the cabbie
had driven us from one country, which was having a Super Bowl,
all the way into another one, where smoke shrouded even the
brightest stars.
HELLO, MONKEY FACE
The way Roy Blount Jr. crashed the big game was downright
debonair
Seldom can I compare myself with Cary Grant, but the move I made
to get down onto the sideline with the Pittsburgh Steelers in
the final minutes of Super Bowl IX was sort of like one old Cary
makes in Suspicion. I had spent the '73 season embedded with
the Steelers, on assignment from SI to write a book. I'd hung
out with the players (not to mention a wonderful array of
auxiliary figures) in all sorts of contexts, but nothing was
quite like being in their midst right by the gridiron during the
games, as they groaned and joked and steam rose off of them.
They gave me one of Mel Blount's game jerseys, which will not
show up on eBay in my lifetime or those of my heirs.
My book About Three Bricks Shy of a Load came out as the Steelers
advanced to their first Super Bowl. It went over well in
Pittsburgh. "People in Pittsburgh are loyal," a local guy told
me. "You could write horse----now, and we'd read it." I was all
over New Orleans with Steelers during Super Week, but on game day
I was in the stands. Late in the fourth quarter it was clear that
they were about to win their first championship in more than 40
years. I had to get down there.
I knew the Steelers' security guys, legendary Irish street
fighters who would occasionally drag an interloper away by the
corner of the mouth, forefinger buried deeply in the chastened
rowdy's cheek. But Super Bowl sideline access was controlled by
anonymous strangers. In Suspicion, Cary Grant shows up uninvited,
bit of a bounder really, at an elegant mansion party. The butler
confronts him in the foyer and summons the head of the household,
who huffs, "Well, I don't know what to say." And Cary looks right
past them into the ballroom to catch the eye of Joan Fontaine,
the daughter of the house, whom he knows, who beams at him. The
next moment he's dancing with her, calling her "monkey face."
He's connected where it counts.
I found a gate in the fence on the Steelers' side of the field
and nipped through it as if entitled. Just as an NFL security guy
stepped up to intercede, the eye I caught was that of Jackie
Hart, the Steelers' field manager, who had once had a fistfight
with Art Rooney Jr., a team vice president, when Artie brought
someone Hart didn't know into the dressing room. This, Pittsburgh
being the kind of town it was, had only strengthened Hart's long
association with the Steelers.
I'm not saying Jackie beamed at me, or that his glance at the NFL
guy was exactly threatening, but Jackie did look the guy off long
enough for me to get a step on him and lose myself in the team.
The players had started jumping up and down and whacking one
another in appreciation of the moment. My story in SI began, "I
backed off, took a little run and butted Mean Joe Greene right in
the numbers."
So don't talk to me about the Super Bowl.
ROSES AND GUNS
For William Nack, the big game was the first stop on a surreal
American odyssey
It was all theater, one spectacle after another, a weird human
carnival with acts that ranged from the memorable to the
macabre--from a neatly executed game plan in football to the
execution of a folk-hero killer by firing squad, with a stop
along the way in the land of the Big Pinkie Ring. ¶ The memories
of those nine days in 1977 begin to run together, but I see them
now as a journalistic trifecta. It began on Jan. 9 at the Rose
Bowl, and from there it gradually spiraled down the great
American rabbit hole. In Pasadena the Oakland Raiders of Fred
Biletnikoff chainsawed the Minnesota Vikings of Fran Tarkenton
in Super Bowl XI 32-14, as Raiders coach John Madden lumbered up
and down the sideline, his hands flying as he frantically
scribbled X's and O's on the Telestrator of his mind. Like so
many Super Bowls this one was barely a contest, and it was left
to the smoke-and-mirrors pageantry of halftime--with tiny green
people swarming the field, with helium balloons and flocks of
pigeons rising skyward--to sustain the illusion of the game as
spectacle.
No matter. My traveling circus had only just begun. Six days
later I was ensconced at ringside in Las Vegas, where two young
gold medal winners from the '76 Olympics in Montreal, a pair of
coiled springs named Leon Spinks and Howard Davis, were making
their pro boxing debuts at the Aladdin. Davis decisioned a rented
pug named Jose Resto, and Spinks stopped Lightning Bob Smith in
five, basking in the neon as he flashed his famously gap-toothed
grin.
I was a sports columnist at Newsday, but at the urging of the
paper's national desk, I next winged off to Salt Lake City to
cover the execution of Gary Gilmore. On a Sunday afternoon I
drove to Draper and into the very belly of the beast, the yard of
the Utah State Prison, where Gilmore was calling a local radio
station and asking it to play Walking in the Footsteps of Your
Mind, a song about him and Nicole Barrett, his girlfriend.
The scene was out of Kafka. The snow was melting, and the media
cars and TV trucks had turned the prison parking lot into a mire.
A 22-year-old bartender named Mignon Jensen had come to visit
Porky Plum, her friend who was in for receiving stolen property.
"I think they're right to shoot him and get it over with," she
said of Gilmore. Nearby, a well-coiffed talking head, wrapped in
a London Fog coat, stood ankle-deep in prison mud rehearsing for
the nightly news: "The time is drawing near for the first
execution in the United States in almost 10 years.... Let's do
that again." Angry convicts moiling in the yard screamed, "Get
the f---outta here!" and heaved snowballs over the wire fence at
our small army of journalists-voyeurs until nightfall came and
clergymen lit candles and read scripture in an eerie highway
vigil protesting death by execution.
The line of the week was surely not Biletnikoff's ("I had to make
a lot of adjustments in my patterns") but rather Gilmore's final
utterance, "Let's do it!" Then came the muffled pop of rifle fire
in the prison's old cannery. Of course, they were all the same in
the end--the media events, the photo ops, the hype--from the roar
of the kickoff to the TKO in five to the blood on the cannery
floor, each just another wireless feed to sate the strange,
insatiable hungers of America in our times.
THE MORNING AFTER
When the cheers die down, Peter King knows, our heroes are at
their most human
The most fun I've had in my 20 Super Bowl weeks has come in the
hours after the games. I've watched Bill Parcells stuff his
suitcase closed the morning after XXI; hitched a limo ride with
a wide-eyed and euphoric Jimmy Johnson after XXVII; heard Steve
Young admonish a relative in his hotel room for denigrating Joe
Montana after Young threw six touchdown passes in XXIX; and
helicoptered from Fort Lauderdale to Miami with John Elway to a
morning-after-XXXIII press conference. But this was the
weirdest: sitting on a luggage cart with Brett Favre in a
stairwell of the Fairmont Hotel in New Orleans, with the
Packers' Super Bowl XXXI victory party in full swing on the
other side of the emergency exit door. "This is the only place
it'll be a little quiet," Favre said, and so we'd ducked out of
the mayhem.
He was scrunched up on the luggage cart, knees almost touching
his face. The occasional busboy whizzed by, but this was an oasis
where Favre could soak up the 35-21 win over the New England
Patriots. "I was real nervous, as nervous as I'd been since fifth
grade when I first played," he said. "I was scared I'd do
something stupid or not be patient. When the national anthem was
playing, I was thinking, I could throw up right about now. But I
knew if New England gave me something, I'd take it, and they did
early. Second play, we call 322 Y Stick, a safe quick-out to
[tight end] Mark Chmura, but I see they're coming with a blitz,
bringing both safeties up near the line. I can't believe it.
Sending an all-out blitz so early? With how we respond to a
blitz? I'm leaning over center, and I say, 'Blue 50! Blue 50! Oh
s---!' And I see them coming. So I check off to 74 Razor, which
sends the receiver to my left on a straight post. That's Andre
Rison. They left the middle of the field wide open, and there was
no question I was going for it all.
"Funny thing. I was sitting in my room in the morning, watching
that continuous Super Bowl channel, and on came the San
Francisco-Denver game. In that game I saw Montana audible to 59
Razor, which, for the 49ers, was basically the same play as our
74 Razor. I said to myself, 'Man, it'd be nice to find myself in
that position just once in my career.' And they do it right away.
Incredible. It felt like my first touchdown pass in pro
football."
It was just after midnight. Favre was spent--eyes bloodshot and
half-closed, the aftereffects of a midweek virus. He looked as if
he wanted to curl up and sleep. But Favre knew that sleep
wouldn't come for a day or three. He had too many people to hug.
"Through everything, I really believed I'd be here today," said
Favre, who had undergone treatment for Vicodin addiction the
previous spring. "Right here in this stairwell, talking about
being world champions." He laughed. "For me, trouble never seems
to be very far away. The future won't be all rosy. But they can't
take this away from me. Thirty years from now the kids'll be
getting ready for Super Bowl LXI, and NFL Films will drag out
Steve Sabol--he'll be around 102--and he'll talk about how Brett
Favre fought through such adversity. There'll be other players
and coaches in some great games in the next few years, but I know
this: We etched our place in history today."
ME AND THE TOOZ
John Schulian raises a glass to his favorite elbow bender and
curfew breaker
He had a drink in each hand, although I doubt he knew what kind
of drinks they were. Caring only that both contained alcohol,
John Matuszak disappeared them in a gulp apiece. It was a
classic maneuver by the Oakland Raiders' wild man, who barged
through his short, bacchanalian life with a lamp shade on his
head and a pair of panties dangling from the top of the shade.
Nothing in that prethong era could change him, least of all
Super Bowl XV, in New Orleans. The Tooz always reserved
Wednesday night for getting loose, and when the Raiders imposed
an uncharacteristic curfew before the game, he boogied all over
it.
"Too early for my game face, Johnny," the Tooz shouted to me over
the Bourbon Street din as available babes pressed close and
strangers fought for the privilege of buying the next round. I
have a feeling he used the diminutive when addressing anybody--it
seemed to come naturally to a 6'8", 285-pound defensive end built
like a municipal statue. Once you got past the stories about the
drugs and the .44 Magnum and the machete (love that machete), he
was the world's largest puppy dog. He started calling me Johnny
when I wrote about his two-week incarceration with the Washington
Redskins under George Allen, a match as odd as Kid Rock and John
Ashcroft. In Oakland he celebrated his salvation with the Raiders
by taking me to an after-practice haunt where one of the team's
closet crazies was quietly getting pie-eyed as we walked in. Five
seasons later the Tooz was in the Big Easy, hailing me with a
Johnny at Tuesday's press conference and practically asking the
Raiders if they wanted him to pay his $1,000 fine in advance for
breaking curfew.
When I chanced upon him committing that sin, he was grinning like
Mephistopheles and letting his adoring public sweep him toward
ever more raucous surroundings. By the time the sun came up on
Thursday, it was said that he had danced with other men's wives,
landed in bed with a presumably unmarried woman and put himself
in prime position for a hangover bigger than he was. Though he
had gone his way and I had gone mine--to sleep--he told me all I
needed to know about just how good a time he'd had when I caught
up with him after the devil's spawn from Oakland had throttled
Dick Vermeil's Philadelphia choirboys. Somewhere between calling
Al Davis a genius and mocking the straitlaced Vermeil, the Tooz
saw me out of the corner of his eye and did a double take. "Hey,
Johnny," he said, genuinely puzzled, "when did you get to town?"
BAPTISM OF ICE
For his first Super Bowl assignment, lucky Rick Telander drew
Michigan in January
I thought it must be a joke. Detroit. But then I remembered: The
NFL does not have a sense of humor. ¶ And yet ... could Pete
Rozelle possibly have known that this was my Super Bowl debut as
a writer, could he have known that I had slipped into Super Bowl
XIII in Miami three years earlier with rowdy friends, all of us
having swiped hotel linen to wave as Terrible Towels to support
the Pittsburgh Steelers, who were the favorite team of someone
in my group, and that we had then sneaked into the Steelers'
victory party and abused the bar and buffet table like homeless
swine?
The 15 previous Super Bowls had been held in New Orleans (five
times), Miami (five), Pasadena (two), Los Angeles (two) and
Houston. Warmth. Vacation. These were annual celebrations of
violence, advertising influence, corporate smugness and general
debauchery, and wasn't the point to do all that in the sun?
Then a blizzard hit the Midwest. Slush, frozen slush, howling
gales, snow, subzero windchill, midweek reports of a Detroit
reveler freezing to death on his doorstep--this, I thought, is
why God invented Puerto Rico.
Yet my friends and I weren't even in Detroit, but in a sterile
suburban ice hell called Dearborn. We were 30 miles from the
Silverdome, which itself was in a frozen sinkhole called Pontiac.
HUD had just declared Pontiac one of the most economically
depressed areas in the country, with an unemployment rate three
times the national average. Party! Which is what the NFL tried to
do. In one of the most warped, schizoid, downright Dadaist
attempts at reality manipulation, entrepreneurs spruced up the
rotting center of Pontiac, even putting new facades on abandoned
buildings, creating temporary restaurants, lounges and
stores--and named it Bourbon Street North. Bonjour, ma cherie!
At my hotel, after a time, people quit going out at all. Just
getting to a bus to go to one of the insane Super Bowl Week
events was too difficult. On Sunday winds in Colorado hit 140
mph, Minneapolis began digging out from under 37 inches of snow,
and in Leelanau County, Mich., north and west of our prison,
Sheriff's Deputy Bob Smith told reporters, "We've got snowdrifts
10 to 15 feet deep."
I had already written a pregame piece on the Super Bowl's
quarterbacks, Joe Montana of the San Francisco 49ers and Ken
Anderson of the Cincinnati Bengals, and there was little left for
me to do other than make ice borings, ponder midwinter depression
or ... go to the game room! And that is what I did. Down on the
first floor of the hotel, to the side of the lobby, in a small
alcove ignored by all but a few sullen children, I found my
refuge.
I had more or less mastered Pac-Man in my earlier youth, and now
I set my mind, and two fingers and a thumb, to bringing Ms.
Pac-Man to its--her--knees. The shwok-shwok of a gape-mouthed orb
devouring fleeing pastel balls became my lounge music. The dying
fizzle of my Ms. Pac-Man having met her maker became my whip. On
and on I played, my fingers turning as hard and horny as a
farmer's. When I took breathers, I read the papers. I found out
it was the auto industry, with its $1 billion worth of
advertising during NFL games through the years, that had dragged
Rozelle out of the Sun Belt and into this meat locker.
"It was like whacking a donkey with a two-by-four," said the
chairman of the Michigan Super Bowl Committee of the blitz on
Rozelle. The 49ers won the game 26-21. And I lost a week.
THE LONG GOODBYE
On a triumphal night, Michael Silver watched an icon bid farewell
to football
Barely noticed by the cleanup crew, John Elway walked back
through the mist onto the Pro Player Stadium field 90 minutes
after the final snap of Super Bowl XXXIII. He was holding hands
with his wife, Janet, and moving deliberately across the wet
grass. ¶ "Can you believe it happened like this?" Elway said. He
was emotionally drained. You could hear it in his voice, but
there was something else that told you what he was feeling. It
was the way he walked. His career was ending, and he wanted to
savor every step.
Dared by his former coach and nemesis, Dan Reeves, to beat the
Atlanta Falcons with his arm, Elway had thrown for 336 yards in a
34-19 victory. Derided as a symbol of big-game failure after
three disastrous Super Bowl outings, Elway had, in two years,
completely recast his legacy. He would leave football as a Super
Bowl MVP and two-time champion, and he would join Joe Montana,
Johnny Unitas and Otto Graham as part of the Greatest
Quarterbacks of All Time discussion.
Later, in room 870 of the Broncos' Fort Lauderdale hotel--where
Elway was registered as John Wayne--he took a light beer out of
the minibar, lit a cigar and limped out onto the balcony to watch
the rain come down.
A MIGHTY WINDBAG
No one could ruin a night on the town, Ron Fimrite reports, like
Howard Cosell
As a local boy, I took it upon myself to act as an unofficial
host for East Coast friends at Super Bowl XIX, the first and only
one played in the San Francisco Bay Area (at Stanford Stadium).
My duties, as I defined them, involved buying the occasional
round of drinks and disputing, sometimes with an excess of brio,
Eastern bias against my 49ers.
On the eve of the game, though, I felt somewhat more expansive,
and upon encountering broadcaster Al Michaels at one of those
overpopulated NFL parties, I suggested that he join me for
dinner. I had come to know and admire Michaels during his stretch
of announcing Giants baseball in the mid-1970s. Since then he had
become famous, his "Do you believe in miracles?" hockey call at
the 1980 Olympics having given him a prestige he had not enjoyed
while gloomily describing the Giants' execrable play of the
previous decade. He accepted my invitation, and we were on our
way out the door when we were apprehended by an all-too-familiar
figure. "Where are you two gentlemen headed?" inquired none other
than Howard Cosell.
Without thinking matters through, I replied that we were on our
way to a charming little restaurant called Monroe's, on Lombard
Street. "Good, I'll join you," Cosell announced.
Now, I had met Humble Howard only once before, and then only
briefly, so I assumed that his offensive on-air persona was just
an act. Michaels, who had worked with him unhappily, knew better,
as his crestfallen expression testified. But before he could
protest, we were all in a cab together.
Monroe's, no longer extant, was a small, dark, delightful San
Francisco gathering place patronized by devoted regulars. It was
the perfect spot for the sort of quiet reminiscence Michaels and
I had had in mind. Unfortunately Cosell preceded us inside and
created unprecedented turmoil. Autograph seekers descended upon
him amid shouts of "Howard, Howard!" and waiters abandoned their
customers to be in the great man's presence. The peaceful reunion
Al and I had hoped for was buried by the torrent of opinionated
blather our uninvited guest heaped upon us and upon the troops of
well-wishers foolish enough to approach him. To my surprise but
not to Al's, Cosell proved to be an even more irritating blowhard
in person than on the tube.
I'm not certain Michaels has ever forgiven me for inadvertently
disclosing our dinner plans that fateful night 19 years ago. I do
know that later the same year, after Cosell's caustic book I
Never Played the Game appeared, Al described him, much in the
manner of Dick Cheney discussing the deposed dictator of Iraq, as
a "cruel, evil, vicious man."
But I was right about at least one thing regarding that long-ago
Super Bowl: The 49ers did clobber the Dolphins.
CATTLE CALL
A stutter, as Austin Murphy can attest, is no laughing matter.
Well, not usually
Did my eyes deceive me, or was that a Green Bay Packer--a
starter, no less--sitting alone at his round table on Media Day
before Super Bowl XXXI? I pulled up a chair alongside left
tackle Bruce Wilkerson and soon learned why my two thousand or
so fellow journalists might've been steering clear of him. The
man stuttered. Once the initial awkwardness passed, we had a
very nice chat. In addition to being one of the nicest guys I
met during my five years on the NFL beat, Wilkerson was a good
story--a 10-year vet who'd been cut by the Jacksonville Jaguars
in the 1996 off-season, signed by the Pack two days later and
plugged into the starting lineup in the regular-season finale.
The subject of Wilkerson's stutter arose later on Media Day.
Running back Dorsey Levens mentioned it to me while cataloging
the list of various Packers' flaws that he and his teammates took
pleasure in making fun of. Obviously, I interrupted, you don't
tease a man about his speech impediment.
"Oh, we kill him," Levens assured me.
Wilkerson's teammates raved about his economy of movement, his
veteran's wiliness. His resourcefulness, it turned out, was not
limited to his footwork. When a certain run was called, it was
the play-side tackle's job to make a line call. One of those
calls required him to shout, "Cow!"
In a game earlier that season Wilkerson sought to make the Cow
call but got stuck on the hard c. After struggling
valiantly--"C-c-c-c-"--he finally bellowed, "MOOOOO!" Everyone
knew what he meant, left guard Aaron Taylor told me. That wasn't
the problem. The problem was that half the offense was laughing
too hard to run the play.
TICKET MASTER
Roger Director made the most of his free ducat, and so did a
scalper named Dex
It all comes down to what you mean by at. ¶ Yes, I was at Super
Bowl XXXV, between the New York Giants and the Baltimore Ravens
in Tampa. If you were a Giants fan, you had to be there. Because
you had sat four decades earlier, listening to the chipped black
Bakelite radio your dad lugged onto the dining room table, as
Johnny Unitas drilled a hole through your nine-year-old heart
that has yet to heal. As a writer for Sport magazine I'd covered
Super Bowls, even helped award Terry Bradshaw his MVP prize,
sponsored by the magazine, following XIII in Miami (Steelers
over Dallas in a great game, 35-31). But this was
different--this was revenge against a team from Baltimore.
So when the offer came in--a friend of a friend scored two
tickets to the Super Bowl from a neighbor near his summer
house--you vowed to witness revenge against a team from
Baltimore, not over the radio but in the flesh.
We met in Tampa midweek before the game: Me, my friend Doug (not
his real name; his real name is Dave) and Kirk (definitely not
his real name), the genius who'd scored the tickets. Kirk was at
a point in his personal development when an educational visit to
the Greek sponge-fishing town of Tarpon Springs held greater
allure than peeling off Benjies at a lap-dance club and wreaking
pharmacological havoc on his body--so we spent little time with
him. Doug and I were left to cope with our addled selves during
what was not only pre-Super Bowl mania but also Gasparilla,
Tampa's own annual Mardi Gras. In other words, two separate but
equally powerful commotions capable of blowing common sense to
hell.
And wherever we were, there was Dex. The Scalper. Slender, bent
forward, even when walking, like a runner leaning for the tape,
and stalking his terrain with no less determination in his eyes
than Ray Lewis. "Tickets ... Super Bowl tickets," Dex hissed from
the forest of foam fingers, from the clattering beer glasses.
The nine-year-old Giants fan in me hated what his adult
counterpart did the night before the Super Bowl. At some point
the quest for healing a lifelong ache in a kid's heart was
betrayed by a grownup's need for a fat slice of his daughter's
tuition. Which Dex handed over in return for our tickets before
vanishing into the crowd. Doug and I informed Kirk that we
wouldn't be going to the game with him after all. Kirk erupted.
"D'you know where I got those tickets?" he bellowed. "Paul
Tagliabue. He's my neighbor in the country!" Uh-oh.
"You better find that scalper and get those tickets back," Kirk
said. "I can't have just anybody walking in and sitting next to
the commissioner at the Super Bowl!"
Doug and I were caucusing by the hotel bar when we spotted Dex
trolling the mezzanine on his hourly sweep. We pursued him with
what remained of our bankrolls and sobriety. "Tickets ... Super
Bowl tickets," Dex rasped when we reached him. He didn't seem to
recognize us.
"Remember, you bought two tickets from us downstairs in the men's
room before?" I asked. "We need those tickets back."
"Oh. Yeah. Don't have 'em," Dex said with a shrug. "Got lotsa
others, though. End zone ... 40-yard-line...."
"We need the two we sold you."
"What can I tell you?" Dex said. "I got a special order for the
best seats I could find. Guys comin' in just for the game. From
out West." Out West I readily interpreted to mean Las Vegas or
Mexico or wherever it is the yakuza like to hang in Japan. And it
was safe to conclude the guys comin' in would give us back our
tickets only at the point of a gun, or something larger.
Rebuffed (and guilt-ridden over thoughts of Paul Tagliabue
watching the halftime show next to Pablo Escobar's successor),
Doug and I plunged into strenuous self-evaluation--not just at
the bar, but also at Mons Venus. This is the kind of retreat at
which you can sort out your metaphysics, if that's possible to do
while a beautiful woman writhes on your lap.
"So? How was the game?" I heard a million times after I got home.
"Depressing," was the answer I invariably gave. Which was
technically oh-so-true. (It was, after all, a romp by the Ravens,
a 34-7 debacle.) But I wasn't at the game. I was a few miles
away, watching on TV in a hotel room.
If it matters, my daughter is really enjoying school.
TRUE LIES
Bud Shrake wrote the Super Bowl III script but forgot to tell Joe
Willie it was fiction
This has been with me for 35 years. Now I'll get it out of my
attic and put it to rest right here in this magazine, where it
belongs. One evening at the bar in the Chinese restaurant called
the Ho Ho, two doors west of the Time & Life Building, I was
watching Andre Laguerre cultivate an inch-long ash on his cigar
when I realized he was speaking to me. "Old man," he was saying,
"could you find it in yourself to write me a story picking the
Jets to beat the Colts in the Super Bowl? In good conscience, I
mean?"
Andre was our managing editor, a brilliant man. Legend had it
that during World War II he had served in the French underground.
Henry Luce had hired him off the staff of General De Gaulle and
eventually put him to running the Time-Life bureau in London and
then Paris. From there Andre was called to New York City in 1956
to help make SPORTS ILLUSTRATED, which was less than two years
old, into a success. Andre knew everything. Any new book of
interest, Andre had read it. Any new show on Broadway or in
London's West End, Andre had seen it. He kept horses at his farm
outside Paris, and he loved the races. He loved the sporting
life. He loved Muhammad Ali. He loved Joe Namath. He loved Scotch
whisky.
Those last two thoughts--Namath and Scotch--crossed my mind side
by side. The third Super Bowl was a month in the future. To get
there the Jets would first have to beat Oakland or Kansas City in
the AFL Championship Game. The Baltimore Colts would be huge
favorites over any of them in the Super Bowl--if Baltimore went
that far. Baltimore had lost only once all season but still faced
two NFL playoff games. Colts quarterback Earl Morrall was the
NFL's MVP, and his backup was the great Johnny Unitas. What did
the Jets have? Joe Namath. Andre loved having Namath on the
cover. This was a pleasant evening in the bar, where much SPORTS
ILLUSTRATED business was done in those days. Why ruin the mood? I
said, "Sure, I can do that."
The NFL had won the first two Super Bowls without much trouble,
but several Jets players told me they honestly believed their
team was better than the Colts', younger and faster. Not to be
quoted, they said Baltimore had never faced a team like the Jets
and would be surprised if they had to do so now. Oakland and
Kansas City were of more serious concern to the Jets' players.
They had already lost to Oakland once. I didn't ask Namath to
size up potential opponents. Then I got cute. I decided to make
this prediction story into a sort of dream sequence. I invented a
guy whose plane crashes in the jungle, and he is rescued after a
few weeks and wants to know who won the Super Bowl. He is told
the Jets won. The Jets barely got past Oakland in the AFL
Championship. In the Super Bowl, Namath had a big day. The Jets'
defense was too much for Morrall and his replacement, Unitas, who
had tennis elbow. Writing the story this way, I reasoned, we
could predict the Jets would win the Super Bowl without looking
too foolish. If we were wrong, if they lost to Oakland--or Kansas
City--and didn't even make it to the ultimate game, if Baltimore
lost in the playoffs and didn't go to Miami either, we could
dismiss my prediction story as a literary pretension. Andre read
the story, thought it over, chuckled and nodded. It didn't give
him the flashy cover billing he had been hoping for, but it went
into print. The story was titled A Champagne Party for Joe and
Weeb. (Weeb Ewbank, the coach of the Jets, had been fired by the
Colts six years earlier.)
Three weeks later, in real life, Oakland beat Kansas City in a
special playoff game to reach the AFL Championship Game, where
the Jets won a thriller, 27-23. Baltimore beat Cleveland 34-0 for
the NFL title. Public wisdom gave the Jets no chance against
Baltimore. The betting line opened at Colts by 17. Two days
before the game I picked up a morning paper in Miami and read,
"We're going to win on Sunday. I guarantee it." It was Namath
speaking to the Miami Touchdown Club the night before. He said
there were five or six quarterbacks in the AFL better than
Morrall. When Namath said, "I guarantee it," he gave the Super
Bowl a huge jolt of energy. It was the statement heard round the
world. Then the Jets went on to beat Baltimore, 16-7, in a manner
eerily similar to the one described in my dream-sequence story,
and this game made the Super Bowl what it is today.
Ever since, I have been haunted by the story Andre really wanted
to put on the cover a month before the huge upset. It would have
started, "The Jets will win the Super Bowl, and you can take that
to the bank." There. It's in SPORTS ILLUSTRATED at last. Sorry it
took so long, Andre.
Carolina by 10.
COLOR PHOTO: PHOTOGRAPH BY WALTER IOOSS JR. SUPER BOWL I The Chiefs huddle in a half-empty Coliseum By the fourth quarter the Chiefs' soft spots were pitilessly exposed.... It is a good thing it took seven years for the NFL toconsent to the game. If it had been played the first time the AFLwanted it, the farcical result might have caused the game to beabandoned forever." --BUD SHRAKE, SI, JAN. 30,