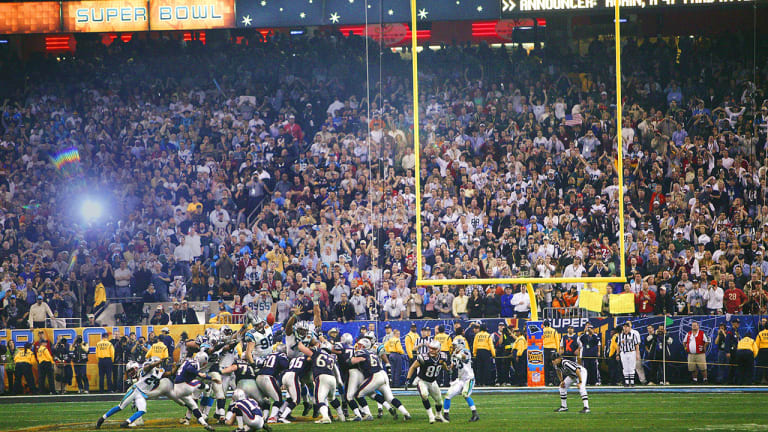 Fight to the Finish
New England and Carolina went toe-to-toe, but Tom Brady kept his cool and led the Patriots to their second NFL title in three years.
EDITOR'S NOTE: It may be hard to imagine this on the eve of Super Bowl LI, given the way things turned out, but Tom Brady was once uncomfortable with this whole fame and glory thing. There was a time when Bill Belichick could be described as a "hero in a headset" without eliciting laughter, a time when Janet Jackson was so popular and so respected that she could find herself at the center of an international firestorm. At times like these, when now and then are so hard to reconcile, it can be helpful to hold up the old relics, reexamine them, put them into perspective. What follows is an annotated version of the game story that ran in Sports Illustrated the last time Brady, Belichick and the Patriots played for a world championship in Houston, 13 years ago, against the Panthers. Click the highlighted text to hear from the original writer and reporter (Peter King!) and to be reminded of the old Patriot Way. — By Jacob Feldman​
Tom Brady was caught in a crowd, yet he felt utterly alone. The New England Patriots' quarterback was in a ballroom at the InterContinental Hotel in Houston, where in the early-morning hours of Monday a couple thousand people with some connection to the Pats' organization were celebrating the franchise's second Super Bowl championship in three years. Besieged by random admirers seeking his autograph or a snapshot with him, Brady, clad in a Zegna shirt, a platinum bracelet and dark jeans with a bulky pocket chain, looked beleaguered and bewildered. With no security guards or team officials to clear a path, he felt helpless. "I just want to get with my family, O.K.?" Brady kept saying, to no one in particular.
Finally, a friend got through and handed him a gin and tonic, and before taking a sip Brady said, "I hope this s--- is strong. I'm on a mission." Seconds later he was on the move, fleeing the ballroom for an elevator that would take him to the second-floor VIP area. Again, scores of partygoers closed in. Brady winced, and, his voice cracking, said, "This is horrible." Downstairs, Kid Rock joined Aerosmith onstage, ripping through the Boston band's classic Sweet Emotion, but Brady, to all those who spotted him, was the show.
Such is the life of a man suddenly seen as a Super Bowl immortal. Having already drawn comparisons with his boyhood idol, Joe Montana, the 26-year-old Brady, on the strength of his performance in Sunday's classic at Reliant Stadium in Houston, must come to terms with a new level of celebrity. He is more than a football star now. He is the darling of America's sports fans, the successor to Montana and John Elway, the magical passer who can coolly pull out a victory in the final seconds.
After picking apart the Carolina Panthers' secondary on two dramatic scoring drives in the last seven minutes to lead the Patriots to a 32-29 victory, Brady was awarded his second Super Bowl MVP trophy, joining Hall of Fame quarterbacks Montana (three), Bart Starr and Terry Bradshaw (two apiece) as the only players to be so honored on multiple occasions. He is the youngest quarterback to have won two Super Bowls, and with his movie-star looks, actress girlfriend, tight-knit family and adoring teammates, Brady's life could not be much sweeter.
All he lacks is peace and perspective, neither of which is likely to come soon. Not after one of the greatest and weirdest Super Bowls ever, one in which the halftime show, as well as the game itself, would end in a flash.
Like Janet Jackson's one-headlight salute—and an equally immodest streaker's fiasco preceding the second-half kickoff—this back-and-forth battle between a pair of flawed but gutty teams was a revelation. Though Carolina quarterback Jake Delhomme provided some stirring moments and New England kicker Adam Vinatieri, as he had two years ago against the St. Louis Rams, nailed the championship-winning field goal in the final seconds, it was Brady (32-of-48 passing for 354 yards and three touchdowns) whose star shone brightest in Space City.
As calm as he was in the game's tensest moments, Brady was drained and out-of-sorts upon its completion. To say that he was awestruck is not an understatement. "Yeah, very," Brady conceded an hour after the game, as he emerged from the shower. "You don't ever dream about this. I mean, you dream about playing football, and you have your fantasies, but you don't dream about winning Super Bowls like this. The way it ended is just incredible."
The use of the second person in interviews was one of Montana's habits, a way of deflecting the attention that his greatness attracted. For Brady, too, the praise will keep coming. Said Patriots linebacker Ted Johnson, "I told Tommy after the game, 'Your coattails are getting heavy, and I apologize. Right now I'm hanging on for dear life.'"
It's a gracious sentiment but not an entirely accurate one. These Patriots (17–2), as they were two seasons ago, are a quintessential team. Despite the league-high 87 games that its starters lost to injury in 2003, New England won its final 15 games, the second-longest single-season streak in NFL history. The Pats' marquee free-agent signee, linebacker Rosevelt Colvin, played just two games in 2003, yet underrated veterans, such as linebackers Mike Vrabel and Willie McGinest and safety Rodney Harrison (who broke his right arm late in the fourth quarter on Sunday), raised their games to new heights.
Brady may be the team's lone star, but New England's hero in a headset, coach Bill Belichick, is equally indispensable. In addition to being a shrewd talent evaluator, meticulous in his game preparation and the best defensive strategist of his generation, Belichick, 51, has evolved into a stirring speaker—at least when behind closed doors with his players. After giving a bland breakdown of strategic priorities during a team meeting last Saturday night, Belichick mesmerized his troops by holding up the Lombardi Trophy that New England had won two years earlier and placing it on a table. The room went silent for a few seconds, and then Belichick finished by saying, "Look, guys, this is what we're playing for. Let's put this week in perspective: It's not about the parties; it's the trophy. Only 37 teams can say they've owned this. You guys can be the 38th."
For much of the first half, neither team looked worthy of the silver hardware. The game was scoreless for the first 26:55, the longest drought to open a Super Bowl. Carolina (14–6) had minus-seven yards of total offense, and Delhomme had completed 1 of 9 passes for a single yard. New England wasn't much better, having squandered a pair of scoring opportunities when Vinatieri missed field goal attempts from 31 and 36 yards. (The latter was blocked by Shane Burton.)
Somebody needed to make a play, and that person was Vrabel, a 28-year-old linebacker who was the team's regular-season sack leader, with 9 1/2. With 5:22 left in the second quarter, Vrabel steamed around Panthers left tackle Todd Steussie and chopped the ball out of Delhomme's hand. Defensive end Richard Seymour recovered at the Carolina 20. Four plays later Brady, after a convincing play fake to running back Antowain Smith, threw a five-yard touchdown pass to wideout Deion Branch (10 catches, 143 yards), and the bizarre Tale of Two Games had begun: no points in the game's first 26:55 minutes; 61 in the final 33:05 minutes, including 37 points in the fourth quarter.
By halftime the Patriots led 14–10, and both the game and Jackson's costume were up for grabs. When singing partner Justin Timberlake, in what appeared to be a planned ending to the intermission, yanked off part of Jackson's top at the conclusion of the song Rock Your Body, tens of millions of viewers saw one more body part than NFL or CBS executives would have preferred. However, the network spared viewers the next spectacle, which occurred as Carolina's John Kasay was preparing for his second-half kickoff. A man dressed in a referee's uniform leaped from the stands onto the field, stripped to his jockstrap and did his best Michael Flatley imitation before security guards converged. Bolting into the clear, the nearly nude knucklehead was slammed to the turf by linebacker Matt Chatham, a member of the Patriots' return unit. "I wanted to knock him down but not wrap up," Chatham explained later, then added, "Was I surprised? Hell no. I play for Bill Belichick. You don't think we watched film on that guy all week? I'd seen everything there is to see."
Well, almost everything. "He knocked the crap out of him," Brady said. "That was the best tackle I've seen in a while."
In truth this game was full of big hits. Things had gotten nasty during the teams' previous meeting at the end of the 2001 season, a game New England won 38–6. The Pats were heading toward their first Super Bowl, and the Panthers were losing their 15th straight game. There were harsh words and skirmishes, which helped explain why players from both teams engaged in a staredown near midfield before Sunday's game. "They were trying to intimidate us," Johnson said. "That's when you knew it was on."
True to their personality under second-year coach John Fox, the Panthers never gave up the fight in their first Super Bowl. "It was a very physical game," said New England linebacker and special teams captain Larry Izzo, "and, like a bad virus, that team wouldn't go away." The most potent Carolina player was Delhomme (16 for 33, 323 yards, three touchdowns), who nearly eclipsed Brady as a clutch pocket passer.
Down 21–10 following Smith's two-yard touchdown run 11 seconds into the fourth quarter, Delhomme put together a six-play, 81-yard drive culminating in DeShaun Foster's 33-yard touchdown dash down the left sideline. Brady, after driving New England to the Panthers' nine, then made a decidedly un-Montana-like mistake, lobbing a pass into the end zone that was intercepted by cornerback Reggie Howard with 7:38 left. Three plays later Delhomme lofted a beautiful spiral to Muhsin Muhammad (four catches, 140 yards), who caught the ball in stride at the New England 33 and completed an 85-yard touchdown, the longest play from scrimmage in Super Bowl history.
Carolina missed a second consecutive two-point conversion attempt, but suddenly the Pats were behind 22-21 with 6:53 left, and there were dry mouths along the New England sideline. The Pats hadn't trailed in a game since a Nov. 23 overtime victory over the Houston Texans in the same stadium, but Harrison told cornerback Ty Law, "Hey, man, there's no reason for us to worry. We've got Tom Brady."
On Sunday, Brady looked every bit as unfazed as his idol, Montana, did in rallying the San Francisco 49ers to a last-minute victory over the Cincinnati Bengals XV Super Bowls ago. "He was poised," defensive end Mike Rucker said of Brady, who wasn't sacked by the Panthers. "We hit him a couple of times, but he'd get right back up." On second-and-goal from the one with 2:55 left, New England offensive coordinator Charlie Weis called 136 X Cross Z Flag, and a certain moonlighting tight end got chills: Vrabel, with two sacks and a forced fumble, had already made a huge impact, but now he was about to catch his first pass since September 2002. After a typically smooth play fake to Smith, Brady saw Vrabel flash across the middle and flicked the ball to him. Said Vrabel, a father of two boys, "I held it like it was my third child." The ensuing two-point conversion—Kevin Faulk scored on a run up the middle after taking a direct snap—gave the Pats a 29-22 lead, but the Panthers weren't done.
Seven plays and 80 yards later, Delhomme zipped a 12-yard touchdown pass to wideout Ricky Proehl. Two years earlier, while playing for the Rams, Proehl had tied the Super Bowl on a 26-yard touchdown catch with 1:30 remaining; this time, there was 1:08 left when Kasay's extra point made it 29–29. "I've been in that situation so many times," said Brady, now 26–4 in games played in November or later. "So, yeah, I was calm."
With a huge assist from Kasay, who hooked the ensuing kickoff out of bounds to give New England possession at its own 40, Brady and Vinatieri made hearts flutter again. On third-and-three from the Carolina 40 with 14 seconds on the clock, Brady took a shotgun snap and found Branch down the right sideline for 17 yards. On came Vinatieri, who kicked a 41-yard field goal with four ticks remaining, and it was time to ponder the Patriots' potential for a dynasty and their quarterback's ascent to gridiron icon.
Several hours later at the victory party, Brady's family members and close friends finally reached him, and the quarterback's boy-next-door smile returned. The first of the group to arrive was his current love interest, Bridget Moynahan, a stunning brunette who most recently costarred in The Recruit. (She has a toughness to which the quarterback can relate, as evidenced by her reaction to an aggressive male suitor at a packed Super Bowl party the night before the game. "I thought about punching him," Moynahan recalled with a serious expression, "but I didn't, because of Tommy.") The two hugged and smooched and whispered sweet nothings, and for the first time all night, the masses backed off and gave the quarterback some space.