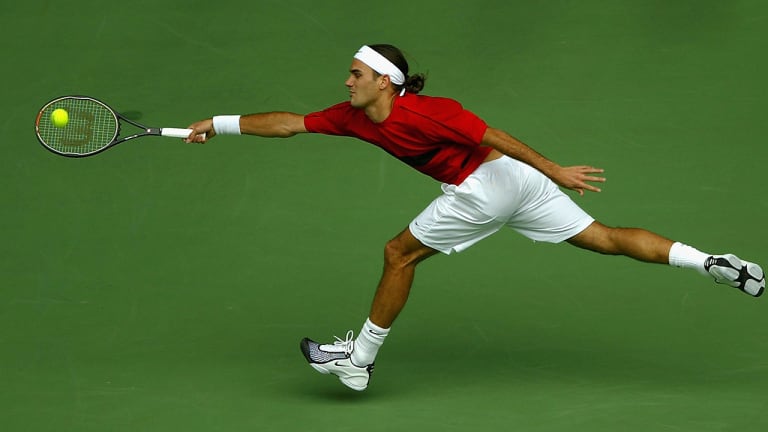 The Artful Roger
With his graceful and flawless game, Roger Federer announced his arrival as the world's best tennis player by winning the Australian Open
The 2004 Australian Open resembled nothing so much as a dueling-banjos competition: virtuosi with stringed instruments playing a two-week game of Can You Top This? For all the grace notes struck, one player performed with more flourish than all the others. Game. Set. Matchless. Roger Federer. ¶ By the time he finished off Russia's Marat Safin in Sunday's final, Federer had served notice that he is the sport's new leading man. Federer's provenance might be Swiss, but his game is cheddar: sharp and without holes. He can execute every shot in the book--and a good many that aren't. He is equally adept at hitting with power and with touch; he is as cozy at the net as he is on the baseline; he relishes playing on slow clay as much as he does on the bouncy rubberized asphalt of Melbourne Park. And he performs with a casual elegance that makes Pete Sampras look like a grinder. "He might be the smoothest, most talented player I've ever laid eyes on," says John McEnroe. Safin lamented to the Russian press after the final, "I just lost to a magician."
Quite apart from his prodigious skills, Federer, 22, is redefining the idea of a top player. He won in Melbourne without benefit of a coach, having parted ways with Peter Lundgren in the off-season. "It was strange at first," Federer says, "but I think there was a benefit to figuring things out for myself and being more responsible for my preparation." And though he's exceedingly marketable--handsome, charming, multilingual--he has no agent to drum up endorsement deals or shake down tournament promoters for appearance fees. "The more people you have around you," says Federer, "the less it becomes about the tennis."
If this Australian Open marked the official arrival of Federer, as of Monday the world's top-ranked player, it also inaugurated a belle epoque in the men's game. For the better part of a decade, the ATP has been bedeviled by relentless parity and charismatically deficient champions. Fans can now pick from a cluster of top players--Federer, Andy Roddick, Juan Carlos Ferrero, David Nalbandian and the ageless Andre Agassi--who are sure to last deep into the second week of Grand Slam tournaments, as each did in Melbourne. What's more, these stars differ as much in temperament and personality as they do in playing style. "You really have to adjust to all the guys from match to match," says Federer. "What might work against Andy doesn't against Andre or Juan Carlos, which makes things interesting."
Better still, it looks as if Safin, 24, is the latest superpower to join the axis. Beset by a wrist injury and a crisis of confidence, he was sidelined for much of 2003 and came to Melbourne riding a seven-match losing streak. A former No. 1 who has always been as long on talent as he is short of fuse, Safin entered the Open ranked No. 86. The ensuing renaissance was dramatic. His six victories in the Antipodes included five-set classics against Roddick--whom Federer supplanted as No. 1--and Agassi. Until the final, Safin's ball striking was unremittingly accurate (against Agassi he became the first player to serve more than 30 aces in a match without double-faulting), and his demeanor was uncharacteristically mellow. A notorious tantrum thrower, Safin broke only three rackets during the entire tournament. A notorious bon vivant, he spent his downtime at the zoo. "It was really fun," he said wryly.
The virtues of the men's game were thrown into sharp relief by a drab women's event. After a rash of injuries denuded the draw, the last two players standing--literally--were Kim Clijsters and Justine Henin-Hardenne, both of Belgium. On the surface theirs is a compelling story: two players from the same diminutive country repeatedly squaring off in Grand Slam finals. Unfortunately, the tennis is so inartistic that it leaves fans pining for Williams-Williams encounters. With Greg Norman inauspiciously cheering her on, Clijsters performed her ritual disappearing act in a high-stakes match and lost yet again to her countrywoman, 6-3, 4-6, 6-3. That the match was marred by a series of bad line calls and one egregious overrule was oddly fitting.
Still, credit the 21-year-old Henin-Hardenne. The top-ranked player, she has filled the WTA's leadership vacuum and won three of the last four majors. (One hopes that somewhere--on a training table or on the set of her latest film--Serena Williams was watching.) For all the high praise Henin-Hardenne garners for her slingshot backhand, her real gift is the ability to summon her best tennis when it matters most. Once known as a choker, she has become the WTA's most mentally fit player. In Melbourne she tallied more unforced errors than winners; that she still took the title bespeaks her Hardenned resolve. "It's been a great evolution," she says.
Federer's evolution traces a similar arc. His abundant talent and symphonic game have always been there. His ability to rise to the moment has not. Until his breakthrough at Wimbledon last year, he had a nasty habit of losing early in the biggest events. Even now, creeping doubts challenge him as much as any opponent does. "I may wear a poker face," he says, "but trust me, I get nervous inside."
That is why this title was so gratifying. Having demonstrated that his mental demons are now roadkill, Federer is free to amass a whole mess of majors. When Safin hit his last errant shot on match point, Federer dropped to his knees, his mask of calm melting into a smile that wouldn't desert him for hours. Tennis's magician was in two places at once: Down Under and on top of the world.