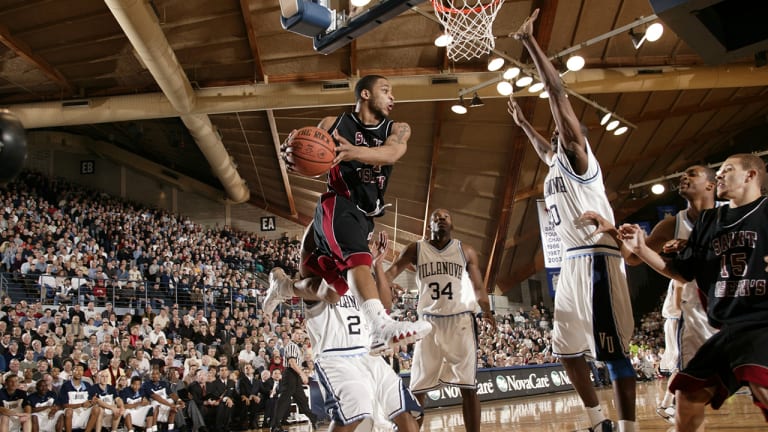 Full Nelson
Led by Jameer Nelson, the nation's best player, little St. Joe's started 20-0 and is thinking big
February has arrived, and unbeaten seasons are officially serious.
In early November all 326 Division I basketball teams were
undefeated. At week's end two remained: Stanford--courtesy of
last Saturday's buzzer-beating 80-77 win over Arizona--and tiny
Saint Joseph's in west Philadelphia. Twenty up and 20 down for
both. Stanford has a gorgeous campus, a movie-star-handsome
senior guard and a coach with a regal bearing, suitable for Mount
Rushmore. St. Joe's has a cramped campus that fronts suburban
sprawl, a senior guard built like an 11th-grade fullback and a
coach who looks like the guy down the street who gets his
newspaper in his pajamas. It's a school with 3,800
undergraduates and a style all its own. Hawks fans are
comfortable with their AP ranking and the chant that comes with
it: We're Number 3! There's no football at St. Joe's, just
fanatical devotion to basketball.
The old-school Jesuit priests on Hawk Hill like to say, "Saint
Joseph's is a humble institution with much to be humble about."
The on-campus bracketologists almost hyperventilate when talking
about the possibility of the Hawks' being a No. 1 seed in the
NCAA tournament. But that could happen, and the primary reason is
quiet, earnest senior guard Jameer Nelson, a brick house from
nearby Chester, Pa., with a stubbly beard and eight tattoos.
Nelson is 5'11" and 190 pounds, but this season he has been the
best player in the nation.
St. Joe's plays man-to-man defense, and Nelson will damn near
shut you down, whoever you are. Maybe he will cover Matt Lottich,
the Stanford jump shooter from Central Casting, if the Cardinal
and the Hawks meet in March or April. They haven't played coach
Mike Montgomery's No. 2-ranked Stanford team, they haven't played
No. 1 Duke, they haven't played No. 4 Pittsburgh. Still, on
Monday their schedule was ranked the 31st most difficult in the
nation--and their nonconference schedule was rated the toughest.
"People can look at our schedule and make any nonsensical
argument they want," says Phil Martelli, the Hawks' blunt coach.
"The fact is, we've beaten all the teams we've played." And you
know what all that winning does? It makes you better. Ask John
Wooden.
St. Joe's opened its season on Nov. 14 at Madison Square Garden
with a 73-66 win over Gonzaga (ranked No. 7 this week). On Feb.
2--in Philadelphia's version of a holy war--the Hawks beat
Villanova 74-67 at 'Nova for victory number 19. Last Saturday, at
the Palestra, the Hawks faced then 8-12 La Salle, their
cross-city rival and Atlantic 10 foe. The old gym, seemingly
built with parts from the first Erector set, was bursting at the
girders, and the crowd was all heated up by the ESPN lights, the
La Salle cheerleaders and the fluttering wings of the Hawk, St.
Joe's scary-looking mascot. Weird things happen at the Palestra,
and in the pregame chitchat some wondered if this might be upset
day.
No, it was same old, same old, in the end. With as many as four
perimeter players--Nelson, Delonte West, Pat Carroll and Tyrone
Barley--in the game at the same time, St. Joe's pressed for the
entire first half, as it always does. The Hawks are small but
quick, and maybe they'd be vulnerable if you could get the ball
inside consistently against them, except you can't. Their
smother-'em defense usually leaves opponents harried and panting,
and it generally produces enough breakaway layups and open threes
to build a huge first-half lead. After 20 minutes St. Joe's led
the game Explorers 46-32. In the second half the Hawks often eat
the clock, stay out of foul trouble and take one smart perimeter
shot after another. They also have a knack for holding the other
team's big scorer to a paltry sum; on this day the victim was
guard Gary Neal, who came in averaging 20.4 points and scored
seven. Opponents find the St. Joe's method discouraging--and
impressive. Against La Salle, the best backcourt in college
basketball, point guard Nelson and junior shooting guard West,
needed to play only 30 and 27 minutes, respectively. Still, they
combined for 42 points, and the Hawks won 89-63.
"Another day in the office," said the 6'4", 180-pound West, an
artist off the court and a banker on it. He's an art major from
Greenbelt, Md., who says of Nelson, "I just hope he remembers his
buddy when he makes it to the league." Someday West may have an
NBA game, but for now his primary job is to take well-considered
shots. He's good at it. At Xavier on Jan. 17 West was 12 for 12
from the floor and 6 for 6 from the line for 33 points. At week's
end he was averaging 19.0 points, 5.6 rebounds (second on the
team to 6'11" center Dwayne Jones's 7.7) and 4.7 assists, and he
was shooting 89.2% from the line. Nelson was averaging a
team-leading 20.4 points, 5.2 assists and 3.3 steals (second in
the nation). Each was shooting better than 50% from the field and
40% from three-point range.
After the final buzzer on Saturday, La Salle coach Billy Hahn,
all wet and worn out, whispered praise in Martelli's ear for 20
seconds. Hahn played at Maryland under Lefty Driesell and spent
12 years there as an assistant to Gary Williams before moving to
La Salle three years ago. He's seen more than his share of elite
college basketball. He said St. Joe's is as good as any team he's
ever seen. He praised Martelli for the unselfishness of his
players and for their relentlessness.
"I hope you're enjoying it," Hahn said.
"I am," Martelli said.
But the coach doesn't show it, and neither do his players. The
Hawks play the most steady sort of basketball, continually
intense but with no emotional peaks and valleys. You'll almost
never see them celebrating, not during games. Do the work, get
the win--that's their motto. Martelli says the attitude comes not
from him but from Nelson, who sets the tone for his teammates.
"In games we're not into high-fiving and all that," Nelson says.
"In practice we have fun." Practice is an opera of squeaking
basketball shoes, rhythmic clapping and high-volume trash talk.
"During the games, that's work time. But I'm smiling on the
inside."
Improvement is his life's work. At Chester High, about 15 miles
south of Hawk Hill, Nelson excelled at baseball and football; he
loved basketball, but it didn't come as easily to him. He
remembers a baseball coach telling him, "You'll never make it in
basketball. You're too short." He has been motivated to succeed
in the sport ever since.
In high school Nelson developed a relationship with a tutor, a
former Chester student named Earl Pearsall, who became his
mentor. Pearsall taught Nelson how to study, helped turn a D,
just-get-by student into one who got C's and B's, good enough for
almost any college. Pearsall steered him toward Martelli and
remains his adviser. "One agent offered me $50,000 to get Jameer
to him, another $100,000," Pearsall said. "They don't understand:
Jameer's going to graduate from St. Joe's this summer. That's
what's important to me, to Jameer's family, to Jameer." Nelson's
major is sociology.
Still, he's expected to be an NBA lottery pick--can you say
instant millionaire?--which is ... nice. At almost every St.
Joe's practice and game there are at least a couple of NBA scouts
and executives. (Last spring Nelson entered his name for the 2003
draft, but after attending the league's pre-draft camp in Chicago
and realizing he wouldn't be a certain first-round pick, he chose
to return to St. Joe's for his senior season.) At a practice last
week that ended at 11:15 p.m., one scout from the Los Angeles
Clippers and another from the Orlando Magic watched Nelson
closely and asked Martelli about his leadership skills. They told
the coach that no NBA team is concerned about Nelson's lack of
height. After practice, while the three basketball men talked,
Nelson came up to them, politely and briefly shook hands with the
two visitors and retreated to the small locker room.
When Nelson was told recently that an online rating service had
ranked him ninth among players likely to be selected in the 2004
draft, he was not impressed. "That just tells me I've got to work
harder and get better," Nelson said. "I look at it as eight guys
ahead of me."
Nelson is the father of a two-year-old boy, Jameer Jr. The boy's
mother, Imani Tillery, is a Chester High graduate and a student
at Temple. The son, who goes by Meer-meer, attends a child-care
program run by Jameer's older sister, Althea Hanna. After Imani
announced she was pregnant, her father, George, once a center on
the Chester High basketball team, said to Pearsall, "We failed."
But nobody has that attitude now, mostly because Jameer Sr. has
proved to be an involved and loving father, at home over the
range, cooking for his son regularly. "He's a good dad," says
Linda Billings, Jameer's mother and a Chester High graduate
herself, "and he wants to provide for that boy. He cooks
beautiful, but not as good as me. But you know that boy won't
want for food."
Tillery or Billings brings Meer-meer to many of the St. Joe's
games. He's got game. Martelli saw the boy bouncing a basketball
and said, "He dribbles better than most of the players on my
team." The father, who turned 22 on Monday, is playful and tender
with his son.
Nelson is also unusually thoughtful, particularly for a star
athlete. During the first preseason practices, he took a liking
to a quiet freshman trying to make the team as a walk-on. He saw
how hard the freshman--Andrew Koefer, a red-haired kid from a
middle-class school (Central Catholic) in Allentown, Pa.--was
working.
After three practices Martelli called Koefer into his cluttered
basement office and closed the door. Martelli's secretary knows
the drill. Usually Martelli keeps his door open. When it's
closed, he doesn't want to be disturbed. "Well, you've worked
hard and you've tried your best," Martelli said. Koefer knew what
was coming next: Try again a year from now. But at that moment,
the phone rang. Martelli thought, Why would she let a call
through? Must be important.
He picked up the phone. It was Nelson. "Yeah, he's in here,"
Martelli said into the phone.
"I think you should keep him," Nelson said. Nelson didn't know
the kid's name.
"Why?"
"He's a hard worker, and he'll help us practice better."
"Is this important to you?"
"Yeah."
"All right, then."
Nelson had never requested anything like that of the coach. For
that reason, and because of his abiding respect for Nelson,
Martelli turned to Koefer and said, "I've decided to keep you."
He never mentioned Nelson's plea on Koefer's behalf.
Against La Salle, Koefer entered the game at guard in the final
minute and got an assist, his first of the year. On the sideline
Nelson was grinning from ear to ear. When Koefer came off the
court, the future NBA player said to the walk-on, "That was a
good look, my man." Asked privately why he had made the call for
Koefer, Nelson said, "A lot of dreams don't come true in life. If
you can make somebody's dream come true, you should."
Martelli almost cries when he recounts what Nelson did for
Koefer. Martelli's an emotional man who tries, usually
successfully, to keep those emotions in check during games. He
paces the sideline slowly, with hands behind his back like an
altar boy, watching intently, saying little, letting Nelson & Co.
and his able assistants do their jobs. On Jan. 24, however, in a
conference game at St. Bonaventure, he slipped.
Late in the first half the Hawks were doing what they do,
pressing, building a big fat Martelli lead. A few minutes before
intermission a middle-aged woman sitting several rows behind the
St. Joe's bench stood in the quiet of a timeout and said loudly,
"Why are you pressing with a 25-point lead?"
Martelli wheeled around and said to the woman, "Shut up, you
nitwit."
He huddled with his players for a moment. Then, according to the
woman and newspaper accounts, he turned around again and added,
"You should be embarrassed by your own team, you moron."
(Martelli denies making this remark.)
Martelli realized he had crossed the line long before he read the
Sunday papers, in which the woman was identified as Mary Palmer,
a school librarian and a St. Bonaventure season-ticket holder.
Martelli wrote Palmer a pagelong letter, by hand from home, that
began, "Please accept this apology for my childish comments." He
talked about his failure--his failure--as the leader of his team
when he made those comments. He sent the letter by Federal
Express to the Palmer home in Smethport, Pa. That same day
Martelli also called Palmer and apologized. What Martelli didn't
know was that he was talking to a retired high school coach. She
once had a jayvee girls' team that won a bunch of games in a row.
She felt she heard in his voice the pressure he was under, the
pressure of trying to win game after game after game.
She was more right than she could know. Martelli says that all
he's trying to do is win the next game, one game at a time, and
all that. But he knows what's going on: He's got the best
backcourt in college basketball, the best player in college
basketball and a modest, small regional school just aching for
the chance to stick an index finger in the air with the whole
country watching. He knows what's going on. You can coach your
whole life, and if you're lucky, really lucky, you might get a
team like this--once.