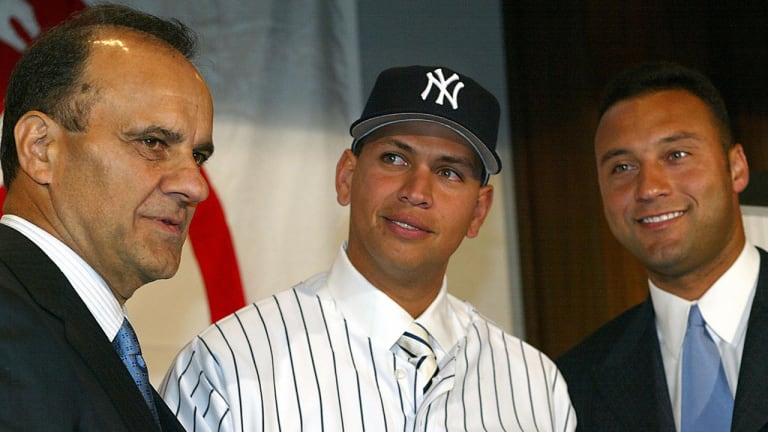 Hello, New York
By agreeing to move to third base, Alex Rodriguez got out of Texas and into pinstripes as the Yankees pulled off another blockbuster
Once upon a time, Mrs. O'Leary left a lantern too close to her
cow, five burglars broke into a Watergate office, and Aaron Boone
decided to play a little pickup basketball. History, Voltaire
observed, is little else than a picture of human crimes and
misfortunes. Over the coming years the exact details are to be
revealed as to how the misfortune of Boone, the New York Yankees
third baseman who blew out his left knee in a Jan. 16 hoops
dalliance, will alter baseball history, especially the raging
neo-Peloponnesian War between the Yankees and the Boston Red Sox.
But altered it shall be.
When Boone went down, the Yankees
needed a third baseman, and when the Yankees needed a third
baseman, Texas Rangers shortstop Alex Rodriguez reconsidered
his objection to playing third base. And when Rodriguez
reconsidered, the Yankees succeeded in less than 72 hours where
the Red Sox had failed for five constipated weeks earlier this
winter, swinging an unprecedented trade over the weekend for a
reigning MVP who also is the game's best all-around player.
Boone, mind you, is the same chap who four months ago hit the
11th-inning home run that ended Game 7 of the American League
Championship Series and Boston's season. Now this A-Rod business.
In the annals of New England oral history he will forever be
referred to as Aaron Bleeping Boone. "I only wish to God," one
Red Sox official bemoaned after the trade, "that Aaron Boone
never picked up a basketball."
With Rodriguez, the Yankees become the Beatles of baseball, such
is their talent and global star power. They open camp this week
with 17 All-Stars, including seven regulars who have won an MVP
award or finished among the top seven in the voting, and four of
the eight players in baseball history who signed a contract worth
more than $100 million (Rodriguez, Derek Jeter, Jason Giambi and
Kevin Brown). The teams chasing this club can only hope that the
mass of New York's stars is so great that it collapses inward
like a black hole.
How, for instance, will Rodriguez, 28, and Jeter, 29, coexist?
Both are signed through 2009 with no-trade clauses; the superior
defender of the two, Rodriguez, will play out of position; and
their friendship has been strained since A-Rod's critical
comments about Jeter in an '01 magazine interview. "Everybody
knows their best lineup would be A-Rod at short and Jeter at
second," one American League manager says, "but it won't happen
because it's Jeter's team."
As of Sunday night Rodriguez had not spoken to Jeter about the
trade, but as for deferring to the Yankees shortstop and moving
to third base, A-Rod says, "I don't see it as a big deal at all.
I look at it as a new challenge. I won two Gold Gloves and an MVP
at shortstop. I thought I achieved just about everything
personally at shortstop. Now it's time to win. I've always
thought of myself as a team player. Playing third base is the
ultimate team move."
Never before have George Steinbrenner's Yankees been more
befitting of Fitzgerald's take on the very rich: "They are
different from you and me." With the Rodriguez trade the other 29
franchises look on New York with further contempt not only
because it makes the Yankees richer, but also because they were
lucky. A-Rod fell into their lap less than a week before spring
training started, and they were able to negotiate such a
relatively small financial obligation to Rodriguez ($16 million
annual average) that they will pay him less than Jeter and
Giambi, less than what the Red Sox will pay Manny Ramirez and
Pedro Martinez, and less than what the Houston Astros pay
35-year-old first baseman Jeff Bagwell.
What's more, Rodriguez will add only $2.4 million to New York's
2004 payroll as it stood before Boone played basketball. While
the Yankees will pay Rodriguez $15 million this year, they got
off the hook for the combined $12.6 million they would have owed
Boone ($5 million, assuming he gets only termination pay for
violating his contract's no-basketball clause); failed third base
prospect Drew Henson ($2.2 million), who quit to pursue an NFL
career; and second baseman Alfonso Soriano ($5.4 million), who
was sent to Texas with a minor leaguer to be named in the
Rodriguez deal. The Rangers are to choose from a list of five
prospects before March 31.
Texas agreed to pay $67 million of the $179 million (over seven
years) left on Rodriguez's original record-busting $252 million,
10-year contract. The trade still lightened the Rangers'
long-term obligations by about $120 million (including interest),
freeing them to save or spend the savings as they rebuild what
has been a last-place team for four years running. For instance,
Texas immediately worked to finalize a five-year extension for
third baseman Hank Blalock, a commitment that one team source
said would not have been possible without the A-Rod deal.
The Rangers' $67 million sweetener did, however, give some pause
to commissioner Bud Selig, who, according to one major league
source, heard complaints from owners such as the Baltimore
Orioles' Peter Angelos. Selig had pushed hard to accommodate
Rodriguez's trade to Boston so the game's best player could get
to a competitive, high-visibility franchise. He fretted more
about Rodriguez as a Yankee, one source in the commissioner's
office said, because New York's payroll of about $190 million
figures to be about $70 million ahead of the rest of the field,
led by Boston. Selig, though, approved the trade on Monday after
almost three days of study.
Boston could have had Rodriguez in December for Ramirez, but
after trying to restructure A-Rod's contract, it killed the deal
because of a $15 million difference between what it was willing
to pay Rodriguez and what the union would allow in the
devaluation of A-Rod's contract. When the Red Sox heard late last
week that New York was engaged in talks with Texas about
Rodriguez, they made a futile attempt to get back in the hunt,
according to two sources involved in the negotiations. "Too
little, too late," one source said.
With the trade Texas owner Tom Hicks made the figurative
admission that his business plan to build a winning team around
Rodriguez was a colossal failure. A-Rod missed only one game over
three years in Texas while hitting .305 with 156 home runs and
395 RBIs, but other investments, such as $65 million over five
years for pitcher Chan Ho Park, bombed, and Hicks could not
afford to continue pumping money into the payroll. Talk about a
costly divorce: By 2025, when the last of his deferred payments
is due, Hicks will have paid Rodriguez $140 million for three
years of service.
After the Boston talks died, Hicks had given Rodriguez a
let's-make-up bouquet: On Jan. 25 he named A-Rod captain and
promised a long-term relationship. It lasted three weeks. On Feb.
8 Scott Boras, Rodriguez's agent, called Yankees general manager
Brian Cashman about another client, free-agent first baseman
Travis Lee. Cashman mentioned how much trouble he was having
trying to replace Boone. He had failed to get Adrian Beltre from
the Los Angeles Dodgers, for instance. Then it hit Boras: Why not
Rodriguez? A Mets fan growing up, Rodriguez had always wanted to
play in New York. Boras made a joke about it to Cashman to plant
the seed of an idea, then immediately called Rodriguez.
"You'd have to decide what the [shortstop] position means to
you," Boras told him, "and understand what you'd be giving up for
a chance to win. Think about it."
Rodriguez called Boras back the next day and said, "Let's do it."
Said Boras on Sunday, "I knew for the last three years how hard
it's been on Alex to be on a losing team and to have to hear that
it's because of his contract. I also knew the business plan the
Rangers were talking was not what was presented to him three
years ago. The situation was possibly going to get worse."
On Feb. 10 the Rangers conducted an internal conference call with
Rodriguez, Boras, Hicks, G.M. John Hart and manager Buck
Showalter regarding the direction of the club. Boras just
happened to mention that Rodriguez might reconsider a trade to
the Yankees. Hicks scoffed at the idea. "Alex isn't going to play
third base," the owner said. "He's always said that."
"Alex," Boras said, "what do you think about third base?"
"I wouldn't rule it out," Rodriguez said.
Silence fell over the line. Said Boras on Sunday, "Frankly, Tom
Hicks was stunned."
The next day Hart and Cashman were negotiating the framework of
the deal. By Sunday, Rodriguez had his Yankees uniform number
picked out: 13, his high school football number. His usual
baseball number, 3, was retired by the Yankees in homage to
another young slugger who slipped through Boston's fingers to New
York: Babe Ruth.
"Once Scott brought it to my attention, it made perfect sense,"
Rodriguez says about moving to third base to be a Yankee. "I
began to think about the pinstripes. I felt the allure of the
tradition and the opportunity to win and asked myself, Why not do
it?
"You know the best part? Getting there while I'm still young and
knowing I have seven years to play with Derek and set my legacy
as far as being a part of Yankees history. Getting there at 37
and playing two years wouldn't be the same."
His Yankees history, born of misfortune, already has begun.