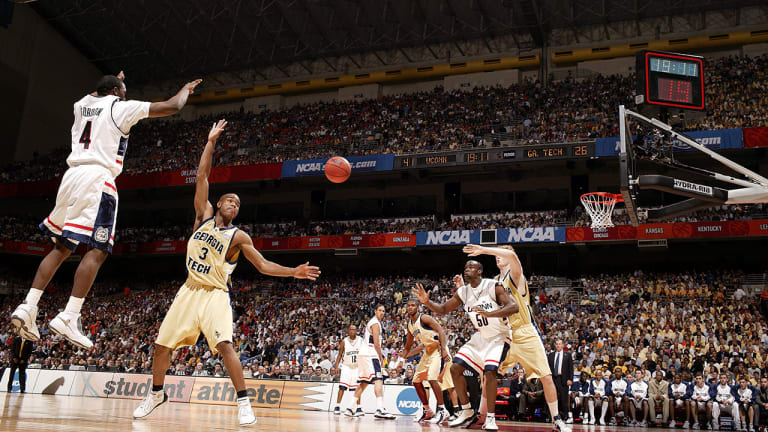 The Conn Game
Behind a full-throttle performance from Emeka Okafor, Connecticut cruised past Georgia Tech to win the NCAA title
How do you lead your team to a national championship? You start
by eating a proper pregame meal. More precisely, you eat a
proper pregame meal properly--the same way you've eaten every
other pregame meal all season. That means exactly the same
number of pieces of chicken, which, alas, on Monday afternoon,
the good people at the Plaza San Antonio hotel didn't seem to
have for their fastidious guest, Connecticut center Emeka
Okafor.

Okafor asked if he might have one more piece. As the
kitchen tried to oblige, he waited patiently. The dining room
emptied of coaches and teammates. The 6'10" junior lay his head
on the table and briefly snoozed. Finally after 20 minutes the
requisite piece of chicken arrived. He had to complete the
cycle he goes through, explained Ted Taigen, the Huskies'
academic adviser. He's very linear and meticulous. He sets
things out for himself and just follows through.
Connecticut, 82-73 victors over Georgia Tech in the Alamodome on
Monday night, had been, for much of the season, neither linear
nor meticulous. The Huskies had been a maddening team of detours
and stallouts, of shaky free throw shooting and inexplicable
losses. But throughout, bad back permitting, the lead Husky
slogged indomitably forward. And in the title game, his
chicken-fried wait over, Okafor led the way with 24 points and 15
rebounds. Facing the rare center with a height advantage, the
Yellow Jackets' 7'1" Luke Schenscher, Okafor tossed in field
goals that bookended the 21-6 first-half run on which the game
turned. He added two blocked shots, and in Georgia Tech's 38%
field goal percentage there's an implication of uncounted
alterations, intimidations and "rearrangements," in the wonderful
phrase of Dee Rowe, the former UConn coach. "He's there," Rowe
says. "Beware. And don't go there."
The world Okafor and his teammates now sit astride is lousy with
shortcuts--Enron and Martha Stewart shortcuts; Baylor and Georgia
and St. Bonaventure shortcuts--that might allow you to get to the
Life and the Show, but in the end won't give you much to show for
your life. Okafor's instinct is to sight goals and reach them,
one after another. The ball is there; get it. A title is there;
claim it. The shortest distance between a man and his goal
needn't be a shortcut but the most direct legitimate distance. In
his family's native Igbo language, his given name Chukwuemeka
(Emeka to an adoring state; Mek to his coach and teammates) means
God has done wonderfully well. That may sound like a burden, but
Okafor treats it as prophecy.
People close to Okafor carry around storehouses of tales about
him, and on Monday they spilled forth. When his sister, Nneka,
rebounded for him on a playground in the heat of the Houston
summer, he had to plead with her to stay longer than the mere
hour she could tolerate. When Connecticut coach Jim Calhoun
suggested during the preseason that Okafor take out a policy to
insure against a career-altering injury, he initially resisted,
insisting he'd be happy to use his brain to make a living. When
he had to write a term paper for his favorite college course, an
honors class called Roman Civilization, he chose as his topic the
life and culture of the ancient gladiators. "Combat, man,
combat," he said after the title game, confirming that he
identifies with the noble warrior. "Our lives were never at
stake, but competition-wise, we'd go out and do battle. No guts,
no glory."
Back in December, Oklahoma coach Kelvin Sampson had declared that
the Huskies might be as good as any team his Sooners had played
in the last 10 years. "Expectations were so high that we were
made almost godlike," Calhoun says. "People wrote that we weren't
going to lose a game in the Big East." Why then, in the preseason
NIT, did they struggle to beat Yale and get smoked by Georgia
Tech? In February, UConn suffered back-to-back losses at Notre
Dame and Pittsburgh, but it was their next game, a desultory
76-63 victory over Miami at home, that took Calhoun to the edge.
"I went bonkers on the sideline," he says. "No matter what we
did, it wasn't right. The team walked into the locker room
afterward looking like they'd lost by 40. Everyone was expecting
Attila the Hun." Instead, Calhoun cracked a string of jokes. He
pleaded with his players to find within themselves the emotion
and passion that they'd need as the season reached its climax,
and he pledged in return to check his own temper, if only they
met him halfway. "It was corny and funny," Calhoun says, "and
they just started laughing at me and enjoying themselves. They do
have emotion and passion. I just had to back off to let it come
out."
In the team's regular-season finale at Syracuse, Okafor
reaggravated a stress fracture that had caused spasms in his
lower back. He was unavailable for the Huskies' Big East
tournament opener against Notre Dame, and before the game the
coaching staff smelled fear among the players, a foreboding that
the team would be going home early. Yet the Huskies reached the
final without Okafor, then welcomed him back and beat Pittsburgh
by making up an 11-point deficit over the final nine minutes.
Okafor's absence for those two Big East tournament games "showed
me something in the team," junior guard Ben Gordon says, "that I
didn't even know we had."
Okafor fouled out of the Big East final with slightly more than
two minutes left and UConn's comeback incomplete. It was Gordon
who closed out the Panthers, scoring 15 points in the final
11:12, a development that delighted the coaching staff, which had
been pleading with him all season to be more assertive. He
followed that up by being named Most Outstanding Player of the
Phoenix Regional, and scored 21 in the championship game, firing
in three treys. "I've pushed and prodded and loved that kid for
the last three years," says Calhoun, who once mockingly suggested
that Gordon inquire about season tickets, so often did he turn
into a spectator.
Calhoun's concerns about his players' mental makeup resurfaced
during the NCAA tournament. He hadn't liked the Huskies' body
language and attitude before their opener with Vermont, so before
UConn's second-round game with DePaul he made sure a locker room
TV was tuned to the duel between Syracuse and Maryland, "to give
them a feel for what they're involved with here." When the
Huskies reached San Antonio after thrashing Vanderbilt and
Alabama in the Phoenix Regional, he even brought his players on
stage at the Thursday Final Four Salute, an NCAA function that's
normally coaches-only. Where UNLV's 1990 national champions--a
team to which UConn had been compared in terms of sheer
talent--were remorseless in their run to the title, these
Huskies, impressive as they were, let their vulnerabilities play
near the surface, whether in the form of Okafor's tender back, or
point guard Taliek Brown's complaints about his rough treatment
in Internet chat rooms, or accounts of the players-only meetings
that were convened after every loss. Leave it to Okafor to cut to
the essence of all those fits and starts: "We wouldn't be here if
we'd gone undefeated in the regular season," he said last week.
"Because the losses helped us learn so much."
A loss in the tournament may provide similar learning
experiences, but there's no opportunity to set things straight in
another game. And Duke, the Huskies' semifinal opponent, would
nearly give Connecticut just such a lesson in its sternest test
since the Big East final. With only 3:56 gone, Okafor picked up
his second foul; he would sit for the rest of the half while Duke
used a 15-1 run to build a 41-34 lead. Okafor watched helplessly.
He kneaded a towel, then turned imploringly to his teammates,
with palms upturned and open. "I mean, it was eating me, eating
me up inside," he would say later. "I blew off steam for like two
or three minutes. But I knew I couldn't stay sour-faced for the
whole half. I didn't want to be a cancer on the team."
The most telling tactical change Calhoun made to start the second
half was to move Okafor off Duke center Shelden Williams to
forward Luol Deng, thereby foiling Duke's plan to draw Okafor's
fourth foul by posting up Williams. In fact, Williams fouled out
first, with 5:04 left, and by then Okafor had begun to put his
signature on the game, most emphatically with a block of an
attempted dunk by Deng. Not two minutes later the horn tolled for
another Duke big man, forward Shavlik Randolph. That left the
fifth-year senior Nick Horvath, a physics and English double
major, as Duke's lone big man standing. His matchup with Okafor
during the game's decisive minutes was a genuine student-athlete
smackdown, and Okafor's domination was pivotal. He finished with
18 points, all of them in the second half, as UConn overcame an
eight-point deficit in the last 3:28 to escape with a 79-78 win.
It's a truism of tournament life that a team needs a near-death
experience to win it all. With the Huskies having reached San
Antonio by beating teams seeded Nos. 15, 7, 6 and 8 by an average
of 17.5 points, Duke taught them more than any of Calhoun's
headshrinking could. "It wasn't who we beat," Okafor said
afterward. "It was how we beat them. Down eight points, how many
minutes left, the whole country probably thought we were out
except us. I don't remember the comeback, to tell you the truth.
I just know we all believed, and the next thing you know, we're
up, game over, we're all hopping around."
"He was zoned," Calhoun said of his center. "He was just so
focused on winning that basketball game that he took it upon
himself. I did tell him, 'You can't make the conditions, you just
have to react to them.'"
Of that Okafor hardly need be reminded. Many people mistakenly
believe he's African-born and -raised, and he might as well have
been, as he watched his first-generation immigrant parents, Pius
and Celestina, make their way in the New World. During the late
1960s his father, then 17, had joined the Biafran rebels, taking
up arms against the Nigerian army during the 30-month civil war
that became notorious worldwide as a million people died, mostly
of starvation. In '74 Pius immigrated to the U.S., attending
Grambling and then, while working nights at a Houston filling
station, Texas Southern, where he earned an accounting degree. In
'80, on a visit to Nigeria, he met Celestina, who's now a
registered nurse. Emeka's ability to excel at basketball while
doing honors work in finance is less impressive next to the
example of his father, who currently shuttles between Houston and
Kansas City, where he takes classes toward his fourth degree, a
doctorate in pharmacy, even as he works as a CPA. "My role model
is just the average hard worker," Emeka says. "People that build
themselves up from nothing. I really have an admiration for
that."
Okafor is grateful for his good fortune, for not having to worry
about war, famine or pestilence, and for getting a free education
in exchange for playing ball. He didn't begin to play in earnest
until the sixth grade, and even as a senior at Houston's Bellaire
High he was unpolished, an easy mark for peers like Eddy Curry
and Josh Childress at the NBA's camp for promising high
schoolers. Now his left hand is so well developed that Calhoun
thinks it might be more effective than his right (his natural
shooting hand). He has the foot speed to guard a small forward
out on the floor, and at a taut 252 pounds, he can now block
shots even when an offensive player bodies him on a power move.
Okafor's teammates needled him every time they hit a new city and
he had to field another round of questions about how he balanced
books and basketball, but the guardians of the NCAA's image
couldn't have invented a better character as the frontman for
their gemstone event. Okafor is handsome, elegant, well-spoken,
thoughtful, selfless, diligent and worldly. He is remarkable
enough, in fact, to be subversive, for he puts the lie to the
claims of many in the college hoops establishment (his own coach
among them) that it's too much to expect every ballplayer to
graduate within six years. Okafor will do so, easily and with a
3.8 GPA, in three. Excuse me. The NCAA wants to relax its
standards? As the nation's leading shot blocker might say, "Get
that weak stuff out of here!"
Instead of NCAA poster boy, perhaps he should be NCAA president.
Okafor is opposed to salaries for players, but he would like to
see a number of smaller things: plane tickets home, extra seats
for family at tournament games, stipends "just to get by." He
adds, "Also, right now athletes can't keep additional
scholarships they earn through academics. That makes no sense.
And the gambling is getting crazy. Every town I go to, some fan
is like, 'Emeka, I got a thousand bucks on you guys.' I'm like,
'Great, dude, I don't really care.' The NCAA should be careful
with that, but I guess it's probably too big already."
If Connecticut had begun the season as everybody's No. 1, the
Huskies' opponent in the final was the season's surprise. Georgia
Tech's 67-65 semifinal defeat of Oklahoma State was born of
shrewd offensive sets and changing defenses. Both follow from
good backcourt play, which the Yellow Jackets had in abundance.
But in the championship game those guards--Jarrett Jack, B.J.
Elder and Will Bynum--shot 4 for 17 in the first half, and by
eight minutes into the second, the Huskies' lead crested at 25.
In its November loss to Georgia Tech, UConn missed 20 free
throws, but on Monday it was the Yellow Jackets who shot 57.1%
from the line. A late hail of three-pointers eventually brought
them to within seven, but they had spent far too much of the game
simply trying to put Okafor's looming presence out of their
heads.
UConn swingman Rashad Anderson held the ball as the horn sounded
and Okafor leaped twice in celebration. But soon his expression
turned serious again. He stalked his teammate around the chaos
and confetti of the Alamodome floor, trying to seize the ball for
himself, and prized it from Anderson only after agreeing to give
up his shoes in exchange. Throughout the postgame he cradled
it--at the press conferences, in the locker room and onto the
team bus. At 1:15 Tuesday morning he was on a balcony at the
Huskies' hotel, surveying a riotous courtyard, with the ball
still lodged in the crook of his elbow. "I wanted something to
remember this by," he explained. "I've been plotting a long time
for this. Ben got the ball after the Big East tournament. I was
going to get the championship ball."
An entire hotel food-service staff could have told Anderson as
much.