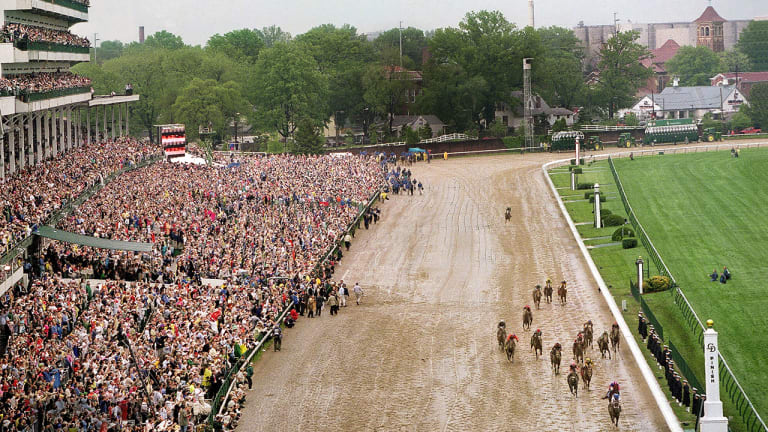 Smart Money
Smarty Jones silenced the skeptics with an impressive win in the Kentucky Derby and collected a $5 million bonus in the process
Here was the sound of stardom springing fully formed from the
womb of potential and seizing a sport by its throat. Angry
clouds framed the twin spires atop the thoroughbred cathedral
of Churchill Downs late Saturday afternoon, and the racetrack
had been turned into a rice paddy by a midday downpour. The
Downs shuddered in the gloaming as a flaming chestnut colt
named Smarty Jones flashed down the homestretch and under the
wire at the 130th Kentucky Derby, splashing mud in wide, regal
arcs, turning his own maybe into a resounding yes.

It was one year ago that a gelding named Funny Cide and a celluloid memory
named Seabiscuit returned racing to the spotlight, recalling
America's attention to a largely forgotten sport, snatching it
back from the slot-machine czars and putting it alongside the
best of the games. Now Smarty Jones is upping the ante. He has
a breathtaking story--aging, kindhearted owners; a trainer and
a jockey from a small-time track testing their chops against
the best; and a time line sprinkled with tragedy, nearly
including his own demise. But he also has the goods. There were
doubts before Saturday. Handicappers scoffed at his Philadelphia
Park roots and the route he took to Louisville, by way of
Arkansas. But the fans knew, and they made Smarty Jones the 4-1
favorite in the Derby. Inside the quarter pole he shook free
from the game and gifted Lion Heart and became the first
unbeaten Derby winner since Seattle Slew in 1977. He also made
his owners nearly $6 million richer for the work.
He is so fast that hardened horsemen turn soft in talking about
him. A farm manager in Florida once raced to the phone to rave
about his first timed quarter-mile run. His trainer boiled his
early efforts down to a simple phrase: "He was running fast,"
said John Servis. "And he was likin' it." Yet Smarty Jones--a
horse so named would have to be wise, would he not?--has learned
to administer his speed in small doses, just enough to subdue his
opponents. There is a name for horses like this: freaks. All the
best ones are freaks. The Preakness and the Belmont lie ahead; 26
years have passed since the last Triple Crown winner. Smarty
Jones demands that we watch.
They met more than 28 years ago in the showroom of a Ford
dealership in Philadelphia. She was a separated mother of two, he
was a twice-divorced father of three. She was looking to buy a
new car, and he was such a proficient salesman that he had
recently taken ownership of this auto business and turned it
dramatically from red ink to black. They were recovering
alcoholics, brought together by a common friend from the 12-step
program that had helped them right their lives. She walked out of
the building that day with a glistening 1976 Ford Granada in
silver-blue, and a soul mate.
Six years later Pat and Roy (Chappie) Chapman were married and
started a breathtaking life together. They went deep-sea fishing,
scooted along the Eastern Seaboard in a cigarette boat and went
on fox hunts in the rolling countrysides of Pennsylvania and
Maryland. Their children became like natural siblings. The
Chapmans lived passionately and stayed sober, too. "Thirty-two
years for me, thirty-one for my husband," says Pat, 62. "It's
been a wonderful, inspirational life. We've been good for each
other. We've been best friends."
In 1986 the Chapmans went into the thoroughbred horse business.
They bought almost 100 acres in Chester County, Pennsylvania,
named it Someday Farm and raced their horses primarily at
Philadelphia Park. "We learned how to do things, although not at
a high level," says Chappie, 78. "We were ham-and-eggers, but we
got to be players in our league." At the peak of their operation
they had more than 20 horses, including three broodmares, but in
recent years the joy had been sucked from the sport. In December
2001 the Chapmans' trainer, Bob Camac, and his wife, Maryann,
were murdered by Maryann's son from a previous marriage in a
dispute over money; it was a body blow to Pat and Chappie, who
had been close friends with Bob Camac. Also in recent years the
emphysema that has afflicted Chappie since 1992 has worsened,
leaving him tethered to portable oxygen tanks and a motorized
wheelchair that his sons had to persuade him to use. "It's a
bitch when you've been as active as I was," Chappie said earlier
this spring, "but I can't complain. I've had a hell of a good
life."
That life improbably gave him one more gift when Smarty Jones
carried the blue-and-white Chapman silks to victory in the Derby.
The horse's 2 3/4-length victory was engineered by Servis and
jockey Stewart Elliott, both Derby rookies like the Chapmans.
Smarty Jones earned not only the winner's share of $854,800 but
also a $5 million bonus put up by C.J. Cella, the owner of
Oaklawn Park in Hot Springs, Ark., to any horse that could win
Oaklawn's Rebel Stakes and Arkansas Derby and the Kentucky Derby.
(Cella, who conceived the bonus as a 100th anniversary promotion
for Oaklawn, initially insured only half the amount and planned
to pay the other half out of his pocket. "But after that
sensational run in the Arkansas Derby [on April 10], I decided,
'We're in real trouble here,'" Cella said last week. Three days
before the Kentucky Derby, he insured the other half.)
Smarty was just the second favorite since 1979 to win the race,
and like Funny Cide he was not from racing royalty but from its
vast middle class. His long road to the winner's circle started
on Someday Farm, where Camac recommended to the Chapmans that
they breed their mare I'll Get Along to a stallion named Elusive
Quality. A foal was dropped on the last day of February in 2001,
but 10 months later Camac was gone and the Chapmans began selling
off their stock (I'll Get Along had previously been sold for
$130,000, and the Chapmans had downsized to a smaller spread in
Bucks County, Pa.). In January 2002 they sent two yearlings to
Bridlewood Farm in Ocala, Fla., and gave instructions to George
Isaacs, the farm's general manager, to seek buyers for both.
Isaacs told Chappie, "Just send 'em down here, and we'll see what
you've got."
The unnamed yearling who would later be called Smarty Jones (the
childhood nickname of Pat's mother, Mildred, who was also born on
Feb. 28) had nimble athleticism and speed. Early in 2003, shortly
after Smarty turned two, Isaacs told Chappie that he could get
$250,000 for the colt. He also told him that Smarty was a runner.
Chappie watches his money closely. He came out of the Navy in
1946 and started selling cars for John B. White Ford on Broad
Street in Philadelphia. By 1975 he owned part of a dealership.
(The business, which has grown to eight dealerships, is now
overseen by Chappie's sons, Randy and Michael. "But we'll hear
from Chappie if we aren't selling enough cars," says Randy.) Yet
with this horse Chappie rolled the dice. He told Isaacs, "Since
you like him so much, we'll try him."
In the late spring of 2003 Isaacs took Smarty to his training
track to work a quarter mile. He was hoping the colt would run 26
seconds. "He went in 23, and made it look easy," says Isaacs.
"When it came time to ship the colt north, I told Mr. Chapman, 'I
think this is the horse you've been waiting for your whole
life.'"
On the recommendation of Mark Reid, a respected bloodstock agent
and former trainer who had worked for the Chapmans in the '80s,
Chappie hired Servis to train Smarty Jones. Servis, 45, a native
of Charlestown, W.Va., whose father, Joe, spent 50 years in the
industry, had been training in the Northeast since 1984. Like the
Chapmans, he was among the best in the minor leagues. Servis had
Smarty for less than a month before the colt almost killed
himself, smashing his head against the top of a starting gate. He
spent three weeks in a hospital and didn't make his 2-year-old
debut until Nov. 9, but then he won his first three starts by
nearly 28 lengths. Servis sat the Chapmans down for a talk,
telling them, "You've got a nice horse here." He then set out to
teach Smarty to harness his considerable speed and enthusiasm in
an environment in which he wouldn't be punished by defeat while
learning.
"He had so much room for improvement," says Servis. "Running in
top-graded stakes races [like those in California, Florida,
Kentucky and New York] could have ruined him. The Oaklawn route
was safest." Among Smarty's bad habits was a tendency to toss his
head back while galloping; to correct that, Servis outfitted him
with German Martingale reins, which enable the rider to keep a
horse's head low. To teach the colt patience, he sent him on
long, slow gallops.
Smarty learned his lessons well. After he won the $200,000 Rebel
on March 20 by 3 1/4 lengths, the colt's name began to appear on
Derby watch lists, and pressure built on Servis to find an
experienced rider. Conventional wisdom dictates that the intense
pressure of the Derby, with its huge field and inevitable traffic
problems, is too tough a ride for first-timers. No jockey had won
in his Derby debut since Ron Franklin in 1979, and Franklin was
aboard the brilliant Spectacular Bid. Yet Servis never wavered.
His standard response was, "Stewy's my man."
His man has won the last three riding titles at Philadelphia Park
(on Monday he finished fourth aboard The Fat Man in a $7,950
claimer there) and gets first call on most of Servis's horses.
Coming into the Derby, he was the only jockey to have sat on
Smarty Jones's back in a race and had handled him splendidly. Yet
in a year in which issues involving jockeys hung ominously over
the Derby--a successful lawsuit gave them the right to wear
advertising on their pants, and HBO broadcast an incendiary
documentary (featuring Derby rider Shane Sellers, among others)
on the extreme toll riders pay to control their weight--Elliott,
39, in many ways epitomized the fragile jock's life.
A child of the sport (his father was a jockey and is now a
trainer; his mother is an assistant trainer), Elliott quit school
at 16 to become a jockey in Canada. At 19 he was nearly out of
the sport for good after suffering a back injury when a horse
flipped him onto the inner rail. While he recovered, "his weight
blew up," says Elliott's mother, Myhill. "He got so big, and he
said to me, 'I don't feel like I can get the weight off.'"
After an 18-month absence Elliott was back, and he now explains
his return with poignant simplicity: "What do I do? I don't know
nothing else." To lose the weight, he had "jogged and starved
myself." Now he rides at 115 pounds, slightly above the norm. He
eats one big meal a day, at night.
On the eve of his first Derby, Elliott went to bed at 10:30. The
next morning, he lounged around his hotel room until 10. "He was
as laid-back as he is every day," says Elliott's fiancee, Lauren
Vannozzi. People in the Smarty Jones camp call him Mr. Cool. In
the Derby he rode accordingly.
Breaking from the number 15 post, Elliott worked Smarty Jones
efficiently to the second path off the rail by the time he
reached the first turn. He was hemmed tightly by Quinton's Gold
Rush and Pollard's Vision on the outside and Read the Footnotes
on the inside and was jostled entering the turn, but Elliott kept
his colt steady in pursuit of Lion Heart, who set an honest pace
through the backstretch. Elliott and Smarty then began to close
the four-length gap as they approached the final turn and took
control of the race just inside the quarter pole, drawing off to
win in a moderate 2:04.06. Imperialism passed tired horses in the
lane to finish third on the sloppy track. Patrick Biancone, Lion
Heart's trainer, stood in the trackside mud after the race and
accepted congratulations on his horse's second-place finish. "I
think you will soon see that Smarty Jones is going to be one of
the best 3-year-olds in many years," he said.
Long after the race was done and drenched revelers had filed out
into the night, Team Smarty Jones was honored at a party inside
the Kentucky Derby Museum. At one end of the room Chappie sat in
his wheelchair behind a table on which was placed the blanket of
roses that had been draped across Smarty Jones's neck. He
scrawled a weak signature on photographs and programs and hugged
friends who bent to wrap their arms around his neck. "Look at me,
stuck in this thing," he said between embraces, tapping the arm
of his wheelchair. "But I'll tell you, I've been feeling better
these last few weeks, and that's because of Smarty." From a few
feet away Pat reached over and placed her hand gently on top of
his. It was the first Saturday in May, and anything was
possible.