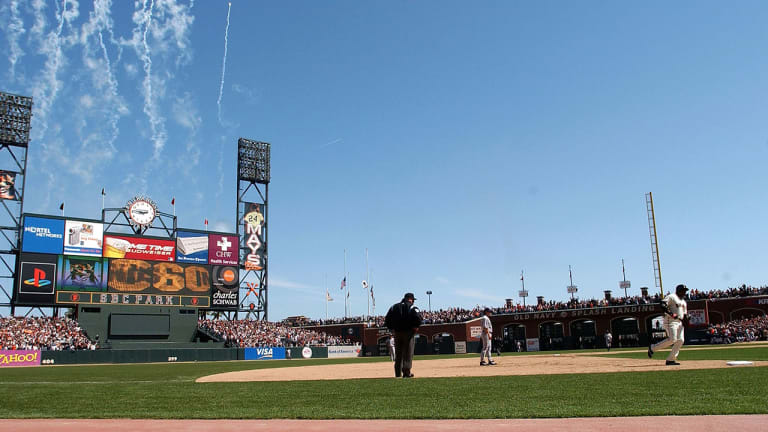 A Season Like No Other
Barry Bonds is playing in his own universe, where the strategies are twisted, the numbers are absurd--and everyone's frustrated
Just as he was about to speak, centerfielder Marquis Grissom looked warily out of the corner of his eye around the San Francisco Giants clubhouse. Was Barry Bonds within earshot? No? Good. But still.... "I probably shouldn't," Grissom said last week. "He probably wouldn't want me to.... " He had the look of a man who'd peeked inside David Copperfield's prop trunk or seen the secret recipe for Coca-Cola. Grissom smiled. "O.K.," he said. He had to tell the story. "It was in spring training. Barry got a pitch to hit. He just missed it. It was the third out. When we were walking to the outfield, I said, 'B, what happened? What was that pitch?' And he said, 'Man, I don't know. I missed it because my feet weren't set.' He didn't know, didn't even care what the pitch was. What matters to him is what he does."
Bonds is more than the center of the baseball universe. He is a universe unto himself. And sweet Lord have mercy on those who dare enter it, be they witless managers who fail to pitch around him with a game in the balance, the few pitchers proud or dumb enough to challenge him, or the sportswriting Hydra that sometimes, just for the dark pleasure of it, he allows close enough to simultaneously amuse and torment.
Two months shy of turning 40, Bonds has never been bigger, and not in a BALCO kind of way. Never before have baseball teams—probably teams in any sport—avoided one man the way they do Bonds, not even when he smacked 73 home runs in 2001. His 50 bases on balls (26 of them intentional) in San Francisco's 32 games through Sunday put him on pace to draw 253 walks this season, which would break the major league record of 198 he set in '02.
Consider the calculus of his performance this season: At week's end, of the 444 pitches thrown to Bonds this season, he deemed only 107 good enough to swing at. He put 59 of those into play, 10 for home runs—an alarming rate of solid, square contact by a rounded bat on a round ball. No manager worth his postgame press conference wants to fly in the face of those numbers, especially not when the rest of the Giants' lineup is so lame that San Francisco's act has become known as Barry and the Seven Dwarfs.
"It's become such a big deal," Giants general manager Brian Sabean says about every Bonds at bat, "that no manager wants to be the ESPN highlight [after which] everybody asks, 'Why did you pitch to him?' [Walking Bonds has] become an easy way to cover your ass.
"We're all going to go a long time in our lives before we see anything like this again, if we ever do. But this deprives people of watching Barry hit. And that's the ultimate insult."
Such an avoidance factor may actually improve Bonds's chance of hitting .400, something no hitter has done since Ted Williams batted .406 in 1941. At the rate he's going, Bonds, who ended last week on an 0-for-15 slide to fall from .490 to .379, will get only 334 at bats this season. If so, he would need only 134 hits to bat .400. Williams had 185 hits (and 147 walks) in 1941. (Official qualification is based not on at bats but on plate appearances; a player must have 3.1 for every game played by his team, and Bonds had 3.6 at week's end.)
Asked last week if he could hit .400, Bonds said, "No. Too many pitching changes .... I'm not trying to hit .400. I'm just trying to hit. There are two records that will probably last forever: the 56-game hitting streak and hitting .400."
Bonds, however, was reminded that he batted .370 in 2002. He was just a dozen hits short of .400—two hits per month. "That was an accident," he said. "I screwed up and hit a lot of balls the other way by accident is basically what happened."
He can build .400 with 1-for-2 and 2-for-3 nights as his bricks. The walks limit his chances to make outs. "Sure he can," New York Mets catcher Mike Piazza says of the possibility of Bonds's hitting .400. "I don't think there's anything he can't do at the plate. He has that confidence. He belongs in a different league."
Says Giants catcher A.J. Pierzynski, "I think he can. I'm just glad I get to watch this show every day. I asked him once how he can wait through all the pitches and all the walks and not miss a pitch when he gets it. He told me he makes sure he's ready to hit every single pitch. That kind of focus is amazing."
There is not a shred of anecdotal evidence that his involvement in the BALCO case has weighed on Bonds. (His trainer, Greg Anderson, was one of four people indicted in the alleged steroid ring.) "You couldn't get me if you tried," Bonds told reporters in New York on May 4.
In the nonbinding court of public opinion, the issue remains muddled. What does it mean, for instance, if Bonds chases .400 in the first year of baseball's full-blown steroid testing program? Supporters will contend that it must not be the juice. Detractors will note that the enormous loopholes in the testing plan make nothing certain. It allows players to use performance-enhancing drugs all winter without fear of tests (the benefits of such use carry into the season) and human growth hormone (for which baseball does not test) at any time without risk of detection.
The calculus of Bonds's season is much clearer than the chemistry: Umpires had dared call a strike on 58 of those first 444 pitches to Bonds, or an average of once every two times he came to the plate. In the first 100 times he batted, only nine times did a pitcher get an 0-and-2 count against him. Of the 25 times Bonds batted in the seventh inning or later in close games (with the Giants tied, ahead or behind by one run, or with the tying run on base, at the plate or on deck), pitchers walked him 15 times. On those 10 occasions when they dared pitch to him, Bonds rapped five hits: a single, a double and three home runs.
His teammates give opposing managers good reason to avoid him. After Bonds had been intentionally walked, the next batter was 5 for 25 with one walk and two extra-base hits. Overall, San Francisco's number 5 hitters (usually third basemen Edgardo Alfonzo and Pedro Feliz) ranked 26th among 30 teams with a .214 batting average.
"That has a lot to do with it," Florida Marlins manager Jack McKeon says. "With Jeff Kent behind him [1997 through 2002], it was different. You had to pick your poison. If you walked Barry, Kent would beat you. I know the fans come to see Bonds, but after the game I want to be able to say we won because we didn't just give in to what the fans want."
After a May 1 game in which McKeon had ordered his pitchers to intentionally walk Bonds four times, the manager was walking from San Francisco's SBC Park to his hotel when people on the street began shouting at him.
"Chicken!"
"You suck!"
"Come back tomorrow," McKeon retorted, "and you'll see him walk three more times."
There is no end in sight. Four regulars—Alfonzo, Pierzynski, shortstop Neifi Perez and first baseman J.T. Snow—had one home run in 390 combined at bats through Sunday. "You want to get a hit so bad, whether it's in front of him or behind him, because you want to make people pitch to him," Pierzynski says. "Because when he gets a pitch to hit, it's amazing to watch. You want to do well for yourself, but you want to do well for him, too. You wind up trying too hard to make them pitch to Barry. I think we're more frustrated than Barry is. I've never seen him show frustration. Maybe he feels it inside, but I haven't seen it."
Says Bonds, "It's wearing me down. Dude, I don't ever sit down. I'm on the bases the whole time or in the field. That's the hardest thing. I have to take extra hitting all the time to stay sharp. It's a hard-ass job."
This is baseball as we've never seen it in 150 years, the game's conventions warped by Bonds's mere presence. He has been walked as the leadoff batter in a tie game. He has been walked to move the tie-breaking run into scoring position.
Every Bonds at bat boils with tension. Mets lefthander Al Leiter, who retired Bonds three times last Thursday, said their confrontations felt like instant playoff games, though Shea Stadium was more than half empty. New York relievers walked Bonds in each of his next two plate appearances. Throughout the game he endured another hard night of taunts from road fans, including singsong chants of "BAL-CO" and a sign held by a fan behind the Giants' dugout that read, BALCO BOMBER. It was just another night in a chaotic season in which Bonds so often stands alone. It began with one of his classic impromptu lockerside sessions with reporters, unequal parts charming and churlish.
"You got a crystal ball up your rear end?" he barked at one writer who was curious about how many walks he might draw this year. "You can't predict the future."
When someone else asked about the scrapped idea by Major League Baseball to put movie ads on bases, Bonds hissed, "I don't pay any attention to that stuff. If they have dog poop for bases, you've got to step in the s—-."
When another writer suggested, upon hearing Bonds bleat about the rigors of travel, that he secure a gig like Roger Clemens has with the Houston Astros, allowing him to skip certain road trips, Bonds smiled superciliously and said, "I ain't white. What world are you living in? I live in reality. They'll never let a black man get away with that."
At one point the conversation meandered into Jewish comedians. Bonds said he wasn't aware of any. A reporter mentioned Jerry Seinfeld. "I said funny," Bonds replied. "He's not funny."
Seinfeld, a Mets fan, sat in a box seat at Shea that night and watched his team tiptoe around Bonds with intentional walks in the ninth and 11th innings—a show about nothing!—in order to get to Feliz. The strategy worked each time, with Feliz grounding out and striking out to end each threat. The Mets won on a Piazza home run in the bottom of the 11th, 2-1, to sweep the three-game series. (The Giants, floundering in the lower echelons of the NL West, would then win two of three in Cincinnati to end the week at 14-18.)
A weary Bonds waved away reporters after his one and only game in New York this season—he missed the first two games of the series with a sinus infection—having no desire to resume his stream-of-consciousness monologue. He put on dark blue slacks and a tan, long-sleeved knit pullover for the trip to Cincinnati. He zipped closed a black nylon wheeled suitcase with BLB embossed on a leather tag. The tiny visiting clubhouse at Shea Stadium was nearly empty. None of his teammates were around when Bonds said aloud to no one in particular, "Let's go, guys. New city, new start."
He walked alone, pulling his baggage.