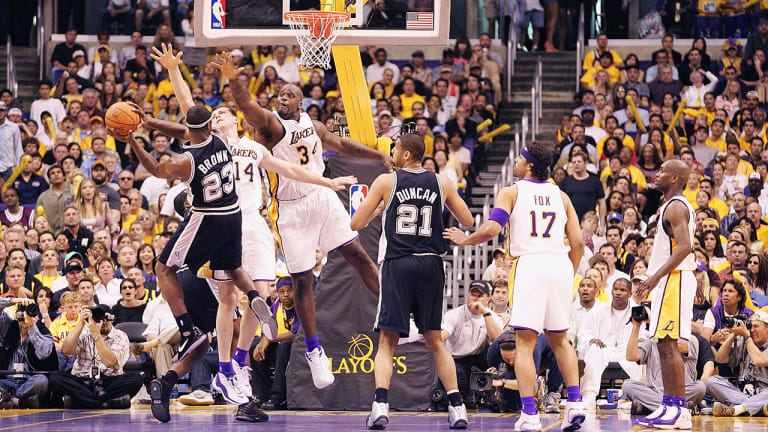 The Center Cannot Hold
A Game 3 rout of San Antonio kept L.A.'s title hopes alive, but win or lose, this is the last stand for these Lakers
As Shaquille O'Neal prepared to tool away from the Los Angeles
Lakers' practice facility last Friday in his black Mercedes-Benz,
he turned down the bass on his stereo to jumbo-jet decibel level,
flashed a sly smile and said, "I want to show you something."
From his wallet he pulled a badge and an official card
identifying him as an officer of the L.A. Port Police. "I can
make arrests," he said proudly.
O'Neal has been talking about his fascination with police work for several years now, leading
some to wonder if he's as serious about being the Big Dominator
as he is about being the Big Sipowicz. But that diversity of
interests (let's not even bring up his rapping and acting)
plays well in a city of multitaskers, where busboys are
directors and waitresses are one audition from landing a TV
series. (O'Neal's teammate Rick Fox, of course, already had a
role in a series, HBO's Oz.)
But no actor could ask for a better vehicle than the soap opera
that is the Lakers. Love 'em or hate 'em, they make the NBA
postseason a lot more interesting, and the prospect of their
quick elimination seemed likely before Sunday. After two losses
in San Antonio in which Officer Shaq and his crew were so bad in
the fourth quarter that they couldn't get arrested, the
purple-and-gold stormed back with a 105-81 victory in Game 3 at
the Staples Center. Dismantled was the word Spurs coach Gregg
Popovich used to describe what L.A. did in ending his team's
17-game winning streak.
Was that a tide-turning victory for L.A. on Sunday? Or was it an
aberration, a tease to fans, coaches and the Lakers themselves,
an overdue stand by a dysfunctional band of brothers that will
almost certainly be, well, dismantled when the season is over?
"Why haven't we played like that all season?" power forward Karl
Malone mused. "Well, that's a mystery, isn't it?"
Mystery is the operative word for the Lakers. Jack Nicholson's
favorite team is a living, breathing textbook on group dynamics,
demonstrating that the addition of brilliant parts does not
necessarily make a more brilliant whole. The feud between O'Neal
and fellow superstar Kobe Bryant; the presumed lame-duck status
of coach Phil Jackson, whose contract negotiations with team
owner Jerry Buss, the father of his Significant Other, are on
hold; the frustrations of Hall of Fame rentals Malone and Gary
Payton--all have made for compelling subplots but not always
compelling hoops. Whatever happens against the Spurs, the Lakers
will surely not be together in this form next season. Here's the
breakdown of their imminent breakup.
• Shaq has two more years and $58.3 million left on his contract.
The idea of trading him was absurd in 2001-02, when the Lakers
won their third straight title, but is not so absurd right now if
L.A. can find a team willing and able to assume that financial
burden. The possibility of the 32-year-old O'Neal's going to the
Indiana Pacers (who need size) in a swap involving power forward
Jermaine O'Neal (who's more mobile and seven years younger) has
been grist for the sports-radio mill, though Lakers officials say
such a deal has not been discussed.
It's anyone's guess how much Shaq's various foot and knee
ailments have slowed him down, but he's shown signs of rebirth in
this series, demonstrating why he should be, in Jackson's words,
"our primary attack space." On Sunday he had 28 points, 15
rebounds, eight blocks and one inspirational belly flop for a
loose ball that sent seismograph needles jumping throughout the
Los Angeles basin. Outside the lines Shaq is also the symbol of
the franchise, the warm and fuzzy, fan-friendly creature Bryant
isn't. In all likelihood the 7'1", 340-pound flatfoot will remain
on patrol.
PROBABILITY THAT SHAQ STAYS: 80%
• Bryant's double life as a superstar-defendant goes on. He was
expected to fly to Colorado (and back each evening) for three
days of hearings this week on his felony sexual assault case in
an Eagle County courtroom.
Kobe has said he will test the free-agent market this summer
while suggesting, from the other side of his mouth, that he'd
also like to re-sign with the Lakers. Team sources say, though,
that Bryant does not want to spend another season with O'Neal
because he's tired of Shaq's sniping at him. (O'Neal, it should
be noted, may not like Bryant but appreciates his talent and has
never said he doesn't want to play with him.) Far too often this
season it's been either "Shaq's quarter" or "Kobe's quarter," one
ceding the stage to the other with a let-him-take-it attitude.
With a fast start vital in Game 3, O'Neal (10 points in the first
quarter, four in the second) and Bryant (nine and six) neatly
divided the load in the first half, when the Lakers raced out to
a lead they would never relinquish.
Bryant has already made his feelings clear about Jackson--"I
don't like him as a person, but I love him as a coach"--and one
of the Zen Master's great disappointments is that he has been
unable to build a rapport with Bryant the way he did with Michael
Jordan. If it comes down to a choice between Bryant and Jackson,
Buss has said that he'll go with Kobe, despite the relationship
between the coach and Buss's daughter Jeanie, the team's vice
president of business operations. But a more likely scenario is
that Bryant (provided he is cleared of the charge in Colorado)
will opt to sign elsewhere.
PROBABILITY THAT KOBE STAYS: 20%
• Malone and Payton, the free-agent acquisitions who were supposed
to turn the Lakers into--all together now--the best team ever
assembled, each signed a two-year deal, with the second year at
the player's option. Though he missed 40 games with a partially
torn right MCL, the Mailman has been everything the Lakers hoped
he would be: a reliable scorer, defender and rebounder who has
accepted a diminished role; a locker room leader who relates to
all the players, as well as to Jackson. Even when he and the
coach have words, as they did at least twice in Game 2 (over a
technical foul and a bad pass by the Mailman), Malone puts it
behind him immediately.
Malone, who will turn 41 on July 24, is confronting his
basketball mortality. The knee injury was a devastating
psychological blow to a player who in 18 previous seasons had
missed only 10 regular-season games. Being the fourth option on
offense is one thing; being a limping afterthought is
unacceptable to a man with Malone's pride. Still, he needs at
least two more healthy seasons to pass Kareem Abdul-Jabbar as the
NBA's alltime leading scorer, and Malone concedes that he would
like to set the record. And though it hasn't been the dream
season he anticipated last summer--during his plane ride to L.A.
for his introductory press conference, Malone shed tears of joy
at the prospect of a championship--he says he'll play only if
he's in a Lakers uniform.
PROBABILITY THAT MALONE STAYS: 80%
• After getting panfried for a total of 50 points in San Antonio
by 21-year-old point guard Tony Parker, Payton was so frustrated
that he spent 15 minutes after Game 2 venting to one of his
agents, Eric Goodwin. Then last Saturday, before Game 3, he
vented to the media about being, in his opinion, unfairly singled
out for criticism. It is impossible to do justice to Payton's
rant, delivered sarcastically and at high volume, but here are a
couple of gems. First: "So, Gary Payton is playing five people,
right? Put it on me. Go ahead. Gary Payton is down 2-0." And: "On
defense we haven't been on the same page level."
Well, Payton hasn't been on the same page level with his coach
and his teammates all season. Jackson's triangle offense was
never to his liking, and his distaste for it, registered in pouts
and frowns, increased during the postseason. His negative
comments about L.A.'s defense had some merit, though, and Jackson
adjusted on Sunday. The Lakers jammed the lane to cut off
Parker's penetration and trapped on the pick-and-roll to force
him to the sideline, holding him to eight points and five
assists. Still, the fact remains that, two months from his 36th
birthday, Payton has lost a step or two as a defender.
Who knows whether L.A. could find a team to take on the $5.4
million due Payton next season, or whether he will opt out and
take less money to play elsewhere. But the Glove did not fit, and
that you must admit.
PROBABILITY THAT PAYTON STAYS: 20%
• "This is a team with a nebulous future," Jackson said last week,
his own future being as nebulous as any Laker's. Contract
negotiations with Buss broke down months ago after Jackson
declined one offer to extend his deal. People tend to say it's
not about the money when it is about the money, and to some
extent, this is about the money.
But both Jackson and team officials acknowledge that the coach
made certain stipulations (Jackson's word) that were not
financial. When the Lakers would not meet his demands, the talks
stopped. The best guess is that the 58-year-old Jackson doesn't
want to be coaching Bryant any more than Bryant wants to be
playing for Jackson. But neither side would confirm that.
A curious thing has happened in recent weeks, though. At least a
half-dozen Lakers, both players and officials, believe that the
Zen Master is now more likely to return (if a deal can be worked
out) than he was at midseason, even in the event that Kobe
re-signs. "It came back around to Phil being appreciated as a
great coach," said one Laker. "The problems we've had here fall
on the players, not on Phil, because he's proven himself too many
times." Says Frank Hamblen, a longtime Jackson assistant, "What
I've seen is Phil's energy level returning over the last few
weeks."
Indeed, the notion that Jackson wants to retreat to his cabin in
Montana and eat berries is too glib. He likes the action, he
likes the buzz. Yes, his creaky hips cause him pain; Doug
Collins, under whom Jackson was an assistant in Chicago, has
urged him to have hip-replacement surgery, as Collins did, and
Jackson says he's considering it. But he's recovered nicely from
the angioplasty he had last year, and he generally feels healthy
and strong. If he's not coaching the Lakers next season, he says
he won't be coaching anywhere--"That only goes for next season,"
he emphasizes--and he sets the chances of his returning, just to
be contrary, at 49 to 51. We put it higher.
PROBABILITY THAT JACKSON STAYS: 60%
As the series continued this week--it was assured of returning to
San Antonio for Game 5 on Thursday--Jackson was sending his
unpredictable crew of warriors into battle against a formidable
opponent led by two-time MVP Tim Duncan. He has always been a man
undaunted by the Chinese curse, "May you live in interesting
times," so he's certainly in the right place to live. At least
for the moment.
Probability of figuring out the purple-and-gold: 1%.