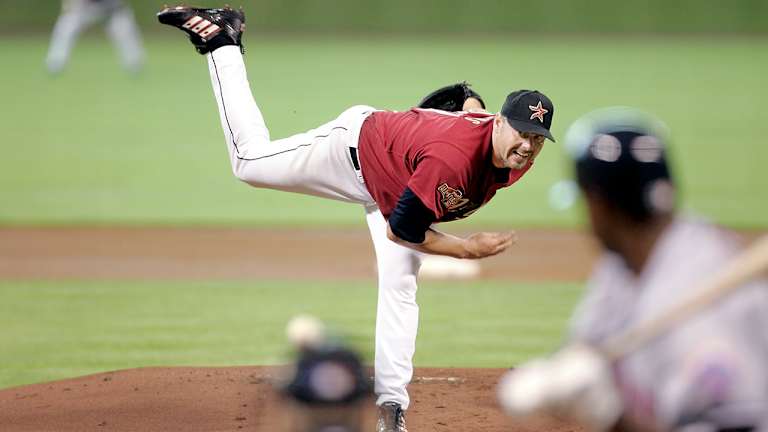 Home Fire
Just 15 minutes from his family--and four months removed from his brief retirement--the ageless Roger Clemens is mowing down hitters and heating up the baseball climate in Houston
Roger Clemens stands on the mound with his cap pulled low and the
baseball in his right hand, looming larger than everyone else on
the field. Another batter in a line of confrontations 21 years
long starts to dig in against the six-time Cy Young Award winner.
Clemens immediately begins to process the information stored on
his mental hard drive. Where does he like the ball? What pitches
can he handle?
This is the moment that explains why Clemens is
not retired, why that thick, warm night seven months ago in
Miami, when tears welled in his eyes as he sat alone for 10
minutes in the office of New York Yankees manager Joe Torre,
would not stand as his farewell to baseball. This is the moment
that keeps him going. It is just Clemens, the hitter and that
small airspace between them that is so fertile with
possibilities--just them, anyway, until the third baseman
approaches with something important to ask.
"Excuse me, but are you really Roger Clemens?"
The third baseman is a child about the size of Clemens's right leg, who must crane his neck as if
viewing a skyscraper. This is a Midget Division playoff game in
the Spring-Branch Memorial Sports Association, a coach-pitch
league in Houston. Fifty-five feet between bases, 145 feet down
the line and, most important, less than two miles from the
Clemens house. The second most prolific strikeout pitcher of all
time, otherwise known as Kody Clemens's dad, has put down his
camcorder last Saturday morning to pitch to Kody's team, the
Rockies. It is also Kody's eighth birthday.
Clemens is just like any other dad on one of the four fields near the Pine
Shadows Elementary School, except he will sign autographs after
the game and blow away major league hitters the next day with
almost comic ease. At 41 Clemens has come home. To Houston, to
family, to greatness.
Consider a weekend in the life of the homecoming king. He watched
his older sons, Koby, 17, and Kory, 15, take part in spring high
school football practice on Saturday morning; pitched and coached
first base for Kody's team with his wife, Deb, and another son,
Kacy, 9, looking on; watched best friend and Houston Astros
teammate Andy Pettitte beat the New York Mets 7-4; attended a
charity dinner; hosted a birthday slumber party for Kody and nine
friends (they slept in Mom and Dad's bedroom after a storm
knocked out the air conditioning in half the house); helped make
his traditional game-day pancakes for the brood; nearly no-hit
the New York Mets for seven innings; and helped with homework for
Kory (an essay on why the drinking age should be 21) and Koby
(reading Malamud's The Natural).
And that doesn't even include the best part.
"I watched Roger pitch to eight-year-olds," someone told Astros
first baseman Jeff Bagwell on Saturday.
"Oh, yeah?" Bagwell said. "How many did he knock down?"
Houston was a backwater baseball town with a team that seemed to
change its uniform every few years as if to distract people from
noticing that it had never won a playoff series in its 43-year
existence. Then on Dec. 11 the Astros signed Pettitte, the
winningest pitcher in Yankees postseason history (13-8).
"Until then," Clemens says, "I planned on flying up to New York
two weekends a month to play golf with Andy, do a little
television for the Yankees, maybe pitch a little batting practice
here [in Houston]."
Clemens figured his career had ended that night in Miami with
Game 4 of the World Series, the cinematic flickering of hundreds
of flashbulbs preserving his final pitch for posterity and his
solemn reflection in Torre's office. One month and a day after
Pettitte signed with Houston, for three years and $31.5 million,
however, Clemens did likewise, for one year and $5 million.
Astros owner Drayton McLane clinched the deal when he told
Clemens he could stay home whenever he wanted to watch his son's
games. Team elders Bagwell and centerfielder Craig Biggio gave
their blessing to the arrangement, though that has not stopped
them from fining Clemens in the team's kangaroo court.
"I get fined for missing games, and now they're fining me when I
show up," Clemens says. "At this rate I think I'm going to break
even by the end of the year between what Mr. McLane is paying me
and what I'm paying in fines. One time I was home and the team
was collecting fine money on the road, and [catcher] Brad
[Ausmus] left me a message that I had eight hours to pay up or
the fines would be doubled. I e-mailed him back, 'I'm thinking
about staying home and retiring so I don't have to put up with
this.' Now I'm going to get fined for talking about fines."
Certainly, the team's coffers have swelled since the arrival of
Clemens and Pettitte. Attendance, for instance, will surpass the
record 3.06 million fans the Astros drew in 2000. Clemens has
been worth an average of 4,660 extra fans when he pitches, and he
has started three of the team's five sellouts. Minute Maid Park
has sold 1,600 Clemens T-shirts and jerseys since Opening Day.
The stock sells out as soon as it arrives.
Just as important, the baseball culture in Houston has changed.
"It's never been like this here," Bagwell says. "The other day
they were cheering when [No. 5 starter] Tim Redding had two
strikes on a batter. That stuff never happened here before.
"You have to understand how big the University of Texas and Texas
A&M are here. And these people have watched and known Roger since
he was at UT. And finally they get to watch him pitch at home,
and he's not playing out the string but still pitching like he's
in the prime of his career."
Says McLane, "Roger Clemens is a name brand, like Coca-Cola or
IBM. It's been much better than I could have dreamed."
Clemens won his first seven starts of the season, becoming the
oldest pitcher in baseball history to do so. He would have been
8-0 after Sunday, but closer Octavio Dotel blew a victory for him
by serving up a game-tying home run to Mike Piazza with two outs
and two strikes in the ninth inning. (Houston would lose 3-2 in
13 innings.) Clemens struck out 10 batters over seven innings
while allowing two hits, one to the opposite field and the other
a chopper to third base. He lowered his ERA to 1.72 and the
batting average against him to .170, the best such marks in
baseball. He even drove in a run with a sixth-inning single.
Clemens threw 74 fastballs (topping out at 95 mph) among his 106
pitches, delivered with the precision of a gem cutter and the
guile of a magician. In the fifth inning, for instance, after
Mets catcher Vance Wilson fouled back a 93-mph fastball, Clemens
tossed the new baseball back to umpire Mike Everitt for another
one, as pitchers often do when they don't like the feel of a
ball. The stunt was a ruse to trick Wilson into thinking that
Clemens wanted a ball with better seams to throw a breaking ball.
Clemens promptly threw a 94-mph blowtorch past the hopelessly
late swing of Wilson for a third strike.
"I didn't know how intense Roger was," Ausmus says. "Between
innings he'll go into this little area down from the dugout. We
call it the Rocket Hole. And he'll be cheering and pumping guys
up and yelling. Sometimes I don't know if it's safe to go by him
or not."
Says Bagwell, who was born in Boston, where Clemens pitched from
1984 to '96, "I grew up rooting for the Red Sox and watching the
Rocket. Now here I am playing with him, and I go, Wow! Here's the
thing: He may be a better pitcher now at 41 than he was then at
25."
Time has not dulled Clemens's will or taken much off his pitches.
His second pitch to Piazza, his nemesis from beaning and
bat-throwing incidents in 2000, was a 92-mph screamer near his
whiskers.
"If I wanted to throw 98, I could," Clemens says, "but maybe not
to the exact area where I want it. If I'm going to miss, I'm
going to miss in somebody's shirt or in the other batter's box.
It's their job to get out of the way. And I'm still as hardheaded
as when I was young. If someone gets a hit on a certain pitch,
I'm going to throw it to him again the next time. He's going to
have to do it twice to make me a believer."
Now comes the best part.
Clemens climbs into his orange Hummer H2 in the players' parking
garage at Minute Maid Park, turns over the engine, flicks on his
remote-operated, in-dash satellite television and rumbles slowly
past a small crowd gathered at the exit. The fans immediately
recognize the truck and shout to him. Clemens responds by pushing
a button on the dash. The truck's horn blows a few bars of The
Eyes of Texas.
As Clemens drives the H2, a televised version of himself mows
down Mets hitters again on a local evening newscast. His body is
fatigued and sore. As he pitched his last inning against New
York, his right shoulder was throbbing. The muscles in there are
swollen. He will wait until the swelling subsides the next day to
undergo deep-tissue massage and aqua therapy with his personal
physical therapist. He also has his own strength trainer. It is a
power pitcher's metronomic existence: breakdown, recovery;
breakdown, recovery; breakdown, recovery.
The automatic gate to his estate slides open, and he steers over
the slate driveway apron to a parking spot among five other
vehicles, including three more H2s. He steps out of the Hummer,
and even before he can close the door, Deb reaches up to hug him
around the neck and kiss him.
"You did great," she says. "I love you."
Later, he will say, "The best part? Fifteen minutes, and I'm
home. Twice I even made it home before Deb and the kids did."
In past years Clemens would follow his sons' baseball and
football games by telephone, getting updates from Deb or close
friend and former big leaguer Mike Capel. This year he has
skipped some Astros road games to watch the boys play. He was
there when Koby stroked a clutch, two-run double to give Memorial
High a come-from-behind win, and he was there when Koby was the
losing pitcher in a state playoff game.
"He was very disappointed," Clemens says. "When we got home, he
told me, 'I don't think I want to pitch anymore.' We sat and
talked for about an hour in the garage. I was glad I was there. A
15-minute phone call wouldn't have been the same. I had to break
out my Knute Rockne speech."
Clemens returns home to the usual bustle of people coming and
going, dogs barking, doorbells clanging, intercoms buzzing, music
blaring and telephones ringing. Koby and Kory are in the pool
with friends; Deb and her mother are leaving for the lake house
with Kacy and Kody; the physical therapist is preparing to work
out in the detached gym with the quarter-mile track; Capel is
watching television; and the school tutor is on her way to the
house. Clemens grabs a tin dish with steak and salad and devours
it in front of the TV, flipping through baseball and golf
highlights before stopping on a news-magazine show, his favorite
genre.
"There's no downtime," Clemens says. "I thought I'd be getting to
my [golf] club three times a week. I haven't had a sniff of
that."
Koby later takes a break from his tutoring session to hang around
with his father. They talk about Clemens's RBI single and
Piazza's game-tying homer.
"What did Piazza hit off Dotel?" he asks.
"Fastball, out over the plate," Roger says.
"He likes the ball away."
"So where do you pitch him? You have to crowd him."
Koby then admits to a void in his life: He's never gotten a hit
off his father. Two years ago in spring training, while Clemens
was pitching a simulated game at the Yankees' minor league
complex, Koby went down looking on four straight fastballs. This
year Clemens, mixing in sliders, threw to the Memorial players to
prepare them for an opposing pitcher who threw 85 mph.
Koby--swinging this time--whiffed against Roger again, after
which he hurled his bat in disgust.
Laughing at the stories, Clemens says, "Mufasa isn't ready to
give it up yet."
Clemens then grabs his son from behind and just below the neck,
pulling him close. It appears to be a playful choke hold, but it
is also a hug. Koby is shirtless, with the carriage and defined
musculature of a youthful athlete, but he is subsumed by his
father's broad-shouldered immensity. Outside, dusk is falling
over the lush, three-acre compound, the trees turning to
silhouettes against the dimming blue sky. One more day, fully
spent, in a perfect season.