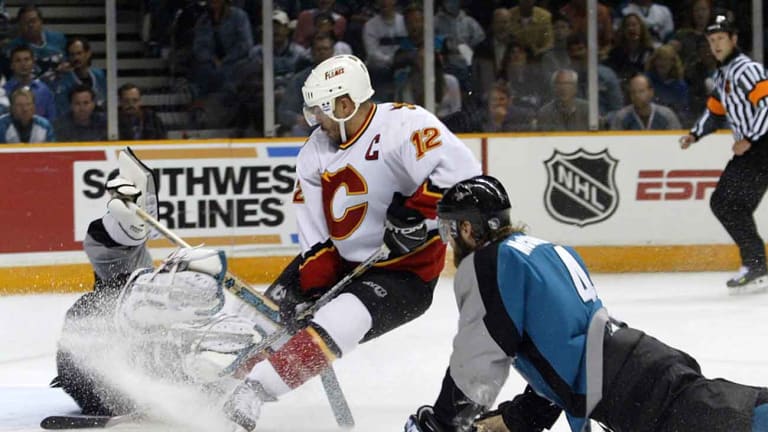 The Great Iginla
 He is Calgary's secret superstar, the sweetheart of the Stanley Cup finals and maybe the game's best player. But can Jarome Iginla rescue the NHL?
The family name, in the Yoruba language of his Nigerian forebears, means big tree. When it is penned onto a Calgary Flames jersey, it means the world. There are a million feel-good stories about Jarome Iginla, the right winger who took a moribund franchise and dragged it into the Stanley Cup finals, which began this week, and here are two. ¶ Iginla story number 1: Last January he gladly autographed one of his jerseys and offered it as the prize in a Shaw Cable TV company raffle to benefit the family of company maintenance technician Jack Wylie. The sweater drew $1,500 in raffle sales, and Wylie used the money to buy a more comfortable bed for his wife, Trudy, allowing her to reduce her pain medication as she fought multiple myeloma, an aggressive cancer of the bone marrow. "Jarome means everything to me," Trudy says. "He's inspired me so much. I look at him on TV, and I want to say, 'Thank you.'" She is feeling better now. Her cancer is in remission.
Iginla story number 2: On the eve of Game 7 of the Flames' first-round playoff series against the Canucks, Iginla and some teammates walked into an Italian restaurant in Vancouver. A wedding party was in progress. As the players were leaving a few hours later, 3 1/2-year-old Brayden Cameron, a Flames fan, hollered from his booster seat, "Bye, Iggy." (This is Canada. Of course a 3 1/2-year-old would know Iginla.) The player approached the boy, dandled him on his knee and talked hockey, signed autographs and posed for pictures with everyone in the party. "This was before a big game, and no one would have thought anything if he had just left," says Al Patterson, Brayden's grandfather, "but he seemed to have all the time in the world."
O.K. But can he do something really big, like raise the profile of the NHL in the U.S.? "Wow, I don't know about that," Iginla says. "I think hockey's doing pretty well, but it would be nice to be part of making the game more popular."
These are parlous times for the sport. Iginla can't prevent a lockout. He can't sweet-talk NBC into paying next season's rights fees up front. He can't ring every doorbell in the U.S. and ask residents to watch the Cup finals between the Flames and the Tampa Bay Lightning. But if this All-Star forward with commanding skill and an implacable will helps make Calgary the most improbable NHL champion in almost 20 years, he might do something that no one in hockey has done since Wayne Gretzky retired in 1999: Make you tune in.
As Gretzky always did and Mario Lemieux did in his prime and Mark Messier did early on with the Rangers, Iginla is a player capable of taking hockey beyond the purview of NHL cities. He could play in Peoria, have a Q rating in Albuquerque. He could be a smidgen of Tiger Woods in pads, a dash of Freddy Adu in skates. While the Lightning is a seductive offensive team with three world-class forwards—Martin St. Louis, Vincent Lecavalier and Brad Richards—Iginla has not only the game but also the backstory, the personality and the character to nudge the NHL toward a more prosperous future.
Although he has more goals over the past three seasons than anyone else—tying for the NHL lead with 41 this season and then scoring another 10 through three playoff rounds—Iginla will not win you over with gaudy numbers. Pinball hockey is dead. Goals-against averages are lower than the price of a gallon of gasoline. Rather, Iginla's game has a visceral attraction, a noble intractability that makes this 26-year-old son of a Nigerian father and an American mother the quintessential Canadian hockey player. He is a nightly candidate for a Gordie Howe hat trick: a goal, an assist and a fight. He had dustups with the Canucks' Mattias Ohlund in the first round and with the Detroit Red Wings' Derian Hatcher in the second. In the Western Conference finals he went after the San Jose Sharks' Scott Hannan and Brad Stuart, two other formidable defensemen. The commentators were unanimous in their approval: Iginla doesn't pick his spots. They were wrong. Iginla absolutely picks his spots, challenging only the biggest, roughest and best opponents.
"I remember [Detroit winger Brendan] Shanahan and Iginla had a pretty good fight two years ago," Red Wings coach Dave Lewis says. "Then Iginla scores three goals. He gets it done, no matter what it takes."
Playing with teammates who possess a lower profile than D.B. Cooper—"Really, we have only one guy other teams worry about checking," says self-aware winger Shean Donovan—Iginla has done everything in the playoffs except grow a decent beard. He set up the winning goals in the last two games against top-seeded Detroit, and he created Martin Gelinas's overtime winner in Game 7 against the Canucks. Iginla, who also scored twice that night in Vancouver, had game-winning points in half of Calgary's 12 playoff wins heading into the finals. He opened the scoring in Game 5 against San Jose with a short-handed breakaway and scored the first goal in Game 6, the clincher, by resuscitating a power play that had been a pitiable 8 for 80 in the playoffs.
Throughout this display of brilliance, Iginla formed an almost mystical connection with Philadelphia Flyers captain Keith Primeau, who, a few time zones away, seemingly matched every surpassing Iginla moment with one of his own. Primeau has evolved from biggest-kid-in-the-class power forward to a superb leader, but he does not have Iginla's muscular shot or his overdrive speed or—after a 2-1 Game 7 loss in Tampa last Saturday—a chance at the Cup. "Primeau's a big guy who's awfully hard to stop," Tampa Bay associate coach Craig Ramsay says. "Iginla's quicker, and he's more of a shooter. He gets it away quick and shoots it hard. We have to make sure to get in front of him so he always has to shoot through someone, but it's tough because they do a good job of moving him around. He knows how to find seams."
With Lemieux unable to stay healthy, Peter Forsberg almost surely going back to Sweden and Jaromir Jagr enjoying his condo on Mars, Iginla may be more than the NHL's most compelling player. He may be the best. "You can argue who's the best player," Calgary defenseman Andrew Ference says, "but there's no doubt Jarome's the best role model. He's a superstar because of his talent. But beyond that, his greatest asset is his work ethic. I played with Mario and Jaromir, and they had talent the rest of us could only dream of. But by the way Jarome made himself great, by his willingness to fight through the challenges, he makes it seem that greatness isn't beyond our reach. That's part of what makes Jarome special. That, and who he is as a person."
Iginla smiles easily, thanks checkout clerks, supports charities, puts the team first and takes care of his mother, Susan Schuchard. She is an Oregonian who moved with her family to Alberta and later married Elvis Iginla, a Nigerian immigrant who is now a lawyer in Edmonton. They divorced before Jarome was two, and Susan's parents helped raise the boy while she worked multiple jobs in Edmonton. Now she's a year away from an education degree at the University of Alberta. (Jarome pays the tuition.) "As far as his altruism [goes], I don't even hear about it most of the time," Susan says. "I didn't even know he was a spokesman for juvenile diabetes until I read it."
There is a wonderful story here, but few in the U.S. know about Iginla, who plays on a team from a Canadian city of 900,000, a team that had missed the NHL playoffs for seven straight years and was hardly ever on television in the U.S. Before the 2004 playoffs Calgary had appeared on ESPN2 only 11 times and ESPN once since Iginla's rookie season of 1996-97. That's a month's worth of exposure for the Red Wings-Avalanche-Flyers axis. Nor has Iginla, a star on Canada's Olympic gold medal team in Salt Lake City, made an impact in the U.S. beyond the confines of the rink. He has appeared on MuchMusic in Canada but not on MTV. He has been featured in Maclean's, the Canadian newsweekly, but not in Time. On Black Entertainment Television but not on CBS. The publicity-starved NHL has been trying to arrange a satellite hookup with Oprah this week. "I'd be pretty nervous," Iginla says. "My family loves Oprah."
"He's in the Tiger Woods mold, someone who could bring more African-Americans to the game," says Marc Ganis, president of Sportscorp Ltd., a Chicago-based sports consulting firm. "But as good a player and story as he is, as long as he's in Calgary, he won't be a [U.S.] national figure. For players in small markets, especially in a Canadian market, it's almost impossible. He's not Gretzky."
Even the Great One, who gained his fame and his four Stanley Cups in Edmonton, didn't truly elevate hockey in the U.S. until he took his personal klieg light to Los Angeles in 1988. If Gretzky could be traded, any player has a price tag. But after fretting annually that his high salary (currently $7.5 million) might force the cost-conscious Flames to move him, Iginla looks like a big tree with deep roots. Calgary wants to keep him, and he wants to stay. The only thing that could make Iginla happier than remaining in Calgary is winning a Stanley Cup there.
If the Flames wind up parading the Cup down Calgary's 17th Avenue, the Red Mile, next week, Trudy Wylie promises to tug a baseball cap over her bald scalp and go down to party as if it were 1989, the last time the Flames won the NHL title. Says Iginla, "I hope I see her."