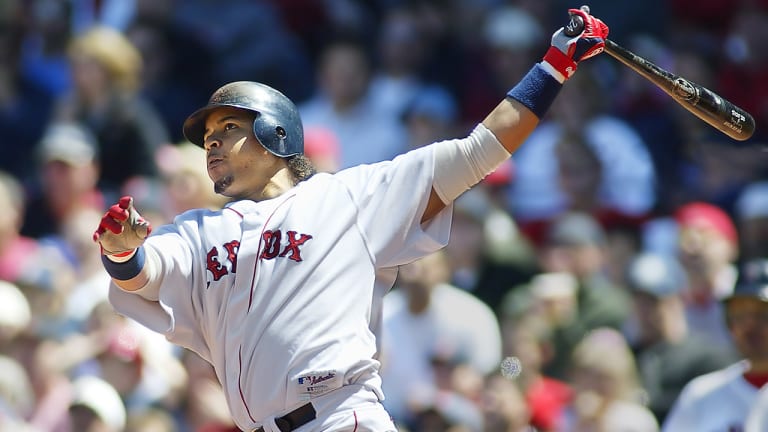 A Cut Above
Red Sox slugger Manny Ramirez has gone from unwanted to unstoppable--and the secret to baseball's most enigmatic star is all there in his swing
It is the face of a great silent comic, one that Mack Sennett would have cast on the spot. It is open and broad. Part of the appeal is the huge brown eyes and another part is the wild, brambly hair above them. But mostly it comes from the ability to reveal most of the humor without sharing all of the joke.
He is smiling at them now, the Boston Red Sox fans clustered three-deep outside the glass windows of a radio booth tucked into a wall just below the more famous wall that rises above leftfield at Fenway Park. You can almost see the smile go through the glass and out into the crowd, see it ripple through them as they poke each other and smile back at him. Manny Ramirez smiles again, waves and touches his heart, and the crowd seems to buckle from the radiating joy of his grin.
A year ago it was impossible to imagine Ramirez here, suffering the endless reiteration that's the life force of sports-talk radio. A year ago, if you listened to the smart guys in baseball's Holy Office (particularly Cardinal McCarver, let alone the philosopher now d/b/a Bob on a Car Phone), the Boston leftfielder was a cancer, a malcontent, a guy who didn't run out fly balls, posed after his home runs, jaked out of a game in Philadelphia and, worst of all, hung out with guys who played for the New York Yankees. He blasphemed against the game, is what he did, and then he blasphemed against the Red Sox, which is worse.
This being the modern world, the Red Sox responded not with torches and a stake but by putting Ramirez and what was left of his eight-year, $160 million contract on irrevocable waivers last October. Not a single team offered to take him, not even the Yankees, for whom the bait was clearly dangled. Nobody made a move for a guy who, with all this nonsense swirling around him, hit .325 in 2003, second in the American League, while adding 37 home runs and 104 RBIs.
Nobody in baseball wanted Manny Ramirez, so here he stayed, and here he is, in the window, behind the microphone. This is supposed to mean something--that he's changed, that he's learned, that he realizes he owes some public obeisance to that vague (and endless) liturgy through which baseball celebrates itself. But that's simple, and it's wrong, if only because to cast him as the lead in a cheap redemption drama is to devalue his scope, to diminish the vast pleasure he takes in his skills, to confine him within limits he doesn't even see, let alone acknowledge. It is to reduce to tawdry orthodoxy one of the game's most brilliantly gnostic figures, a player occasionally as baffled by what he can do as is anybody in the stands watching him.
"I'm not doing anything different, man," Ramirez says, responding to a host's question. "I'm going out there and having fun, you know. Maybe talking a little more to the press, but that's it. I'm smiling no matter what, man. I don't got nothing to lose. I'm blessed. I got a big contract. I got nothing to worry about.
"This game is weird, man. That's the way it is. Sometimes you have it, and sometimes you don't, so I don't worry. The more relaxed you are, not having a lot of stuff on your mind, that's the best way to hit."
Now he's talking all about why he happened to go down to the Ritz-Carlton in Boston one night last season when he was supposed to be too ill to play in a crucial September series against New York, and met Enrique Wilson, a friend of his who plays for the Yankees.
"Enrique, man, you know, Enrique is my brother, man," Ramirez says, sitting up a little straighter behind his microphone. "You're my brother, you're my brother no matter what, no matter if you play for the Yankees or whoever."
Outside, on the sidewalk, they're all nodding now. Of course. How silly could we have been? Makes perfect sense. A fan from Medford is next on the air. Manny Ramirez smiles through the window, and, outside, they all seem to buckle again, as though a great warmth has come over them.
Baseball's central paradox always has been that it is a game of mysterious individual skills operating within a structure as formalized as the calendar of the saints. It is not kind to its gnostics, players so consumed by the study of their individual abilities that they've lost sight of the game's fundamental rituals, like marshaling their postgame cliches or listening to bad country music on the clubhouse sound system. Baseball's orthodox theologians call these people "flakes," and they are always on the lookout for them, lest the game find itself unduly plagued with unusual ideas or alternative rock.
Ted Williams was one of those players, so dedicated to the minute refinement of his hitting that he lost track of his family. Steve Carlton was another, silent throughout his great pitching career until long after he retired, when he started to grant interviews that revealed that his mysterious devotion to his craft was nothing compared with the strangeness of his geopolitical views. If it were simply conformity set against nonconformity, this wouldn't be half so interesting. Instead, it's a matter of an athlete's going so deeply inside his remarkable talent that he seems to vanish to the rest of the world. He becomes his talent, indivisible from it, and invisible even to those who have that same talent to a lesser degree.
"It's something that goes on in his head," says Johnny Damon, who plays next to Ramirez in the Red Sox outfield. "Like, the other night, he took a swing because he wanted to get pitched that [same] way."
Let's begin with the swing, then, because that's the heart of Manny Ramirez. The head stays down and the hands stay back, so he sees the ball "deeper," as the hitting coaches put it. And then the whip through the hitting zone and the high finish, the great flourish, even when he misses.
Professional hitters talk about the swing as though it's a living thing, something with which they're not completely familiar. "You see this guy's bat speed, and you know you can't teach that," says Red Sox first baseman Kevin Millar. "You can't teach a guy like [Philadelphia closer] Billy Wagner, who's all of 5'9", to throw 100 miles per hour, and you can't teach somebody to swing 150 miles per hour through the zone."
Ramirez's swing--especially the great late explosion--gets to rattling around in the heads of pitchers, making them wonder whether even his bad cuts have a purpose to them. "He'll go up there and swing at ball three just to get you to throw it again," says Red Sox reliever Alan Embree. Ramirez himself dismisses that notion as fanciful, however useful the tactic might be. "No, man, I don't waste swings," he says. "It is fast up there, so you got to make up your mind what to do. All I try to do is stay focused and stay relaxed. When I'm in the box, I don't even hear nothing."
The swing has carried the Red Sox this season. Shortstop Nomar Garciaparra recently played his first game, the Red Sox' 57th of the season, and Trot Nixon didn't see his first action until six games later. Instead, Boston had solid pitching and Manny Ramirez, who came out of May batting .349 with 14 home runs and 37 RBIs while no other regular on the team was hitting higher than .280.
"With a couple of key cogs in our lineup missing," says general manager Theo Epstein, "Manny's had a great seven weeks when we needed him." Adds manager Terry Francona, "You know, he's hitting .350, but it's not like he's hot and might cool down. He's capable of hitting for a whole season like this."
It was the swing that got Ramirez to where he is. He's the son of a cabdriver and a seamstress who'd come from the Dominican Republic to the Washington Heights section of Manhattan in 1985. Aristide Ramirez drove his cab all over the city while Onelcida made dresses, piecework, in a factory and doted on her son.
"The way I am," Manny says, "that's my mom. She was never mad, always happy."
Ramirez's first coach wanted to make him a pitcher because he couldn't hit the ball. He refused, insisting on playing the outfield, because it was hitting that lit him up from inside. It was hitting that spread the grin across his great Toltec face. He worked on the swing until the swing was the statement of who he was. And he enjoyed himself along the way. He hung with his friends at Las Tres Marias, a small restaurant where they'd go to eat huge meals and guzzle orange juice after games. He argued with his friends who were Yankees fans, because Ramirez was devoted to the Toronto Blue Jays of the 1980s, a team with several Latin stars, including shortstop Tony Fernandez and fractious outfielder George Bell. He was drafted by the Cleveland Indians in '91, straight out of George Washington High.
Ramirez brought the swing to the majors in late 1993, and by '95 he was an All-Star. In six full seasons with Cleveland he put up baroque numbers--he batted .319 and averaged 36 homers and 123 RBIs a year. Most remarkably, in his final two seasons as an Indian he drove in 287 runs in 265 games. In Cleveland he also developed a reputation for being one of the game's more mysteriously blithe spirits. He dyed his hair orange. He borrowed teammates' bats. He borrowed their pants. He left a paycheck behind in one of his boots. He sent a clubhouse attendant out to wash his car, offering to pay the guy with some money he had in the glove compartment, and when the attendant looked in the glove box, he found more than $10,000 in cash.
Ramirez baffled people, never more so than when his obliviousness carried onto the field. In Game 2 of the 1995 World Series, Ramirez got picked off first base by Atlanta Braves catcher Javy Lopez. By the time Ramirez got back to the dugout he was smiling. In the '98 American League Championship Series, Ramirez leaped for a ball hit by New York's Derek Jeter, only to have it land at his feet.
Not many people took these lapses too seriously. The best thing that people said about Ramirez was that he was some sort of hitting savant, a lost boy with a golden swing. That formulation infantilized him and minimized the work he'd done to refine that talent. "I always knew I'd get where I am," he says, "because I know I busted my ass to get here."
In 2001, after a protracted bidding war that was documented on film by ESPN, Ramirez signed that huge $160 million contract and came to Boston, bringing his personality and swing to a city that takes its baseball only slightly less seriously than it takes itself.
The swing has shell-shocked the Seattle Mariners. Freddy Garcia (who would wind up with the Chicago White Sox when Seattle started dispatching the lifeboats in late June) left too much of a low fastball over the plate, and Ramirez hit it over the Green Monster, over the seats atop the Green Monster and into the letter H on a billboard above the seats above the wall.
It was not the most impressive home run Seattle pitchers had surrendered to the swing. That had been the one the night before, when Joel Pineiro had thrown another fastball just above the shoe tops, and Ramirez had belted it 380 feet the other way, into the Red Sox' bullpen in rightfield.
"That one was ridiculous," Epstein said afterward. "No one in baseball hits that ball out where he hit it, down and in. You can't even learn from that." People were still talking about that home run the next day, even after Garcia had given up his own.
"He's one of the guys you say you can't let beat you, and he does it anyway," says Seattle manager Bob Melvin. "If he does something like that, takes a low pitch that far the other way, there's not much you can do."
A couple of hours after making his mistake, Garcia leans in toward a bank of small TV monitors. "Too much," he says. "Too much of the middle."
Not that much, he's told. Pretty good pitch.
"Enough," Garcia says. "Just enough for Manny."
Theo Epstein says he's not allowed to talk about the complicated events of last winter, when Manny Ramirez was put on waivers and then became a cog in the torturous machinations by which the Red Sox tried to pry Alex Rodriguez away from Texas, only to have Rodriguez end up with the Yankees and Ramirez back with the Red Sox, as though nothing had happened.
"Anywhere I was going to go, I was going to do my job," Ramirez says. "I left everything to God, and I said, God, if you want me to stay here in Boston, I will. If you want me to go to Texas, I'll go there. I'll be fine in either place, man."
Ramirez and Boston always were an odd fit, even though his production remained a constant. (In 2001, his first season with the Red Sox, he hit 41 home runs, and the following year, despite playing in only 120 games, he had 33 while winning the American League batting title with a .349 average.) From the start, the quirks that were charming in Cleveland curdled in Boston. He missed the All-Star workouts in Seattle in '01, claiming to some reporters that his grandmother had died, though the circumstances of her demise were suspiciously vague. In 2002 Ramirez arrived late to spring training, then broke a finger on a silly headfirst slide. His rehab stint in Triple A Pawtucket, R.I., was enlivened when he delayed a game looking for a diamond earring he'd lost somewhere on the base paths. In September of that year he infamously did a right-face into the dugout after hitting a grounder in Tampa, a play critics used as a defining moment for a flat Red Sox season--even though Ramirez would hit .468 for the month while winning the league batting championship.
Last season Ramirez again was as balky as he was productive. His relationship with manager Grady Little completely collapsed by the middle of September, when Ramirez asked out of the Yankees series with a sore throat. It was first whispered and then all but shouted that Ramirez was unhappy in Boston, and that the whopping deal he'd signed right there on ESPN had been the biggest mistake of his life.
Now it's designated hitter David Ortiz's turn to talk about the swing. More to the point, he's talking about how it shell-shocked the Blue Jays and the Oakland Athletics on consecutive nights at Fenway. The first night Blue Jays reliever Micheal Nakamura tried to slip a fastball by Ramirez. The following night Oakland's Chris Hammond hung a changeup. Ramirez hit both pitches over everything in left and into a parking lot across Lansdowne Street.
Ortiz is a huge bag of smiles, a valuable hitter and a big part of the team's soul. He is one of Ramirez's closest friends, and now he's talking about what the swing had done over the previous two nights.
"Let's say you come to the game," Ortiz explains. "You know, you bring your family to the game, and you're having a great time, and the Boston Red Sox are winning, so everybody is happy and then you leave, and POOM! your windshield is gone.
"That's why I don't park out there no more, man. Because Manny's here."
Ramirez has been listening in. "Sorry, Papi," he says, laughing.
Ramirez's relationships within the Boston clubhouse seemed to sustain him. This is a different Red Sox team from those grim Caucasian battalions of the 1950s and '60s, and from the sour victims of cruel fate that made up the roster for the ensuing 40 years. An appealing goofball streak developed in the Red Sox last season, and Ramirez found solace in that. He became friends with Millar, whose ungainly gyrations on the Fenway Park message board became a staple in the late innings. "He got buried by the media," Millar explains. "That wasn't his loss. That was their loss."
This year Ramirez has been a part of the show, beginning with a hilarious interview on television in which Millar encouraged his teammate to be more open with the media, while good-naturedly poking fun at him. Ramirez laughed with the rest of the 2,000 fans who showed up for charity to watch Damon be relieved of his considerable beard, the largest group of Boston fans to witness a public shaving since Henry Hill subcontracted out the Boston College basketball team.
Ramirez has also benefited from the arrival of Francona, who took over for Little after the latter melted down in last year's ALCS. Francona had heard the stories about his slugger but withheld judgment.
"I tried to do my homework on every player before I got here," Francona says. "I felt I owed it to all of them to do that. All I heard was that he was a fabulous kid and that other players loved him.
"Now, he's opening up a little bit to the outside world, and that's good for everyone because now everyone gets to see a little bit of what his teammates have seen."
Most important, and almost guaranteed to be setting a generation of Boston managers to revolving in the hereafter, this Red Sox team's heart is a Dominican one. Ramirez bonded with Pedro Martinez and with Ortiz, who took upon himself the task of explaining Ramirez to the wider world.
"Manny's a great guy," Ortiz says. "He's always going very fast, and sometimes his English isn't fast enough for him to say what he wants to say. He can be shy that way."
"Pedro, David and I, we try to stick together," Ramirez says. "We go and have fun out there because we come from the Dominican, where we didn't have nothing, so we have all this here. What's to worry about then?" Earlier this year Ramirez offered to give back some of his salary in order to help the Red Sox re-sign Martinez, who'll be a free agent after the season.
So the groundwork was already laid for the transformation in Ramirez this year. It began in spring training, and it has continued throughout the season. He has become a bounding, open presence inside and outside the clubhouse, often bringing his eight-year-old son, Manny, around for batting practice.
The easy story line was that Ramirez was somehow seeking redemption in the public eye. But that implies a level of calculation, almost an instinct for salesmanship, of which Ramirez's career has been blessedly devoid. No other great player in recent years has been as blissfully in the moment as Ramirez, as though the place the swing brings him to is where he spends all his time.
In fact, it's a deeply earned confidence in the swing that's brought him through everything else. It's not some pallid story wherein the swing brings him money and fame and enables him in his worst instincts. That's a cheap MacGuffin out of baseball's McGuffey; you could plug in the name of any superstar, all the way back to Babe Ruth. Rather, the swing is the source of a secret knowledge of his own worth, which he's only now beginning to share. All the best gnostics teach pretty well, but they're lousy interviews.
Now, though, he's opened up his world because it was time for him to let people into that place of secret knowledge. It's not because baseball wanted him to do it. It's because something inside of him decided to emerge.
It's there when he comes bounding out of the dugout, shirt open and flapping in the breeze, when David McCarty hits a walk-off home run against Seattle on Ramirez's 32nd birthday, and it's there, enveloping everyone around him, when he later drops a half headlock on a reporter who'd been following him around for a week.
"I told you, man, look at me. I'm old," he says. "I can't go deep anymore."
He caught Joe Castiglione by surprise. The veteran Red Sox broadcaster was sitting around the dugout before a game in Cleveland, and Ramirez came up to him, eyes deep and intent. He grabbed Castiglione by the biceps.
"You ready, man?" he asked.
Castiglione was nonplussed. Manny seemed to be looking straight through to the back of his head.
"You ready?" Ramirez asked again, a grin beginning to break through.
"Oh, yeah, you ready," Ramirez said. "I can see it there in your eyes." And off he went, laughing so hard he shook.
Last year he probably wouldn't have talked about it.
On May 10 of this year Manny Ramirez took a game off in order to go to Miami and become a citizen of the United States. He'd been studying for a year, at the insistence of his mother. He'd learned the Bill of Rights and all about the flag. He'd passed the test with, well, flying colors. And now he was talking about it the way he wouldn't have talked about it before.
"It was fun," he says. "At first, you know, I thought it was going to be hard, man. But I already took the test, and I passed it, so I go down to the convention center in Miami, and they ask you to stand up and raise your hand, and that's it.
"Hey, they can't kick me out of the country now."
It would be a mistake to see the way he's approached things this season as an apology, a kind of penitential dumb-show that would be as banal as it would be artificial. What a cramped and bridled story that would be, locked and bound within the vocabulary of the salesman and the market research people, an appeal to the conventional instincts of the modern shopkeeper. Rather, take this season as a tentative initiation for all of us into the mysteries of a hidden knowledge, a peek into a different, wonderful place, warmed by the new rays of a very private sun.
"It's an awesome feeling, man," Ramirez says, talking of that single moment during which the pitcher has not fooled him, has made the mistake that the swing will take up over the wall, up over the seats above the wall and up over the signs above the seats above the wall, lost in the deepening blue of an evening sky. "You see everything in slow motion. It slows down. When you're doing that, it doesn't matter who's pitching. Nothing else matters."
Out to leftfield he runs, a tiny American flag in his fist. A citizen of a new country but, always, a native of his own world. The cheers rise and the evening assembles itself for baseball, and damned if the twilight's not gleaming.