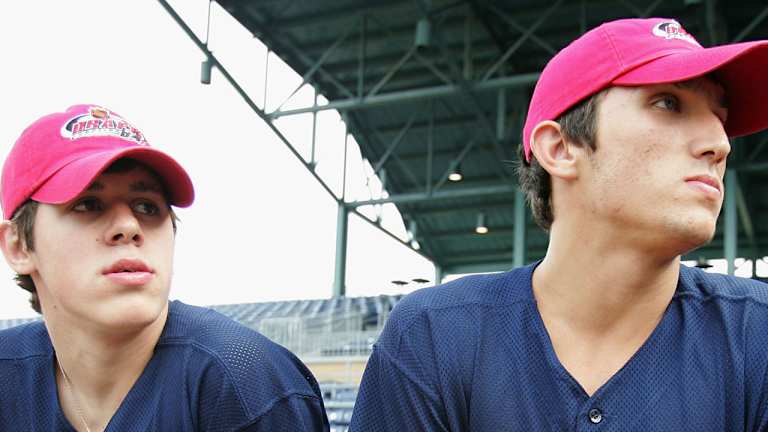 Cap In Hand
Top pick Alexander Ovechkin could break into Washington's lineup
As he roamed the RBC Center in Raleigh last Saturday, Capitals owner Ted Leonsis carried a handwritten note reminding him that the Russian phrase for "welcome" is dobro pozhalovat. Leonsis wasn't the only NHL power broker brushing up on his Russian before the NHL draft, at which two Faberge eggs stood out in an otherwise dime-a-dozen talent pool. When Moscow native Alexander Ovechkin was taken first by Washington and countryman Evgeni Malkin was chosen second by Pittsburgh, it marked the first time Russians were the top two picks in the draft.
"Ovechkin is a prodigious player, [the type that] only comes along once in a while," says David Conte, the Devils' head scout. "And when I look at Malkin, I see Jean Beliveau." Malkin, a gifted playmaking center, turns 18 on July 31 and will likely spend another year playing for his team in the Russian Super League.
But Ovechkin, a 6'2", 212-pound left wing, could play on the rebuilding Caps' top line next season. A strong skater with a lethal wrist shot, Ovechkin, 18, had 23 points in 53 games for Dynamo Moscow. He's the youngest player on Russia's World Cup team and the only nongoalie without NHL experience. Ovechkin's mix of finesse and physical edge draws comparisons to Jarome Iginla, and scouts are impressed with his poise. Ovechkin is also genetically blessed: His mother, Tatiana, was on two gold-medal Olympic basketball teams; his father, Mikhail, played pro soccer.
So coveted was Ovechkin that the Panthers tried unsuccessfully to draft him last year, when he missed the age-eligibility deadline by two days. But two factors could delay Ovechkin's NHL debut. One is the league's uncertain future beyond the Sept. 15 expiration of the collective bargaining agreement. The other is the tension between the NHL and the International Ice Hockey Federation, which brokers transfer fees to European teams that lose players to the NHL.
The international agreement expired in May, a new one has not been signed, and Dynamo has threatened not to release Ovechkin from his contract unless it gets more than $2 million as compensation. Still, the Caps were so thrilled with the prospect of Ovechkin that they resisted several trade offers before the draft. "I've learned that hockey is really a team game," says Leonsis. "This kid is a team player who makes those around him better."