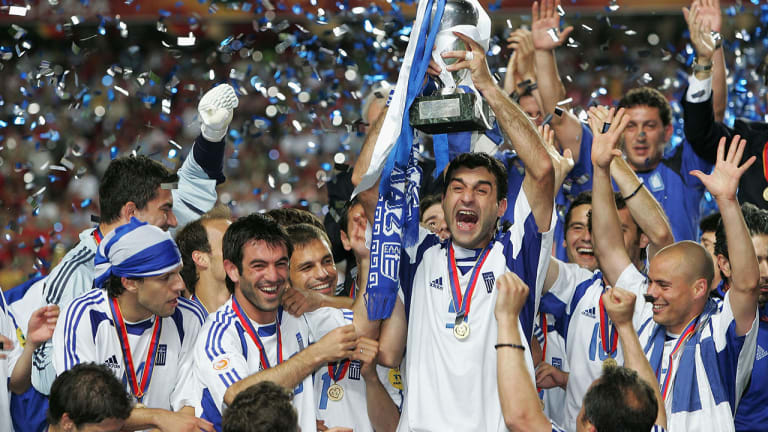 The Gods Must Be Crazy
In winning Euro 2004, underdog Greece turned the soccer world upside down and struck an Olympian blow for national pride
Last Sunday, in the depths of Lisbon's Estadio da Luz, Greek defender Mihalis (Hammer of the Gods) Kapsis surveyed the unfathomable scene around him and smiled. There must have been a mistake. Was that really Greece's captain, Theodoros (the Metronome) Zagorakis, posing for pictures with the European Championship trophy? Were those really the mighty Portuguese millionaires trudging past him, beaten before their own horror-stricken fans? Had tiny Greece--No. 1 in nicknames but a 100-to-1 pretournament long shot--really just completed one of the most stunning title runs in the history of international soccer?
"The biggest cities in Greece will be burned tonight!" Kapsis proclaimed after the 1-0 win, and judging by the grin on his face, this was one security breach the nation's Olympic officials needn't worry about. Go on and celebrate, Greece: Europe now has its own version of the Miracle on Ice. "Maybe we have better soul and heart," Kapsis said, trying to explain the unexplainable. "We are not famous, but we wanted to prove to everybody that we are a good team. That is the secret: We work like a team."
A little luck never hurts, either. When forward Angelos Charisteas headed home the game's lone goal in the 57th minute, exploiting a misread by Portuguese goalkeeper Ricardo, it came off Greece's only corner kick of the match and was its only shot on goal. (Talk about a magic bullet.) The possession-dominating Portuguese, by contrast, had 10 corner kicks and 10 shots on goal. "We were better in some chapters of the game," said Portugal coach Luiz Felipe (Big Phil) Scolari, who led his native Brazil to the World Cup title in 2002, "but they scored and we didn't."
The Greeks--Hellas to their fans--had never won a game at a major tournament before dispatching host Portugal 2-1 in the Euro 2004 opener, defending champion France 1-0 in the quarterfinals and the high-scoring Czech Republic 1-0 in the semifinals, then sinking the Lusitanians on Sunday for the second time in three weeks. It was a victory rich in irony. Though Greece is being pilloried for its shaky Olympic organization, the Greek soccer team was by far the best organized side of Euro 2004. Under coach Otto Rehhagel, a bombastic 65-year-old German, the Greeks employed a throwback man-marking defense, averaging a remarkable 49 tackles a game and pitching shutouts against the vaunted French, Czechs and Portuguese. It wasn't pretty--negative soccer never is--and yet the unbridled joy of the 15,000 Greek supporters on hand Sunday, an overwhelming sea of blue, was captivating. "Everybody in Greece is outside celebrating right now," said defender Panagiotis Fyssas afterward. "Just because they are Greek."
In the U.S. such a momentous upset would occasion a cheeseball TV movie, and yet Europe refused to embrace the underdog. It's a matter of aesthetics. Before the final, Michel Platini, the former French superstar, went out of his way to praise the Portuguese and the Czechs for their "attractive attacking styles," omitting the Greeks from the discussion altogether. Likewise, on Sunday night Portuguese captain Luis Figo called Greece the tournament's "most effective" team, adding, "If you ask me if it was soccer that I like to see, of course not."
When pressed about their defensiveness, the Greeks were, well, defensive. "The result says that Greece beat Portugal in the final," said Kapsis, his voice rising. "If you are playing, you have to try not to lose. Not to play modern"--this he said with the utmost disdain--"and lose 5-0." While TRY NOT TO LOSE is hardly the stuff of bumper stickers, it may well be the moral of Euro 2004.
Greece's triumph was the most striking confirmation yet that global soccer has turned upside down, and that it will be impossible to predict a winner when Germany hosts the next World Cup in 2006. As was the case in Japan and Korea in 2002, a shocking number of the sport's elite nations fell flat on their faces in Portugal. Italy crashed out in the first round after failing to protect a 1-0 lead against Sweden, while England failed to go for the kill against Portugal after holding a 1-0 lead for most of its quarterfinal match. (The lesson was something any NFL fan could tell you: The prevent defense never works.) The world's best player, France's Zinedine Zidane, sleepwalked through Les Bleus' 1-0 quarterfinal loss to Greece, while World Cup runner-up Germany left with a whimper, tying 0-0 with Latvia--Latvia!--and falling 2-1 to a Czech team that, having already advanced, rested most of its stars.
The pat explanation for soccer's paradigm shift is that international-level success, circa 2004, is based more on conditioning and less on skill; hence the rise of superfit interlopers like South Korea, the U.S. and Greece, while soccer's royalty staggers into its marquee competitions at the end of an exhausting club season. Though it's true that the European club schedule is too congested these days, there's a more likely explanation: Maybe the smaller countries are just getting better.
Even as Greece celebrated last week, it was impossible not to ache for Portugal. One of Western Europe's poorest countries, the host nation had spent upwards of $735 million on preparations for Euro 2004, constructing or refurbishing 10 stadiums. And after slouching home in disgrace from World Cup 2002, thanks in large part to a 3-2 loss to the U.S., Portugal's Euro success occasioned a festa unlike anything the nation had seen. In Lisbon residents hung green-and-red national flags on apartment balconies, car antennas and storefronts. So batty were the locals that tens of thousands lined the streets for a parade to honor their team--TV helicopters tracked the Portuguese bus, O.J.-style, as it inched past the throngs--and that was before Sunday's final.
Then it all fell apart. Merciless defender Giourkas Seitaridis, who had already neutralized two of the world's top strikers--France's Thierry Henry and the Czech Republic's Milan Baros--shut down Figo and Cristiano Ronaldo, Portugal's most dangerous attackers. With uncanny precision the rest of Hellas's back line followed suit, compounding Portuguese frustration. As the minutes passed and the home fans grew anxious, the Greeks began mounting the odd counterattack. Twelve minutes into the second half, Seitaridis's long run down the right flank set up Greece's only corner kick, and Charisteas made the most of his chance, snapping his head onto the pinpoint cross for a goal reminiscent of his game-winner against France.
By Monday morning Portugal was staring at a $735 million hangover. The main reason for the pain was a man who likes to be called King Otto. While Portugal's Scolari may be the spitting image of Gene Hackman, it was Rehhagel who morphed into a European version of the coach from Hoosiers, convincing dubious players and fans that Greece could win soccer's second-most-important event. "He's like our father," explained midfielder Stylianos Giannakopoulos last week. "We love him."
A three-time winner of the German Bundesliga, Rehhagel had no time for the internecine rivalries among players from Greece's top clubs--AEK Athens, Olympiakos and Panthanaikos--when he took over in 2001. After star midfielder Grigorios Georgatos instigated a locker room fight following Rehhagel's debut, a 5-1 loss to Finland, the coach kicked him off the team, talent be damned. "Mr. Rehhagel has a different mentality, and he brought that to us," said Fyssas. "We understood that the first thing we have to think about is Greece, to play for our country, not just our clubs."
The Greeks' reborn spirit was palpable in their style: hella organized, hella unified, hella smart. In Rehhagel's second game, a World Cup qualifier three years ago, Greece went toe-to-toe with England in Manchester, leading 2-1 until a last-second free-kick goal by David Beckham. "It was the first time we had seen a Greek team that played well together," says Yotis Panagiotas, a writer for the Athens weekly To Vima. "We all said, 'What's going on here?'" After losing their first two European Championship qualifiers, the Greeks went unbeaten in 15 straight games, including a road win in Spain. And yet they were prohibitive long shots on the eve of Euro 2004.
Foolish oddsmakers. Even if King Otto were to take Germany's coaching job, he's unlikely to top what he accomplished in Lisbon. The names Zagorakis, Charisteas and Seitaridis now assume their place in the Greek sporting mythology, an achievement duly noted in bold white letters on the side of their bus: ANCIENT GREECE HAD 12 GODS. MODERN GREECE HAS 11.
COLOR PHOTO: photograph by alex livesey/getty images GOOD HANDS Greek keeper Antonios Nikopolidis backstopped a stifling defense that held Portugal scoreless.
COLOR PHOTO: MIKE FINN-KELCEY/REUTERS ONE AND DONE Charisteas (far left) headed past Ricardo for the game's lone goal, leaving the hosts to their despair.
SI.com More soccer coverage, including Grant Wahl's Insider, at si.com/soccer.