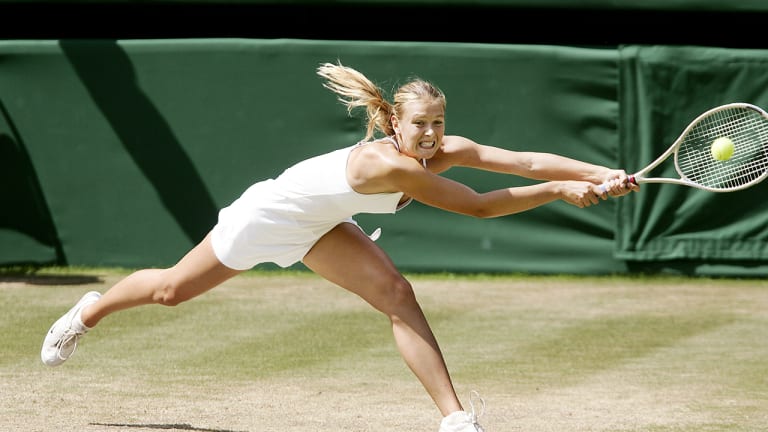 Splendor on the Grass
In two memorable Wimbledon finals that pumped new life into tennis, teenage wonder Maria Sharapova and racket wizard Roger Federer conquered America's best
No one escapes the humbling. That's clear now. Serena Williams had
been tennis's great exception for so long, first defying the
experts by not playing junior tournaments, then breaking the
rules of family pecking order, finally dominating despite injury
and distraction, always smiling and unbowed. If anyone could
sidestep the sport's cruelest cycle, the wheel of succession that
sends up a cold-eyed teen to stalk and harry the aging champion,
it would be Serena. Wouldn't she waltz into a new life before
anyone could take her down?
No. Last Saturday afternoon the 22-year-old Williams, winner of
the past two Wimbledons and one of the best closers in history,
walked onto Centre Court for another Grand Slam final and felt
the wheel turn. Across the net, a 17-year-old girl ran about like
a deer, pelted golden groundstrokes, filled the moist air with
her unmistakable want. Williams had been that girl once, when she
won her first Slam, at the 1999 U.S. Open, but suddenly that felt
like long ago. Maria Sharapova, seeded 13th, beat Williams 6-1,
6-4 to win the 2004 All England championship, but neither that
score nor the other numbers that certified the most stunning
title run in Wimbledon history told the full tale. You had to see
it.
Over 73 minutes Sharapova stripped away Williams's armor, the
hauteur that has marked her in her prime, and the resulting
sights and sounds were almost unimaginable: Williams slipping at
the key moment of an epic rally and bouncing on her rear end;
Williams, too startled to handle a laserlike Sharapova return,
emitting a loud moan; Williams taking a ball on the nose after it
ricocheted off her racket; Williams, down a break point at 4-4 in
the second set, slipping again, on her way to the net, and
whacking a forehand wide. Then there was Williams, never before
at a loss for answers, meeting the press after the match and
saying, "I just didn't ... I don't know what happened."
Try the next big thing.
Despite the rain's wiping out two days and interrupting matches at
a maddening rate, and despite a London subway strike, this year's
Wimbledon may well go down as the most satisfying and important
tournament of the decade. It would have been worth all the
trouble just to see Roger Federer and Andy Roddick locked in
their wonderfully tense brawl in Sunday's men's final, during
which Roddick's take-no-prisoners attack tested the world's No. 1
as never before, and Federer's 4-6, 7-5, 7-6, 6-4 win confirmed
his greatness. But more important, women's tennis was revived by
an icy blast of Russian charisma. Saturday's match was no fluke.
Sharapova had showed preternatural self-possession all
tournament, whether regally picking off dangerous players such as
Daniela Hantuchova and Amy Frazier or coming back from a set down
to beat both Ai Sugiyama in the quarterfinals and Lindsay
Davenport in the semis. "I had control of the match," Davenport
said, "and she took it from me."
On Saturday, Sharapova strolled onto a Centre Court stuffed to
the beams with history and 13,808 oh-so-proper strangers, and
after racing off the court to go to the bathroom--setting the
place all amurmur--she came back and rolled over Williams. "I
wasn't nervous at all," Sharapova said a day later. "I knew that
the power was within me: Whatever I wanted to achieve, I could do
it--and I did."
Fittingly enough, Britain's Iron Lady, former prime minister
Margaret Thatcher, sat witnessing tennis's new Iron Maiden serve
for the match at 5-4, 40-30. Sharapova told herself, Finish it
off. "Then there's this big noise," she said. "I'm on my knees,
and I'm thinking, What have I just done?"
What indeed? Sharapova climbed into the stands to hug her
bellowing dad, Yuri, and in the seconds it took her to trot back
down to the court to receive the Venus Rosewater Dish, she had
become a star. The 6-foot beauty has already signed with IMG
Models, making for the easy comparison to her underachieving
compatriot, Anna Kournikova. Sharapova rejects the analogy ("I
never considered myself as a pinup," she said. "I never will"),
and there are good reasons to think she's in tennis for the long
haul. First, when Wimbledon mints a new champion, she's almost
always the real deal. Second, the toughest critics have sniffed
out Sharapova's game and given it the highest compliment. "She
reminds me a bit of myself, how she's fearless," says five-time
Grand Slam champion Martina Hingis.
"She's kind of like me: She doesn't back off," says Williams.
"At 17, to already have that ability? It's amazing," Roddick
says. "There's something inside her that's pretty impressive."
The building of that something has already become legend: How
Yuri Sharapov moved his family from Siberia to the Black Sea
resort of Sochi when Maria was two to escape the fallout from the
Chernobyl nuclear disaster; how he buttonholed Martina
Navratilova at a tournament in Moscow to get advice on where to
find the best coaching; how he and the seven-year-old Maria left
her mother, Yelena, behind in Russia and moved to Florida with
only $700--unknown, uninvited and unsure of even how to find the
Bollettieri Tennis Academy in Brandenton. Helped out by her
grandparents, who sent money from Russia, Maria played at
Bollettieri's as a paying student while Yuri worked a variety of
jobs, including cutting holes in the greens at a golf course.
"They don't talk about it much, but the toughness you see? That's
what molded her--those two years of not knowing," says Maria's
agent, Max Eisenbud. "Just the two of them together, no money:
What the hell are we doing here? No one knows what those two
years for the two of them were like. But [Yuri] sums it up as
survival."
When Nick Bollettieri trotted out the nine-year-old Maria for a
workout before officials of IMG, which owns the Bollettieri
Academy, "it took five minutes" for them to award her a full
scholarship, says IMG agent Gavin Forbes. "I had never seen a
young woman with so much desire, so much maturity and focus." At
Wimbledon, Yuri refused all interview requests, insisting that
the focus stay on Maria. But minutes after Sharapova's victory on
Saturday, he burst through a side door off Centre Court and
shouted, "We did it! We did it!"
Sharapova did even more than win the title, though. The women's
game entered the tournament's final soggy days awash in malaise.
After a French Open memorable only for its parade of inert female
stars, the crowds at Wimbledon were treated to a numbing
procession of one-sided matches. Once again, supporters of men's
tennis laughed at the notion of equal prize money for women, and
the historic first-round singles win by the 47-year-old
Navratilova only underlined the tour's lack of depth. "Eight
years she didn't play a match," said Goran Ivanisevic, actually
short by two years. "That shows you everything about women's
tennis."
Stars such as Jennifer Capriati either whined about media
pressure or confessed their own waning interest in the game.
Davenport, all but declaring this to be her final Wimbledon
because of deteriorating knee cartilage, rolled into the semis
for one last hurrah but admitted that she just didn't feel "the
same kind of excitement sometimes before matches. The wins don't
get me as excited [either]. On the flip side, the losses don't
hurt as much."
Williams, meanwhile, reeled off five wins on autopilot. Blame
lingering weakness in her surgically repaired left knee; blame
lingering grief over the murder of her half-sister Yetunde last
September. But any of her sidelines--acting, clothing design, her
attempt to look like Beyonce--have engaged her far more than
tennis over the past year. The 2003 Wimbledon was the last Grand
Slam event that Yetunde attended, the last Slam at which the
entire Williams family was together. Father Richard had come back
after recurring absences to coach Serena this year, but it wasn't
the same. "Obviously it's difficult when you really think about
it," she said, referring to Yetunde's absence, "but I just don't
think about it right now."
Suddenly, on Thursday, the pall lifted. It was as if someone had
sent an electric charge across the damp grass; Williams, who had
dismantled Capriati in straight sets in the quarterfinals, played
a mesmerizing semifinal against Amelie Mauresmo. Early on
Mauresmo exposed the holes in Williams's game, particularly her
inconsistent forehand, and Williams's limited preparation showed
in repeated unforced errors. Ahead 7-6, 2-1, Mauresmo looked like
a sure winner. But then, even without her best game, Williams
embraced the match as she hadn't any other match since her return
to tennis in March. She screamed, threw her racket and finally
willed her way past the cowed Mauresmo in three emotional sets.
"All I really had was fight," Williams said afterward.
It was good to see, but then came the best thing that could've
happened to the women's game: Williams got embarrassed. Sharapova
served notice that Serena's half measures won't cut it anymore,
and if Williams wants to be on top again, she's going to have to
work harder--and get past Sharapova while she's at it. With a
laugh, Williams vowed that she would be back on the practice
court immediately. Was she serious? No one could tell, and no one
checked, because on Sunday, Wimbledon had a few more important
matters to attend to. First, Sharapova needed something to wear
to the Wimbledon ball. "I just want to know how long her skirt's
going to be," Roddick said. "Is it going to be short?
Disappointed I won't get to see that. I might just sneak in and
crash the party." Second, there was the vital matter of
establishing the best rivalry in men's tennis since Pete Sampras
and Andre Agassi.
For the first time in 22 years the men's No. 1 and No. 2 seeds met
in the final at the All-England Club, and it was well worth the
wait. Federer, the state of the art in the game today, spent the
last year rising above the field, and for two weeks his second
straight Wimbledon victory seemed preordained. But Roddick, with
an improved backhand, increasingly crisp volleys and the best
second serve in tennis, had the weapons and will to push Federer
to new heights. "He's a great front-runner," former U.S. Davis
Cup captain Tom Gullikson said of Federer before the weekend.
"Somebody needs to get on top of the guy and make him come back
from a set or two down. Let's see what his competitive skills
are."
Roddick opened the match with that intention. Blitzing Federer
with 145-mph serves, returning Federer's deliveries deep and
heavy, Roddick cornered the champion, never letting the artist
pick up his brush, and ran out the first set in total command.
Federer seemed to right things by picking up two breaks in the
second set, but the relentless Roddick gained them back, and
Federer knew he was in a place he had seldom been. He had to
battle. When he broke Roddick with a pinpoint forehand up the
line to take the second set, the usually unreadable Federer
screamed, "Yessss!" and the crowd screamed with him. Suddenly the
most dignified venue in sports felt like ringside in the seventh
round.
"He pushed me to the limit," Federer said. "I really had to give
everything I had today, because he looked like he was going to
crush me. Luckily I could fight hard and stay in contention. This
is the only way I could [win], and I'm very proud of it."
He should be. After losing the second set, Roddick came back
again to take a 4-2 lead in the third, coming oh-so-close to
retaking control. Then rain stopped play, and everything changed.
The 22-year-old Federer, still working without a coach, decided
during the break to shift tactics, to go for broke by playing
serve-and-volley, and the altered rhythm would prove crucial.
Roddick's ground strokes lost some sting, and Federer broke back,
took command in the tiebreak and began to cruise. He broke
Roddick at love in the seventh game of the final set, and then it
was only a matter of time.
After two hours and 30 minutes of the highest quality tennis,
Federer ended the fortnight with an ace under a clear sky. He
dropped to his knees in tears. Roddick walked around the net, and
the two men embraced.
"Hopefully we'll get to do this again sometime," Roddick said.
Here's a suggestion: The U.S. Open final falls on Sept. 12. How
about we all meet there?